5 Simple Adjustments Miami Marlins Can Make to Improve in the Second-Half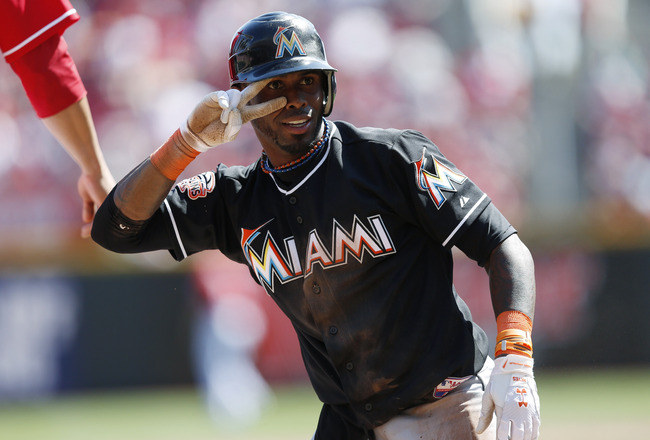 Joe Robbins/Getty Images
You could imagine Miami Marlins manager Ozzie Guillen and the rest of the front office brass having a meeting during All-Star weekend. Reminiscing on a first half of the season that included almost every member of the Marlins underachieving, both sides could agree that this isn't going as planned.
The Marlins have long awaited this season to have their turn in the spotlight.
They had a new brand new ballpark—a state-of-the-art air conditioned park that made the hot South Florida weather a non-factor. They also spent a lot of money on free agents and hired a former World Series winning manager to help guide the team.
Things could absolutely be worse, even though the Marlins find themselves nine games out of first place in the NL East, they are just five games out of the wild card race.
The playoffs are within reach and the Marlins certainly have the talent to compete for a spot. Here are five simple adjustments that can certainly help the team improve in the second-half.
Relieve Heath Bell of Closer Role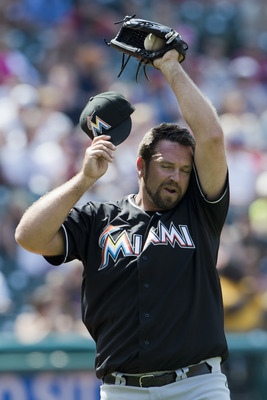 Jason Miller/Getty Images
This is a move that Marlins fans have been begging for.
Heath Bell has been arguably one of the leagues worst pitchers in the first half of the season. Bell is responsible for six blown saves and holds a 2-5 record.
He's also proving why many doubted the Marlins for giving him a three-year, $27 million deal this offseason. Way too much money on a closer and way too much money on a declining, power-pitching 34-year-old.
Ozzie Guillen has already come out on Dan Le Betard's Miami sports talk show on 790TheTicket and stated the Marlins will use a "closer by committee approach" for the time being.
Keep in mind that Juan Carlos Oviedo—formerly known as Leo Nunez—is slowly making his return to the Marlins bullpen. Oviedo could potentially take over as the team's closer for the rest of the season per his return.
Jose Reyes Needs to Take on Leadership Role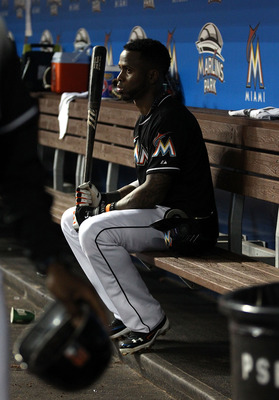 Marc Serota/Getty Images
Jose Reyes has yet to start living up to his six-year, $106 million contract he signed this offseason. To much surprise, it isn't due to nagging injuries that have shortened his past few seasons in New York.
Reyes has simply not played well, not even remotely close to what Miami expected when they pursued him in free agency.
Known as a guy that can not only lead a batting order but also lead a clubhouse, the Marlins need a lot more out of Reyes in the second half if they want to compete. Reyes is also hitting near career-lows in AVG, SLG and runs.
Maybe it took a little longer than expect for Jose Reyes to settle into his new city with his new ball club. The Marlins certainly hope that he can live up to expectations soon, or face the fact that they made a $100 million mistake.
Hanley Ramirez Must Produce More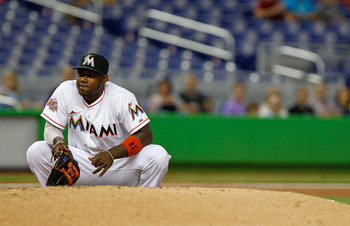 Mike Ehrmann/Getty Images
Hanley Ramirez was the other part of the new Miami dynamic duo who were supposed to lead the Marlins to new heights.
Coming off a statistically career-low year last season, many predicted Ramirez to have a bounce back year. After showing promise in the beginning, Ramirez has slowed down and is almost matching his worst career AVG. His HR and RBI numbers will be up, but that won't help produce wins.
Hanley has actually adjusted to his new 3B position well, providing his old SS position to Jose Reyes.
One thing that he has not done is help lead this team after as being one of the longest-tenured Marlins. In a recent article in the Miami Herald, Greg Cote described Hanley's recent injury:
There was third baseman Hanley Ramirez—a would-be team leader but for the absence of any leadership skills or desires—yanked from the game after going all Amar'e Stoudemire and punching a dugout cooling fan, requiring two stitches on his hand.
There are no excuses for what Hanley did by injuring himself. He's obviously frustrated with his and the team's play so far this season.
Marlins Need to Replace Injured Stanton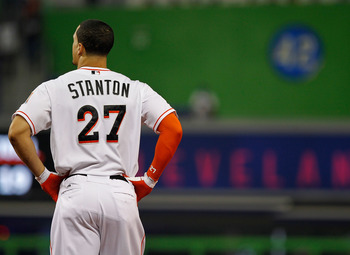 Mike Ehrmann/Getty Images
The Miami Marlins lone All-Star, Giancarlo Stanton, recently had knee surgery that will keep him out four-to-six weeks.
As primarily the only player on the team that is actually playing up to expectations, this was a huge blow for the Marlins.
They must now find a replacement to at least help the team move forward without him.
That player may actually be a 30-year-old minor-league veteran who is having a remarkable season. Justin Ruggiano has been one of the few highlights of this Marlins season thus far, having hit .390 with six home runs and 17 RBI.
Keep in mind, he's only played in 32 games this year. Ruggiano has two hits in six of his last 10 games and four HR in that time span as well.
There is no doubt that the Marlins hope his productivity continues for the rest of the season.
Ozzie Should Switch Up the Rotation
Sarah Glenn/Getty Images
The Marlins rotation bailed them out in the beginning of the season which helped lead them to a 20-8 record in the month of May.
However, lately the team has found themselves in a bit of a rut and the pitching has not helped at all.
The "ace" Josh Johnson is 5-5 with a 4.06 ERA, not even close to what the team expected after the signs of brilliance he showed last year. Carlos Zambrano has slowed down after his fantastic start while Anibal Sanchez and Ricky Nolasco have been anything but special.
The pitching has been so poor that four out of the five starters for the Marlins have an ERA over 4.06.
Should Ozzie Guillen try and switch things up a bit to help the team out?
The only pitcher who has been on top of his game as of late is, of course, Mark Buehrle. He's 8-8 with a 3.25 ERA and has also posted there straight wins heading into the All-Star break.
Should Ozzie put Buehrle at the top of the order until the rest of their guys step up?
Anything at this point seems possible—whatever it takes to win. Remember, the Marlins are all in on trying to make this whole experiment worth it in the long run.
Keep Reading

Miami Marlins: Like this team?