Lakers Rumors: Back in the D12 Sweepstakes? How the Lakers Can Acquire the Star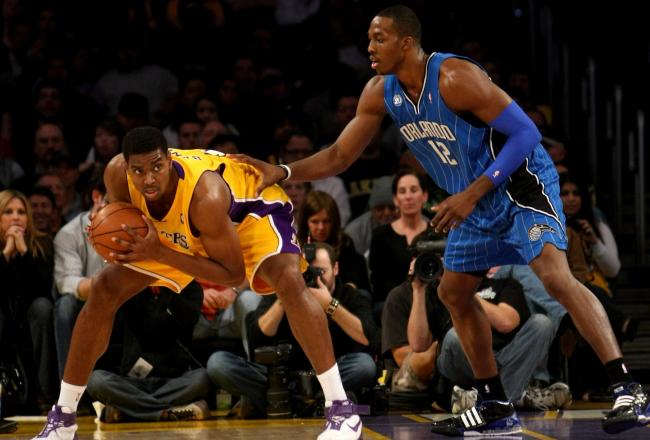 Stephen Dunn/Getty Images
This just came in, and according to Adrian Wojnarowski, the Lakers are back in the hunt for Dwight Howard, as the major proposed blockbuster deal between Brooklyn and Orlando has all but collapsed:
The Cleveland Cavaliers are no longer willing to be third-team facilitators for a blockbuster trade that would send Orlando Magic All-Star center Dwight Howard to the Brooklyn Nets, severely jeopardizing the Nets' ability to acquire Howard, league sources told Yahoo! Sports.

Dwight Howard has indicated the Nets are the only team he will re-sign with after the season. The development has pushed the Magic to continue negotiating with several teams, especially two teams in the Western Conference: the Los Angeles Lakers and Houston Rockets.
SportsCenter also confirmed the report via Twitter:
Source: @Orlando_Magic have reopened negotiations w/teams other than the @brooklynnets for Dwight Howard » es.pn/Mfx7GV

— SportsCenter (@SportsCenter) July 10, 2012
So, after reports surfaced stating Andrew Bynum's refusal to sign a contract extension with the Orlando Magic, how can the Lakers still acquire Howard?
Andrew Bynum recently tipped his hand in regard to his preferred destinations should he not sign a max contract with Los Angeles. The Cleveland Cavaliers, Houston Rockets and Dallas Mavericks were the reported teams.
While the absurdity of these choices are fodder for another article for another day, there is one team on this list that shares common ground with the Lakers.
The Rockets have been reportedly doing everything in their power to obtain Orlando's disgruntled star. They feature a deal that includes desirable draft picks and loads of cap space they could use to absorb a bad contract or two.
On the other hand, the Lakers are stuck at ground zero with Bynum unwilling to relinquish his "I hate Orlando" stance.
This is where strategy comes in.
If the Houston Rockets were to acquire Dwight Howard, it would almost surely be as a rental, as Howard has made it clear he has no intentions of re-signing with any team besides Brooklyn. While the same is true for the Lakers, they are confident that Howard would resign given their championship-caliber roster and ability to offer Howard a max contract deal and the spotlight he craves in Los Angeles.
Would the Houston Rockets be satisfied with Andrew Bynum as a consolation prize? Who could not be satisfied with him? It is almost like he is too good to be considered a silver-medal reward. I think it is safe to say we can award Houston a gold medal while the Lakers would be worthy of a platinum medal for their efforts.
There are no risks for Houston here. After all, Bynum clearly listed Houston as a potential destination. The Lakers are left taking all the risks, and Houston would strike gold with a win-win deal.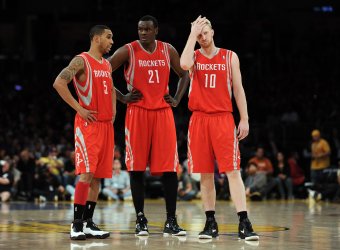 Harry How/Getty Images
In order for my proposed trade scenario to work, the transaction that sent Ryan Anderson to the New Orleans Hornets would have to be revoked. This is possible, as trades are not made official until the moratorium period ends on July 11.
The Los Angeles Lakers would receive Dwight Howard, Ryan Anderson and Jason Richardson from the Orlando Magic.
Andrew Bynum would be sent to the Houston Rockets along with Josh McRoberts, Steve Blake and Hedo Turkoglu.
Orlando would receive Pau Gasol and Metta World Peace from Los Angeles. And, to complete the trade, Houston would send Terrence Jones, Jeremy Lamb and Royce White along with 2013 and 2015 first-round draft picks.
Not only does Orlando gain a cluster of young talent and picks, but they also receive an All-Star power forward in Pau Gasol while shedding two bad contracts.
I think this would be a win-win situation for all teams involved.
The Lakers would then re-sign Jordan Hill and Ramon Sessions to fill the void left by McRoberts and Blake.
Grant Hill, who has made it abundantly clear he will not retire and is considering the Lakers, would be added to replace the loss of Metta World Peace.
Suns free agent forward Grant Hill offered little at USA practice other than he's not retiring and he is considering the Lakers.

— Marc J. Spears (@SpearsNBAYahoo) July 10, 2012
With veterans such as Antawn Jamison in the running, the Lakers will have added talent to their starting lineup while adding depth to the bench.
Ryan Anderson would be a perfect fit, as he would spread the floor and allow Nash to effectively run his pick-and-roll sets with Howard.
And, Houston wins the ultimate consolation prize.
Make this trade, and everyone walks away happy.
This article is
What is the duplicate article?
Why is this article offensive?
Where is this article plagiarized from?
Why is this article poorly edited?

Los Angeles Lakers: Like this team?