Washington Redskins Who Will Give Mike Shanahan the Offensive Firepower He Needs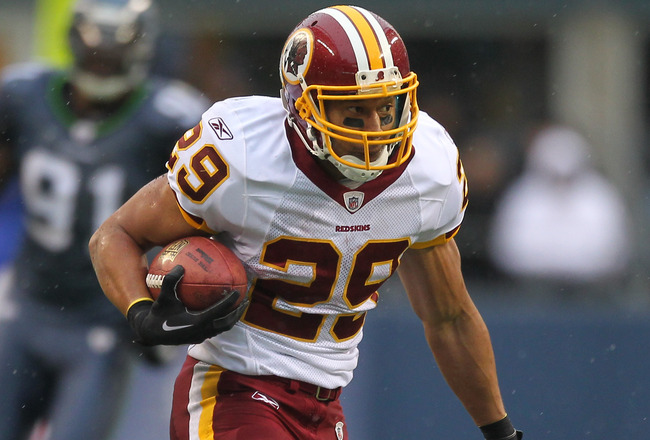 Otto Greule Jr/Getty Images
In recent years, the Washington Redskins have been far from productive.
Although the team's defense has found its way near the top of NFL rankings, the unit has been anything but flashy. And when it comes to describing the offense, words like "powerful" and "explosive" are distant hopes for Redskins fans.
Entering this season, head coach Mike Shanahan looks to have some talent on offense. And while no one will predict it to be league-leading or highly explosive, the offense can make a spark if all the wires are rigged correctly.
With training camp underway, here's a look at some of the key players serving as the octane in the Redskins' offensive engine this season.
Pierre Garcon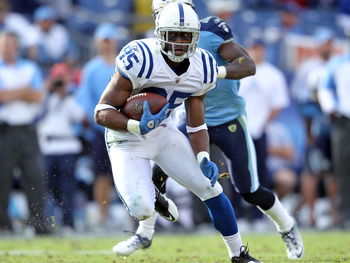 Andy Lyons/Getty Images
Although a certain rookie received much of the attention this offseason, it's receiver Pierre Garcon who earns the "priciest acquisition" title.
After spending productive years with the Colts on the receiving end of both a legend (Manning) and a scrub (Painter), Shanahan hopes Garcon can continue to prove his ability to get behind secondaries and make defenses pay with the ball in his hands.
Quarterback progression will have a direct effect on Garcon's production this season, but hauling in 80 passes for 1,000 yards or more isn't a stretch.
Garcon is the playmaking receiver that the Redskins were looking for, and he serves as the true electricity of the team's receiving corps.
Evan Royster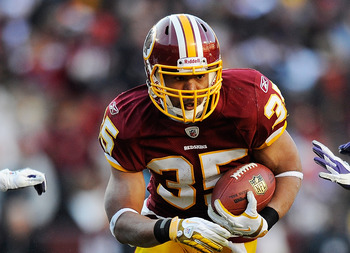 Patrick McDermott/Getty Images
With a game that resembles something closer to diesel power than explosiveness, second-year running back Evan Royster could play a crucial role in maintaining the Redskins' offensive balance this season.
Shanahan made Royster a late-round pick last year with the idea that he could groom him—much like the running backs of his past.
After the five games to end last season, Royster appeared to be picking up speed.
Assuming that everyone is healthy, I don't think Royster is the Redskins starter in Week 1. However, when you're dealing with a stable of runners rather than just a single running back, the "starter" tag isn't nearly as significant.
If Shanahan wants an effective offense this season, a balanced attack of run and pass is essential. And with Royster's downhill, one-cut style, the ground game could establish a firm base.
Leonard Hankerson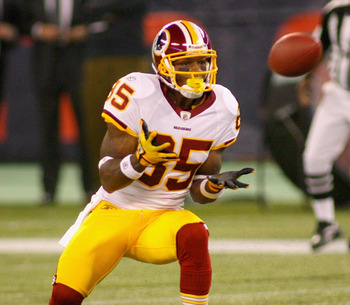 Rick Stewart/Getty Images
As with every NFL team every year, health will play a crucial role in the Redskins' potential success this season.
When it comes to the offensive side of the ball, Shanahan is likely praying for healthy starters all year.
Leonard Hankerson enters his second season this year as one of the team's top receivers.
After showing promise last season in just four games, Hankerson's time was cut short due to injury, ultimately leaving fans with nothing but hopes that he make a full recovery during the offseason.
If healthy, Hankerson could play a major role not only in the Redskins' offensive threat, but also in the development of Robert Griffin III.
As a 6'2" receiver with good positioning skills, Hankerson is a natural target in the end zone, and he has good pursuit of a free football. If he can show something early on this season and gain his confidence, Hankerson holds a key for the Redskins in 2012.
Roy Helu
Dilip Vishwanat/Getty Images
Roy Helu surprised everyone last season with his solid play as a rookie.
Not only could he run it through the line (640 yards), but Helu was also a reliable receiving threat out of the backfield, with almost 380 yards on 49 catches.
At this point, I'll predict that Helu is the starter because of his versatility.
And given the experience gained last season—in addition to more assumed responsibility in 2012—Helu is one of the main cogs in Shanahan's offense this year.
Aside from distinct production, Helu should also serve as a helpful growing tool alongside a rookie quarterback.
When Griffin drops back, he can rely on Helu to throw the block. If a play breaks down, Griffin knows Helu is there for the check-down. And when the ball gets into Helu's hands, Griffin knows there's a chance for a home run.
Fred Davis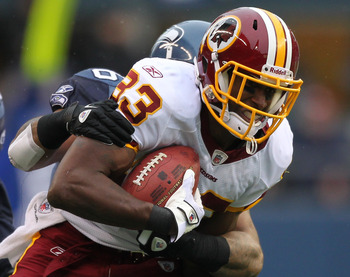 Otto Greule Jr/Getty Images
It's not news to anyone—if Fred Davis can become a responsible adult off the field, he has the potential to be a very successful football player on the field.
While Davis continues to battle his own misguided legal matters, Shanahan hopes that it doesn't come into play with his football production this season—especially considering that tight ends tend to be rookie quarterbacks' favorite targets.
When Davis is on his game, he's one of the better tight ends in the league.
Hell, his game may not even rely on his off-the-field activities. But if he's dumb enough to earn suspensions from either the team or the league, he's as good as a dull knife for the Redskins.
To keep the vibe alive, let's all assume that Fred Davis is committed in 2012. If so, Shanahan can look to him as one of the biggest playmakers on his team.
Robert Griffin III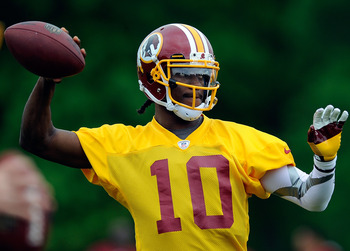 Patrick McDermott/Getty Images
Surprising, right?
After waiting more than two decades to land a quarterback of note, Redskins fans are accustomed to seeing the results.
With Shanahan running the show, he instilled confidence in all of us that Robert Griffin III is a franchise quarterback and the right guy for DC.
Some of the crazier fans will call for Griffin's head by Week 6 after he shows the natural jitters of a rookie quarterback and logs four interceptions.
The more rational type of fan (I'd like to assume that I'm one of them) will take Griffin's rookie year as a progression and developmental stage—as everyone should.
I'm not implying that Griffin can come out and suck his rookie season and fans should just hibernate in the offseason with the mindset of, "Aw, shucks. We'll get 'em next year." But being overly critical does nothing for the Redskins. Or your blood pressure.
If RG3 is successful this year, then the Redskins could go a long way. But his supporting cast, including the defense, will play a big part of it all. Give him some decent scenery around him, and RG3 explodes.
The Offensive Line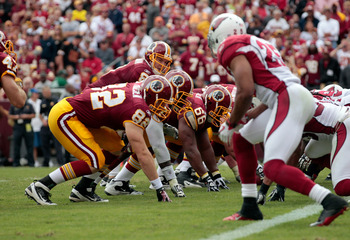 Rob Carr/Getty Images
It's not every day that an offensive line makes a list pertaining to offensive firepower, but it's absolutely true for Washington this season.
Shanahan and the Redskins will live and die by the offensive line in 2012.
Not to beat a dead horse, but the health of the Redskins is key.
If Kory Lichtensteiger can return to full speed and Jammal Brown can keep his hip in check, the offense has a much greater chance of firing on all cylinders.
Although Shanahan and the front office acquired depth across the offensive line this summer, it shouldn't be enough to make fans comfortable. It's the starting talent up front of Williams, Lichtensteiger, Montgomery, Chester and Brown that will support the entire Redskins offense this season.
Keep Reading

Washington Redskins: Like this team?