Bryce Harper vs. Mike Trout: Who Has the Better Tools?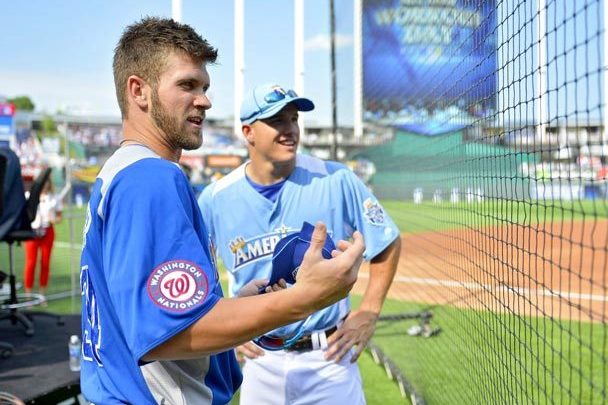 The Major League Baseball world was revolutionized on April 27, 2012 when the Washington Nationals and Los Angeles Angels of Anaheim called up their franchise-changing prospects.
Several hours after the news broke that Bryce Harper would join the Nationals, it was revealed that Mike Trout would make his 2012 debut for the Angels.
Both teams needed help, and both teams received it.
Since the two prospects were called up, they have both exhibited immense talent that resulted in both men being named All-Stars. Their strengths and attributes are similar. Their determination every time they take the field is unprecedented.
Harper has shown tremendous strength, speed and fielding abilities, but how do his tools compare to what Trout brings to the table? A look into these areas might help determine which youngster is on his way to the better rookie season and perhaps the more productive career.
Begin Slideshow

»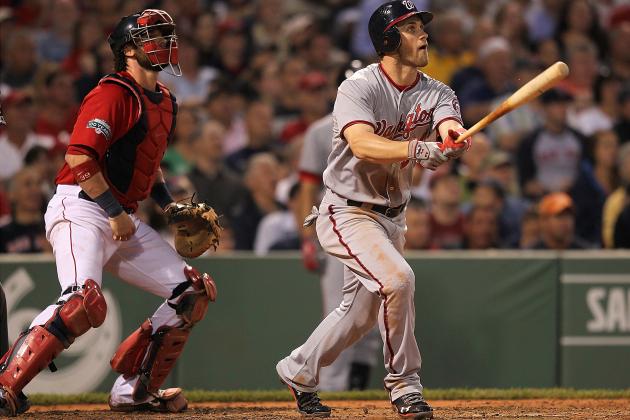 Jim Rogash/Getty Images

The most talked about aspect of Harper's game before ever putting on a Nationals jersey was his off-the-chart power.
Harper has played in 63 games and Trout has played in 64. In that time, Harper has belted eight home runs and Trout has hit 12.
Although Harper has less home runs at the All-Star break, his immense strength has still been on display. According to Hit Tracker Online, Harper's home runs are traveling 18.1 feet farther than Trout's.
Harper's average distance per home run is 419.9 feet compared to Trout's 401.8 feet.
A ball that travels nearly 420 feet has a greater chance of leaving a Major League ballpark compared to a ball that travels just over 400 feet. As Harper has more experience in the league, his patience at the plate will mature and the opportunity to hit more home runs will begin to present itself.
Harper has struck out 26 times in 90 at-bats against left handed pitching. If he can cut back on his strikeouts against lefties he should have more opportunities to succeed.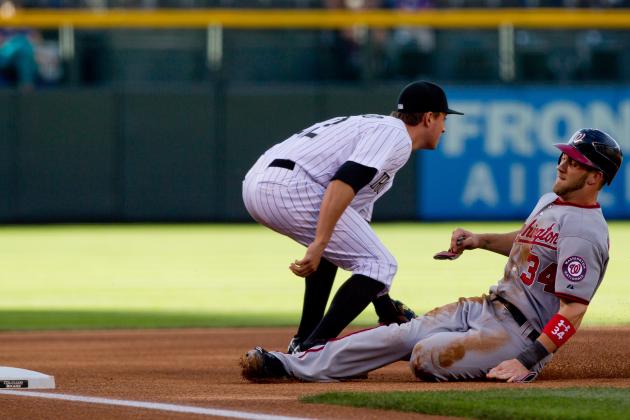 Justin Edmonds/Getty Images

Harper made a statement on a nationally televised game against the Philadelphia Phillies when he was intentionally plunked by Cole Hamels: if he is pitched around, walked or hit, he will make the opposing team pay.
Harper used his speed to eventually steal home after Hamels gave him first base, making a lasting impression on the league.
Harper and Trout are eerily similar when it comes to their hustle and determination day in and day out. There may not be two players in the game that give it their all on every play more than these two.
Trout has a league-leading 26 steals this season, while Harper has 10. Both guys have 15 doubles, many of which would have been singles for most players but were stretched to two bases by their speed and hustle.
Both players are blessed with great speed and baserunning instincts, and both will continue to impact the game significantly with these skills.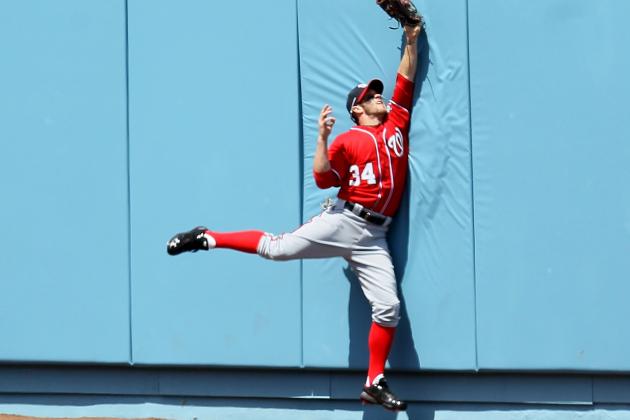 Stephen Dunn/Getty Images

Trout and Harper have brought great defense with them to the majors. Trout appears to move more gracefully than Harper in the outfield, partly because of the fact that this is his second time in the majors and partly because Harper is still learning how to play the outfield.
Harper was a catcher when the Nationals drafted him and was expected to work on his outfield play while in the minors this season. The early call-up forced him to learn on the fly at the big-league level.
Harper still has ability in the outfield however, possessing a cannon of an arm while Trout tracks down balls almost effortlessly.
In Harper's first weekend in the big leagues, he made a highlight-reel play crashing into the wall in Los Angeles. Trout has also been on the highlight reels with his home run-robbing catch of J.J. Hardy in June.
Jeff Golden/Getty Images

Mike Trout leads the American League with a .341 average. Harper is hitting .282—a very respectable average for a 19-year-old who is getting his first crack in the Majors.
Trout learned from his experience in 2011, when he was called up for 40 games and hit just .220. His second time around is proving to be a much better experience.
Harper, in his first try for the big league club, is holding his own. Harper will be a .300 hitter in years to come. It is imperative to remember that he is still a teenager, and his experience will be his opponents' greatest fear for years to come.
Both players are on their way to many more All-Star seasons with their prolific tools. There may be many MVP trophies in the future between the two of them.