Home Run Derby 2012: 10 Prospects Who Could Be the Next Prince Fielder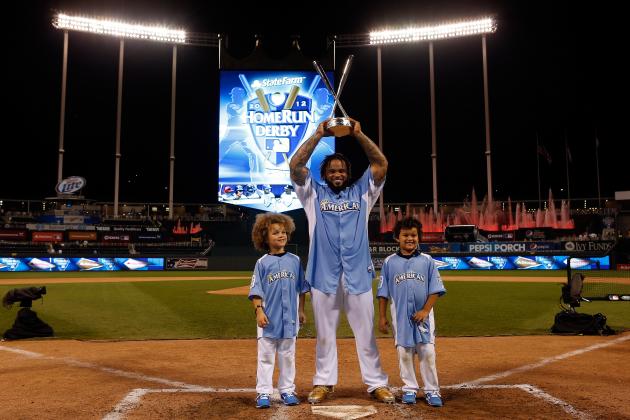 Jamie Squire/Getty Images

Prince Fielder put on a jaw-dropping power display at the 2012 Home Run Derby in Kansas City. After winning the 2009 Home Run Derby in St. Louis as a member of the Milwaukee Brewers, Fielder became the second player to win the event more than once, with only Ken Griffey, Jr.'s three titles standing in his way.
The left-handed hitter's light-tower power produced one tape-measure bomb after another, and by the time the event was finished, Fielder had amassed 28 total long balls. While his longest home run was measured at 456 feet, his average blast was nearly 412 feet.
Naturally, Prince's prodigious blasts made me consider the prospect scene. More specifically, are there are any minor leaguers who have the potential to one day dominate the Home Run Derby?
Here's a look at 10 prospects who I would love to see showcase their power in the derby one day.
Begin Slideshow

»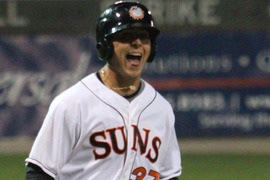 Courtesy of MiLB.com
2012 Stats
Low-A: .280/.434/.553, 35 XBH (21 HR), 73 RBI, 94 K/79 BB (83 G)
A 6'4", 230-pound left-handed hitter, Skole posted big-time power numbers over his career at Georgia Tech while demonstrating advanced plate discipline.
After an impressive professional debut last season in the New York-Penn League, he's been one of the top run producers in the lower minors in 2012. He's learned to incorporate his lower half into his swing this season, and, in turn, he has experienced an increase in home runs to all fields.
While most of his power is still to the pull side, I believe his success at the plate this season is legitimate and should continue.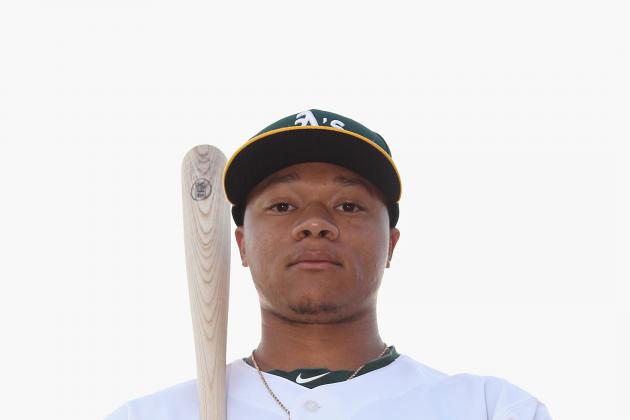 Christian Petersen/Getty Images

2012 Stats
Double-A: .265/.333/.380, 21 XBH (7 HR), 48 RBI, 84 K/29 BB (81 G)
With a swing designed to generate light-tower power, Choice's double-plus power was on full display last season at High-A Stockton, when he led the California League with 30 home runs.
With blinding bat speed and considerable lift to his swing, the right-handed hitter generates too much movement with his lower half at times, which, in turn, impedes his power. Additionally, such a swing inhibits his ability to time breaking balls and has led to excessive strikeouts this season, his first at Double-A.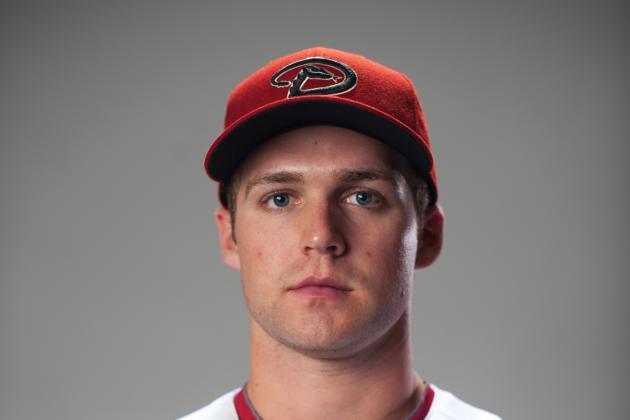 Rob Tringali/Getty Images

2012 Stats
Double-A: .259/.368/.498, 39 XBH (18 HR), 48 RBI, 85 K/47 BB (88 G)
A right-handed hitter with strong arms and quick wrists, Davidson has the ability to drive the ball out of the park to all fields. Despite his high strikeout totals of previous years, he actually possesses fairly advanced plate discipline that should help retain a decent batting average at higher levels.
His pitch recognition still needs to improve, but the fact that he's handled the jump to Double-A this season is highly encouraging.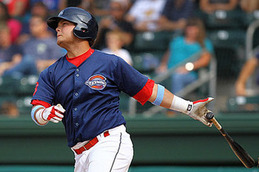 Courtesy of MiLB.com
2012 Stats
High-A: .382/.433/.715, 47 XBH (18 HR), 56 RBI, 55 K/23 BB (67 G)
Double-A: .262/.328/.393, 5 XBH, 16 K/4 BB (16 G)
Unlike some of the other hitters on this list, Head isn't technically a power hitter. Rather, he's just a pure hitter. However, at 6'0" and 215 pounds, he possesses the physically strength to effortlessly leave the yard to all fields.
With a fluid, quick swing and advanced plate discipline, Head consistently drives the ball with authority and should always have an impressive batting average to match his power numbers.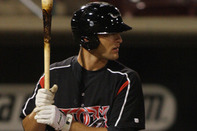 Courtesy of MiLB.com
2012 Stats
Double-A: .287/.352/.526, 40 XBH (19 HR), 73 RBI, 61 K/26 BB (86 G)
At 6'7" and 225 pounds, the right-handed-hitting Freiman has plus raw power to all fields.
Considered a metal-bat hitter when he was drafted out of Duke in 2009, he's done an admirable job retooling his swing over the last three seasons, and the power numbers speak for themselves. After belting 22 long balls in 138 games last season in the hitter-friendly California League, Freiman has nearly eclipsed that mark in half as many games.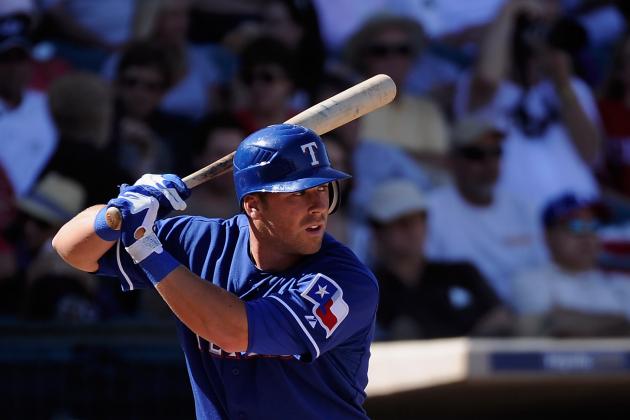 Kevork Djansezian/Getty Images

2012 Stats
Double-A: .292/.403/.574, 37 XBH (22 HR), 63 RBI, 85 K/51 BB (78 G)
Currently leading the Texas League with 22 home runs, Olt has plus power from the right side with enough polish to hit for a decent average.
This season, his increase in power frequency has been encouraging and was especially noticeable in June when he batted .325/.438/.738 with 10 home runs in 22 games.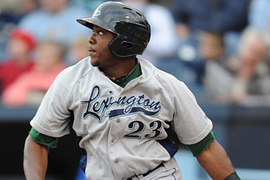 Courtesy of MiLB.com
2012 Stats
High-A: .217/.311/.510, 35 XBH (21 HR), 46 RBI, 133 K/32 BB (70 G)
Like Cubs prospect Dan Vogelbach, Nash is a bad-body slugger who launches tape-measure home runs with ease.
A right-handed hitter, the 6'1", 248-pounder has plus raw power and bat speed, though his swing can be too long at times, causing excessive strikeout rates.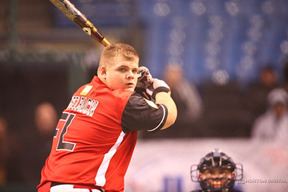 Courtesy of ESPN.com
2012 Stats
Rookie: .339/.391/.629, 11 XBH (3 HR), 16 RBI, 10 K/6 BB (14 G)
You may best remember Vogelbach for his power displays at both the 2009 (502 feet) and 2010 (508 feet) Power Showcase. Sure, his 6'0", 250-pound frame appears better suited for a career in softball, but the left-handed hitter's double-plus raw power is undeniable.
Vogelbach isn't strictly a power hitter. With a compact and fluid swing, he drives the ball to all fields and could have an above-average hit tool by the time he reaches the major leagues. Furthermore, he's a patient hitter who already has an advanced feel for the strike zone.
Courtesy of MiLB.com
2012 Stats
Low-A: .241/.356/.497, 37 XBH (18 HR), 59 RBI, 100 K/48 BB (83 G)
Sano is easily the top right-handed power prospect in the minor leagues. After slugging 20 home runs in 66 games last season in the Appalachian League, the 19-year-old has already amassed 18 bombs through 83 games at Low-A Beloit in the Midwest League. Unlike most young hitters, his power isn't strictly to the pull side, as he frequently jumps the yard to the opposite field.
Grading from 75 to 80 for his raw power, Sano has the potential to hit 40-plus home runs once he improves his plate discipline.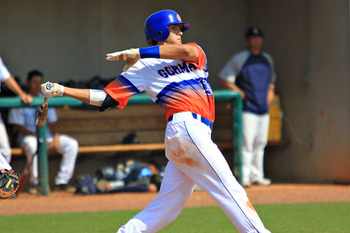 Courtesy of MaxPreps.com
2012 Stats
Rookie: .294/.486/.804, 11 XBH (7 HR), 16 RBI, 15 K/19 BB (16 G)
With the most power in the 2012 draft class, the 6'5", 205-pound left-handed hitter finished his prep career at Nevada powerhouse Bishop Gorman with the state home run record (60). His 80-grade power was on full display at the Perfect Game All-American Classic last summer when he blasted a 442-foot home run at Petco Park—the 10th-longest in stadium history.
Gallo has been on fire to start his professional career, too, launching seven home runs in his first 16 games.