Anderson Silva vs Chael Sonnen: Will This Be the High Point of the UFC's 2012?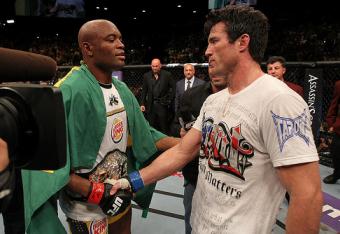 Photo by Josh Hedges/Zuffa LLC/Zuffa LLC via Getty Images

It was a match two years in the making and it delivered the UFC's biggest night in its history. At least according to Dana White, the intake at the gate was the highest for a UFC event and the pay-per-view buyrate is predicted to be "UFC 100 numbers".
White had already hyped the UFC 148 encounter between Chael Sonnen and Anderson Silva last Saturday as one of the biggest sporting events in this Olympic year. If the UFC president himself thinks this is a high water point, how can any of the remaining events hope to replicate its success?
Of course not all of the events have been finalized, so there is still a chance of something brewing. But of the events that we do know, few can live up to the expectations of UFC 148.
UFC 149 is being headlined by Urijah Faber against Renan Barao, and features Hector Lombard's debut for the promotion. However, the bantamweight division is one of the less popular divisions and neither Faber nor Barao are big enough names.
UFC 150 and 151 on the other hand are both headlined by eagerly awaited championship fights. Ben Henderson defends his title in a rematch against Frankie Edgar, and Dan Henderson attempts to end Jon Jones reign.
Later in the year we're likely to see BJ Penn's return to the cage to take on the much hyped Rory MacDonald, and MacDonald's mentor himself, George St. Pierre, is scheduled to fight Carlos Condit at UFC 154.
GSP at least, is arguably as big of a name as Silva and Jones and is fast closing in. However, there are many elements that came together over UFC 148 which could make its high point unassailable.
Firstly, there was the star in Anderson Silva. He is widely regarded as the greatest mixed martial artist of all time and has an unprecedented fan following. This is especially true for his home country Brazil, where he has become a virtual superstar. The Brazilians have caught onto MMA fever like no other country, so much so that the UFC was confident that they could sell out a football stadium to host the event.
We also saw the devotion of the Brazilians when they packed out half the MGM Grand in Las Vegas with their supporters.
And that brings us to the second element which converged to make UFC 148 the success it was. Chael Sonnen.
Sonnen's pro-wrestling shtick riled the Brazilian nation as well as attracted mainstream media attention in the US, enough to make UFC 148 the success it was. And he spent two years doing it.
Shortly after his loss to Silva, and despite failing a drug test—he was quickly set on a path for the title. For two years he created interest in the fight with borderline comments and outrageous gimmicks. At one point he bet with Silva to leave the UFC middleweight division if he lost a rematch.
The talk eventually worked, but that was just the beginning. As soon as the contract was signed, the Sonnen hype machine went into overdrive, with media spots and interviews across TV land promoting the fight.
Few fighters have that ability. Few fighters have the following of Silva. And even fewer fights have both of those as well as such a bitter rivalry to sell matches. In all likelihood, UFC 148 will be the UFC's highpoint in 2012.
This article is
What is the duplicate article?
Why is this article offensive?
Where is this article plagiarized from?
Why is this article poorly edited?