USA Women's Olympic Soccer Team: 4 Reasons Kelley O'Hara Is Grabbing Spotlight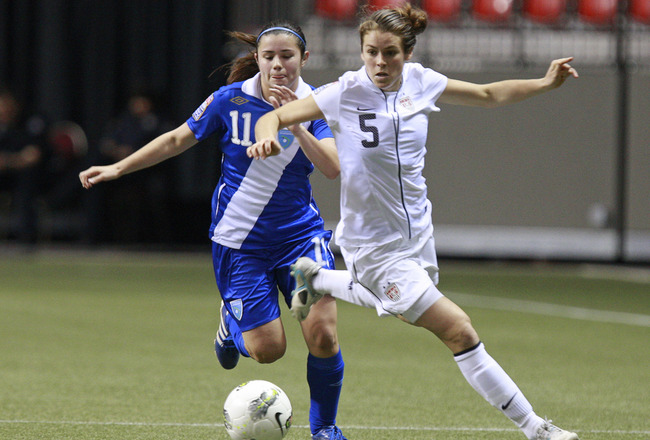 Jeff Vinnick/Getty Images
There was a time when U.S. soccer players had to take off their shirts during a game to rally much attention. Thanks to the strong play that backed up Brandi Chastain's display, the days of needing publicity stunts to get exposure are now behind Team USA.
Although some of their players are still opting for exposure.
The U.S. women's soccer team began an impressive run in international play in 1991. They dominated World Cup play that year, outscoring their opponents 25-5 while winning their six matches.
They then surrendered just three goals while posting a 5-1-0 record and securing the 1999 World Cup title.
Their Olympic run has been even more impressive, securing three gold medals and a silver in the four Games.
One of the Olympians that has been getting a fair amount of attention is Kelley O'Hara. There are some very basic reasons for this, in addition to her being an incredibly talented and dedicated soccer player.
Appearance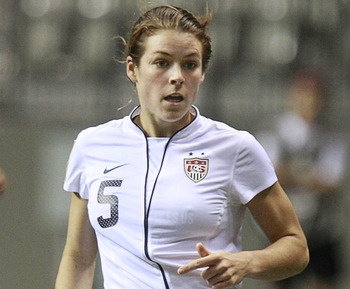 Jeff Vinnick/Getty Images
Versatility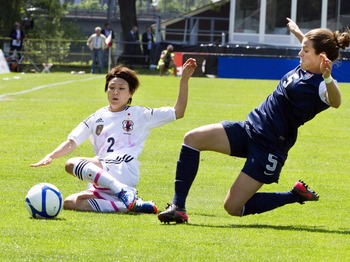 Getty Images/Getty Images
O'Hara left the Stanford Cardinal after a successful career as a goal scorer. She had an amazing senior year, winning the Hermann Trophy as college soccer's top player.
She scored 26 goals with 13 assists in her last season with the Cardinal.
However, the attack positions on Team USA are fairly stacked with Abby Wambach, Alex Morgan, Sydney Leroux and Amy Rodriguez.
To find a slot for her, the U.S. has moved O'Hara to fullback.
Coach Pia Sundhage noticed the success that teams like France and Japan were having with speedy fullbacks that could press forward. She decided to give O'Hara a chance as a defender, using former Stanford teammate Rachel Buehler to help her through the transition.
"When you look at Kelley her attacking qualities are so much stronger than defending," coach Sundhage told MercuryNews.com. "Defending is easy to teach."
Sundhage expanded on the importance of versatility in making the U.S. soccer team.
The team is a mix of very experienced players and several new fresh faces. All the players are versatile, which is extremely important when you have just 16 field players on a roster. This is a group that is focused on some very high goals and it will be a pleasure to coach them in the Olympics.

Pia Sundhage, via paloaltoonline.com
Morgan agrees with her coach. In the MercuryNews.com article, she stated "Kelley is amazingly fast and tackles really hard. It's not great going up against her day after day."
Nike Exposure
When an attractive, fit, successful women starts to become well known, it is inevitable that she will get a phone call from at least one or two different entities.
While there is no word on whether she's heard from Hugh Hefner yet, Nike certainly has been working with her.
Few companies have the resources and reach to make a name for a sports star like Nike, and few stars portray the Nike image as well as O'Hara.
And as long as O'Hara makes commercials like this, fans will be watching.
She's a Team Player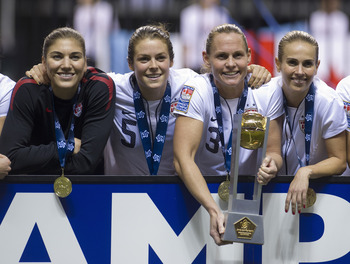 Rich Lam/Getty Images
While highly tied to her versatility, there is no doubt that Kelley O'Hara puts the needs of the team above herself.
Sports fans are saturated with stories of athletes holding out of training camp because they want a new contract or players asking to be traded because their current team won't "show them the love."
It is refreshing to hear of a player that wants to play for the love of her sport and doing what she can to help the team.
When talking about changing positions to help the team, according to MercuryNews.com she stated "I'm down for anything."
In addition to Morgan crediting O'Hara with her success, she is also impressed with her willingness to do whatever she can to help the team win.
"Credit to her to just go with it," Morgan said, as she didn't feel she would have been able to handle the situation nearly as well.
O'Hara is taking it all in stride and will be flexible with whatever comes her way.
"We need outside backs that can come from behind," Sundhage said in an article on ussoccernews.com. "We have great options at outside mid right now, and I don't know if that will be her position in the future, but right now the team needs her at outside back."
Should the time come when O'Hara is needed elsewhere, one can be certain she'll be ready to respond.
O'Hara offered a fairly solid summary of her dedication to teammork.
It's definitely a different role, but for me, I've always known that even as a forward, even when I'm scoring goals, we are winning because of the person next to me and behind me. I've always known that soccer is a team sport and regardless of your role, everyone is contributing. That has made this whole experience easier.

Kelley O'Hara in ussoccernews.com
With an attitude like that, it is no wonder she is grabbing headlines and hearts across America.
Keep Reading