2012 MLB All-Star Game Live Blog: Results, Highlights and Postgame Reaction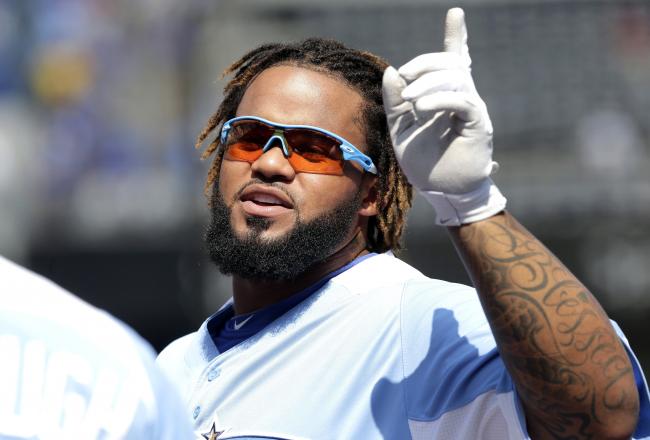 The National League will have home-field advantage for the 2012 World Series after thrashing the American League, 8-0, in the 83rd MLB All-Star Game.
San Francisco Giants outfielder Melky Cabrera (2-for-3, 1 HR, 2 RBI) earned MVP honors.
It was lopsided from the get-go.
AL starter Justin Verlander surrendered five runs—all earned—in the first inning. He couldn't command his pitches, particularly a 81-mile-per-hour curveball that Pablo Sandoval lined to right field for a bases-clearing triple.
That was all the support the NL All-Stars needed. Their pitching staff combined for an 11-man masterpiece. Every arm from Matt Cain to Jonathan Papelbon had success.
This marks the first time since 1996 that the Senior Circuit has won via shutout.
It's past my bedtime.
Sleep well, loyal readers. Dream of exciting baseball in the second half.
I predict that the balance of power will gradually shift in 2013 and beyond because the leagues will soon be evenly sized.
The 16-team National League has been selecting its All-Stars from a larger crops of players since 1998, but the Houston Astros have agreed to move next season.
There isn't much to second-guess about the managerial decisions of Ron Washington and Tony La Russa. Naturally, most of their actions weren't of much consequence considering the score.
All participating pitchers threw 35 bullets or fewer, so MLB teams won't be complaining about over-usage.
Elvis Andrus and David Freese played foreign positions for a few innings, but Andrus actually had a nice assist as the AL third baseman.
Chipper Jones on the standing ovation in his last #ASG at-bat: "That was a moment that I'll never forget."
— MLB Network (@MLBNetwork) July 11, 2012
FUN FACT: Four of the past six All-Star Game MVP awards have gone to outfielders. Melky Cabrera—who slugged more home runs than Matt Kemp this week—was an obvious choice.
The crowd was very supportive of Billy Butler. Otherwise, though, the fans were hardly audible.
Eight-run deficits tend to have that effect on people.
What a mismatch.
The National League batted .375 with runners in scoring position, while the AL was fruitless in such situations. The winners also amassed five extra-base hits (three triples).
Adam Dunn wasn't used, but I didn't see him as an All-Star, anyway. Edwin Encarnacion of the Toronto Blue Jays was far more deserving of the third-string designated hitter job.
FINAL: NL 8, AL 0 – It's over. The American League All-Stars stranded Elvis Andrus 90 feet from home. They've been shut out for the first time since 1996. The Senior Circuit has bragging rights—and home-field advantage in the World Series—for the third consecutive year.
K.C. fans will buy Joel Hanrahan dinner if he feeds Billy Butler a hittable pitch.
The Arizona Diamondbacks could have easily had three total All-Stars, including Paul Goldschmidt and Aaron Hill. I was surprised that Wade Miley made it as their lone representative.
Fernando Rodney pitched the ninth, but left the field without launching an arrow into the sky. I'm disappointed.
Through eight innings: NL 8, AL 0 - Barring a historic comeback, the National League will three-peat in the MLB All-Star Game. Just like last year, the Senior Circuit is doing it with pitching, pitching, and more pitching. Adam Dunn is the only position player yet to participate. If anybody can crush a nine-run homer, it's him.
The AL trails by eight runs, but I'd love to see Mike Trout swipe third base.
Aroldis Chapman, on the other hand, came back down to Earth towards the end of the first half.
Baseball-Reference.com reveals that Atlanta's Craig Kimbrel has pitched like a demigod since May 18 (19 IP, 0.47 ERA, 33/0 K/BB).
Mount Kilimanjaro and Jose Altuve were both mentioned during the FOX broadcast in the top of the eighth. This tweet includes both:
Mt. Kilamanjaro is 3573 Altuves tall.
— How Many Altuves (@HowManyAltuves) July 11, 2012
Adam Jones' shiny white shoes are the norm, not the exception. This All-Star Game has an NBA feel with all the flashy cleats around the diamond.
Through seven innings: NL 8, AL 0 - Both teams have attacked the plate recently. In the seventh, 19 of 25 pitches were strikes. The American League is in deep doo-doo.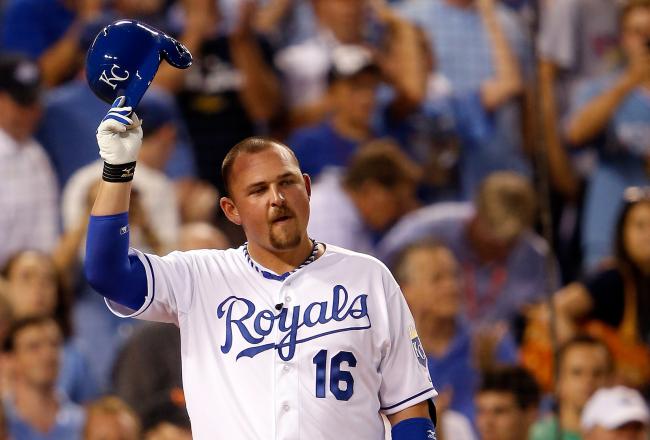 Kansas City loves Billy Butler.
I just received this question from Twitter:
Well that was a lot fun out there! Who do you think is going to be the All Star Game MVP? #ASG

— Stephen Strasburg (@stras37) July 11, 2012
Well, Stephen, Pablo Sandoval's three-run, two-out triple was pretty clutch. Meanwhile, Matt Cain and Gio Gonzalez were particularly sharp in the early innings.
There are several qualified candidates, but let's wait until the final out..
We're through six-and-a-half frames. This event has been surprisingly, to say the least. Obviously, the zillion-run difference wasn't expected. Also, of the 39 recorded outs, only eight have been recorded via strikeout. Hopefully Adam Dunn gets a chance to change that.
Erin Andrews is back! Cherish every second!
After six innings: NL 8, AL 0 - The American League All-Stars are stuck with a goose egg, even though they've put six of their own on base tonight. Every starting player besides David Ortiz has been removed, and Billy Butler will pinch-hit for Big Papi in the seventh.
It's clear that the Trout-Harper battle is being won by the elder. Trout lined a single off of Dickey and proceeded to steal second base. He bobbled a ball in the outfield, but it did not allow a baserunner to advance, whereas Harper's miscue did.
This article is
What is the duplicate article?
Why is this article offensive?
Where is this article plagiarized from?
Why is this article poorly edited?