UFC on Fuel TV: Munoz vs. Weidman B/R MMA Staff Predictions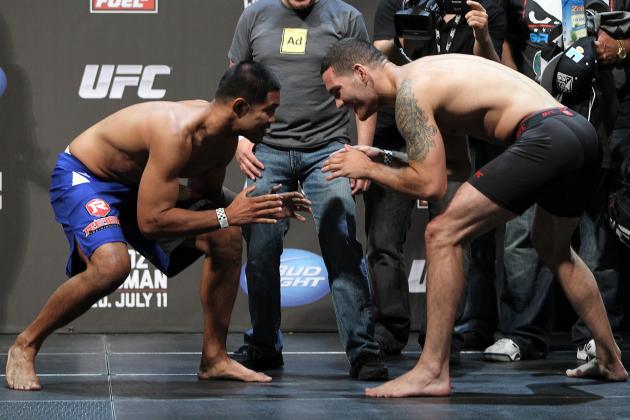 (Photo by Josh Hedges/Zuffa LLC/Zuffa LLC via Getty Images)
The fourth installment of UFC on Fuel TV features a showdown between two of the top contenders in the middleweight division.
In what may prove to be an unofficial title eliminator bout at 185 pounds, Mark "The Filipino Wrecking Machine" Munoz takes on Chris "The All-American" Weidman.
Opening up the main card, Rafael dos Anjos and Anthony Njokuani do battle in hopes of remaining relevant in the lightweight division.
At bantamweight, gritty wrestler TJ Dillashaw takes on highly regarded BJJ black belt Vaughan Lee in what looks to be an entertaining grappling affair.
In yet another clash at middleweight, Karlos "The Terminator" Vemola squares off with Francis Carmont in a bout where the winner can expect a "name" opponent next time around.
Kenny Robertson returns to the Octagon against Aaron "A-Train" Simpson in a welterweight affair, while light heavyweights James Te-Huna and Joey Beltran will trade some leather in the co-main event.
Bleacher Report MMA Featured Columnists Andrew Saunders, Matt Juul and myself, John Heinis, bring you the action this time around.
Take a look inside to see who walks away victorious Wednesday evening.
Begin Slideshow

»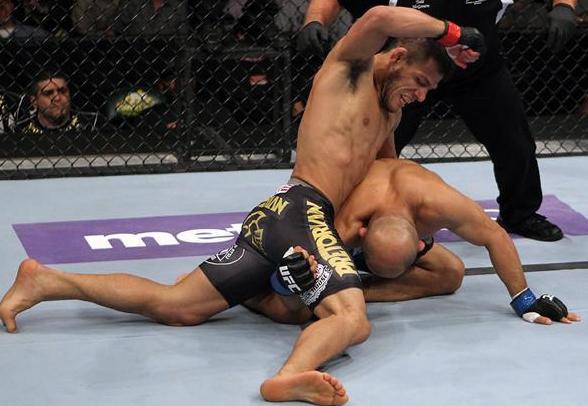 UFC
John Heinis: Rafael dos Anjos could easily be on a seven-fight win streak and in the title picture right now if it weren't for a couple bad breaks along the way.
The Brazilian jiu-jitsu black belt was hanging tough with perennial contender Clay Guida at UFC 117 until he could no longer tough out a jaw injury in the third round.
At UFC 139, dos Anjos lost a close split decision with Gleison Tibau that many felt should've gone the other way.
Of course, facts are facts and dos Anjos is just 2-2 in his past four bouts. He looks to make a statement against Anthony Njokuani.
Njokuani is also 2-2 in his past four and has struggled each time. He's seen a step up in competition in both the WEC and UFC (besides a WEC knockout of Bart Palaszewski).
Njokuani has slick Muay Thai and some knockout power to boot, but has little else to offer in the cage. Rafael dos Anjos' experience and superior grappling game will be too much to handle in this one.
Rafael dos Anjos via Round 2 submission (rear naked choke)
Andrew Saunders: Rafael dos Anjos might just be the most underrated lightweight in MMA. His performances against Clay Guida and George Sotiropoulos showed us that he can hang with the best.
Njokuani, is a one-trick pony who is lucky to still have a job. Njokuani has lost four of his last seven fights under the Zuffa banner.
Rafael dos Anjos has a major grappling advantage in this fight and should be able to work the fight to the floor. If it gets there, Njokuani doesn't have the submission defense to survive.
Rafael dos Anjos by Round 2 submission
Matt Juul: Rafael dos Anjos and Anthony Njokuani are solid lightweight veterans who will provide your standard grappler vs. striker matchup.
Njokuani has had trouble against submission guys in the past and will have to keep the fight standing against dos Anjos.
However, the Brazilian has surprised opponents in the past with his heavy hands, so a more technical striking game is a must.
As long as Njokuani can avoid these two pitfalls, he should be able to easily dispatch of dos Anjos.

Anthony Njokuani via unanimous decision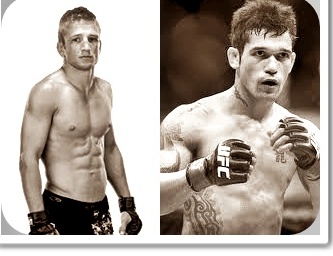 Pro MMA Now
John Heinis: The runner-up from season 14 of "The Ultimate Fighter," TJ Dillashaw, looks to prove he can be a force in the featherweight division when he takes on Vaughan Lee.
Dillashaw, a Team Alpha Male fighter, may be remiss in taking this fight to the ground against a BJJ black belt that is as skilled as Lee.
After losing the stand-up battle against Norifumi "Kid" Yamamoto at UFC 144, Lee beautifully transitioned a triangle choke into an armbar from his guard, forcing the highly regarded Japanese fighter to tap out.
Dillashaw's high-level takedowns and top control worked wonders against Walel Watson, but I question if he can do the same against a much more skilled opponent.
To his credit, "The Viper" is very good at finishing when the fight hits the ground, but I just think that Lee's guard game is on another level.
Vaughan Lee via Round 3 submission (triangle choke)
Andrew Saunders: Vaughan Lee looked good in his bout with KID Yamamoto, but the Japanese star has faded quite a bit, so I'm not sold quite yet.
Dillashaw, on the other hand, was beyond impressive in his shutout win over Walel Watson back in February.
The TUF runner-up still isn't happy about being clipped in the tournament final, and he has a good chance of grinding out a win here.

TJ Dillashaw by unanimous decision
Matt Juul: TJ Dillashaw and Vaughn Lee are two of the UFC's most exciting bantamweight prospects and should put on a show.
Former TUF alum Dillashaw is a great wrestler with solid submission and striking skills. Coming from such a strong Team Alpha Male squad, expect him to try and bully the slightly smaller Lee around.
Dillashaw could be in trouble, however, if he takes the fight to the ground, as Lee's black belt-level BJJ skills have earned him seven career submission wins.
This interesting batamweight matchup should prove to be an exciting back-and-forth battle.

TJ Dillashaw via split decision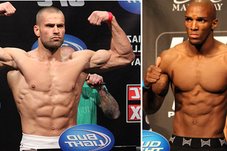 MMA Mania
John Heinis: Remember when Karlos Vemola was a heavyweight? Neither does anyone else, but he looked respectable in his middleweight debut against Mike Massezio in May, notching a submission win.
He faces a much more explosive grappler this time around against one of George St-Pierre's training partners, Francis Carmont.
Carmont has won seven in a row, six of which were finishes, and has shown slick wrestling and submission skills once the fight hits the mat.
Vemola is a six-time Czech Republic National Wrestling champion, but his time on the mat has not translated very well into the cage, as his takedowns have been negated by the likes of Jon Madsen and Ronny Markes.
Vemola has a decent chin and is very powerful, but Carmont's superior cardio and more well-rounded game will be too much for him.
Francis Carmont via unanimous decision (30-27)
Andrew Saunders: Karlos Vemola is hit or miss. If he isn't being grinded on by a wrestler, he is going berserk on fighters like Seth Petruzelli.
His propensity to win via rear naked choke precedes him, as his middleweight debut saw him win his fifth career fight with that method.
Carmont is 2-0 in the UFC and fights out of Tristar with Georges St. Pierre and Ivan Menjivar.
Wins over Chris Camozzi and Jason Day are impressive statements that suggest that he could be a career UFC fighter.
This one is a coin-flip for me, but I haven't been thoroughly impressed with Vemola enough to hang my hat on him.
Francis Carmont by Round 3 submission
Matt Juul: A stablemate of welterweight champ Georges St-Pierre, Francis Carmont has not disappointed his Tristar teammates since coming to the UFC.
With two straight wins under the promotion, Carmont has extended his winning streak to seven straight and will look to add another win over Karlos Vemola.
The 28-year-old Czech fighter had a successful middleweight debut in May, taking a second-round submission over Mike Massenzio. Like Carmont, he's an all-around threat with great ground skills.
This fight is truly evenly matched, but Carmont's experience will give him the edge.

Francis Carmont via unanimous decision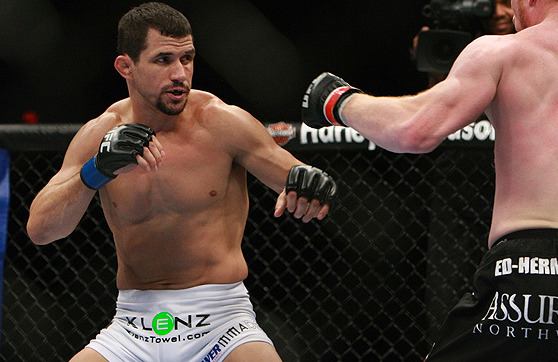 Sherdog
John Heinis: Aaron "A-Train" Simpson makes his welterweight debut after being out-muscled by huge middleweight Ronny Markes at the first UFC on Fuel TV event in February.
He goes from fighting perennial contender Jon Fitch to taking on relative unknown Kenny Robertson, as Fitch suffered an injury during his training camp for the fight.
Simpson has solid wrestling and serious KO power, however, he is not the most technical striker and lacks much of a jiu-jitsu game.
Robertson is a tough fighter to read, with a record of 1-1 over fighters most fans would actually recognize: Lucio Linares (which he won) and Mike Pierce (which he lost).
The Illinois native has an underrated submission game and is great at finishing once he gets on top, but I don't think he's ever had to deal with a wrestler on Simpson's level before.
Aaron Simpson via unanimous decision (29-28)
Andrew Saunders: I don't know much about Kenny Robertson, but I do know a bit about Aaron Simpson. Simpson is a grinder who doesn't care about a flashy performance as long as he picks up the win.
His original opponent was Jon Fitch, and that would have been an interesting battle to see who could secure a takedown before taking a blanket approach.
In Robertson's only UFC appearance, he was knocked out by Mike Pierce early in the second round. Pierce has a similar grinding style to Simpson, so I don't see Robertson faring well in this fight either.

Aaron Simpson by unanimous decision
Matt Juul: Aaron Simpson was supposed to make his welterweight debut against Jon Fitch, but the perennial contender was forced off the card with an injury and will be replaced by one-time UFC vet Kenny Robertson.
Robertson makes his way back to the UFC following an impressive spinning backfist KO win late last year.
The victory came after Robertson was cut by the world's largest MMA promotion following a brutal beatdown by Mike Pierce at UFC 126, his first career loss.
The 37-year-old Simpson may not be facing a former title challenger, but Robertson still provides a solid challenge. Robertson is a solid submission threat and is a finisher.
I'm predicting a big upset in this match, as the returning Roberston will spoil Simpson's welterweight debut.

Kenny Robertson via Round 3 submission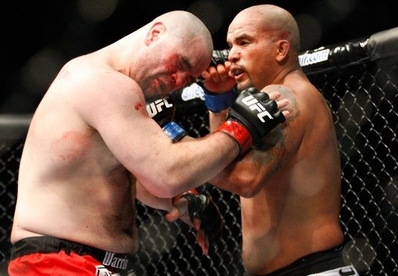 MMA Mania
John Heinis: I know this is a Fuel card, but is this seriously the co-main event? Wow.
Ok, so James Te-Huna has won eight of his past nine, with his sole loss coming to rising contender Alexander Gustaffson at UFC 127.
Meanwhile, Joey Beltran was cut after losing four of his past five in the Octagon at heavyweight (dating back to Sept. 2010), but get's another chance here by dropping down to 205 pounds.
"The Mexecutioner" brings serious KO power to the cage...but little else. His cardio is pretty poor and his wrestling and jiu-jitsu skills are rudimentary at best.
Te-Huna is a better striker and wrestler, with the submission game basically being a wash. He has struggled with a step up in competition before, but he doesn't have that here.
James Te-Huna via Round 2 KO
Andrew Saunders: A fan-friendly battle is sure to come out of this striker vs. striker matchup.
Te-Huna has looked great in his last few appearances, and Beltran lost four of his past five fights before the UFC released him.
Unless he has really picked up his game and plans to unleash something new at light heavyweight, I think Te Huna takes this one all day.

James Te-Huna via Round 2 TKO
Matt Juul: Joey Beltran makes a quick return to the UFC after an April win in his light heavyweight debut. Now set to face James Te-Huna, this battle will be an all-out striking affair.

Te Huna has looked impressive in his last few outings, currently riding a two-fight win streak all via first-round stoppages.
Beltran's last UFC outing was a devastating KO loss to Lavar Johnson and showed the veteran's susceptibility to powerful strikers.
As long as Te Huna doesn't get caught in the clinch, he should be able to easily stop Beltran early in the fight.

James Te Huna via Round 2 TKO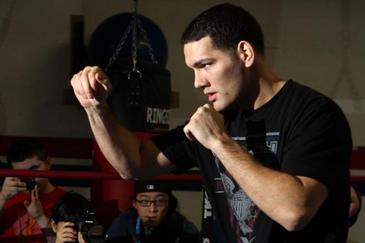 Oneround.com
John Heinis: The only reason anyone is watching this card, two versatile middleweights clash in what could be an unofficial number contender bout.
Both Mark Munoz and Chris Weidman were decorated wrestlers in college, but "The Filipino Wrecking Machine" prefers to pound his opponents into oblivion while "The All-American" favors submissions.
Munoz has rattled off four wins in a row, also victorious in seven of his past eight since dropping down to middleweight, with his sole loss being a close split-decision loss to Yushin Okami back in Aug. 2010.
A former Oklahoma State Cowboy, Munoz has some heavy hands, with his ground-and-pound being second to none to anyone else in the middleweight division.
However, his wrestling is a bit overrated due to his collegiate credentials (two-time All-American). Inside the cage, Munoz has a tendency to shoot from far away and telegraph his takedowns, something that could prove costly against Weidman.
Weidman, a product of the Serra-Longo Fight Team, showed his potential by defeating Demain Main at UFC on FOX 2, accepting the fight on less than two weeks notice.
The New Yorker has explosive takedowns and transitions seamlessly to submissions, which is why his striking is vastly underrated.
Honestly, I think Munoz is a little overrated (remember when he got taken down by Chris Leben?) which is why I'm going with the undefeated underdog in this one.
Chris Weidman via unanimous decision (30-27)
Andrew Saunders: Chris Weidman is a hot prospect who has well-rounded skills. His submission game is strong enough to earn two first-round stoppages against UFC athletes.
However, we have yet to see him square off against a high-level wrestler of Munoz's caliber.
Munoz has wrestled with some of the best, including a close battle with former contender Yushin Okami and a win over Aaron Simpson.
Neither of those men have Weidman's submission prowess, so it's hard to know what could happen once this fight hits the floor.
By far, this is one of the more intriguing stylistic matchups that the organization has had in a while. It's hard for me to predict Weidman, solely because we haven't seen him face anyone like Munoz in the past.
The two times that he took a fight with time for a proper camp, he finished his opponents in the first round. That's impressive stuff.
Munoz has some of the best ground-and-pound in the business, and I think that his wrestling is strong enough to get this fight to the floor. For that reason...
Mark Munoz wins via Round 3 TKO
Matt Juul: A battle of rising middleweight contenders, former college wrestling phenoms Mark Munoz and Chris Weidman will be an interesting main event bout.
Both fighters are known for their takedown skills, but where they truly differ is in the way they finish fights. Munoz has heavy hands and will look to force Weidman to stand and bang with him.
"The Filipino Wrecking Machine" has six career knockout wins and will look to exploit his young opponent on the feet.
Weidman will try to force this fight to the ground and utilize his submission skills. However, Munoz's takedown defense will be difficult to overcome.
In the end, Munoz will pick apart Weidman with strikes and serve the young middleweight his first career loss.

Mark Munoz via unanimous decision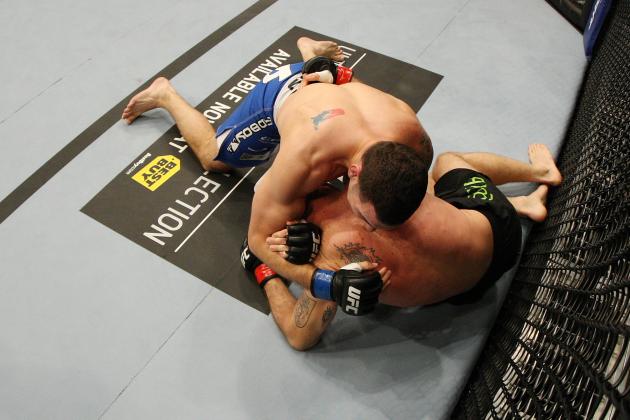 UFC
John Heinis: Fight of the Night - Mark Munoz vs. Chris Weidman
Knockout of the Night - James Te-Huna
Submission of the Night - Vaughan Lee
Andrew Saunders: Fight of the Night - James Te-Huna vs. Joey Beltran
Knockout of the Night - James Te-Huna
Submission of the Night - Rafael dos Anjos
Matt Juul: Fight of the Night - Mark Munoz vs. Chris Weidman
Knockout of the Night - James Te-Huna
Submission of the Night - Kenny Robertson