UFC on Fuel TV 4 Weigh-in Results for Mark Muñoz vs Chris Weidman Fight Card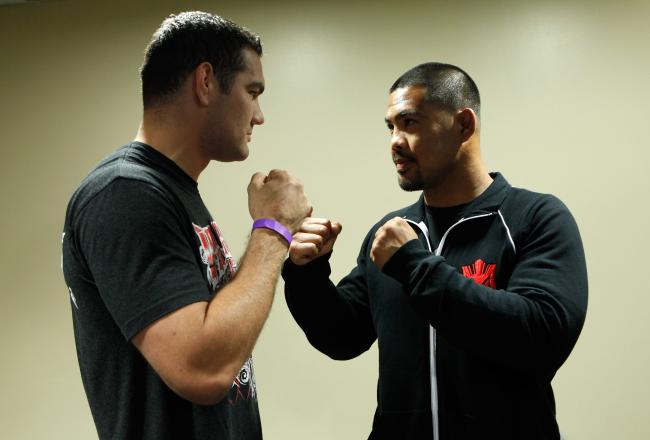 Esther Lin/Forza LLC UFC via Getty Images

The UFC does not rest for very long. Just days after the wildly successful UFC 148 card took place in Las Vegas, the promotion will travel a few hundred miles west to present UFC on Fuel TV 4 from the HP Pavilion in San Jose, CA.
The July 11 fight card will be headlined by a middleweight bout between Mark Muñoz and Chris Weidman. Muñoz (12-2) is on a four fight-winning streak, with his last victory coming at UFC 138 when he defeated Chris Leben via TKO. Weidman (8-0) has never tasted defeat in his professional career. He last competed on the January UFC on FOX card, defeating Demean Maia via unanimous decision after taking the fight on less than two weeks notice.
There will be a great deal of interest in this bout as both Muñoz and Weidman have said that with a win, they will look to put their names next on the list for a shot at Anderson Silva and his UFC crown.
In the evening's co-main event, Joey Beltran (14-7) will return to the UFC after a brief foray away from the promotion. When he does step into the Octagon on Wednesday, Beltran will be competing at the light heavyweight limit for this first time with the promotion. His opponent will be the 14-5 James Te Huna.
UFC on Fuel TV 4 Weigh-In Results:
Mark Munoz (186) vs. Chris Weidman (186)
James Te Huna (205) vs. Joey Beltran (205)
Aaron Simpson (171) vs. Kenny Robertson (170)
Karlos Vemola (186) vs. Francis Carmont (186)
T.J. Dillashaw (136) vs. Vaughan Lee (135)
Rafael dos Anjos (156) vs. Anthony Njokuani (156)
Damacio Page (136) vs. Alex Caceres (136)
Chris Cariaso (125) vs. Josh Ferguson (125)
Rafael Natal (186) vs. Andrew Craig (185)
Marcelo Guimaraes (171) vs. Dan Stittgen (170)
Raphael Assuncao (136) vs. Issei Tamura (135)
Time for the middleweight main event. Chris Weidman is first to the scale and he tips the scale at 186. His opponent, Mark Munoz comes in at 186 as well.
Munoz and Weidman two All-American wrestlers get set in a wrestling pose for their staredown, no shoulder check for Joe Silva to worry about tonight.
Light heavyweights up next and Joey Beltran making his UFC light heavyweight debut checks in at 205, and his opponent James Te Huna comes in at the same weight.
Welterweights are up next and first to the scale is Kenny Robertson, who comes in at 170. Aaron Simpson, who will make his welterweight debut on Wednesday night checks in at 171 and that's probably good because he does not appear to have any additional weight to strip off.
Next up is a middleweight bout. First to the stage is Francis Carmont who comes in at 187 and for the third time tonight Watson and Silva grab the towel and he is in at 186. His opponent, Karlos Vemola checks in at 186.
On to the bantamweights, first to the scale is Vaughan Lee and he comes in 135. Next to the scale is T.J. Dillashaw, who weighs in at 136.
On to the main card. First to the scale is Anthony Njokuani comes in at 156. His opponent Rafael dos Anjos checks in at the same weight.
The final prelim fight is up next and first to the stage is Alex Caceres who goes right for the towel and he checks in at 136. His opponent Damacio Page comes in at the same weight, no need for the towel. Distinct height advantage for Caceres in this one.
A flyweight bout is up now and the first fighter to hit the stage is Josh Ferguson and he weighs in at 125. Making his flyweight debut on Wednesday is Chris Cariaso, who comes in at 125 as well.
Is it me or does Jon Anik look more comfortable in a suit than he does in jeans and a tee?
On to the middleweights and Andrew Craig is first to the scale and he is in at 185. His opponent Rafael Natal comes in at 187 and Burt Watson grabs the towel. Natal makes weight at 186.
After UFC 148, it sounds as if these fighters are weighing in before an empty arena.
Next up is a welterweight bout. Dan Stittgen comes in at 170, while Marcelo Guimaraes checks in at171.
Weigh-in kicks off with a bantamweight bout, first up is Issei Tamura, who comes in at 135. His opponent Raphael Assunção is next to the scale and he comes in at 136.
Joe Silva on staredown control detail today.
Chael Sonnen joins the Fuel TV broadcast for the weigh-in show, when asked how his fight over the weekend went, Sonnen replies, "Not so well, but thanks for bringing that up."
Sonnen mispronounces Weidman's name and is corrected by Glazer, that must make Glazer feel good after the butchering he has done in the past.
This article is
What is the duplicate article?
Why is this article offensive?
Where is this article plagiarized from?
Why is this article poorly edited?