Oklahoma City Thunder: How Will They Avoid Salary Cap Issues in the Near Future?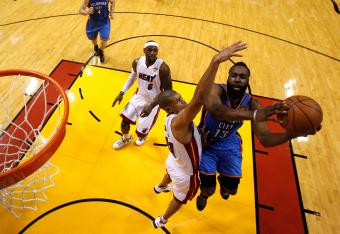 Pool/Getty Images
James Harden will want to be paid.
Serge Ibaka, Nick Collison and other role players will want to be paid.
During the 2012 postseason, ESPN commentator Jeff Van Gundy talked about how success becomes more difficult to replicate the following season because everyone wants more shots, more minutes and more money.
No obstacle is greater for the Western Conference champions in the coming years.
Of the four teams in the Conference Finals, only one was a squad of unproven players. The stars on the San Antonio Spurs, Miami Heat and Boston Celtics all have track records to match their salaries.
In the 2012 playoffs, Kevin Durant, Russell Westbrook, James Harden and company left no questions about what this talented group is capable of.
Very soon, it will be time to pay them what they are worth.
When the Thunder played the Heat on March 25th, it was cast as a possible Finals matchup.
The speculation will be the same when they meet again next season and possibly for the rest of the decade, on one condition: the Thunder stay intact.
There is no need to worry about the nucleus in Miami. They have all the pieces for a repeat. Two weeks after their victory they were already a better squad heading into next season. Nobody is leaving the Miami Heat anytime soon.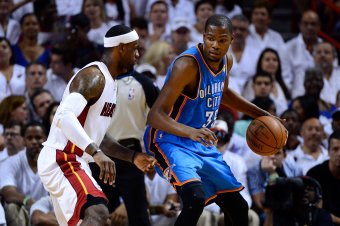 Ronald Martinez/Getty Images
Things are not so secure in Oklahoma City.
Unless James Harden gets offered and signs an extension, he will be a free agent at the end of next season.
There have been trade rumors for a while. Despite Harden's defense that leaves something to be desired, he would start on the majority of NBA teams. He drew interest from the Charlotte Bobcats (via Alex Kennedy of Hoopsworld) and according to Chris Palmer, he wouldn't rule out the Lakers.
There's not much argument that the Thunder are exciting to watch. In the Conference Finals, both the Heat and Thunder found themselves in a hole. It was looking like the NBA Finals would be the Spurs against the Celtics.
Despite the Thunder ending up losing four in a row to the Heat, most of us would have preferred to watch Oklahoma City vs. Miami.
Why?
Yes, people wanted to watch LeBron, but for the Thunder it's a different story.
Oklahoma City's two best players are only 23. Its youth is well-documented and resulted in a fresh, exciting and almost innocent brand of basketball. The Thunder are easily one of the more unselfish teams and do not make a habit of complaining about touches, creating public distractions or contract holdouts.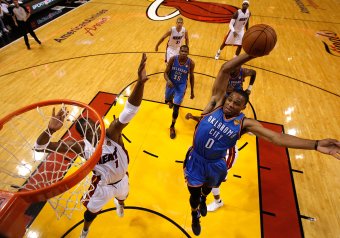 Pool/Getty Images
Well, for now.
Few teams put on such electric and high-speed fast breaks. Do you remember Russell Westbrook going coast to coast against the Spurs? It was a dunk that set the tone for the rest of the series-clinching game. No. 0 is hands down the most athletic player in the league and would make any team fun to watch. Kevin Durant is one of the most likable superstars the league has seen in years.
It's hard not to root for the Thunder.
When your team is out of it or you are an objective sports fan, how could you not pull for them? They are the league's darlings, especially since they are the first team to come out of the West other than the Mavericks, Lakers and Spurs since 1998. They also defeated all three of those teams en route the Finals.
Have we ever seen a team with more potential? In any sport?
They have steadily improved since Durant's days in green and yellow and a 20-62 record in the Seattle Supersonics' final season. The team has been built up from the inside. Five players in the eight-man rotation last season were drafted by the franchise. That type of team will have a stronger foundation to build on and more team loyalty than a group of free agents thrown together.
What Do You Think Will Eventually Happen to the Thunder?
And then when you throw in how young they are, it's almost scary to think about how long they could be title contenders.
A quarter of Team USA 2012 plays for the Thunder. And that could easily be the case for the next Olympics.
But how will Oklahoma City be able to afford all of its stars?
There is only one answer.
Oklahoma City will be able to afford all of its stars as long as the players love the Thunder more than their bank account.
Unlikely? Yes. Impossible? No.
It would truly be something remarkable and almost unprecedented if the Thunder all decide to take less pay to stay together in the coming years.
When the Celtics made huge moves in free agency in 2007, it didn't seem like it would have been possible a few years earlier. Each star would not have been willing to make the necessary sacrifices. But they realized that their window beginning to close outweighed the glory of being the only star on a team.
What if the Thunder were mature enough to realize this in their early 20s? What if the love of the game and devotion to teammates truly trumped self-glory and a fat paycheck?
In an age where, more often than not, the "business" side of sports is king, do us all a favor and stick around. Is that too much to ask?
This article is
What is the duplicate article?
Why is this article offensive?
Where is this article plagiarized from?
Why is this article poorly edited?

Oklahoma City Thunder: Like this team?