Who Should Participate in the 2013 Home Run Derby?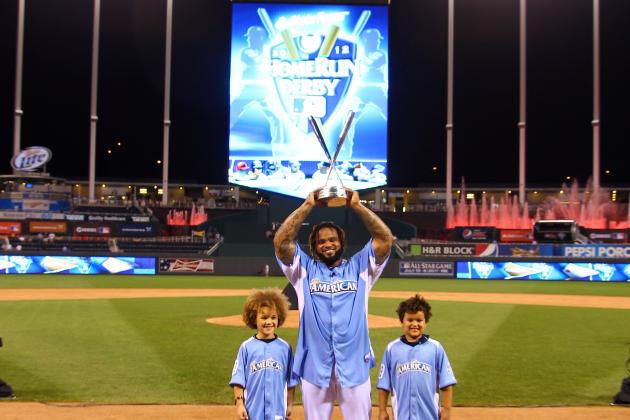 Dilip Vishwanat/Getty Images
Fielder celebrates his 2012 HR Derby crown with his children
Prince Fielder is the 2012 State Farm Home Run Derby winner!
Congrats, Prince, on your second Home Run Derby crown!
Only the second person to ever win the event more than once (Ken Griffey Jr. won it three times).
Now, with the 2012 derby in the books, I want to take a look at seven other players I would like to see in the 2013 Home Run Derby at Citi Field in Queens, NY.
There are plenty of guys out there who I feel could put on a show in 2013. Especially since some will have a year or 12 of experience under their belts. Some guys say that participating in the derby hurts their swing for the second half of the season.
I say phooey to that notion!
The Home Run Derby is something for the fans. It's the most fun out of all sports' all-star festivities, definitely blowing away the NFL Pro Bowl weekend.
So why not give the fans what they want and put on a show?
Here are my eight picks for next year's State Farm Home Run Derby.
Begin Slideshow

»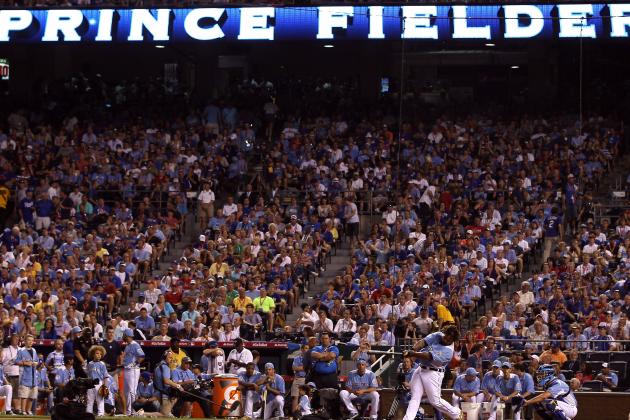 Jamie Squire/Getty Images
Fielder launches one his moon shots during the 2012 Home Run Derby.
Prince Fielder will automatically be the team captain for the American League in the 2013 Home Run Derby with his win last night.
Prince got off to a slow start last night with only five home runs in the first round. Luckily for him four other guys hit four home runs or less. That includes defending champion Robinson Cano, who put up a zero spot while being heckled by the Kansas City crowd during his whole time at bat due to the fact he didn't choose the Royals' Billy Butler to be in the derby.
Fielder made the most of his opportunity in the second round and final by belting 23 home runs, with 12 coming in the final round.
Jose Bautista just couldn't keep up, hitting "only" seven home runs.
Next season will be Prince's fifth derby appearance.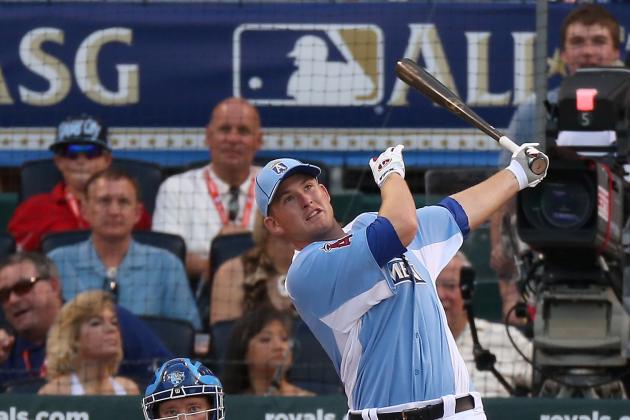 Jonathan Daniel/Getty Images
Trumbo watches one of his "Trumbombs" fly into the stands.
Mark Trumbo did his best to put on a show for the Kansas City crowd.
He got plenty of "ohhh's" and "ahhh's" out of the fans and especially out of Chris Berman, who practically salivated over every one of Trumbo's home runs.
I mean, I don't blame Berman. Trumbo was hitting moon shots. He hit two over the Royals Hall of Fame. He hit one into one of the water areas of Kauffman stadium. He even hit one that had an estimated distance of 493 feet, but an actual of 457.
Trumbo is one of the up and coming power hitters in the majors today. He is on pace to surpass his rookie home run total of 29 from last season. He has 22 at the All-Star break.
I am really looking forward to seeing Trumbo hit some more "TrumBombs" in next year's derby. With one year under his belt, that even included the dreaded swing-off against Jose Bautista, I can see Trumbo doing even better next year. Just look at the improvement in Bautista from one year to the next.
Hopefully, Prince is smart, picks Trumbo and gives the fans another treat.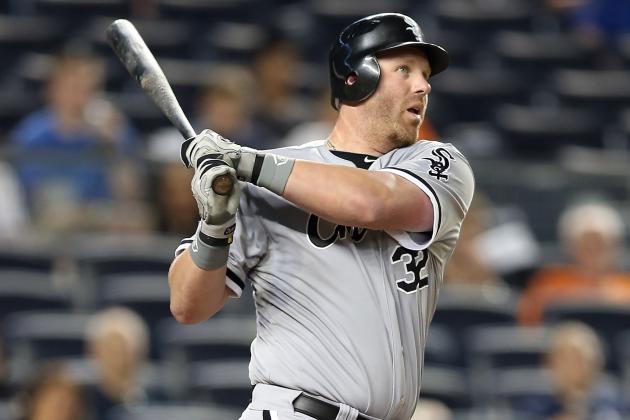 Elsa/Getty Images

The fact that Adam Dunn has never participated in a Home Run Derby is quite surprising. I mean, It's not like he has to worry about messing up his swing or anything.
Dunn has been one of the more prolific power hitters of our generation. He is a giant of a man with "country strong" power. He probably eats trees for breakfast. Just saying.
I truly am shocked though, that Dunn has never been asked to enter the competition. It would be a great idea, seeing as all he can do is hit home runs.
Dunn is one of the more powerful men in baseball and would be able to skyrocket balls in a derby. He is the perfect type of player for this. With or without the walls being moved in at Citi Field, the fans would be treated to a wonderful power display.
After turning things around this season and going back to blasting home runs, maybe Prince will consider adding Dunn to the mix.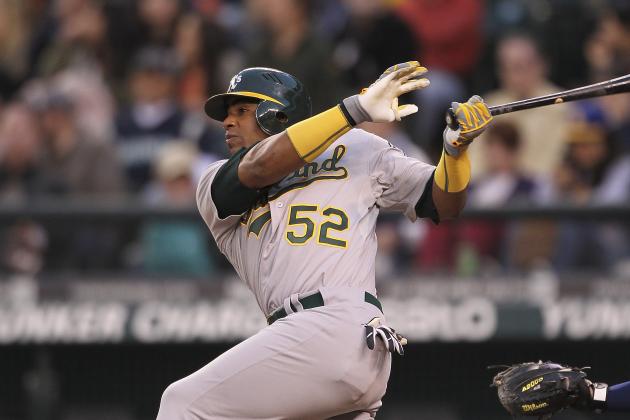 Otto Greule Jr/Getty Images

Cespedes is a Cuban missile. He stands at 5'10" but weighs 210 pounds of muscle.
He can put a real hurt on the ball as well. He has only played in 52 games this season due to injury, and has accumulated nine home runs and 36 RBI.
If Cespedes can stay healthy next season, I really think he can be a big-time player. He has great power for a guy his stature (he hit a 462 foot home run at the Coliseum) and would be a great addition to the derby.
He's a freak of nature.
Cespedes would draw in the international crowd from Cuba as well. That would help raise the ratings a bit. With more and more international players being in the derby, Cespedes could add to the list of growing international stars.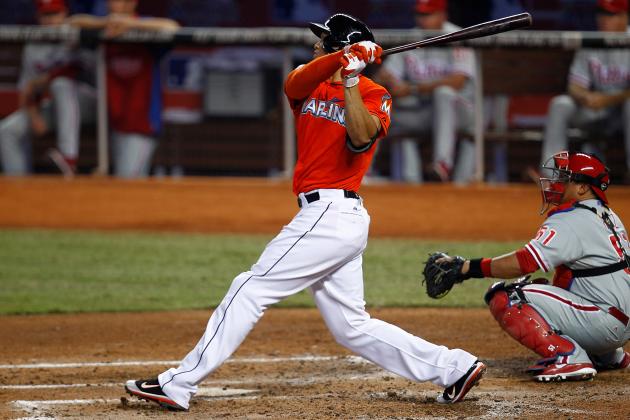 Sarah Glenn/Getty Images
Stanton has the ability to be a player that can be in this contest for years to come.
The baseball player formerly known as Mike Stanton was supposed to be in this season's Home Run Derby. An injury to his knee held him out of the competition.
Fans like myself were disappointed to hear the news. He was my original pick to win the derby.
Giancarlo Stanton is a beast. I really don't know how else to explain it.
He has raw power. When he connects squarely on a ball, it flies. He has already broken two scoreboards this season with his tremendous home runs. His longest true distance is a 462 foot bomb at Marlins Park.
I don't think it truly matters due to his amazing power, but most of his home runs (12 of 19) have been hit at home. It's not an alarming rate, as most players are more familiar with their home confines. Just something to take note of.
Stanton can be in this contest for many years to come, as long as he stays healthy. Here's to hoping that all begins next season.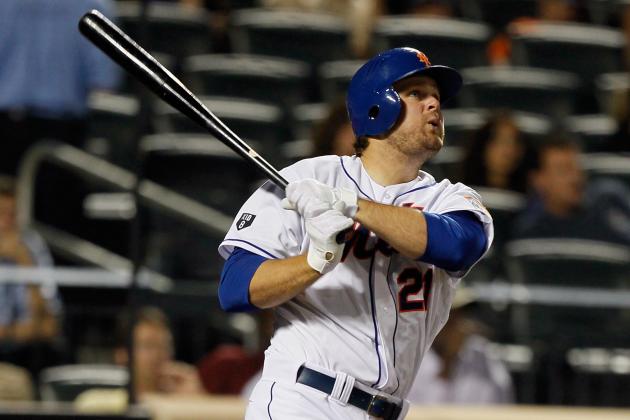 Mike Stobe/Getty Images

OK, before you form angry mobs with flaming torches, hear me out.
This all depends on his season next year.
I know most people would like to automatically pencil in David Wright into this place, and rightfully so. He is the Mets' lone position All-Star this season, and could likely be the same next season. Wright was in the 2006 Home Run Derby, which he lost by one to Ryan Howard. He is also a fan favorite of the Mets faithful.
Now let me explain.
If Duda can raise his game a bit more I feel he can help accompany Wright to the festivities next season. With Mets fans casting a ton of votes he might be able to crack it. If not, he may be able to earn a reserve spot.
He is the Mets' main power hitter, although he has only 12 home runs so far this season. He had 10 home runs in 100 games last season and has the possibility of being in the upper 20's by the end of this one.
He has a strong power stroke and also knows the confines of Citi Field. He has shown to be healthy throughout a season, and I feel would make a nice addition to the derby.
MLB needs to get more of these young up and comers into the derby to add more life to it. They saw what Trumbo did last night, as well as the excitement of what Andrew McCutchen could do. So why not go with the flow and keep it going?
Clearly this all depends on who is the captain next season. Whoever it is, if Duda is having an All-Star-caliber season, they should pick him.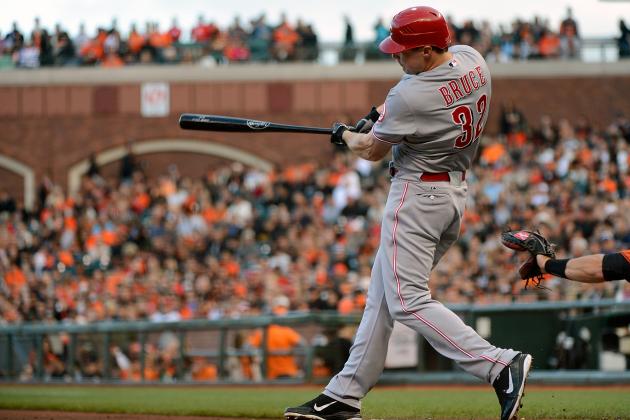 Thearon W. Henderson/Getty Images

Jay Bruce can hit the ball hard and far.
He would be a welcome addition to the Home Run Derby in my opinion. After making his second consecutive All-Star appearance in 2012, there's no reason to think he won't make it next year.
He has 18 home runs so far this season and is on pace to surpass his total of 32 from last season. He is a true power hitter from the left side of the plate and can put a few no-doubters over the fences.
With the majority of Bruce's home runs going to right field, Citi Field could be a great chance for him to showcase his talents. Citi's right field and right-center distances are between 350 and 375 feet. Nine of Bruce's home runs would clear those distances, according to ESPN's Home Run Tracker.
He is another young player that would ultimately fit into the young-gun theme at the Home Run Derby. Lets see if Bruce continues his upward swing and makes it next year.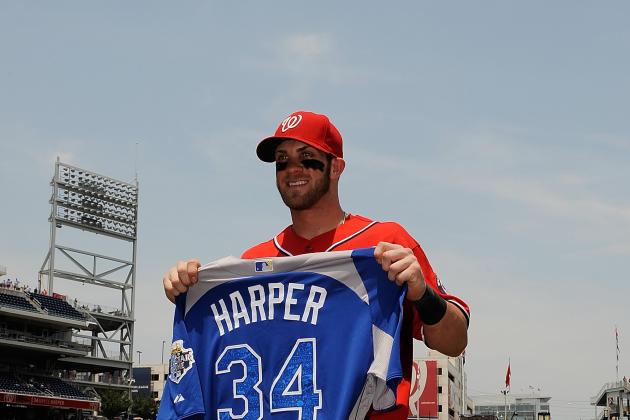 Patrick McDermott/Getty Images
Bryce is the youngest position player to be named to an All-Star team.
This is not a clown question.
Should Bryce Harper be in the Home Run Derby next season?
Answer: Bryce Harper NEEDS to be in the Home Run Derby next season.
Why? He brings excitement and attention. Positive attention. He is extremely talented and, with some more seasoning, can be one of the big boppers in the majors.
He made the All-Star game this season at just 19-years-old. Imagine what he can do in his next full season!
Harper has only eight home runs at midseason mark. The thing is, all but one has traveled over 406 feet (credit to ESPN's Home Run Tracker). His swing and power make him a perfect fit for Citi Field.
It's not like he only hits homers to right field either. His home runs are scattered around, so every fan at the ballpark has an opportunity to say they grabbed one of Harper's home runs.
It would be great for the fans, for the ratings and for Chris Berman to absolutely lose his mind.
Get Bryce Harper into the Home Run Derby!