Manchester City Transfers: Picking an XI to Include Robin Van Persie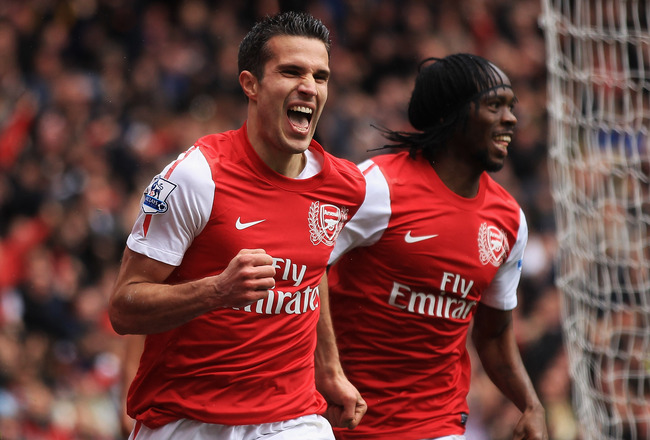 Bryn Lennon/Getty Images
Last week, news broke that Robin van Persie would not be signing a new contract at Arsenal and that he would be leaving the club.
He still has a year left on his contract, so nobody knows whether he'll leave this summer or next summer.
There's no doubt that there will be a lot of interest in him.
He's one of the best strikers in Europe and his form last season was crucial to Arsenal securing a third placed finish in the English Premier League.
It's well known that a goalscorer is the hardest thing in the world to find, but van Persie looks like he's ready for a new challenge and he wants to win trophies.
Clubs across Europe like Barcelona, Real Madrid and Juventus can offer him that, but there's one club in England that might just have the resources to persuade him to stay in the country.
That club is Manchester City.
They're one of the richest football clubs in the world and they seem to have an endless pot of money to spend on players.
This article is pure speculation, but I'm going to pick a Manchester City XI (including Robin van Persie) that I think would be capable of winning major trophies next season.
The formation I'm going to go for is a 4-2-3-1.
Let's take a look at what I think would be the best Manchester City XI, including Robin van Persie.
Goalkeeper: Joe Hart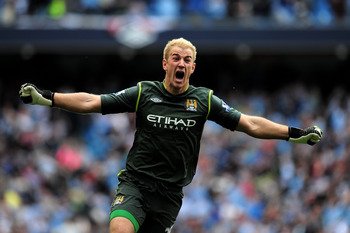 Shaun Botterill/Getty Images
Joe Hart is one of the best English goalkeepers I've seen in a long time.
The season that he spent on loan at Birmingham a couple of years ago was crucial to his development as a player and I think it gave him more self-belief.
Last season, he was exceptional.
He commands his box well, he can deal with crosses and shots almost effortlessly and he controls his back four.
Basically, he's everything you look for in a goalkeeper and I think he's crucial to what Manchester City are trying to build at the Etihad Stadium.
Right Back: Micah Richards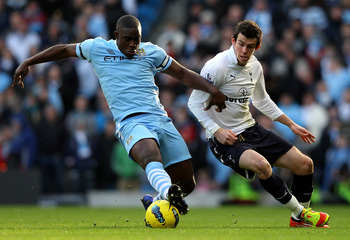 Alex Livesey/Getty Images
One of the biggest mysteries of England's Euro 2012 squad was the omission of Micah Richards.
This guy has got strength, power and pace in abundance and, along with Tottenham's Kyle Walker, was the in-form right-back heading into the tournament.
Richards is developing into a strong defender and he's good at getting forward to support his teammates when they're on the attack.
Central Defender: Vincent Kompany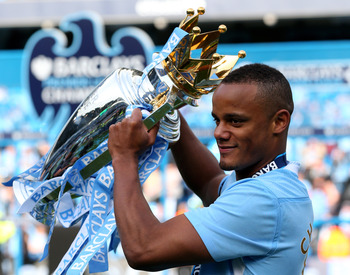 Alex Livesey/Getty Images
For my money, Vincent Kompany was the Player of the Season last year.
When he first arrived at City, it took him a little time to settle in, but last season he was the personification of a rock at the heart of the Manchester City team.
Kompany is good on the ball and his positional awareness is almost second to none.
It's not just his ability that makes Kompany a great player; it's the way he carries himself.
He looks, walks and talks like a captain should.
He seems very down to earth and humble, whether his team has won or lost, and that makes Kompany a certain pick for this team.
Central Defender: Joleon Lescott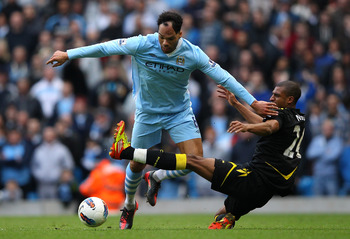 Alex Livesey/Getty Images
Although it was a nailed-on certainty to pick Vincent Kompany in the centre of defence for this team, picking his partner was a little different.
Kolo Toure has a lot of experience playing top-level football with both Arsenal and Manchester City, but I just feel that Joleon Lescott compliments Kompany better than Toure does.
Lescott is also good on the ball, he's brave in terms of tackling and he can only continue to get better by playing alongside Kompany.
Left Back: Aleksandar Kolarov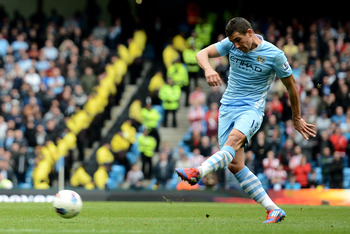 Laurence Griffiths/Getty Images
I'll hold my hands up and say that until he joined Man City, I hadn't heard much about Aleksandar Kolarov.
Since he arrived at the Etihad I've been really impressed with what I've seen from him.
He's sound defensively, he can be deadly from set pieces and he's got one hell of a rocket shot on him!
It was tough to choose between him and Gael Clichy, but for me, Kolarov is a little more sound defensively than the Frenchman, so that's why he's in this team.
Defensive Midfielder: Gareth Barry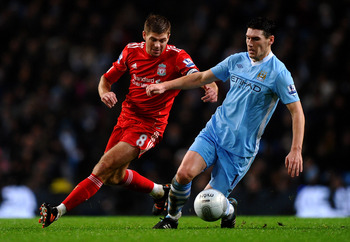 Laurence Griffiths/Getty Images
If it wasn't for players like Steven Gerrard and Frank Lampard, I reckon Gareth Barry would have more caps for England than he has now.
I've never seen him have a bad game.
It's as if nobody notices him playing, but that's because he's doing all the donkey work that allows people like Aguero, Silva and Nasri to do what they do best and push forward.
For me, Gareth Barry is one of football's most underappreciated players and he's crucial to any success that Manchester City will have in the next few years.
Defensive Midfielder: Yaya Toure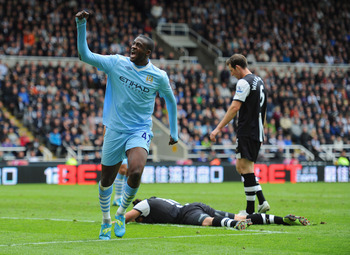 Michael Regan/Getty Images
It's fair to say that last season, Yaya Toure earned every penny of his huge pay packet.
I think any club in the world would be lucky to have a player of Toure's class in their side and right now, Manchester City have him.
I had to put Toure in this team for everything he brings to the table.
He's got great ability, he's a great passer of the ball, he keeps possession well, he's a goal threat and he's versatile.
I'd go as far as to say that he's the complete midfield player for the 21st century.
Left Attacking Midfielder: David Silva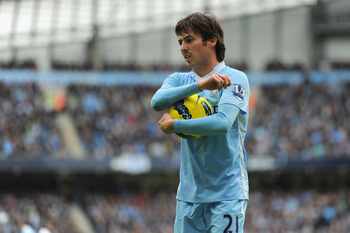 Michael Regan/Getty Images
Last Friday, ESPN.co.uk reported that David Silva was in talks to extend his contract at Manchester City, which still has two years to run.
If anyone played the largest part in City's success last season, it was Silva.
He creates and scores goals that seem as if they come from out of nowhere.
No one can doubt his ability or skill and now that he's properly settled in England, he could form a devastating understanding with van Persie.
Central Attacking Midfielder/Second Striker: Sergio Aguero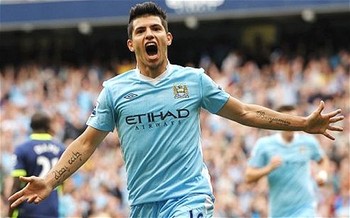 Image courtesy of telegraph.co.uk
Last summer, Manchester City secured the services of one of the most highly-rated strikers in the world, Sergio Aguero.
He's the latest in a long line of talented Argentinians like Diego Maradona, Gabriel Batistuta, Juan Roman Riquelme, Javier Mascherano, Carlos Tevez, Javier Pastore and Lionel Messi to ply his trade in Europe and it's easy to see why.
Aguero has almost unlimited potential and he could develop into one of the greatest players to play the game.
Putting him in the same team as van Persie would be enough to frighten any defence in the world.
Right Attacking Midfielder: Carlos Tevez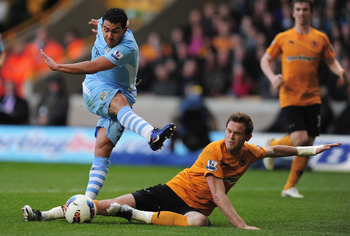 Jamie McDonald/Getty Images
Despite all the drama that seems to follow Carlos Tevez around, he's still a tremendous footballer.
Whilst playing him out wide on the right might not be the best place to play him, I just think he brings more to the table than others like James Milner, Samir Nasri and Adam Johnson.
He has a tremendous work rate and an infectious attitude that almost seems to spur his teammates on.
His goal threat alone means that I couldn't leave him off the team.
Striker: Robin Van Persie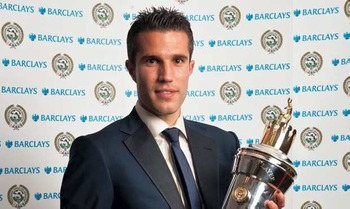 Image courtesy of menmedia.co.uk
The final name on the team sheet is the man that the article is all about, Robin van Persie.
Everyone knows what a great player van Persie is and without his goals, Arsenal may have finished the season mid-table, which is almost unthinkable.
With players like Silva, Aguero, Toure and Tevez (among others) alongside him, van Persie could fulfill all of his ambitions at Manchester City.
The question is, will he end up at the Etihad or elsewhere?
Summary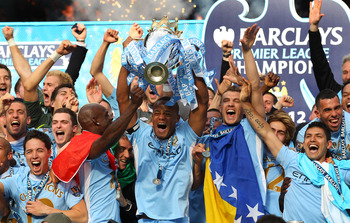 Alex Livesey/Getty Images
This picture symbolizes what Robin van Persie wants: he wants to win trophies and doesn't feel he can do it at Arsenal.
The Arsenal board and Arsene Wenger might be able to persuade him otherwise, but it seems van Persie is set on leaving the club he's been a part of since the summer of 2004.
If, or when, he leaves, he's going to go to a club that can offer him the opportunity to win trophies, whether it's in England or elsewhere.
As soon as any top-class footballer becomes available, they're going to automatically be linked with the likes of Manchester City.
The team that I've picked him in is a team that I feel would suit van Persie best, but no doubt you'll have your own suggestions, so feel free to leave a comment below.
Keep Reading

Manchester City: Like this team?