The Top Ten Seattle Athletes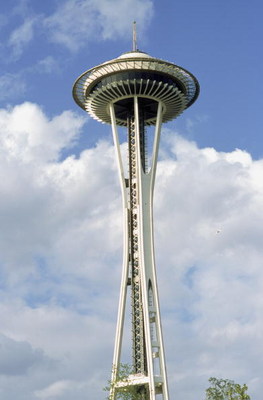 This is part one of a series where I will analyze the top 10 athletes in the four major sports for each American city or region. In order to qualify the city, or region, must have two or more major franchises (sorry Portland).
I'm going to start with Seattle, aka the Emerald City. The home of grunge rock, Starbucks, and most of the Internet. 2008 was a rough time for Seattle sports, so what better time to talk about the greats that were in Seattle.
10. Dave Krieg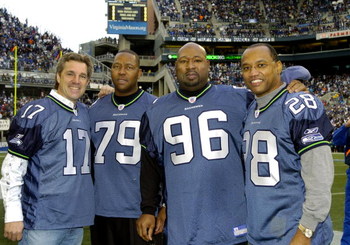 I wanted an action shot of Krieg, but this was the only one that had Krieg in a Seattle jersey. I didn't want to risk a lawsuit or anything, so I stuck with this one. I was very split between Krieg or Hasselbeck, but in the end Krieg gets the nod.
Krieg, seen far left sporting the number 17, is the Seahawks all-time leading passer. He is also a three-time Pro Bowler with the Seahawks. Krieg ranks 12th in all-time NFL passing yards and can lay claim to being the best Seahawks QB ever.
9. Shawn Kemp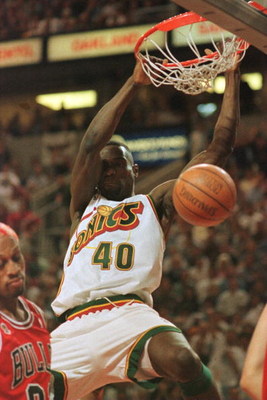 Before he was known for fathering nearly 20 children (seriously!), Kemp was a phenomenal ball player for the now defunct Seattle Super Sonics.
He played 8 years in Seattle as a dominating physical presence. During that time, he appeared in five NBA All-Star Games and took the Sonics to the 95-96 NBA Finals.
If not for personal problems, who knows how could Kemp could have been!
8. Alex Rodriguez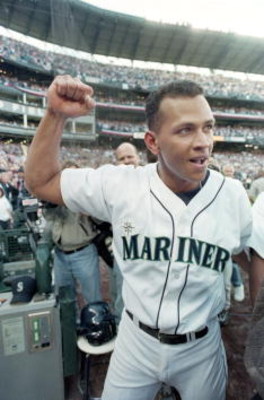 Imagine this, another athlete who left Seattle and almost immediately started having bizarre personal problems!
A-Rod first played for the M's at the age of 18. He played about five full seasons for the club. He hit 189 homers as an M, and he made the All-Star team four times.
He accomplished all of this while establishing himself as an elite level shortstop in the field as well.
To think he didn't even use steroids!!! (As far as we know)
7. Ichiro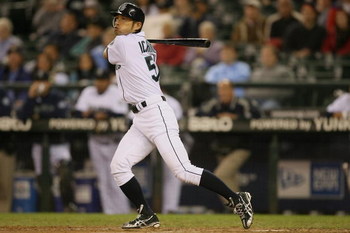 Possibly the greatest Japanese player to ever play in the bigs.
Ichiro burst onto the scene in 2001 and won the MVP and Rookie of the Year Award. He's been with the M's since then and has been an All-Star every year. He's hit .331 for his career and has won the Gold Glove every year as well.
Not to mention he has one of the sickest arms in the big leagues today.
6. Shaun Alexander
Shaun Alexander is the leading rusher in Seahawks history. Highlighted by his 2005 season which was an absolute work of art: 1880 rushing yards and 27 rushing touchdowns.
In his prime, Alexander was cat-like quick and also had the size to bowl over defenders. He has since almost washed out of the league because of injuries which have slowed him considerably.
Also notable: He is the only Seahawk to appear on the cover the Madden football game.
5. Randy Johnson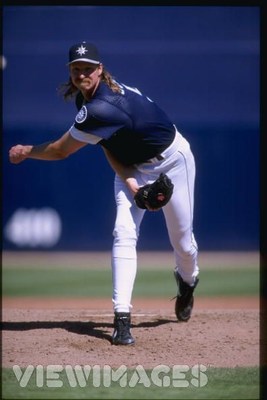 Standing a fearsome 6'11", the Big Unit was easily the most dominating pitcher in Mariners history.
He dominated hitters with a blazing fastball and is second on the Mariners all time win list with 130.
Of course, a large part of his intimidation factor was his size and fierce-flowing mullet.
4. Edgar Martinez
If ever there was a Mr. Mariner, Edgar Martinez would be it.
Martinez played 18 seasons, all of them with Seattle. During his tenure, he reached the All-Star game 6 times. He compiled 2247 hits and has a .312 lifetime average.
Martinez excelled at getting on base anyway possible and could hit for some power when he needed.
He is also the most admirable human being on this list. Well, maybe not ahead of number two.
3. Gary Payton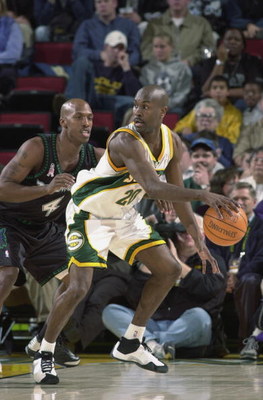 The Glove was a legendary stopper and trash talker. He also has the distinction of being the greatest player in Sonics history. (I can't believe that the Sonics don't exist anymore! It's just wrong.)
A nine time all-NBA defensive first team member, he shares the record with Michael Jordan, he is also the only point guard to ever win NBA defensive player of the year.
Payton is arguably one of the greatest point guards of all-time, offensively and defensively, and now is making his way towards being one of the greatest studio analysts of all-time.
He is also very active in charity work. He started the Gary Payton Foundation and remains active to this day.
2. Steve Largent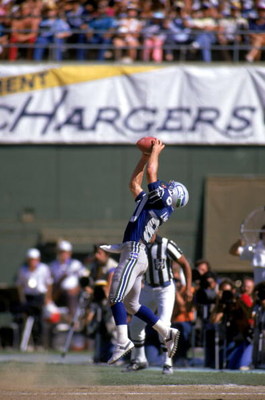 A classy and religious man, Largent was one of the greatest receivers in NFL history.
He is Seattle's all-time receiving leader. He was a seven time Pro-Bowler and ranked #46 on the Sporting News all-time list of NFL players. He also was the 1988 Walter Payton Man of the Year.
Largent now represents Oklahoma's 1st district in Congress.
1. Ken Griffey Jr.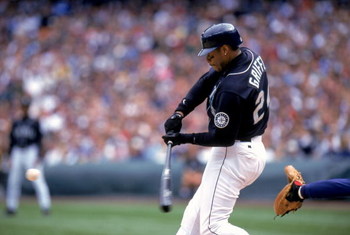 The second coming of Willie Mays, Junior had every tool imaginable.
He was an amazing center fielder, he could run, and the kid could flat out rake. He played 11 seasons for the Mariners and during that time he was an All-Star ten times. He also won ten Gold Gloves.
Griffey has hit 611 homers in his career, and all indications are that he did it without steroids. In my opinion, he is Seattle's greatest athlete.
Honorable Mentions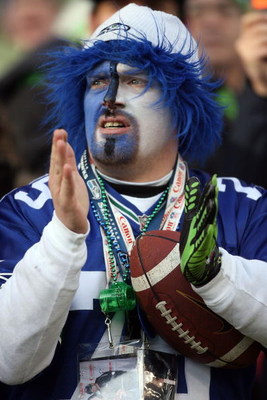 Sonics: "Downtown" Fred Brown, Jack Sikma, Gus Williams, Detlef Schrempf
Seahawks: Jim Zorn, Cortez Kennedy, Curt Warner, Matt Hasselbeck
Mariners: Jamie Moyer, Jay Buhner, John Olerud, Kas Sasaki
Keep Reading

Seattle Seahawks: Like this team?