Anderson Silva vs. Rashad Evans: Head to Toe Breakdown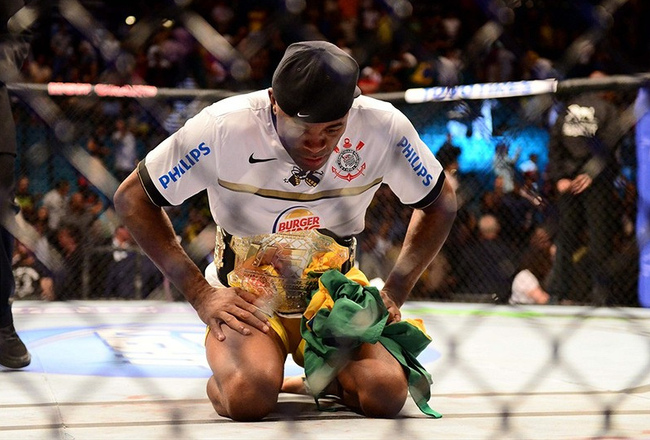 Photo by: Mark J. Rebilas-US PRESSWIRE

Anderson Silva is looking for his next challenger after taking care of Chael Sonnen at UFC 148.
The options for the UFC in making his next bout are plentiful—potential superfights with other champions that would excite some fans, new middleweight contenders waiting in the wings or other UFC stars that could make a fight with Silva marketable and exciting.
Each decision has its drawbacks. A fight against another champion holds up two divisions and could irreparably harm the marketability of the loser. The middleweights that await Silva are not the greatest of draws. And other UFC stars who are not in the title hunt and could challenge Silva may seem undeserving of the opportunity.
Shortly after UFC 148 I suggested that the man for the job was Rashad Evans.
Evans is a former UFC Light Heavyweight Champion, a marketable name and one of the best fighters in the UFC today. This special attraction would be a great fight, and one that sells.
And since I suggested that fight, I will break it down from head to toe.
Striking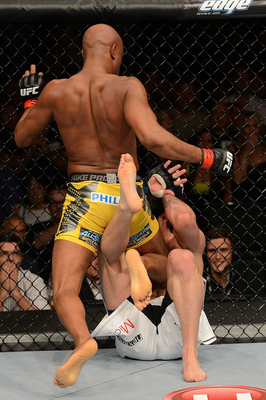 Photo by Donald Miralle/Zuffa LLC/Zuffa LLC via Getty Images
Without argument the edge goes to Silva. This we know.
But Evans is no slouch on the feet. In fact, he poses a much greater threat to the pound-for-pound king than many realize.
Over the course of his career Evans has greatly improved his striking. We have had the luxury of watching his progression take place since The Ultimate Fighter. Evans has developed good technical boxing, fast hands, solid kicks and one-punch, or kick, knockout power.
Evans may be the best complete striker that Silva will have faced in the Octagon should they meet. Dan Henderson has a powerful right hand, but he telegraphs it and does not have the best hand speed. Vitor Belfort has extraordinary speed but does not add in as many kicks.
Evans offers the complete package.
Do not look past Evans' striking attack. But with all of that said, Silva is the best striker in the world.
Edge: Anderson Silva
Grappling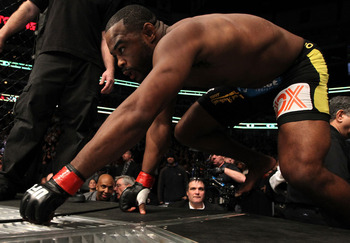 Photo by Nick Laham/Zuffa LLC/Zuffa LLC via Getty Images
The former Michigan State Spartan will take down this category.
Before developing his striking Evans was seen purely as a wrestler, and sometimes a boring one at that. But he continued to utilize his strength and get the fight to the mat. Now with his striking he has some of the best transitions from standing to takedowns in all of mixed martial arts.
His level change against Rampage Jackson back at UFC 114 was one of the most beautiful sights in MMA. It was perfect. A combination raised Rampage's hands to block, Evans level-changed and completed an excellent shot.
Evans' ability to do this makes this fight very intriguing.
And not for nothing, but Silva has an underrated defensive wrestling game. And his evasive movement also plays a part in this. Regardless, it is no secret Silva wants to fight on the feet and does not employ a whole lot of takedowns.
Edge: Rashad Evans
Submissions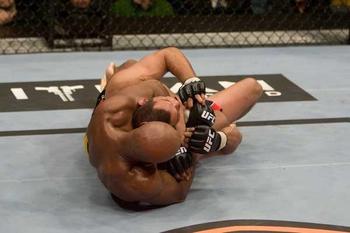 Photo Credit: Zuffa LLC
The Spider will claim this category almost by default.
Silva has submitted three men inside the Octagon. Evans has not submitted anyone since his first two professional fights.
That is not to suggest Evans does not have the ability to do so, but he prefers a smothering top game and vicious ground-and-pound.
During his UFC career he has not really been on the mat with a top submission artist. While it appears he has good submission defense, that will be put to the test against Silva should the fight hit the ground.
Silva is a black belt under the Nogueira Brothers and has a deceptive game from the bottom. Silva gets the edge, but this is a chess game I would really enjoy seeing.
Edge: Anderson Silva
Intangibles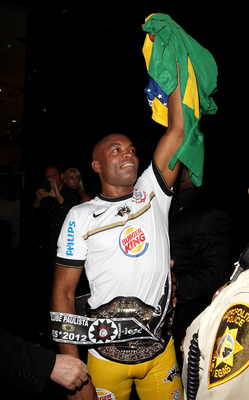 Jeff Bottari/Getty Images
Both men have been to the distance with little issue with their cardio. We know they can go five.
Both men have excellent "fight IQ"—the ability to make the in-fight adjustments and succeed at the highest of levels against a variety of competition.
Both train in world-class camps.
It may sound cliché by now, but this comes down to the eyeball test and Silva just has the "It" factor—more so than anyone else in mixed martial arts right now.
Edge: Anderson Silva
Prediction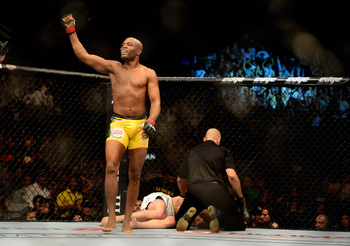 Photo by: Mark J. Rebilas-US PRESSWIRE
This fight could be Silva's toughest to date. Evans' ability to mix up his game poses a legit threat to Silva's 15-0 UFC record.
If Evans is able to put Silva on his back, he has excellent ground-and-pound. Anderson has never been underneath anyone like him. Sonnen hit him with over 300 short shots with little power, but Evans generates a massive amount of power in short distances.
Evans may be the best all-around fighter Silva will have faced inside the Octagon. The collection of tools he has makes him extremely dangerous for The Spider.
And while I have spent a lot of time talking about Rashad Evans' game, it is only because we know Silva is the best fighter on the planet. His talent, and what he did at UFC 148, speaks for itself.
The fight could end at any time for either man. I expect Evans to try to get Anderson to the mat early and often, but not to be able to do much damage. Silva will use his guard to keep Evans tight and avoid any major strikes. Once on the feet Silva has the distinct advantage.
Even with all of Evans' speed and power, one clean shot from Silva alters the course of the fight.
Prediction: Anderson Silva defeats Rashad Evans by TKO in the third round.
Keep Reading