Ranking Every Monday Night Football Game on the 2012 Schedule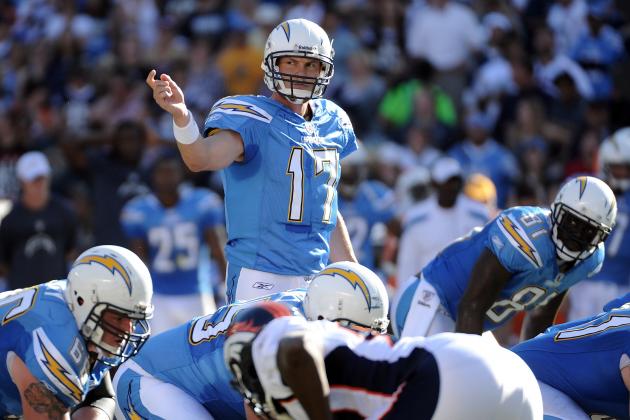 Harry How/Getty Images

There is just something about Monday Night Football (MNF) that can't be ignored.
It doesn't matter if Sunday Night Football has better matchups all season (which it usually does); MNF has always been and will always be the biggest weekly stage the NFL has to offer.
2012 features a bevy of huge clashes that should keep viewers excited every week.
The theme this year seems to be divisional match-ups and the Chicago Bears.
The Bears lead the league with three appearances this season, but is Chicago in any of the best MNF matchups?
From worst to first, let's count down every Monday Night Football Game on the 2012 schedule.
Begin Slideshow

»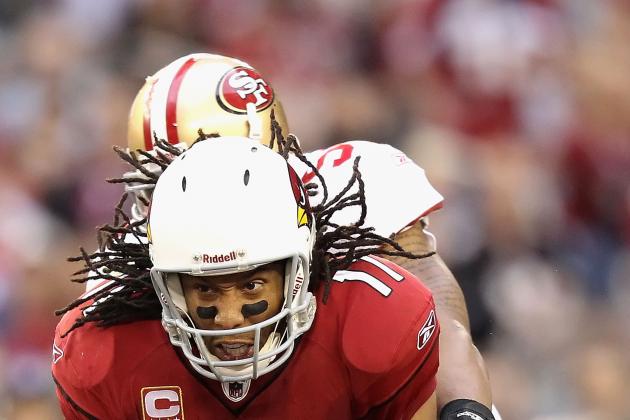 Christian Petersen/Getty Images

This year's supply of Monday Night Football Games is certainly not short on divisional contests—there are six in total—but the Week 8 meeting between the Arizona Cardinals and San Francisco 49ers does not exactly stand out from the crowd.
These teams did split their season series in 2011, so it is not like the 49ers are going to necessarily dominate the Cardinals, but still this rivalry lacks the punch of others on the MNF schedule.
Maybe this meeting will go a long way towards deciding the fate of the NFC West division.
Or maybe it will be a forgettable affair that no one talks about.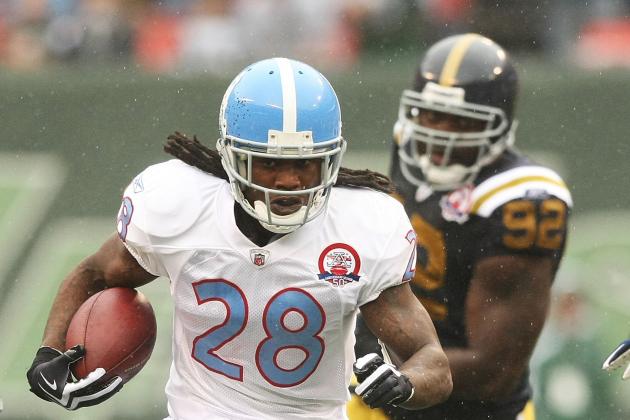 Al Bello/Getty Images

Week 15 features a rather unusual matchup between the New York Jets and Tennessee Titans.
It may be tough for fans to get excited for this game when there are Sunday contests between the Dallas Cowboys and Pittsburgh Steelers, Tampa Bay Buccaneers and New Orleans Saints and also the New York Giants and Atlanta Falcons.
Still, at least one, if not both of these teams should be fighting to play in the postseason, and that means a hard-fought game should ensue.
Chris Johnson against the Jets' run defense is a particularly intriguing aspect of this matchup.
If there were not so many better games on tap in Week 15, this game would have a higher ranking on the list.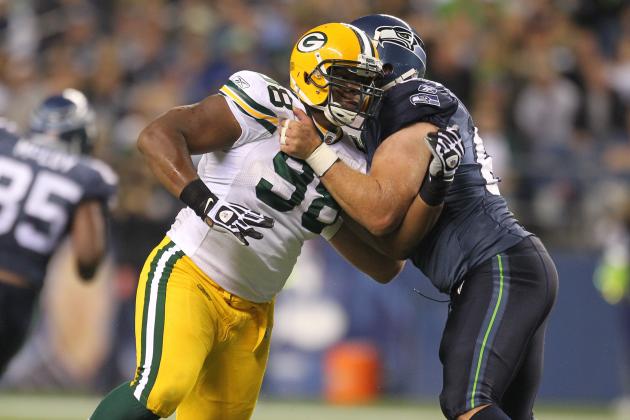 Otto Greule Jr/Getty Images

There may never be another matchup between the Green Bay Packers and Seattle Seahawks that will be as memorable as their 2004 NFC Wild Card contest.
You know, the game where Matt Hasselbeck won the coin toss in overtime and declared the Seahawks were going to take the ball and score.
Well, Hasselbeck is no longer in the Pacific Northwest.
In his place is a three-way battle for the QB position that includes Green Bay's former backup QB—Matt Flynn.
If Flynn starts for the Seahawks, then this game has an element of intrigue, if not then it is a rather dull Monday Night Football Game with few storylines to draw viewer interest.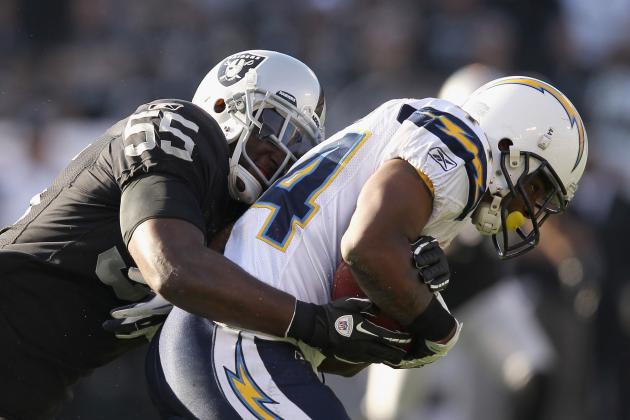 Ezra Shaw/Getty Images

Battles between the San Diego Chargers and Oakland Raiders never cease to be hard-fought affairs.
They split the season series last year, and expectations are modest for both clubs heading into 2012.
Will either team jump out of the gate early in the season and make a statement on Monday Night Football?
The Chargers played victims to a surprising Kansas City Chiefs team in a Week 1 MNF contest a couple years back.
Can lightning strike twice for an AFC West opponent?
This is not the most exciting game on the MNF schedule, but it is certainly worth watching.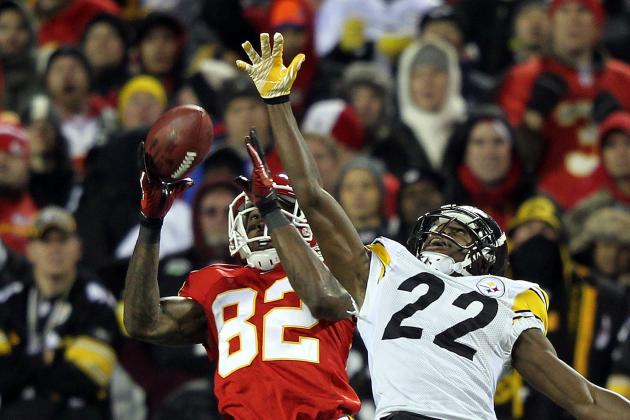 Jamie Squire/Getty Images

The Kansas City Chiefs have the potential to be a playoff contender this season.
By the time their Week 10 Monday Night Football Game with the Pittsburgh Steelers rolls around, everyone should know if they plan to compete or surrender in 2012.
If they are battling in the AFC West and in position for postseason play, then this game could be an under-the-radar MNF hit.
But if the Chiefs are in 2011 form, this may just be another grind-it-out Steelers win on their inevitable march to the postseason.
Let's hope for the former over the latter.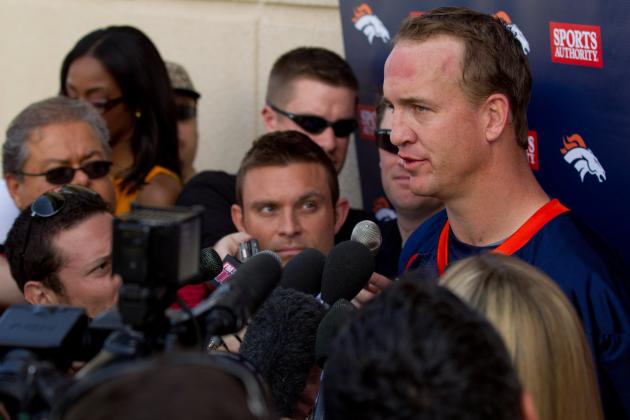 Justin Edmonds/Getty Images

Peyton Manning returns to Monday Night Football, and he does so in a brand-new uniform.
Coverage of the new Denver Broncos quarterback is going to be overwhelming all season, but at least it will be for good reason in this Week 2 MNF matchup with the Atlanta Falcons.
The Falcons' offense can be mesmerizing inside the Georgia Dome, and the Broncos return only the 18th ranked passing defense from a season ago.
But Manning has been known to excel indoors over the course of his career as well.
This may prove to be the first shootout of the MNF schedule and should have no shortage of points scored.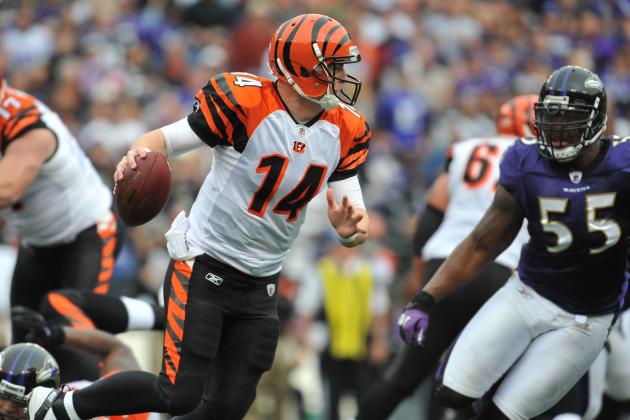 Larry French/Getty Images

In recent years, Monday Night Football has kicked off its schedule each season with a doubleheader.
The better half of the Week 1 contests in 2012 has to be the division showdown between the Cincinnati Bengals and Baltimore Ravens.
The Bengals will be looking to prove that their playoff berth in 2011 was no fluke and that they are going to be a consistent presence for the foreseeable future.
While the Ravens must show the world that they can survive without Terrell Suggs—at least for awhile—and are prepared to make a run at the Lombardi Trophy.
Is this rivalry as good as Ravens-Steelers?
No.
But it is a solid way to kick off the 2012 MNF schedule.
Harry How/Getty Images

The AFC West has not been an elite division in recent years, but meetings between the Denver Broncos and San Diego Chargers always make for good football games.
2012 should be no exception to that rule as both teams will be in the mix for playoff spots, as well as battling it out for division supremacy.
Who will start the season off strong and have a head start going into this Week 6 game?
Will Peyton Manning and the new-look Broncos offense have found their collective stride by this point, or will they still be a work in progress?
Perhaps more importantly, will we finally get to see Denver's orange jerseys and San Diego's powder blues on the field at the same time?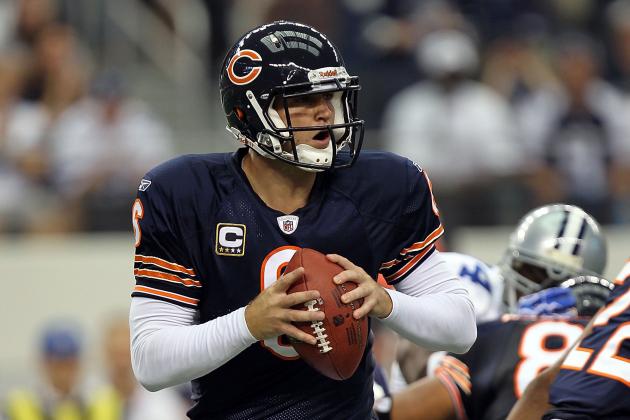 Ronald Martinez/Getty Images

It is not a big divisional rivalry or a must-see annual meeting.
Still, there is something special about a matchup between the Chicago Bears and Dallas Cowboys.
Perhaps it is the iconic status of both franchises within the chronicles of NFL lore.
Their meetings only get better when both teams are considered playoff contenders, as they are this season.
The Bears have a nice new offensive weapon in Brandon Marshall to display, while the Cowboys have a revamped secondary looking to improve the team's 23rd ranked passing defense from a season ago.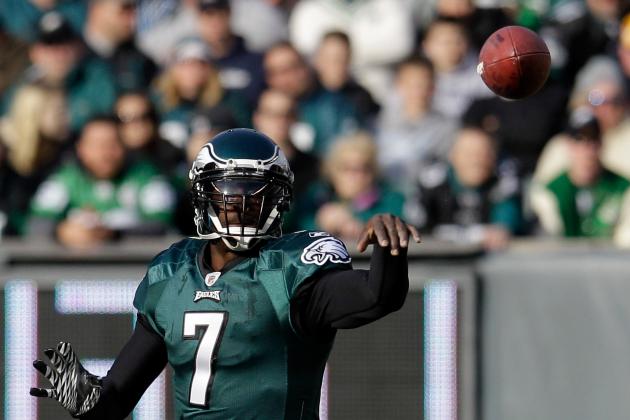 Rob Carr/Getty Images

The New Orleans Saints only make one appearance on Monday Night Football in 2012, but luckily it is in a powerhouse matchup with the Philadelphia Eagles.
Drew Brees vs. Michael Vick is the perfect contrast in quarterback style and should make for a fun and high-scoring contest.
All the offseason news surrounding the Saints has obviously been about the "Bountygate" scandal and all of its effects, but by Week 9 that story should be in New Orleans' rear-view mirror as the playoff race heats up.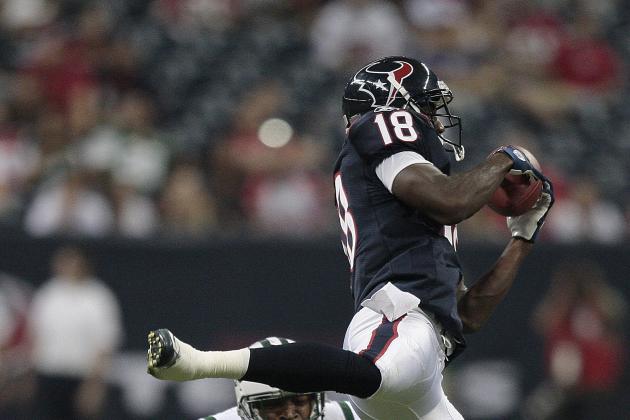 Bob Levey/Getty Images

This Week 5 meeting between the Houston Texans and New York Jets may not jump out as one of the biggest games on the Monday Night Football calendar, but these are two teams that can provide a great matchup.
The Texans' high-flying offense against the Jets' notoriously stout defense.
New York's ground-and-pound style against Houston's elite front seven.
Seeing which units can emerge and take over this ballgame will make for four quarters of intense action and may provide a glimpse into a potential playoff showdown.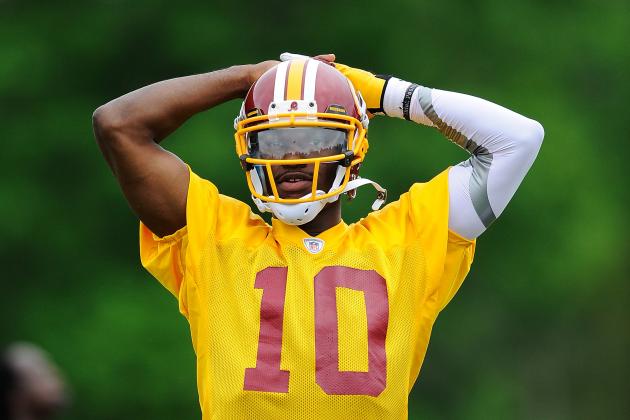 Patrick McDermott/Getty Images

Robert Griffin III makes his Monday Night Football debut Week 13 against the defending Super Bowl champion, and division rival, New York Giants.
How's that for a "welcome to the NFL" moment?
This contest has the potential to be at either end of the MNF spectrum.
Either the Redskins are surprise playoff contenders and this game will help determine NFC East positioning as the playoffs approach, or Washington will be in the middle of a rebuilding project and struggle to compete.
Still, Griffin III is likely to be must-see television at this point, and fans will want to see him in action regardless of the Redskins' record.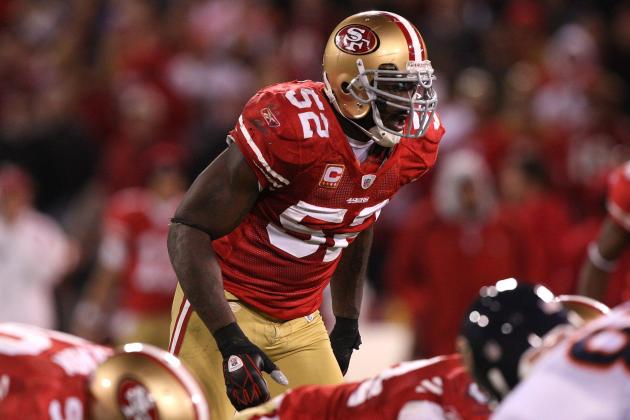 Jed Jacobsohn/Getty Images

Someone in the Monday Night Football scheduling office must really love the Chicago Bears.
This Week 11 matchup with the San Francisco 49ers will be the Bears' third appearance on MNF in 2012.
However, the national audience should have no issues with Bears fatigue because this is a must-see battle.
San Francisco's top-ranked rushing defense against Matt Forte and the Bears offense.
Frank Gore against Brian Urlancher.
Randy Moss vs. Brandon Marshall.
There are tons of reasons to be excited about a game between these two upper-echelon NFC teams.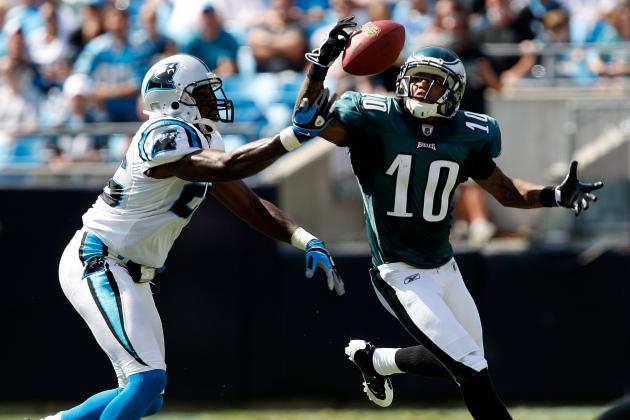 Streeter Lecka/Getty Images

Cam Newton vs. Michael Vick.
That matchup alone is enough reason to watch this Week 12 game between the Carolina Panthers and Philadelphia Eagles.
These teams' respective records heading into this contest become afterthoughts as fans get to witness the evolution of the quarterback position on full display.
Can Newton upstage Vick on Monday Night Football?

Or will Vick prove he is still the best mobile QB the game has to offer?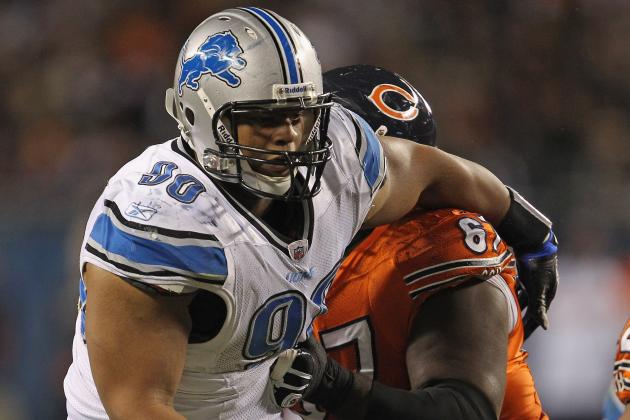 Jonathan Daniel/Getty Images

Last season's Week 5 Monday Night Football showdown between the Chicago Bears and Detroit Lions proved to be a coming-out party of sorts for the Lions.
They moved to 5-0 on the season and showed the NFL world that they were legitimate contenders, instead of just early-season pretenders.
This year both teams will be competing for at least a Wild Card berth amid the grueling NFC North, and both have talented enough rosters to make serious noise.
Can Detroit win back-to-back MNF games against the Bears?
Two high-powered offenses go toe-to-toe here in a great divisional meeting.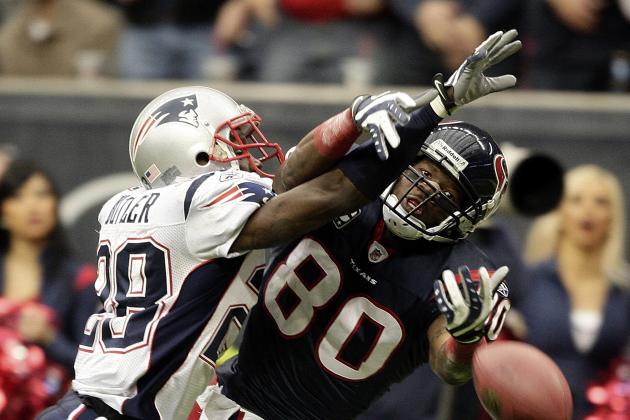 Bob Levey/Getty Images

Two of the AFC's best teams playing on Monday Night Football just two weeks from the start of the postseason.
This game between the Houston Texans and New England Patriots may help determine home-field advantage in the AFC.
Even if it doesn't, there is little not to like about Texans vs. Patriots.
Both teams feature offenses that can score in bunches.
Houston returns the league's third ranked passing defense from a season ago, but is it good enough to stop Tom Brady and New England?