Projecting How David Ortiz and Adrian Gonzalez Will Fare in the 2nd Half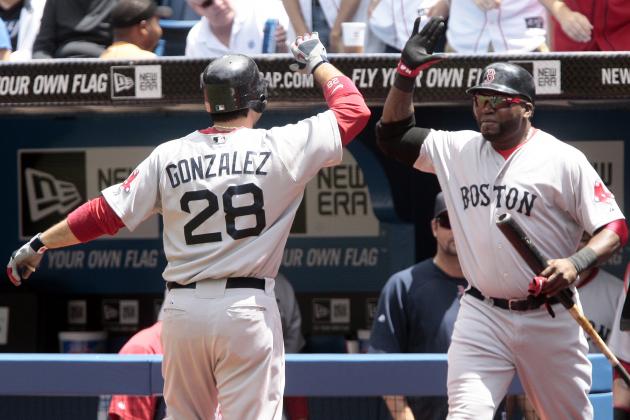 Abelimages/Getty Images

As the All-Star Break is now in full effect, the Red Sox won't play until Friday, and only have one representative in the game tonight: Mr. David Américo Ortiz.
For Sox fans still in need of coverage of their team, I've prepared a two-part piece that will get you through the week. I'll look at how David Ortiz and Adrian Gonzalez have performed so far this season, what they're on pace for, and what to expect from them in the second half. At the end of each section, I'll make my prediction as to what the players' final stat line will be.
*On pace numbers are from ESPN.com, and ZiPS projections are found on FanGraphs, courtesy of Dan Szymborski of Baseball Think Factory
Begin Slideshow

»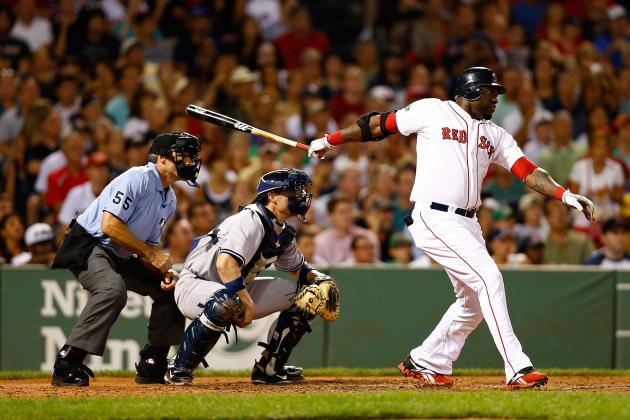 Jared Wickerham/Getty Images

First Half Stats: .312/.406/.607, 22 HRs, 57 RBI
On Pace: 41 HRs, 107 RBI
ZiPS Projection: .298/.392/.574, 36 HRs, 97 RBI
David Ortiz is the reason the Red Sox are .500 at the All-Star Break, rather than Boston having a losing record. He's been their most consistent offensive player by far, and ranks in the top three in the American League in runs scored, SLG, and OPS, and top 10 in batting average, HRs, RBI and walks. Simply put, he's been one of the best hitters in all of baseball this season.
But can he keep it up? Ortiz is 36, after all, and although he's in the best shape he's been in years, there's certainly potential for him to fade, including a regression from the best first half numbers he's put together since the 2007 season.
A great sign that Ortiz will keep up his numbers, though, is that his batted ball percentages for line drives (LD), ground balls (GB), and fly balls (FB) are in line with when he was producing immensely from 2003-2007.
In his worst year in 2009, Ortiz was at 17.4 percent line-drive rate, 32.1 percent ground-ball rate, and 50.5 percent fly-ball rate. This year, he's at 20.2/36.9/43.0. His career marks are 20.0/35.5/44.5, which show that this year Ortiz is back doing what it is that made him so successful.
His HR/FB rate is 19.5 percent, right in line with his career mark of 18.6 percent, and his strikeout rate of 13 percent is the lowest it's been ever, much lower than his career rate of 18.1 percent. In 2010 he struck out 23.9 percent of the time; he dropped that to 13.7 percent in 2011, and has continued the decline this year.
Additionally, his BABIP is .306, right near his career mark of .303, and even lower than last year's mark of .321. So it's not as if Ortiz has been especially lucky this year; he's earned the hits.
The advanced stats point to Ortiz keeping up his success. He may not finish exactly on pace as he's been, but I'm higher on him than the ZiPS projection. I also think he will make a strong push to finish with 40 home runs for the first time since 2006.
My final prediction: .305/.396/.595, 40 HRs, 109 RBI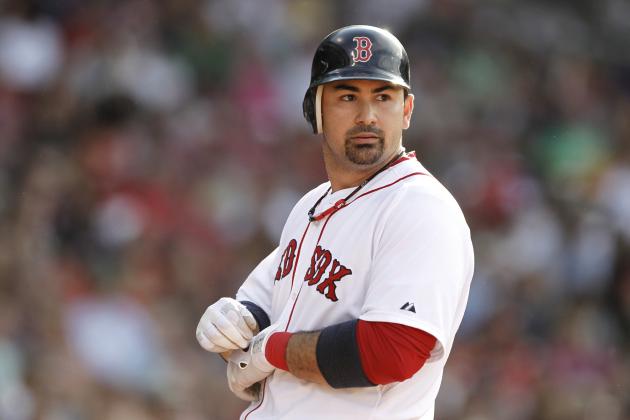 Winslow Townson/Getty Images

First Half: .283/.329/.416, 6 HRs, 45 RBI
On Pace: 11 HRs, 85 RBI
ZiPS Projection: .288/.346/.452, 18 HRs, 91 RBI
There's no way to spin it: Adrian Gonzalez has been a colossal disappointment for the Red Sox this season. Gonzalez came over from the Padres after playing in PETCO Park, the worst offensive stadium in the league. When he hit "only" 27 home runs last year after hitting 40 with the Padres in 2009, it was explained by his shoulder injury that had yet to return to full strength.
Gonzalez has no such excuses this year. He's been abysmal, and if not for a recent 18 game hitting streak, would have a SLG percentage of under .400, unheard of for a Red Sox first baseman.
Can he turn it around?
A problem that Gonzalez has had since coming to Boston has been his pitch selectivity. After walking 10.6 percent of the time in 2008, 17.5 percent in 2009 and 13.4 percent in 2010, he's clocked in at 6.2 percent in 2012. He's also seeing fewer pitches per plate appearance, at 3.73 this year compared with 3.95 in 2009. Pitchers have been getting Gonzalez to chase their pitches, and it's affected his production negatively.
Gonzalez's BABIP has also dropped from a career high of .380 last year to .327 this year, right in line with his career average of .322. Unfortunately for Red Sox fans, unless he has a change of approach, his lucky year in 2011 may turn out to be one of his best in a Red Sox uniform.
One statistic that is positive on Gonzalez is his HR/FB rate. He has a career average of 16.2 percent, yet this year he's at 6.1 percent. That's bound to go up. And while he might not reach 30 home runs or even 25, he'll finish with more than the 11 he's currently on pace for. His 27 doubles on the year show his power, and a few of those will become home runs in the second half.
Also keep in mind the Gonzalez is a streaky hitter. Last year he had stretches of hitting seven home runs in eight games, and five in three. All it may take is one of those to get A-Gonz back to where he should be.
Gonzalez will be better in the second half, but it will be hard for him to replicate last year's numbers, which unfortunately weren't even as good as what he did in his years with the Padres.
My final prediction: .301/.349/.472, 21 HRs, 97 RBI