10 Fantasy Football Stars Guaranteed to Fail in 2012
Ezra Shaw/Getty Images
Now this is going to be a tough list to dissect.
Invariably, predicting which fantasy football studs will falter under the limelight this season is both tough and consequential. If you're wrong, then you look like a fool. Even if you're right (or think you're right), you are sure to draw the ire of their most ardent fans.
And with "guarantee" and "fail" being such strong words, this list will admittedly be nowhere near 100 percent accurate. I will be going out on a limb here too. In this slideshow, I will be predicting some early rounder's to fail here. I will not take the easy route and say the likes of Malcom Floyd and Tim Hightower will fail. Where is the fun in that?
In this slideshow, I will do my best to foretell which prominent stars are doomed for disappointing seasons. So without further ado, here is my certain-to-be mocked "fantasy football stars guaranteed to fail" slideshow.
Peyton Manning: Denver Broncos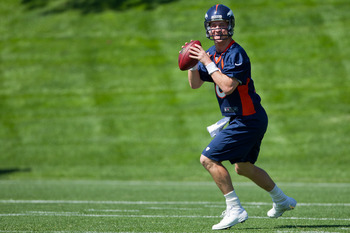 Justin Edmonds/Getty Images
There is a lot on Manning's plate as he prepares to enter the 2012 campaign.
Most of the concern with Manning, of course, centers on the health of his surgically repaired neck. But the initial reports out of the Broncos' OTA's is that Manning looks raring to go.
However, considering he was off for a whole year and is also adapting to a new offense, plus the fact that he is not a spring chicken anymore (36), there is a ton of risk attached to Manning's name this year.
Mike Wallace: Pittsburgh Steelers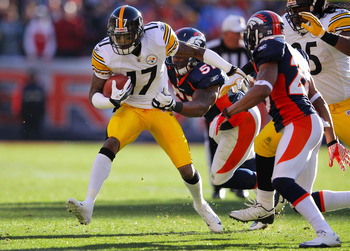 Doug Pensinger/Getty Images
Wallace's troubles are twofold.
First, he has yet to sign his contract tender, and because of that, he may hold out for an extended period of time. With a new offensive coordinator in Todd Haley, Wallace is losing valuable time getting acquainted with the Steelers' new offensive scheme.
Secondly, with the emergence of Antonio Brown, Wallace will undoubtedly lose some targets in the Steelers' vertical attack.
Jamaal Charles: Kansas City Chiefs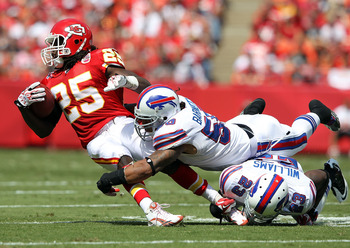 Jamie Squire/Getty Images
As with many members on this list, Charles is yet another one coming off a debilitating injury, as he tore his ACL in his first game last season.
While many players can come back with vigor, Charles is still no sure bet to bounce back. And with the Chiefs signing Peyton Hillis and still having Dexter McCluster on the depth chart, Charles will have to accomplish a lot to get back to what he once was.
Adrian Peterson: Minnesota Vikings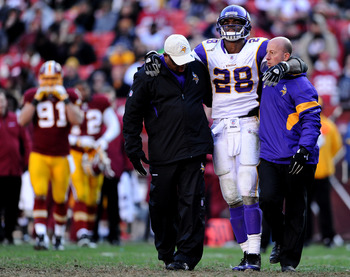 Patrick Smith/Getty Images
Much like Charles, Peterson will head into the 2012 season with a lot to prove. Unlike Charles, though, Peterson suffered his ugly injury (torn ACL) later in the season. Thus, he'll be behind the curve.
Peterson and the Vikes are, of course, providing the public with lip service in saying that Peterson is ahead of schedule. But these injuries take time, and until you can really cut and burst out of the backfield, then you are truly not ready to make an impact.
The Vikings have a good contingency plan in Toby Gerhart and with that being the case, the Vikings will be cautious with Peterson.
Vernon Davis: San Francisco 49ers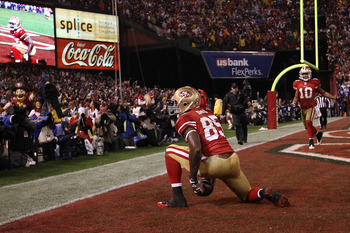 Ezra Shaw/Getty Images
Coming off a season in which he caught 67 receptions for 792 yards and six scores and even posting more impressive numbers in the postseason (10 receptions for 292 yards and four touchdowns in two games), Davis might be a player fantasy owners will want to pounce on and strike while the iron is hot.
However, with the 49ers adding a lot more offensive weapons (Randy Moss, Mario Manningham, Brandon Jacobs and draft picks A.J. Jenkins and LaMichael James) to feed, Davis could get lost in the shuffle.
Brandon Marshall: Chicago Bears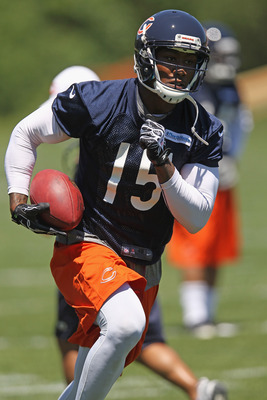 Jonathan Daniel/Getty Images
Although Marshall will reunite with his old Denver quarterback, Jay Cutler, Marshall is still a headache, as you never know what you're going to get with him.
Marshall will always give you flashes of brilliance but will also sprinkle it in with bouts of inconsistency.
Some will argue that because Marshall now has a competent quarterback, he'll raise his game. However, you have to also realize that the Bears still are still lean on offensive weapons (excluding running back Matt Forte) and because of that, Marshall will still have to fend off a lot of double-team coverage.
Michael Turner: Atlanta Falcons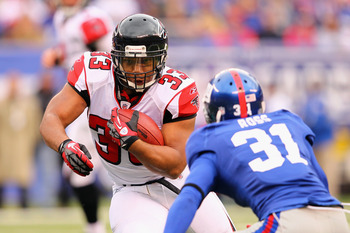 Al Bello/Getty Images
The Falcons are going to be very cautious with Turner's workload this year, as they know their bread and butter is their prolific passing game.
With 1,189 rushing attempts in the last four years, the Falcons will want to keep Turner fresher by implementing second-year running back Jacquizz Rodgers into the game plan more.
With the Falcons relying more on the pass, and with Rodgers about to eat into Turner's carries, Turner is a prime candidate for a down season.
Frank Gore: San Francisco 49ers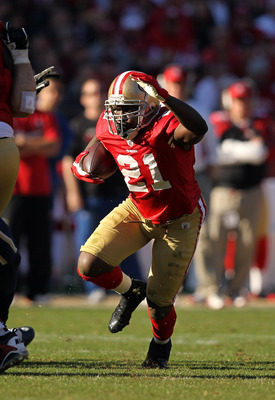 Ezra Shaw/Getty Images
Combining his age, previous workload and the infusion of all the new talent being assembled in San Francisco, Gore is a player with bust written all over him.
Gore will still be the preferred running back in the 49ers' offense, but his production is still going to take a major hit as the 49ers will want to protect Gore for a projected run in the playoffs.
Beanie Wells: Arizona Cardinals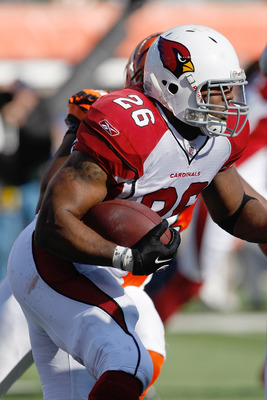 Scott Boehm/Getty Images
When you think Beanie Wells, you don't think staying power.
Props are due for Wells turning in an outstanding season last year (1,047 rushing yards and 10 touchdowns) but between his previous inconsistencies and the Cardinals set to involve second-year running back Ryan Williams (who had to sit out last year with a ruptured patella tendon) into the offense, Wells is one who should come with plenty of red flags.
Reggie Bush: Miami Dolphins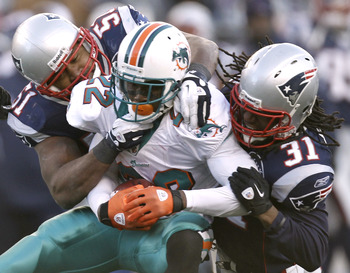 Winslow Townson/Getty Images
When you rush for 505 more yards than your career mark (Bush rushed for 1,086 yards in 2011, his previous career high was 581), there is always going to be certain amount of skepticism for a repeat type of performance.
Plus, Bush has always had a history of injuries. When you factor in that the Dolphins also have second-year running back Daniel Thomas and rookie Lamar Miller on the roster, Miami will surely want to get use out these two high draft picks.
Follow me on Twitter @stacdemon
Keep Reading