The 15 Biggest Celebration Fails in Sports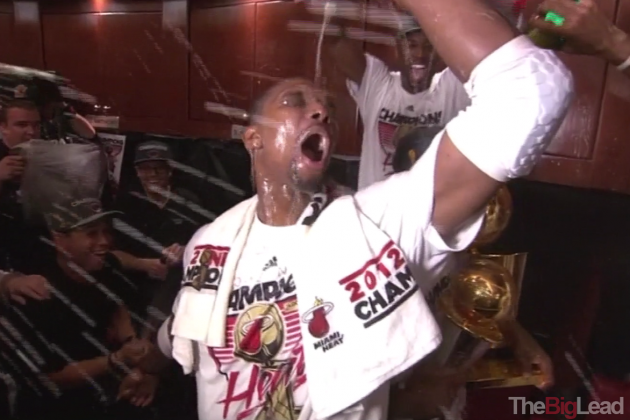 Image via mysportslife.info
A celebration following a fantastic sports play is inevitable. How else are you supposed to express your joy of making a successful score? By tossing aside all logic and diving head first into the first thing that pops into your head.
So if grabbing a bottle of champagne and pouring it onto your face like you were taking a shower is how you want to celebrate winning an NBA championship, then so be it.
But please be ready for the jokes to follow. You didn't think we would just forget about that, did you, Chris Bosh?
Here is a list of 15 of the greatest celebration fails in sports. Enjoy.
Begin Slideshow

»
Kobe Bryant found out the hard way that Dikembe Mutombo copyrighted the finger wag in the early 1990s.
At least Kobe makes up for this on the back end with a perfect backwards roll.
Why would you run and jump into another player unless you have some kind of balance?
The best part was the reaction of the other Pirates players when their teammate hits the dirt. Classic.
I love MMA. I love it so much that I am always searching the web for great MMA fight videos.
This is not one of them, but it is a video I stumbled across one day. Did the guy think he was going to flip without getting his legs into it?
Note to self: Never celebrate a game-winning three-point shot unless the clock has officially run out.
Otherwise, you could end up looking like this group. Before this, I had never seen an arena go from 100 to 0 in two seconds.
I had never realized just how tough rugby players were before I watched this clip.
Two guys running at full speed collide heads, wipe off the blood and laugh it off. Awesome.
Before jumping into a sheet of glass, always make sure the darn thing is nailed to the wall.
But then you wouldn't be on this list and no one would remember it. So jump away, I guess.
Yes, we all know that Nate Robinson can jump clear over the Madison Square Garden rooftop, but this was just tragic.
Couldn't Paul Pierce have at least pretended to catch him?
When celebrating a goal, never fall onto the field. That is something common sense should take care of, but not so for this overeager fan.
Once other fans realize the guy is in trouble, they all book it and leave him to the authorities. Epic.
Before you judge this high ranking, watch it all the way through.
This quarterback needs to remember where he is before celebrating a score. Never run into a defensive player like that without making sure you aren't going to spike the ball into your, well...just watch the footage.
If I learned anything about sports, it is to never celebrate before the ball goes through the net. Plain and simple.
Sooner Steven Pledger was ready to charge it up, but the ball never went in and all he was left with was a sad, sad video on YouTube.
It doesn't matter how good looking you are—if you want to run full speed down a bowling lane and not consider that it is slicker than Tony Soprano at a Gambino family reunion, you deserve an epic fail video.
She is easily the hottest chick to fail at a celebration in a sporting event, but this was bound to fail from the moment she started forward.
This isn't a fail on Torstein Horgmo; this is a fail on the guy who received snow goggles to the face.
What Torstein did was hilarious. He just went nuts and basically chestbumped the crowd with his goggles. Too perfect.
DeSean Jackson always seems to put himself in a position to fail.
Doing a forward flip into the end zone is never a good idea, even if you are trying to impress someone. Goodbye touchdown, hello blooper reel.
Gary Neal just made my day.
He not only celebrates making a free throw; he goes for the high fives when his entire team is standing 30 feet behind him.
Nice.
There has never been a worse fail in sports than an NFL kicker, in his rookie season, tearing his ACL after jumping up to celebrate a routine field goal. Never.
Come on, Bill. You should have known better. You're a kicker, not a gymnast.