MLB All-Star Festivities: A Rack of Ribs Given out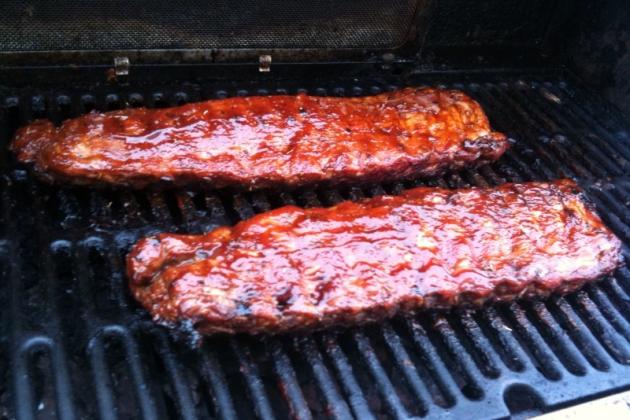 Around the time of the Home Run Derby, someone published a team of "weiners," players who were playing as good baseball as your average dachshund. Come Thanksgiving, there'll be a number of "turkeys" lists.
But since this All-Star Game was in Kansas City, and Kansas City is known for its barbecue, I thought I'd divide a rack of a dozen ribs (and a couple of side dishes) among some top-tier performances of this week.
Begin Slideshow

»
I was watching the game with my dad and some buds, and when I mentioned that I was working on an article assigning ribs to MLB All-Stars, my dad retorted that the rotund Fielder needed something a little more...healthy.
Since the Home Run Derby isn't the All-Star Game per se, and since Fielder was 0-for in the main course, Fielder gets coleslaw instead of a rib.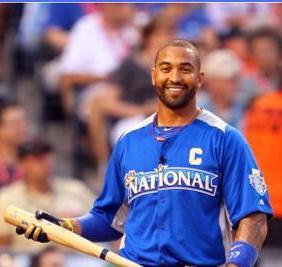 The first thing you were thinking when you saw this, was, why give food to Matt Kemp after he stunk up the Home Run Derby, then was scratched from the All-Star Game due to still being on the DL?
The second thing you were thinking is, this is a ribs article. Why barbecue chicken?
If there's one thing that stuck with me about the coverage of the Derby and Game, it was that there were Twitter hashtags here, there and everywhere. The MLB even set up a Twitter booth for players to use after they'd been pulled from the game.
FOX briefly interrupted coverage to report that Kemp was the first player to avail himself of that booth. Since it's Twitter and not Moo-er or Oinker, it made sense to give out barbecued bird.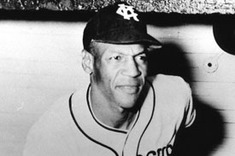 As an American historian, I am proud that America's pastime honored the history of the game.
Four generations ago, the Negro Leagues established a strong presence in K.C., when Negro League executives met at a Kansas City YMCA to form the Negro National League. The league was dominated by a Kansas City team entry called the Monarchs.
Now, that YMCA is a Negro League museum and the American League manager of the All-Star Game is an African-American. In addition, several African-American players appeared on the All-Star roster.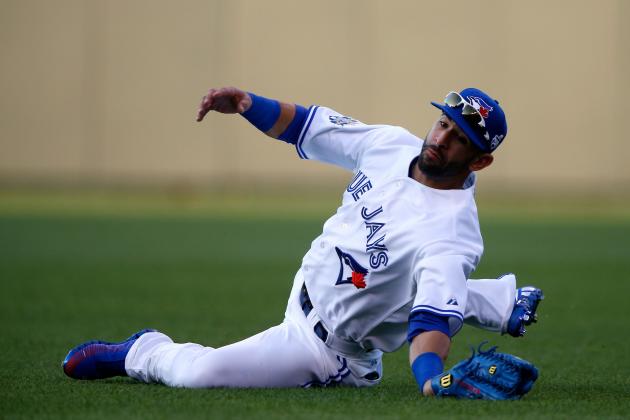 Jamie Squire/Getty Images

JoeyBats was 0-for in two plate appearances with a base on balls. However, he earns his rib for this spectacular catch that saved a ball from going into Triples Corner, and for finishing runner-up in the Home Run Derby.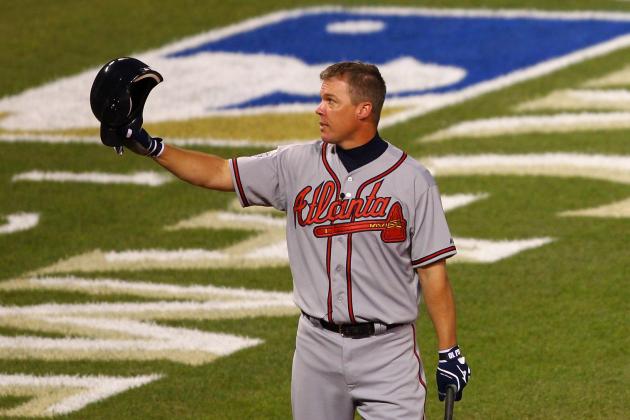 Dilip Vishwanat/Getty Images

I was skeptical about Chipper Jones being allowed to play in the game. After all, he hasn't been playing his best ball lately, spending much of 2012 on the DL.
However, he sort of grew on me, particularly with his St. Crispin's Speech that must have been effective.
Jones also helped the NL's cause with a pinch-hit single in the sixth.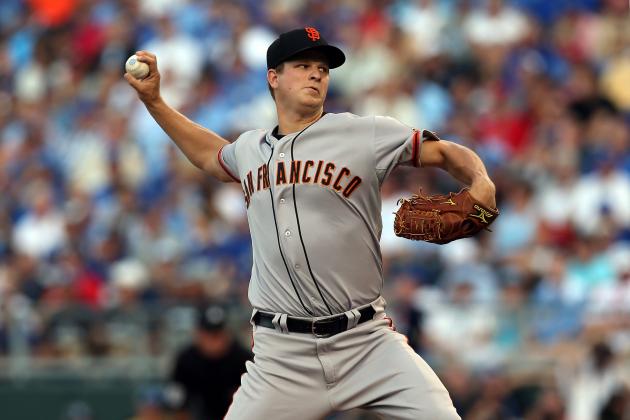 Jonathan Daniel/Getty Images

Matt Cain was the only pitcher to have more than an inning of work. He was also the winning pitcher, and the only pitcher to pitch multiple scoreless innings.
He did give up one hit, though.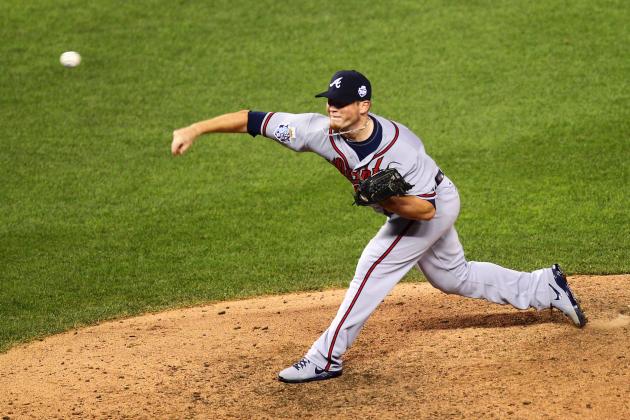 Dilip Vishwanat/Getty Images

Craig Kimbrel only made seven pitches in the All-Star Game.
Six of them were strikes. Two up, two fanned, and Kimbrel is the only NL pitcher to fan multiple batters.
This part of a combined effort by eleven pitchers (including Clayton Kershaw's 27-pitch inning, Joel Hanrahan's lack of control and R.A. Dickey's appearance) was the only part that did not allow a run or even an extra-base hit by AL hitters.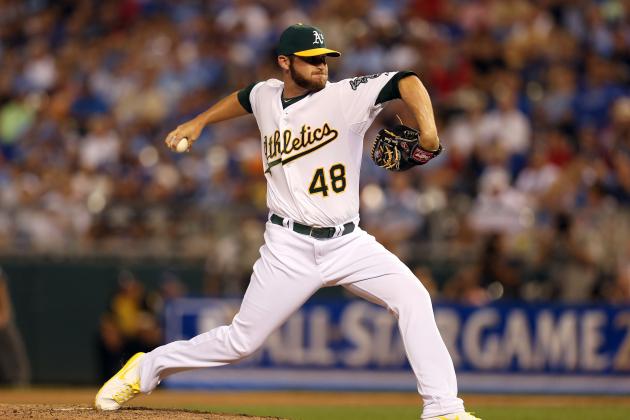 Jonathan Daniel/Getty Images

Four months ago, we were unsure if Ryan Cook would have a place in the majors.
Since then, he's gone from spring training invitee to bullpen option to closer to All-Star to the only AL pitcher to fan multiple batters without giving up any runs. He did it efficiently, on only eleven pitches.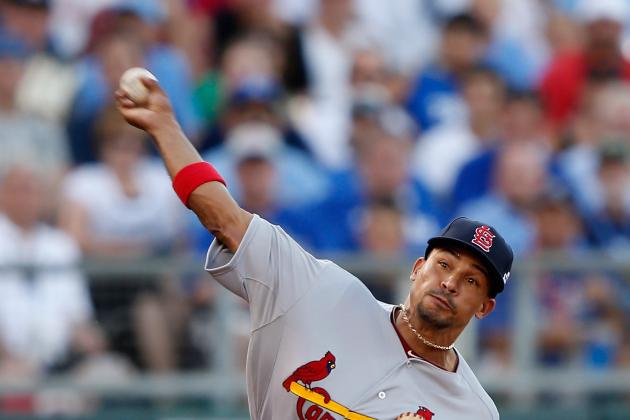 Jamie Squire/Getty Images

One of the more exciting plays in baseball is when a double play is turned. The National League turned two twice. Both originated with St. Louis shortstop Rafael Furcal.
Furcal also hit one of three NL triples in the game and scored a run.
If only my hometown Dodgers still had him...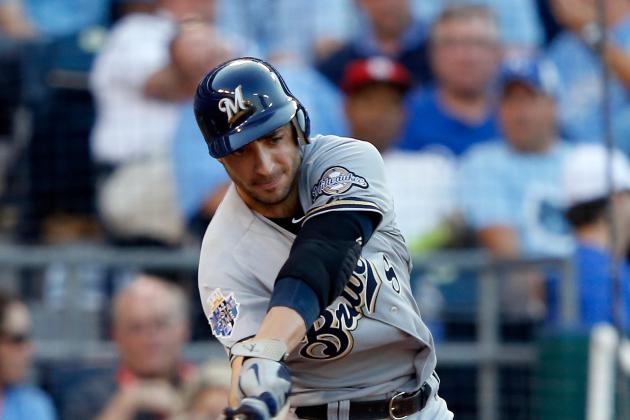 Jamie Squire/Getty Images

Ryan Braun was getting it done on both sides of the ball. He was the first player from either team to get multiple hits, one that was a triple and another that easily could have been. He also drove a man in and scored himself.
On the defensive end of things, he had a spectacular catch in the fourth that robbed Fielder of an extra-base hit.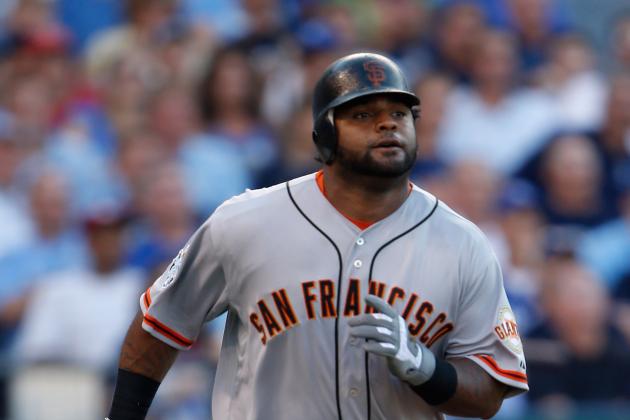 Jamie Squire/Getty Images

Pablo Sandoval hadn't hit a triple this season...until he hit a ball into Triples Corner. Sandoval led all players in RBI for the game with three, and also scored once himself.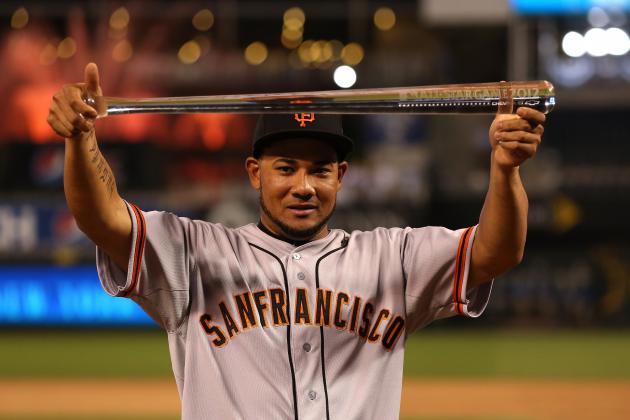 Jonathan Daniel/Getty Images

What's with all these Giants?
Melky Cabrera was the MVP of the All-Star Game. He was one of two players to have multiple hits and slug 1.667 (Braun was the other). He was the only player to homer in the game, and also scored twice and drove in two.