Arizona State Football: Breaking Down the Strengths and Weaknesses of Each QB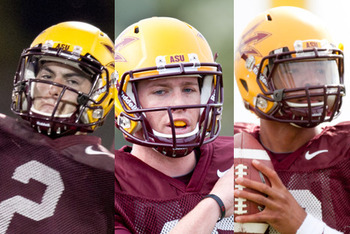 How lucky are the Arizona State Sun Devils? For their upcoming 2012 season, they have not one, not two (I'm starting to feel like Lebron James here), but three quarterbacks with the ability to be the team's starter when the Sun Devils take the field in their season opener against Northern Arizona on August 30.
Wait. The three competitors for the job in Mike Bercovici, Taylor Kelly and Michael Eubank have thrown a combined seven career passes at the college level. New head coach Todd Graham is implementing a new, albeit somewhat similar offense under new coordinator Mike Norvell. The offensive line lost three starters, including All-Pac-12 center Garth Gerhart.
Fact: the quarterback position will experience a drop-off in production with 2011 starter Brock Osweiler now a Denver Bronco after going in the second round of the draft in April. Having four of the top five wide receivers gone does not alleviate the pain either. While elite running back Cameron Marshall will be the focus of the offense in year one of the Graham era, whoever wins out at QB will still play a huge role in determining if Arizona State will be a Pac-12 bottom feeder or reach seven, maybe even eight wins.
Coach Graham has made it clear the position battle will not continue long after fall practice begins, so here's a briefing on each member of the trio competing to be the Devils' signal-caller.
Mike Bercovici (Bring Him In)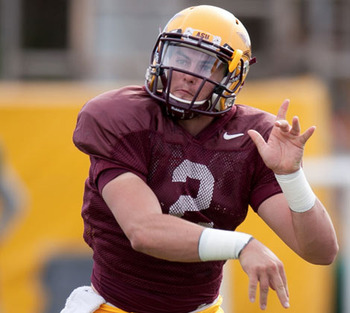 Currently the clubhouse leader for the starting spot, Bercovici was the undisputed backup in 2011 behind Osweiler and thus has the most "experience." The sophomore is more substance than style in comparison to Eubank, which makes it no surprise that he combines his strong arm with his accuracy to be the best passing quarterback on the roster by a large margin.
Bercovici feels he impressed the new staff the most with his character (video here) following the spring game and looks like he has the best chance to emerge as the young squad's leader both in the huddle and to the media. Bercovici will not make jaws drop, but has the best chance to make sure the passing game is consistent and does not drop off too heavily post-Osweiler.
Mike Bercovici (Sit Him Down)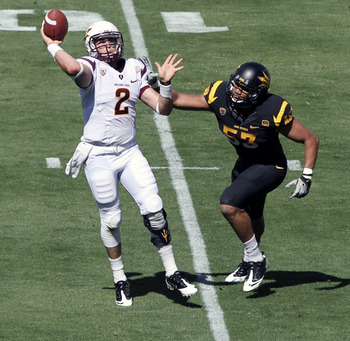 Frankly, the coaching and scheme change will hurt Bercovici the most. More of a traditional passer, he is not an ideal fit for the new offensive scheme that puts quarterback mobility as a high priority. Bercovici is not a statue in the pocket, but his two opponents are constant run threats at the spot.
From the perspective of the coaching staff, it pay bigger dividends to coach up either Eubank or Kelly's passing abilities rather than go forward with Bercovici and hope he gains a running presence.
Additionally, height is a disadvantage for Bercovici, who at 6'1" loses four inches as well as 40 pounds to Eubank. His role model at QB is the similar-sized Drew Brees, but his below-average height while being a pocket passer is not winning him any debates.
Michael Eubank (Bring Him In)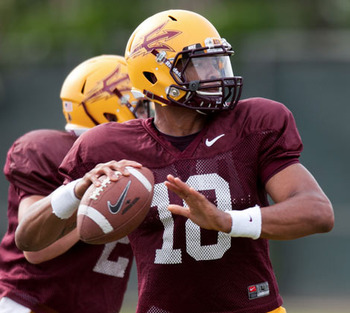 I know a Cam Newton comparison is the easy way out for a quarterback that punishes safeties with his running ability yet can burn pass coverages with his powerful arm, but the image of Newton shredding through one vaunted SEC defense after another in 2010 before taking the NFL by storm in 2011 is still fresh in the minds of many.
At 6' 5" and 242 pounds, the redshirt freshman is built like a linebacker and has the strength to punish would-be tacklers trying to take down out of the pocket. He is not speedy, but his power would enable him to be the ideal quarterback in short-yardage situations. He ran for 60 yards in the spring game, including a 17-yard touchdown scamper. Additionally, he would be the best fit in the new spread attack thanks to his mobility.
He has the strongest arm of all three competitors, and has the height to actualize that strength into a deadly downfield attack. When asked to describe Eubank in one word, Graham stated "potential." Potential, however, is a double-edged sword and unfulfilled potential is the difference between stardom and transferring to a Big Sky program.
Michael Eubank (Sit Him Down)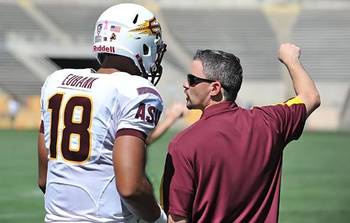 As enamored as Sun Devils fans are with him, the penultimate goal of a quarterback is to deliver the football to a receiver. Eubank has work to do on that front.
Being a run-first quarterback at heart, Eubank is likely to take off on his own rather than read through coverage to find an open man after the initial routes. Eubank is raw in both his motion and ability to find his man, and will need to show drastic improvement in those departments over the summer in order to usurp Bercovici come fall practice.
Overcoming years of relaxed focus with respect to mechanics will be difficult to immediately overcome, but don't be shocked if Eubank loses the job but still plays around a dozen snaps per game to mix up the play calling.
Taylor Kelly (Bring Him In)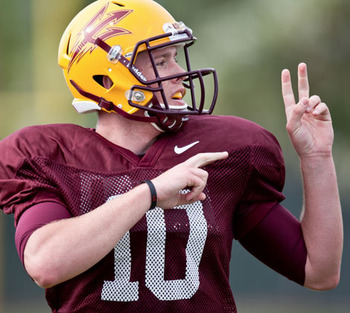 Like Eubank, Kelly won't think twice about taking off running if a play breaks down or he sees a hole to run through. Despite his ability to weave through opposing defenses on his feet, Kelly is the awkward third wheel in this race.
Yet, injuries happen, and a series of poor performances from Eubank if he wins the job could throw Kelly in the starter role. Considering his running abilities, he would not be the worst fill-in at the spot in terms of the running threat that the new offensive scheme wants out of its QB.
Taylor Kelly (Sit Him Down)
Kelly turns the ball over the least, but outside of that he does not bring anything to the table that the other two candidates don't easily trump. The sophomore from Idaho is generally inaccurate like Eubank, yet does not have the arm strength that Eubank possesses or the power to becoming a punishing runner.
While Kelly easily trumps Bercovici's out-of-pocket abilities, the difference in passing abilities between the two is too great for Kelly's ground game to be able to adequately compensate.
Additionally, Kelly lost his backup role to Bercovici last preseason as well. If Bercovici hasn't been supplanted yet after the new system is in place, chances are neither he nor Eubank are giving up their spots any time soon.
Keep Reading

Arizona State Football: Like this team?