Brian Burke's 10 Worst Mistakes in Charge of the Toronto Maple Leafs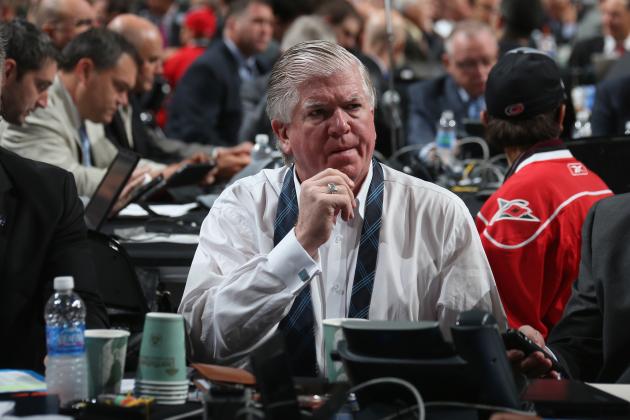 Bruce Bennett/Getty Images

Brian Burke has been the General Manager of the Toronto Maple Leafs since November of 2008.
Since then, he has completely rebuilt the organization from the ground up, having brought in better talent at the NHL level and having restocked the cupboard in terms of prospects.
However, he remains a controversial figure, especially in Toronto, with many fans calling for his head after yet another futile attempt at making the playoffs.
The fact that he has made a number of mistakes that have arguably set the organization back a year or two does not help his case.
Here are his 10 worst mistakes as the Leafs' GM.
Begin Slideshow

»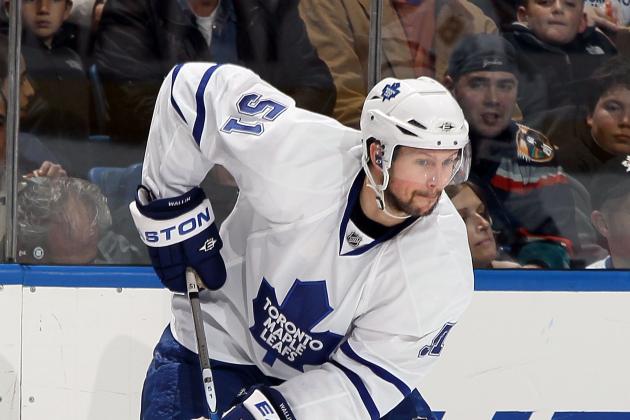 Jim McIsaac/Getty Images

How's that for a trip down memory lane?
Rickard Wallin was drafted 160th overall in 1998 by the Phoenix Coyotes. Prior to the 2009-10 season, he had played all of 19 career NHL games, all with the Minnesota Wild.
In 2009, the Leafs signed Wallin out of Farjestad of the Swedish Elite League on a one-year deal.
In 60 games, he managed a mere two goals and nine points.
In May 2010, the Swedish centreman returned to Farjestad, signing a four-year contract with his former club.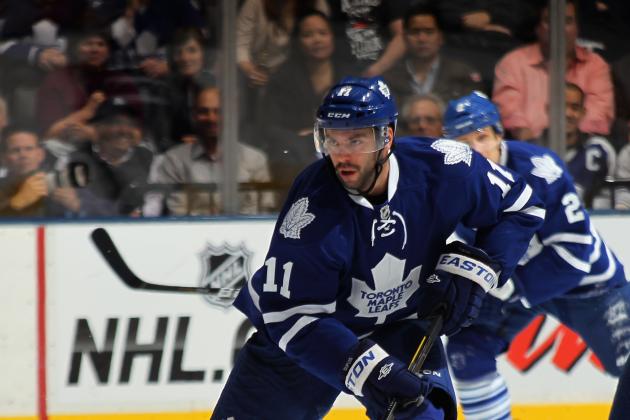 Bruce Bennett/Getty Images

Philippe Dupuis couldn't manage a single point in 30 games with the Leafs. After that, they finally came to their senses and sent him to the Toronto Marlies.
He was a reliable contributor with the Marlies, tallying 15 goals and 31 points in 42 regular season games, but that was not what he was signed to be.
For 30 games, Dupuis took the spot of someone—anyone—who could have at least been semi-productive for the Leafs.
Good thing it was a cheap, short-term contract.
Dupuis is now with the Pittsburgh Penguins organization on a one-year, two-way deal worth $600,000 at the NHL level.
Elsa/Getty Images

In June 2008, Ron Wilson was hired on a four-year contract to be the head coach of the Toronto Maple Leafs.
In December 2011, it was announced that he had received a one-year contract extension.
On March 2, 2012, he got canned.
This move didn't necessarily hurt the organization, but it made Brian Burke look pretty foolish. He had been a staunch Wilson defender for years and his support for him was especially evident in the weeks leading up to Wilson's dismissal.
Though there was never any evidence of friction between the players and the coach, Ron Wilson was wearing out his welcome with the fans because of his poor systems, his relatively cold relationship with the media and his seeming lack of passion.
Handing him a one-year extension was probably Burke's way of telling the fans: "Quiet, you!"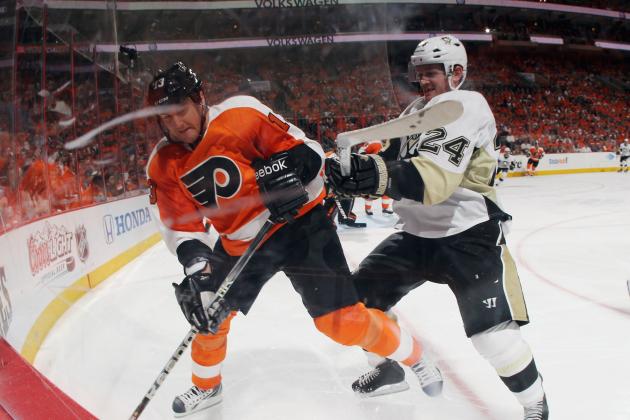 Bruce Bennett/Getty Images

On July 1, 2009, the Leafs traded defenseman Pavel Kubina and forward Tim Stapleton to the Atlanta Thrashers for defenseman Garnet Exelby and forward Colin Stuart.
Kubina, a regular with the Philadelphia Flyers, has played 970 career NHL games and counting.
Stapleton seems to have found a good fit with the Atlanta/Winnipeg organization and will likely also be a regular for them in the upcoming season.
Exelby and Stuart, on the other hand, are fringe NHLers at best.
Kubina and Stapleton were definitely not in the Leafs' plans for the future and the team certainly wanted to dump the former's $5 million cap hit, but Toronto could have and should have asked for a more significant return.
Elsa/Getty Images

Colton Orr is one of the best goons in the league, for what that's worth.
The Leafs certainly need toughness and grit in their lineup, but it helps if these qualities also come with a degree of hockey skill as well.
Burke signed him back on July 1, 2009 to a four-year, $4 million contract.
Even if you believe that it's better to have enforcers on your team, it would be hard to justify a long-term deal for a guy who can't really play hockey.
Back in January 2012, Orr was waived by the team and eventually reported to the Marlies.
If Burke had showed restraint and signed him to a shorter deal, he wouldn't have had to go through such a difficult situation.
Bruce Bennett/Getty Images

If you're a defenseman playing in Detroit and you're paired with an All-Star, you're bound to look better than you actually are.
Such was the case with defenseman Brett Lebda.
Thankfully, the Leafs only signed him to a two-year deal worth $2.9 million. Imagine if they had signed him to a Jeff Finger-like contract.
Lebda is infamous in Toronto for having been a minus-three in a 9-3 win against the Atlanta Thrashers.
In 41 games for the blue and white, Lebda only managed one goal and four points.
Abelimages/Getty Images
Armstrong pounds Seidenberg's fist with his face.
Colby Armstrong was signed to be a superpest who could contribute a little offense, but that never worked out.
He was given a three-year deal by Burke which was supposed to pay him $3 million a year.
His final year was recently bought out by the Leafs and he is now with the Montreal Canadiens.
He was never supposed to be more than a third-line agitator, so that fact alone makes his $9 million contract seem like an overpayment.
You can't blame anyone for the bad luck Armstrong had with the Leafs, but there is no way a player like him could ever be worth $3 million a year.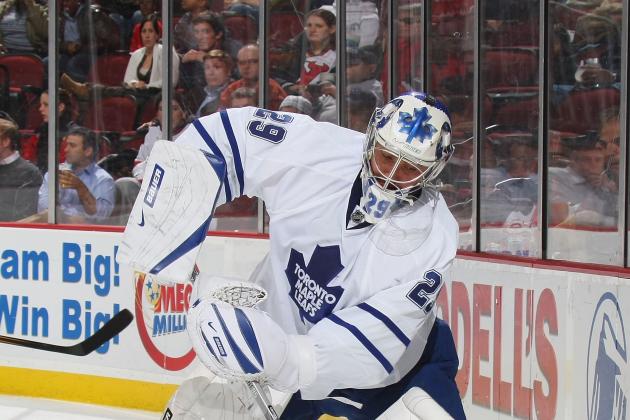 Bruce Bennett/Getty Images

At the conclusion of the 2008-09 season, the Leafs sat 24th in the League and therefore owned the seventh overall pick in 2009's draft.
That pick turned out to be Nazem Kadri, a player who could very well have a make-or-break year with the Leafs in 2012-13.
The players who were picked above Kadri, in ascending order, are: Oliver Ekman-Larsson, Brayden Schenn, Evander Kane, Matt Duchene, Victor Hedman and John Tavares.
In 2008-09, the Leafs finished with 81 points while the Los Angeles Kings and the Phoenix Coyotes finished with 79 apiece.
Due to the tiebreaker rules at the time, the Leafs would have needed three less points to have been able to pick fifth overall.
With five less points, the Leafs could have picked Evander Kane.
When the Leafs' starting goaltender Vesa Toskala stepped down due to injury, the Leafs picked Martin Gerber off of waivers from the Ottawa Senators.
Gerber would proceed to play well enough down the stretch to keep the Leafs out of the hunt for a top-five pick.
What if the Leafs had picked Ekman-Larsson, Schenn or Kane instead of Kadri?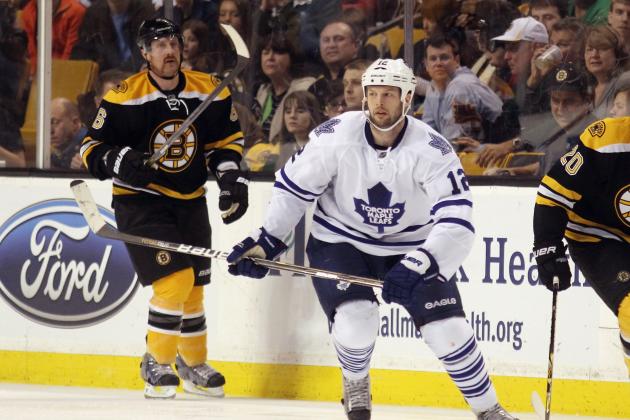 Bruce Bennett/Getty Images

Tim Connolly was signed to be the Leafs' No. 1 centreman after they failed to win the Brad Richards sweepstakes.
Connolly's two-year, $9.5 million contract is proof of that.
He isn't a horrible player and can be somewhat productive offensively, but you can't make a player better by giving him more money.
That's pretty much what Brian Burke did with Connolly.
With the Buffalo Sabres, the native of New York State was a decent playmaker whose best statistical season was in 2009-10 when he recorded 17 goals and 65 points.
It was his best season by 10 points and he has never proven himself to be a legitimate top line centreman.
He could be a good second liner on the right team, just not with the Leafs.
He was obviously supposed to be a stopgap, but even Tyler Bozak managed to beat him out of the first-line job (for the most part).
Connolly is now essentially an overpaid third-liner.
The Leafs sure could use the cap space he's occupying right now.
Bruce Bennett/Getty Images

The Leafs essentially paid $22.5 million over five years for a No. 5/6 defenseman.
Mike Komisarek probably receives the most abuse out of all the Leafs from fans in Toronto, but only some of it is deserved.
Fewer people would criticize him if his cap hit was, say, a couple million dollars less.
He was never the same player he was in Montreal, for whatever reason.
At the same time, the Leafs should never have offered him such an enormous contract.
There are still two years left on the contract and most Leaf fans can't wait for its expiration.