Detroit Pistons: Why the Decision Not to Sign Vernon Macklin Was the Wrong Move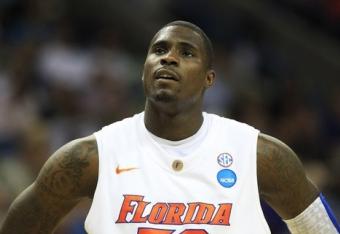 galleries.ncaa.com

As reported by freep.com, the Detroit Pistons did not make a qualifying offer to Vernon Macklin prior to the start of the NBA's moratorium period on July 1. As a result—as of Wednesday July 11—he's an unrestricted free agent and could be signed by any team.
Macklin will stay with Detroit for now. He'll play on their summer league team in Orlando with Brandon Knight, Austin Daye and Andre Drummond.
It's not far-fetched to think other teams will find him an attractive offseason target though.
While he failed to make an impact with the Pistons during his rookie year, he's only 25 years old and he flashed considerable potential during his stint in the D-League last season.
The 2011 second-round pick averaged a double-double—14.5 points and 14.3 rebounds—in ten games for the Fort Wayne Mad Ants. That kind of performance garners plenty of attention.
Unfortunately for him, he's the victim of numbers. The Pistons just added three draft picks, Jason Maxiell is returning, Kyle Singler is back from Europe, they signed Vyacheslav Kravtsov and Ben Wallace might not be retiring after all.
That makes a crowded front court and Macklin appears to be the odd man out.
Did Joe Dumars make the right choice with Macklin?
Fans will likely be disappointed with the decision as many were hoping the Pistons would give him a chance to reach his potential. Prior to the draft, some believed Macklin could be the player to pair with Greg Monroe eventually.
It's beginning to look less likely that tandem will ever play together.
Less likely, yes, but not impossible. Macklin is still playing with the Pistons in Orlando and they could still sign him.
There is a lot of offseason left and that means the Pistons roster will be constantly changing. While it looks filled to capacity now, there could be some spots opening up via trade.
Joe Dumars already pulled off one deal prior to the draft. He unloaded the contract of Ben Gordon and brought in veteran Corey Magette to add scoring—and salary cap space. Dumars might not be done with trades just yet.
Austin Daye, Will Bynum, Charlie Villanueva and Tayshaun Prince are all players that would command some value on the trade market. Out of those four, Daye and Villanueva are the most expendable based on their performance.
freep.com
We already know, according to SB Nation, that teams were interested in Daye last season but the Pistons turned down trade offers. Bynum was tied to the Lakers as well.
If Dumars is able to pull off a trade involving one of these players, and get draft picks in return, it would free up a roster spot for Macklin. It might only be a year, but at least it would give him a chance to demonstrate his worth against NBA-level competition.
Then a more informed decision could be made about his future with the team.
Dumars can't afford to throw another draft pick away. If he does then what was the point of even drafting Macklin? If another team signs him, then maybe Dumars should have just handed them the pick on draft night last June.
The Pistons drafted him for a reason—presumably—and to simply let him go after one lockout-shortened season shouldn't sit well with anyone.
Unfortunately, it might be too late to do anything. If another team snatches him up it will simply be another notch in Dumars' belt of wasted draft picks.
This article is
What is the duplicate article?
Why is this article offensive?
Where is this article plagiarized from?
Why is this article poorly edited?

Detroit Pistons: Like this team?