Los Angeles Clippers vs. Los Angeles Lakers: How They Match Up Now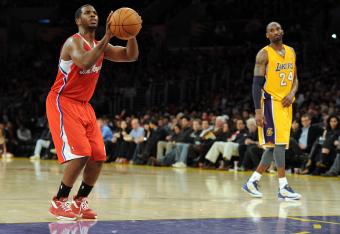 Watch This, Kobe.
Harry How/Getty Images
Last season, Los Angeles had the benefit of watching two professional basketball teams enter into postseason play. Unfortunately, both the Clippers and Lakers fell short of their goals, losing in the second round of the playoffs.
The Clippers, however, viewed their 2011-'12 campaign as a success. Former GM Neil Olshey put together a terrific squad on the fly, adding Chris Paul, Caron Butler, Kenyon Martin and Reggie Evans to a young, energetic core of Blake Griffin and DeAndre Jordan.
After squandering homecourt advantage at the end of the season, they defeated the Memphis Grizzlies in seven games to advance to the second round for only the second time in franchise history. They were then swept by the San Antonio Spurs; however, both Paul and Griffin were nursing injuries sustained in the previous series. Overall, they are looking to build upon a successful year.
The Lakers, however, have title aspirations every season, whether it is justified or not. Last year, without the Zen Master pacing—I mean, sitting in his highchair on the sidelines—Mike Brown struggled to create a cohesive unit. Kobe Bryant was forced to handle the ball more often than not, which essentially took the point guard out of the play. Pau Gasol was frustrated all year, and Andrew Bynum only appeared engaged every other night.
Entering an offseason of questions, both teams have answered the bell thus far. Here's an early look at each position between the now inner-city rivals:
PG: Chris Paul, Clippers VS. Steve Nash, Lakers
The city of Los Angeles has been salivating for quite some time at the prospect of witnessing the battle between Paul and Nash orchestrating their respective offenses, and for good reason. These two studs are the best in the business at their position on the offensive side of the ball.
Nash, a two-time MVP, has a proven track record of making the players around him better. Similarly, Paul instantly took a 32-win team from a year prior to their highest win percentage in Clippers history, finishing third in MVP voting only behind LeBron James and Kevin Durant.
Nash will surely provide a spark the Lakers offense has sorely lacked since Showtime in the 90's; however, his defense is suspect at best. Paul, on the other hand, led the league in steals—again—and single-handedly carried a team mired in mediocrity to relevancy.
Who Will Finish With A Better Record?
Edge: Clippers
SG: Jamal Crawford, Clippers VS. Kobe Bryant, Lakers
The Clippers played the SG spot by committee last season, after Chauncey Billups went down with a season-ending Achilles injury. Plug-in Randy Foye became the starter, and they later added Nick Young at the trade deadline.
Young has already signed with the Philadelphia Sixers and Foye figures to land somewhere else as well. The Clippers signed Jamal Crawford to a four year/$21.7 million deal to give the Clips some size and athleticism at the two spot, however he is a streaky shooter at best and his defense is almost nonexistent. Billups figures to return at some point after intense rehab, however, his impact may be limited.
On the opposite end lies the Black Mamba. Kobe is an average baller, wouldn't you say? He neither wants nor requires an introduction and his innate ability to score the ball is enough of an analysis.
The Clippers improved their scoring, but potentially regressed defensively in this position. The Lakers have Kobe.
Edge: Lakers
SF: Caron Butler, Clippers VS. Metta World Peace, Lakers
Butler began the season last year exactly how the Clippers expected: he was putting up a consistent 15 points per contest while sitting in the short corner, finding open looks all day with the likes of Chris Paul and Chauncey Billups lighting up the scoreboard from beyond the arc. Once Billups went down, Butler's production slid, but his skill level is there and his defense is above average.
On the other end, World Peace is fresh off his worst statistical season in his NBA career. The Lakers were searching for answers at the SF position all season, as they sorely lacked consistent production from him and now-free agent Matt Barnes. It doesn't seem as though the Lakers have the wherewithal to bring an impact starter into the three spot, as the market is thin and the Lakers have no cap flexibility.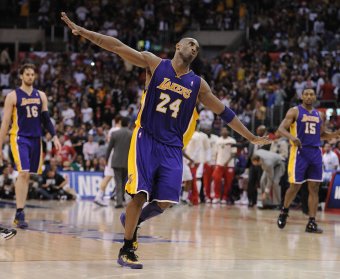 Harry How/Getty Images
Edge: Clippers
PF: Blake Griffin, Clippers VS. Pau Gasol, Lakers
The human highlight put on a show all year long. Blake is sure to take the upcoming ESPY's by storm, where we will all watch his filthy flush over Kendrick Perkins over and over and over again.
However, Mr. Gasol knows exactly what it feels like to be on the defensive end of a Blake Griffin slam as well. Griffin will need to drastically improve his free throw shooting and mid-range jump shot to be considered an elite power forward in a league that requires the four position to have a multitude of talents.
Gasol has been one of the top power forwards in the NBA for quite some time. His passing ability from the post as well as his finesse around the rim is unparalleled. People forget that his presence allowed for Kobe to win back-to-back titles in 2009 and 2010.
He is climbing in age, but the addition of Nash to this squad greatly benefits the 7-foot Spaniard as he thrives off the ball with a penetrating point guard.
Blake has a high ceiling and he intends to reach it, however, at this point, this position is a toss up.
Edge: Tie
C: DeAndre Jordan, Clippers VS. Andrew Bynum, Lakers
Before last season, the Clippers matched the Golden State Warriors offer sheet to Jordan of four years/$40+ million. The 24-year-old big man out of Texas A&M has huge upside, however his offensive game has yet to take any shape and his defensive skills are a bit overstated. His ability to block shots from the weak side gives the impression that he is a top defender, however his on-ball defense is suspect, at best. Marc Gasol ate him up in the first round of the postseason and forced Vinny Del Negro to often go undersized because his impact was limited.
Andrew Bynum is the most talented center in the NBA, and it isn't even a contest. His inability to bring his game to the court every night is another issue. He shows glimpses of his offensive game and proves how great he can be when fully engaged, however he fails to show up every night.
Maybe that's a bi-product of multiple knee surgeries or lack of effort, but either way, the Lakers are praying for him to mature. Quickly.
Edge: Lakers
Bench:
Entering the offseason, the Lakers most glaring need was a consistent bench. Without a productive—or even decent—bench throughout the regular season, the Lakers were left without much depth heading into the postseason, and it proved to be their Achilles heel in their second round loss to the Oklahoma City Thunder. A bench that is highlighted by Steve Blake will not go very far, and if the Lakers intend on contending this season, they will need to get quite creative.
Josh McRoberts and Andrew Gouedlock figure to be rotation players if the Lakers have no other moves on the horizon. However, one has to expect Grant Hill or other impact players are looking to help the Lakers win for the third time in five years.
On the flip side, the Clippers have bolstered their bench in a number of ways, specifically by adding former Lakers Sixth Man Lamar Odom, who is looking to return to form after a disastrous experiment in Dallas. The talent level is there, and a return to Los Angeles will bring Odom back to relevancy.
Re-upping Chauncey Billups will help in the leadership and veteran department, however if his Achilles heals well, his offense will certainly be welcomed with open arms. Eric Bledsoe showed some real signs of improvement during the Clippers postseason run, and will continue to give Chris Paul some rest throughout the season by picking up the tempo when he's on the floor. The Clippers have a gaping hole at the power forward and center position, depth-wise, and will look to fill that hole as free-agency continues.
Edge: Clippers
Coaching: Vinny Del Negro, Clippers VS Mike Brown, Lakers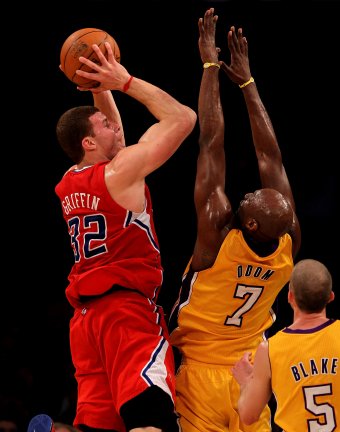 Stephen Dunn/Getty Images
Many in Los Angeles considered the coaching to be their respective teams' weakest link last season, and they may be proven correct entering the 2012-'13 campaign. Vinny Del Negro's option was picked up by upper-level management to give him a chance to work with his stars Paul and Griffin through training camp and a full 82-game schedule.
The Clippers hit a long lull after beginning the season on a tear, but picked it up in time for the postseason amongst rumors surrounding Del Negro's job security. Vinny will need to improve his offensive game plan, as the pick-and-roll has become too simplistic, particularly without a big man who can set a legitimate screen.
Mike Brown was brought in to replace the legendary Phil Jackson, and anything less than a trip to the Finals would have been looked at as a disappointment. Brown, always known as a defensive coach having learned under Gregg Popovich, will have to devise some sort of offensive scheme to mesh with Steve Nash who is now running the show.
Perhaps a call to now-unemployed Mike D'antoni will be a start, as he enters a second season with the Lakers who have a perhaps unwarranted feeling of title or bust entering this season. Kobe has title aspirations as he nears the end of his illustrious career, and Brown will need to find a comfort level with his star in order to get his message across.
Edge: Tie
Overall, the Clippers may edge out the Lakers; however, that can change if the Lakers are to bolster their bench. The Clippers currently have a deeper squad and just might edge out their co-tenants and inner-city rivals in the West for the first time since finishing in the sixth seed in 2006 (Lakers finished seventh).
This article is
What is the duplicate article?
Why is this article offensive?
Where is this article plagiarized from?
Why is this article poorly edited?

Los Angeles Lakers: Like this team?