2012 Home Run Derby Live Blog: Instant Event Reaction, Coverage and Analysis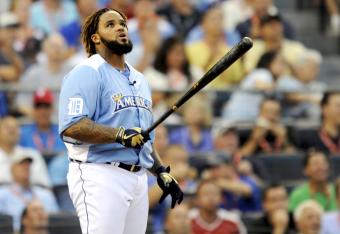 Prince Fielder won his second MLB All-Star Home Run Derby on Monday night, becoming the first player to ever win it on behalf of both the National and American leagues.
Fielder defeated Jose Bautista in the finals. Scroll down for updates from throughout the event.
That's all for this year folks. Hope you all enjoyed the 2012 Home Run Derby as much as I did.
Fielder with a great comeback win after looking like he wasn't going to make it out of the first round! He certainly got the pitch location issue taken care of as he led the Derby in homers in each of the next two rounds.
This is the kind of dominant run that it takes to win an event like this against such great competition. Bautista and Trumbo were also extremely impressive, especially the long blasts that Trumbo was hitting.
However the big story line here is the captains not making any impact on the Derby. Matt Kemp only hit one homer, but he's been off for a while with his hamstring and didn't do well last year. I doubt he makes another Derby appearance, though I would love to see him one more time.
Robinson Cano just flopped and failed to hit a homer. Maybe it was fatigue? Maybe it was pressure? Whatever happened, he's going to get a ton of questions from the media on this performance.
Bautista pops out to end this thing! Prince Fielder takes the 2012 Home Run Derby crown!
This is the second Derby title in his career for Prince.
Bautista stays alive! A 427 foot shot to left gives him seven.
Fans on their feet and clapping. So much for them not really caring.
One out left, six homers needed to tie after Bautista flys out.
Prince looks exhausted in the crowd, though can you blame him?
Bautista barely clears the wall, but a 399 footer to left gives him five with five outs left.
A 400 footer to left on his first swing is Bautista making a statement and saying that he isn't finished.
Bautista needs some magic to win the title here, but either way this is a much better showing than the four he hit last year.
Prince finishes the final round with 12 homers. It's going to be very tough for Jose Bautista to match that total.
Good to see Prince bringing his son to the park the same way Cecil Fielder used to bring him out to the park all the time.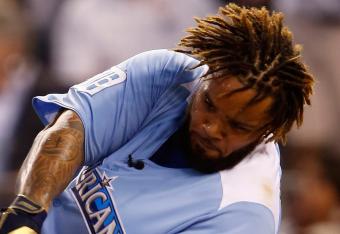 A 442 footer into the fountains for Prince's 11th homer.
KC and the fountains are the perfect setting for the Derby.
Man, Prince is already at 10 with just 4 outs!
That ball only went 416 feet to right? It looked like it was hit a lot harder. Fielder is on a roll.
Prince is locked in right now! He's got seven homers with just one out.
That 430 footer just stayed inside the foul pole in right!
Fielder with a 441 footer to right on his first swing then a 476 footer into the fountain in right on his second swing and a 427 footer to right on this third swing!
That is how you start a round people.
Two of the top sluggers in the game are set to face off in another great Derby. I like Fielder to win another Derby.
What do you guys think?
Bautista with no-doubter 442 and 424 foot homers to left on back-to-back swings to advance to the finals against Prince Fielder!
Trumbo hits one homer in his five swings. Took him until the last swing though.
If they tie they will go to a three-pitch swing-off.
Bautista finishes with just two meaning we get a five swing, swing-off between Trumbo and Joey Bats.
This is the drama that makes the Derby special.
Would love to see the drama of a swing-off between Trumbo and Bautista. That's why we watch this Derby every year!
Bautista has tied Trumbo. Just needs one more to advance for sure.
Bautista just looks like a man feeling the pressure right now. He looks to be pressing at the plate this round after looking loose in the first round.
He finally hit hit first to left at 414 feet. Just four outs left though.
This article is
What is the duplicate article?
Why is this article offensive?
Where is this article plagiarized from?
Why is this article poorly edited?