Pittsburgh Pirates' First-Half Grades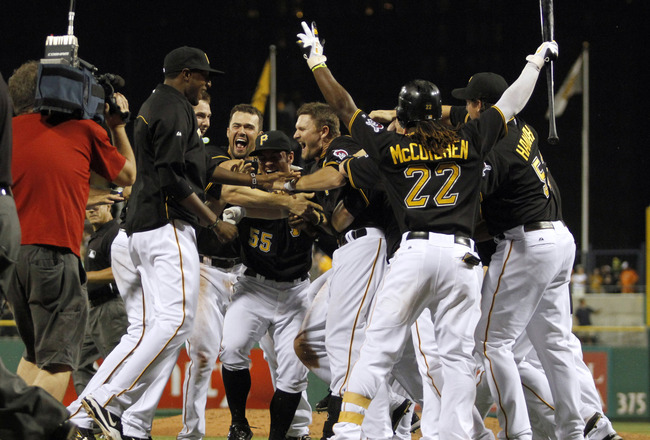 Justin K. Aller/Getty Images
The All-Star break allows Pirate fans a few days to reflect upon their team's extraordinary start to season.
The Pirates' surprising first half is the result of many impressive individual performances. Beyond national stories such as Andrew McCutchen and James McDonald, many Pirates have exceeded expectations in order to stake their team to first place in the N.L. Central.
Yet a review of the first half of the Bucs' season reveals some weak links as well. There is room for upgrades in the Steel City, and the Pirates will need to improve upon their weaknesses if they are to hold off the Reds and Cardinals for the division crown.
For now, though, it is worth looking back at the Bucs' fantastic start to the season. First-half grades for every 2012 Pirate follow.
(Note: Grades are only listed for those players who have appeared in a material number of games for the Pirates this season. Thus the A+ grade for #DREWSUTTON is not on this list.)
Andrew McCutchen: A+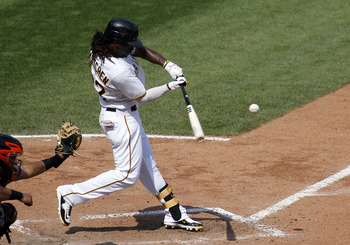 Justin K. Aller/Getty Images
Where else would we begin? McCutchen is clearly the Pirates' MVP and arguably the MVP of the National League with half a season in the books.
The 25-year-old center fielder leads the Pirates in virtually every statistical category. His OPS sits at well over .1000, with 18 home runs, 14 stolen bases and a league-leading .362 batting average to boot. He is in the process of putting together one of the best seasons in Pittsburgh history.
To top it off, McCutchen is the heart and soul of this young team. Coming off a summer in which he signed a contract extension that will keep him a Pirate well through his prime, Cutch has embraced the team and its fans as he aims to lead Pittsburgh to its first winning season in 20 years.
Why not now, indeed.
James McDonald: A+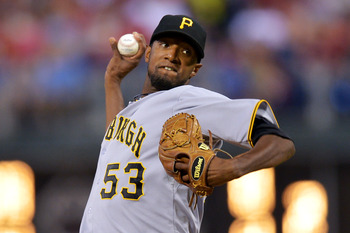 Drew Hallowell/Getty Images
The Pirates' first-half ace has been nearly as flawless as McCutchen. McDonald, a snub from this year's All-Star team, has carried the rotation throughout the 2012 season.
The former Dodger has raised his game to another level this season after adding a slider to his arsenal, compiling an ERA and FIP that are both below 3.00. Despite recent control issues, McDonald has only allowed more than three earned runs in one of his 17 starts this year.
McDonald's Saturday start against the Giants, an important game for the Pirates, was one of his best of the year. After his 10-strikeout, no-walk, one-earned-run performance over seven innings Saturday, there's no reason to expect McDonald to slow down in the second half.
A.J. Burnett: A
Justin K. Aller/Getty Images
For all the praise rightfully heaped upon McDonald, Burnett has been nearly as good.
The Yankee cast-off sports an ERA and FIP well below 4.00 despite allowing twelve earned runs in 2.2 innings pitched against the Cardinals in his third start of the season. Remove that start from his record and Burnett has been one of the best pitchers in the National League.
Burnett finished the Bucs' first half in style Sunday, walking off the field with a huge lead and his fist held in the air. His personality and leadership have paid huge dividends in the clubhouse, and he has recently stated how happy he is to be in Pittsburgh. The Pirates are lucky to have him.
Clint Hurdle: A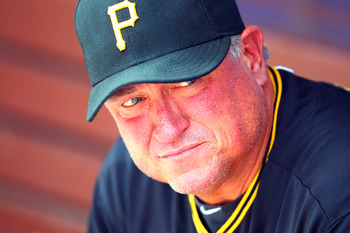 Rich Schultz/Getty Images
Hurdle is another seasoned veteran that the Pirates are lucky to have.
The former Colorado manager seems to have flipped the culture of Pittsburgh baseball on its head in his 18 months on the job. The Pirates were surprise contenders through July last season and have outdone that performance so far this year.
Hurdle's in-game decisions, particularly those related to the running game, have been questionable, but his bullpen management has been beyond reproach. And the way he has gotten a young team to believe in each other outweighs all else.
Jason Grilli: A-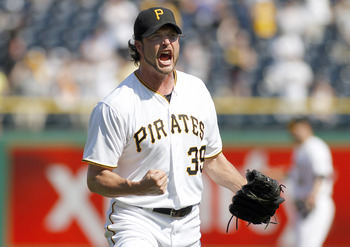 Justin K. Aller/Getty Images
Grilli, a scrap heap pick-up from the Philadelphia Phillies late last season (all the Phillies had to do to keep Grilli was offer him a Major League roster spot), has revitalized his career and become a valuable high-leverage reliever.
The Pirates' set-up man has been a strikeout machine this season, with 14.4 K/9. While keeping his ERA below 2.00 seems somewhat unsustainable based on his other stats, the strikeout numbers indicate that his performance should remain strong in the second half despite a slight regression.
The only nit to pick with Grilli's performance this season is that he has given up a few important home runs. But this does not do much to diminish from his overall excellence this season.
Michael McKenry: A-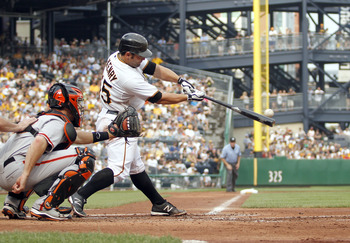 Justin K. Aller/Getty Images
The Pirates' back-up catcher has put forth a tremendous offensive start to 2012, with a slugging percentage lower than only McCutchen's for Pittsburgh so far this season.
This is truly an out-of-nowhere run, as even while becoming a fan favorite last season, McKenry performed significantly below league-average at the plate.
The only thing holding back the Fort from higher marks is his limited playing time (119 plate appearances) in the first half. If he does not come crashing back to Earth, it is likely his role will increase rather quickly.
Neal Huntington: A-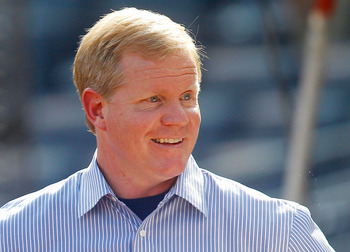 Jared Wickerham/Getty Images
Look at the names above Huntington on this list. Aside from McCutchen, all of these players were acquired for nothing or next-to-nothing (Grilli and McKenry were, literally, acquired for nothing). The Yankees even paid the Pirates to take Burnett off their hands.
It seems then that Huntington has done quite a few things right in building this team that has significantly outperformed expectations. He is the mastermind behind the Pirates' strikingly successful pitching staff, and for that alone he deserves high praise.
The Pirates have lacked hitting at times this season, and many of Huntington's free agent hitters have faltered during his tenure in the Steel City. As a result, the General Manager's work this season is far from complete.
Pedro Alvarez: B+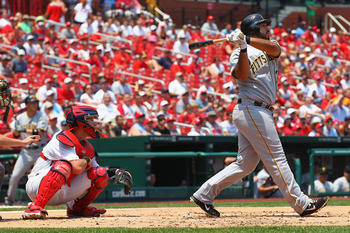 Dilip Vishwanat/Getty Images
It has been a very strange season for Pedro Alvarez. Yet it has also been a season during which Pedro has slowly grown into the slugger the Pirates drafted.
His OBP (.307) remains too low and his strikeout rate (30.3%) too high, but the power (.247 ISO) is clearly there. And Alvarez is not quite as streaky as he was to start the year.
There is still clearly room for improvement, but Alvarez is starting to shine for a Pittsburgh team that sorely needs his bat. Given how much of a mess he seemed towards the end of 2011 and in April, this is better than anything Pittsburgh fans were expecting. And that's before accounting for his solid defense at third base.
Garrett Jones: B+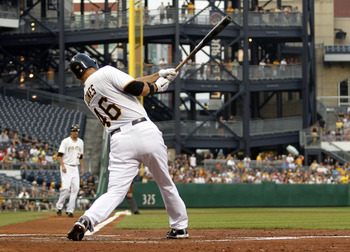 Justin K. Aller/Getty Images
Aside from the pedigree and defensive value, Jones has been very similar to Alvarez. The Legend reaches base rarely and strikes out often, but he makes his hits count.
What Jones has lacked in defensive value he has made up for by displaying at least some degree of consistency at the plate. His .797 OPS also remains third best on the team (behind Cutch and McKenry).
Jones is another example of a player that Huntington was able to acquire for nothing, and his success has helped steady the Pirates' lineup.
Neil Walker: B+
Justin K. Aller/Getty Images
Walker's role in the Pirates' recent offensive surge has lifted his season from a disappointment to a success.
Walker is a critical member of the Pirates' offensive supporting cast (also known as "everyone not named Andrew McCutchen"), as he is the only other Pirate who is particularly good at getting on base. The Pittsburgh Kid's .357 on-base percentage makes him as or more valuable at the plate than Alvarez and Jones this season despite his relative lack of power.
Add in average-at-worst defense at second base and Walker her been an extremely valuable player for the Pirates this season.
Brad Lincoln: B+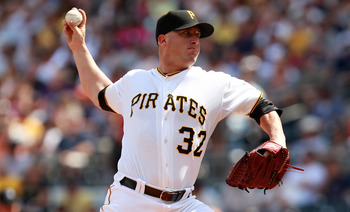 Jared Wickerham/Getty Images
Lincoln has yet to turn into the top-flight starter the Pirates expected when they drafted him, but he has overcome injuries to emerge as a strong bullpen option this year.
Lincoln has also shown versatility this season, starting when called upon in addition to being stretched out in relief. Despite some poor starts, his overall numbers have been stellar as he sports a 2.98 ERA and 3.57 FIP.
Plus, he will always have this performance in one of the most important innings of the Pirates' season to fall back on.
Casey McGehee: B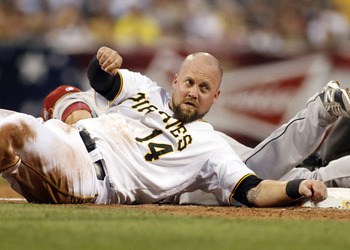 Justin K. Aller/Getty Images
After a slow start to the season, McGehee has ridden a strong June and early July to league-average numbers. While this is not particularly noteworthy at first base, it is far better than the Pirates' potential internal replacements.
McGehee has demonstrated sufficient consistency to be a valuable part of the current Pittsburgh offense and he has contributed defensively as well.
The Pirates may find a replacement for McGehee before the trade deadline, but they should still be grateful for his performance during the first half of the year when he was the best available option.
Jeff Karstens: B-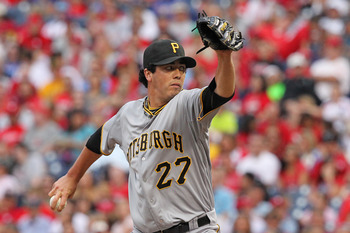 Hunter Martin/Getty Images
In his three starts since returning from injury, Karstens has performed extremely well. He has maintained his stellar control from 2011 and is striking out more batters.
Karstens' performance is even more important given Erik Bedard's poor form this season. Karstens gives the Pirates a legitimate No. 3 option behind James McDonald and A.J. Burnett.
Yet Karstens' injury remains a cause for concern. If he truly is to remain an anchor in the Bucs' rotation, they have to be confident that he will finish the year healthy. It is too early to rely upon that assumption.
Joel Hanrahan: B-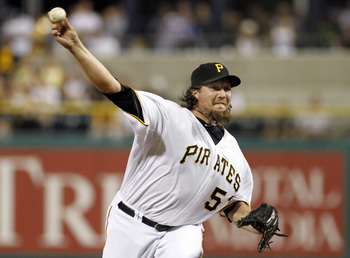 Justin K. Aller/Getty Images
According to FanGraphs, Joel Hanrahan has been the worst pitcher on the Pirates this year, with his excellent save and ERA statistics (and the All-Star nod that came with them) a product of substantial luck in the form of a very low BABIP (.190) and an unbelievably high strand rate (93.8%).
These numbers are almost certainly unsustainable. Hanrahan cannot continue to excel if he continues to walk a batter every two innings, even as he is keeping his strikeout rates high.
Yet there is something to be said for a closer making big pitches with runners on base and the game on the line. Maybe not much to be said, as luck is clearly playing a role. But odds are Hanrahan is not the Pirates' worst-performing pitcher of the year despite what his peripherals say.
Juan Cruz: B-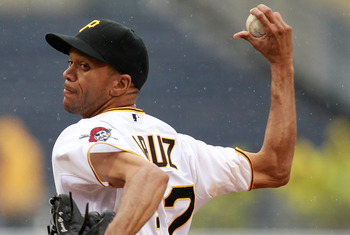 Jared Wickerham/Getty Images
Cruz has actually performed rather similarly to Hanrahan this season, with slightly better walk and strikeout rates. This has become the expectation for Cruz, who has nasty stuff but is prone to bouts of wildness.
While Cruz has not been nearly as lucky as his highly-regarded teammate this season, he is still ripe for some regression. His 2.76 ERA should actually be in the high threes, a fine number but nothing special for a reliever.
Yet, like Hanrahan, Cruz deserves some credit for the success of the Pirates' bullpen so far this year.
Jared Hughes: B-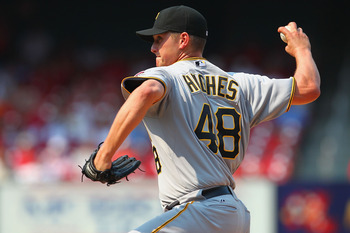 Dilip Vishwanat/Getty Images
The only thing Hughes has in common with the previous relievers mentioned is that he is ripe for regression.
Hughes, an expert at inducing ground balls, has displayed much better control than his bullpen mates this season. What is holding him back is that he doesn't strike anybody out (4.4 K/9). Yet very few of the grounders hit off Hughes have found holes this season, staking him to a 2.09 ERA in 43 innings.
This ERA will not last—Hughes FIP is in fact a touch over 4—yet Hughes too deserves credit for his place in the Pirates' bullpen thus far, in addition to the fact that he is tied for the team lead in innings thrown by a relief pitcher with Chris Resop.
Josh Harrison: C+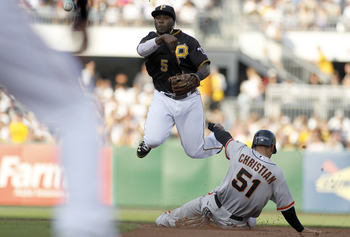 Justin K. Aller/Getty Images
The Pirates' free-swinging utility man has had his moments this year, but the overall stat line has not really been there. A .673 OPS is not entirely useless, but Harrison cannot really be an everyday shortstop and otherwise he does not have the bat of an everyday starter.
Harrison's ability to play several positions does hold some value (though the emergence of Drew Sutton has put a dent in his playing time), and he remains a decent bat off the bench.
Extra credit goes to Harrison for breaking up Justin Verlander's no-hit bid in the ninth inning this year.
Alex Presley: C+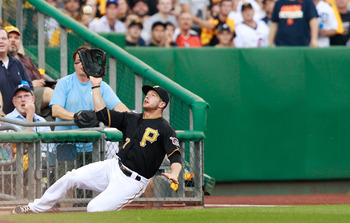 Jared Wickerham/Getty Images
Presley has struggled at the plate this season, unable to find a groove both before and after his mid-season demotion to Triple-A and subsequent recall. At the moment, he is not an everyday starter for this team.
The effort is there, however, and Presley has added most of his value this season with his quickness on defense.
A playoff contender could have a worse fourth outfielder than Presley.
Erik Bedard: C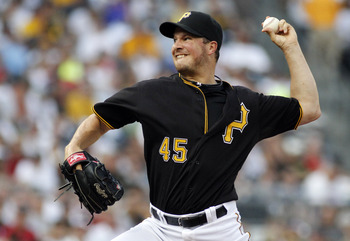 Justin K. Aller/Getty Images
This is where we start to get to some of the bigger disappointments. Bedard has shocked the world by staying healthy, but his performance has been worse than anticipated.
Unlike many of his fellow Pirate pitchers, Bedard has actually been rather unlucky so far this season, with a FIP around 4.00 and an ERA much closer to 5.00. Yet even the better end of this range is short of what the Bucs were expecting when they signed him.
Bedard's inability to go deep into games is not helping him either, as the lefty has averaged just over five innings per start. At the moment, Karstens has supplanted him as the Pirates' No. 3 starter.
Tony Watson: C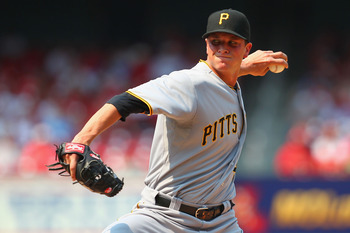 Dilip Vishwanat/Getty Images
It's hard to classify Watson as a big disappointment, as the left-handed reliever did not enter the season with particularly high expectations.
He has simply been mediocre, which is one way to earn a "C" grade. Average walk and strikeout rates, with a slightly low BABIP bringing the ERA inside 4.00: certainly nothing to write home about for a relief pitcher.
Watson is a serviceable member of a big-league bullpen, but he is not much more than that.
Rod Barajas: C-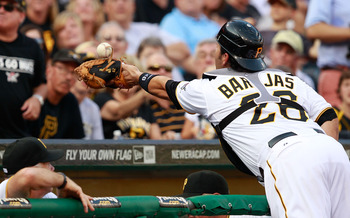 Jared Wickerham/Getty Images
Offensively, Barajas is providing the Pirates with production around what they had to expect—a low OBP with some flashes of power.
Yet his production sits at the low end of this expectation, and his defense has been rather poor to go along with it. Leadership and managing of the pitching staff notwithstanding, Barajas' actual fielding of the position has been nothing to write home about.
Barajas has been losing time to Mike McKenry recently, and if each keeps up their respective performances this trend should be expected to continue.
Charlie Morton: C-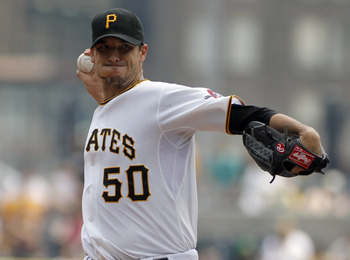 Justin K. Aller/Getty Images
Morton has performed solidly if not spectacularly when on the field—too many of the ground balls he has given up have found holes, but that would not be expected to continue.
The problem for Morton is that he has not been on the field much at all, making only nine starts thus far in 2012 due to injuries in April as well as his current injury.
Morton is not expected to return soon, and at this point given the Pirates' short- and long-term pitching depth we may have seen the last of Charlie Morton in Black and Gold.
Chris Resop: C-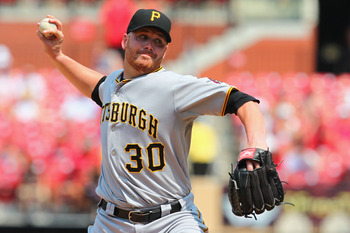 Dilip Vishwanat/Getty Images
When columnists frequently have to remind their readers that you haven't actually been that bad, odds are your season hasn't gone quite as you had hoped. Such is the case for Chris Resop in 2012.
It's true: Resop's season hasn't been that bad. But average-to-poor numbers across the board are a dime a dozen from relief pitchers. Given the strength of the Pirates' bullpen, they have no reason to rely on him.
Throw in that Resop has been somewhat lucky so far this season, and it would be a surprise to see him pitching high-leverage innings any time soon.
Kevin Correia: D+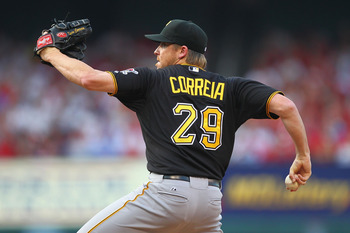 Dilip Vishwanat/Getty Images
Correia has struggled so far this season, with a poor performance despite a relatively lucky start to 2012.
The former Padre's extremely low strikeout rates have hurt him, as a low BABIP is the only thing keeping his ERA below 5.00 this season.
It would be surprising if Correia were still starting for the Pirates in September.
Clint Barmes: D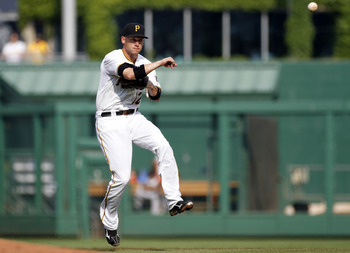 Justin K. Aller/Getty Images
Barmes performance at the plate has been similarly poor: an OPS of just over .500 and a wRC+ of 36 are certainly nothing to write home about.
Yet Barmes has remained an above-average defensive shortstop, rendering him close to replacement-level overall.
Barmes has certainly performed below expectations, but he has not been the worst Pirate in 2012.
Jose Tabata: F
Dilip Vishwanat/Getty Images
The honor of worst Pirate in 2012 belongs to Tabata, who has supplemented his poor performance with seemingly similarly poor effort.
Tabata's numbers have been poor across the board, as he has been only slightly better than Barmes offensively while struggling defensively and on the basepaths as well.
Tabata's performance this season has also caused his effort to be called into question, as the outfielder has been seen pulling up in the field and on the basepaths multiple times this season. He was recently sent down to Triple-A in an effort to correct some of these problems.
Keep Reading

Pittsburgh Pirates: Like this team?