NFL's New Blackout Policy a Win-Win for Buffalo Fans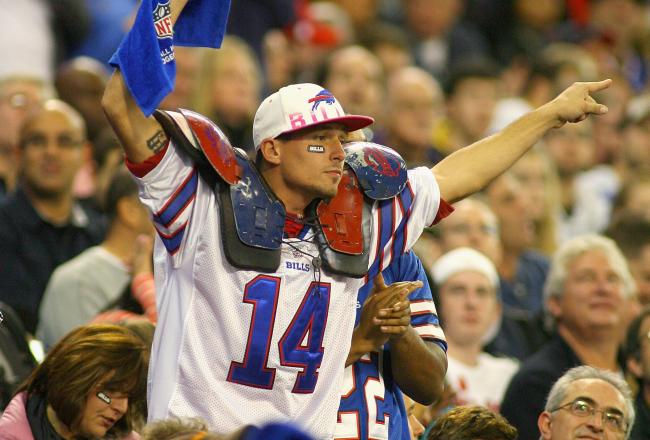 Rick Stewart/Getty Images
There have been varying opinions regarding the NFL's new blackout policy and how it could put more pressure on a small market like Buffalo.
Under the new policy, individual teams will have the ability to set their ticket-selling thresholds to avoid blackouts as long as it's above 85 percent. The likely result should have a positive effect in a way that will help Buffalo's viability in the NFL going forward.
Each year, Buffalo fans are seemingly faced with criticism that the market may be too small to support an NFL franchise.
The reality is that there are a number of markets that don't support their NFL teams nearly as much as Buffalo does, both at Ralph Wilson Stadium and as ex-pats in other markets. One of the primary reasons we read about Buffalo not selling out games is because we don't have an owner, a television affiliate or a sponsor that routinely inflates ticket sales by using the NFL's sellout loophole to avoid a blackout.
Under this loophole, a team is allowed to purchase unsold tickets for 34 cents on the dollar to ensure a "sellout" on paper. Based on the sellout loophole, it's been difficult to know which markets truly support their team through ticket purchases.
Buffalo has long been operating with complete ticket transparency.
This can't be said of other markets like Miami, Carolina and St. Louis—to name a few. Even if the Bills don't opt in to the new program, other markets that the NFL has trumpeted for their sellouts will. After all, the new policy was approved by a majority of the league.
If fringe-interest markets opt in, it will boost Buffalo's market viability and future in the league.
One thing we do know is that the Bills don't often use the sellout loophole. The 85 percent blackout rule change will likely bring some measure of transparency to an otherwise cloudy ticket-sales reality across the league. This can only help Buffalo, who has been operating with ticket transparency for years.
Do you think the new blackout policy helps Buffalo
Most people are unaware that when the New York Jets opened MetLife Stadium in 2010 they failed to sell all tickets to fans, forcing owner Woody Johnson to buy remaining seats for a sellout.
This is just one example of the sellout loophole creating a misperception that Buffalo is unique in not constantly selling out their stadium. Washington may provide the most substantial evidence of needed transparency. Last season, the Redskins boasted 362-straight sellouts despite averaging just 83.9 percent in actual home attendance.
As recently as the 2008 and 2009 seasons and despite nearly a decade of non-playoff teams, Buffalo had the league's eighth- and 10th-highest average per game attendance, respectively.
The reality is that Buffalo has not faced an epidemic of poor fan support despite on-field results. In 2011, Buffalo accounted for three of 16 "non-sellouts." This, however, doesn't mean that a number of other markets wouldn't have been in the same situation if it wasn't for the sellout loophole. Based on the expensive nature of the loophole, you can bet that a number of markets will opt in to the 85 percent policy to reduce their own cost of creating these sellouts.
In the long term, Buffalo should stack up well against other markets who will not only utilize the 85 percent rule but will make 85 percent their new standard to avoid blackouts without having to routinely purchase the additional 15 percent of unsold tickets.
The new policy likely would have been impossible without the vocal support of fans in Buffalo calling for change.
Buffalo was the largest market to respond during the FCC's comment period regarding a possible change in the NFL's blackout policy. The NFL also deserves tremendous credit for listening to fans, recognizing the reality of ticket sales and quickly responding with positive change.
Creating a more transparent environment regarding real fan support and ticket sales is a great achievement for fans and should help protect Buffalo's long-term future in the NFL.
This article is
What is the duplicate article?
Why is this article offensive?
Where is this article plagiarized from?
Why is this article poorly edited?

Buffalo Bills: Like this team?