Texas A&M Football: What Should the SEC Fear from the 2012 Aggie Roster?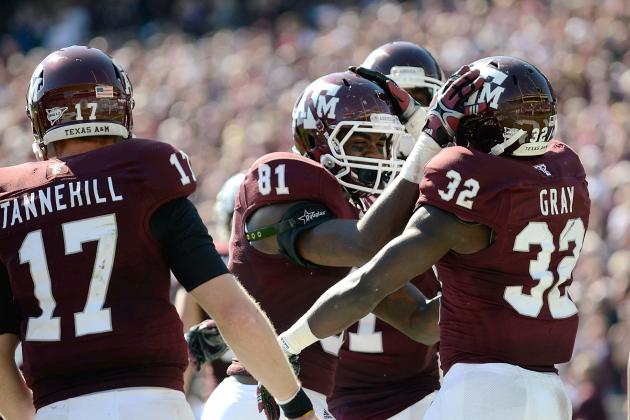 Sarah Glenn/Getty Images

Much has been made about all of the adjustments that the Texas A&M football team is going to have to make during their inaugural season in the Southeastern Conference. No one has talked about what the SEC teams have to worry about when playing A&M.
It is true that the SEC is the most physical conference in the country. The Aggies are obviously going to have to get used to playing a tougher schedule week in and week out than they did in the Big 12 Conference.
As the Aggies adjust to the SEC style of play, their opponents are going to have to adjust to what the Aggies do well. A&M is entering the conference with a very talented football team, and there are plenty of Aggie players that will keep opposing coaches up at night.
This is a look at what opposing SEC teams should worry about when playing the Aggies.
Begin Slideshow

»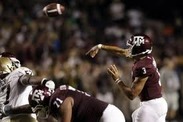 Photo by CSMonitor.com
No one can say for sure how the new Aggie quarterback will fare in the SEC, but expectations should remain high. Even when Kevin Sumlin lost his top two quarterbacks to injury in 2010, he was able produce an excellent passing game.
The Houston Cougars averaged 327 yards passing per game in 2010. Anyone who thinks that Kevin Sumlin was made by Case Keenum has not been paying attention.
Aggie fans should expect A&M to average between 250 to 300 yards passing per game. If the Aggies can average 250 yards passing per game, then they will be one of the top two or three passing teams in the conference.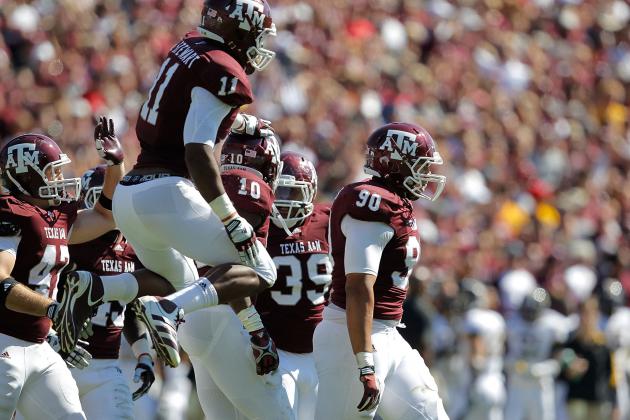 Sarah Glenn/Getty Images

Sean Porter was one of the top linebackers in the country in 2011. Porter played the drop outside linebacker in the Aggies 3-4 scheme and registered 79 tackles with 17 tackles for loss and 9.5 sacks.
Porter is changing positions to the OLB spot in Mark Snyder's new 4-3 scheme. He will not have his hand on the ground at all in this scheme. Porter will likely blitz the quarterback less than he did in 2011.
Porter has exceptional speed and quickness and should be a contender for an All-SEC and All-American spot in 2012. SEC offensive coordinators will quickly realize just how good Porter is.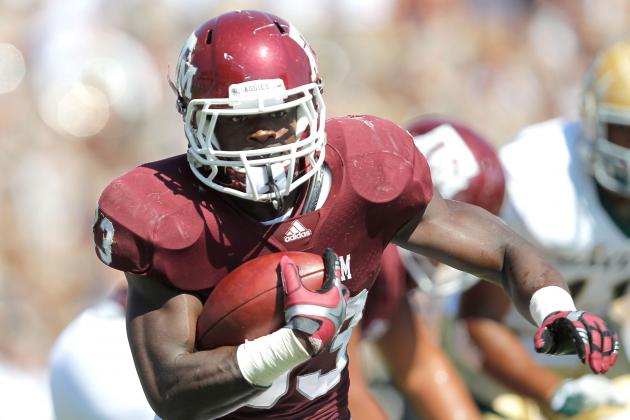 Sarah Glenn/Getty Images

If Christine Michael can recover quickly from his ACL surgery, then the Aggies will have on of the top running backs in the conference.
Michael has ideal size for an SEC running back at 5'11" and 220 lbs. He has great speed, as witnessed by his 48-yard touchdown run against Arkansas in 2011.
Most football players take two years to completely recover from ACL surgery. Michael appears to be a little ahead of schedule and participated in spring practices in a limited capacity.
If he is completely healthy for the entire season, then he should rush for 1,000 yards for the first time in his career. He rushed for 899 yards on 6.0 yards per carry in 2011.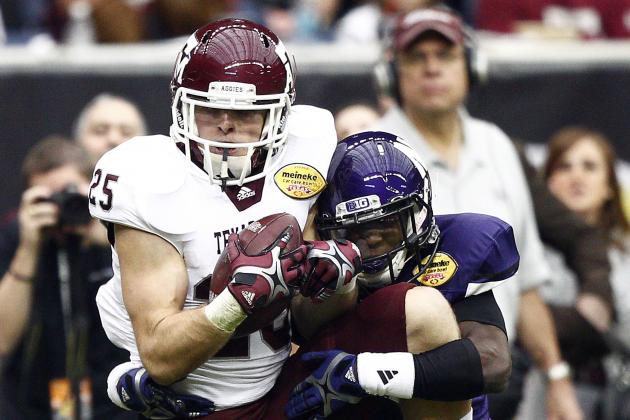 Bob Levey/Getty Images

Ryan Swope turned in the best individual season ever for a receiver at A&M in 2011. Swope caught 89 passes for 1,207 yards and 11 touchdowns. He set school records for receptions and yards in a season.
Swope will now play in Kevin Sumlin's offense which features two slot receivers on every play. He should have even more opportunities to shine in the Ags pass-happy offense.
If Swope can stay healthy, then he will threaten to catch 100 passes for the season. He should be an integral part of the Aggie offense. If he can take the pounding from SEC defenses for all 12 games, then he should be an All-SEC pick.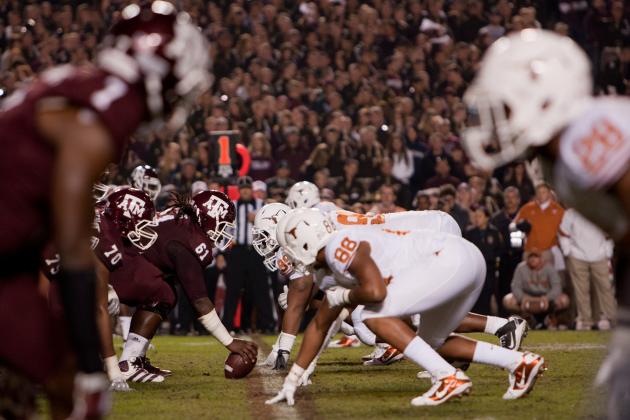 Darren Carroll/Getty Images

The Texas A&M offensive line returns all five starters from 2011 and should be one of the best in the country. They should be the second best unit in the SEC behind Alabama's offensive line.
In Luke Joeckel and Jake Matthews, the Ags have bookend tackles who are arguably the best in the nation.
Patrick Lewis is a fourth-year starter who returns at center. Cedric Ogbuehi would start at LT for most colleges, but is relegated to guard because Joeckel is at LT. Jarvis Harrison is slowly progressing towards his potential as a future first-round draft pick.
This offensive line should help the Ags control the clock with the running game and keep defenses off of whoever the Aggies line up under center.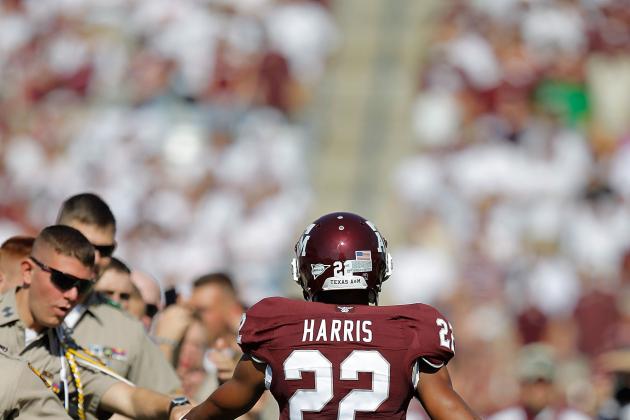 Sarah Glenn/Getty Images

Dustin Harris is one of the premier kick returners in the nation. As a junior, he led the nation in punt return average with 18.6 yards per return.
Everyone talks about the SEC being a defensive league, but they neglect the fact that the SEC teams all have excellent special teams. Six of the 12 teams in the conference averaged more than 10 yards per punt return, which is outstanding.
The Aggies are going to need all the help they can get in their inaugural year in the conference, and the hidden yards in special teams will be very important.
Harris could have the biggest impact of any one player on the roster on how the Aggies do in their first season in the SEC. The senior from Livingston, TX should be an impact player in the SEC in 2012.