Biggest Red Flag for Each Miami Dolphins QB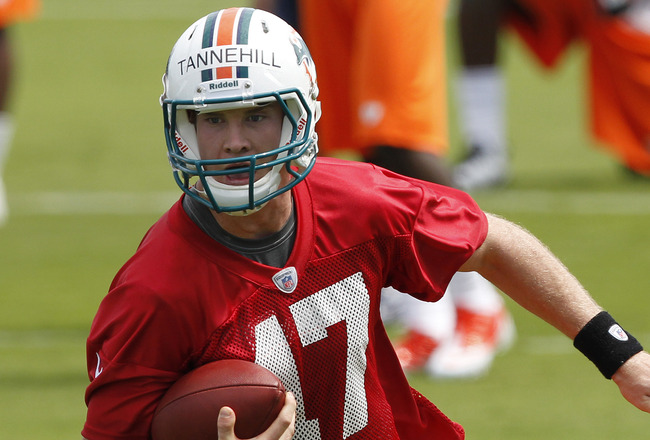 Joel Auerbach/Getty Images
When Miami Dolphins training camp gets underway on July 27th, the city will set its eyes on David Garrard, Matt Moore and Ryan Tannehill as they battle for the starting quarterback job.
If all goes according to plan, Garrard or Moore will win the job, keep the team competitive in 2012 and then hand the keys over to Tannehill.
But, come on—nothing ever goes according to plan in Miami.
All three quarterbacks are accompanied by major red flags. From injury issues to leadership and consistency, each QB has a set of faults that they need to overcome at all costs in 2012 and beyond.
Otherwise, the Dolphins could find themselves in the market for a franchise quarterback once again.
David Garrard: Durability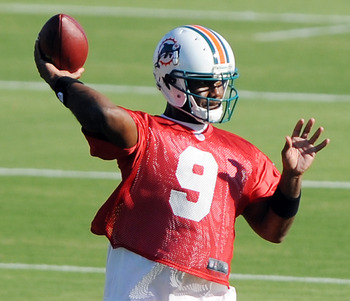 Photo via Robert Duyos | Sun Sentinel
Like it or not, David Garrard is the favorite to win the starting quarterback job.
Garrard was a Pro Bowler in 2010 and has far more experience and success than both Matt Moore and Ryan Tannehill. He's also familiar with the West Coast offense, and his sharp, accurate arm makes him an ideal fit for the system.
Although he's better equipped to lead a West Coast offense than Matt Moore, there's no guarantee Garrard will regain form from a season-long hiatus in which he underwent back surgery.
Garrard had surgery to repair a herniated disk last October, and it kept him sidelined for the duration of the 2011 season.
This wouldn't be too much cause for concern if Garrard was young, but he's now 34 years old and there's no telling how or if his body will hold up once he starts getting hit. It also wouldn't be too much cause for concern if the Dolphins had a solid offensive line, but, as of today, they don't.
Can some combination of Jonathan Martin, Lydon Murtha, John Jerry, Artis Hicks and Nate Garner really protect Garrard from top-flight pass rush? Or even a mediocre pass rush?
In four seasons as the Jacksonville Jaguars' unquestioned starter, Garrard missed six starts, which is neither particularly bad nor particularly good.
The fact is that Garrard didn't display great durability before he underwent back surgery and missed an entire season, so how will he hold up now?
Matt Moore: Consistency and Adaptability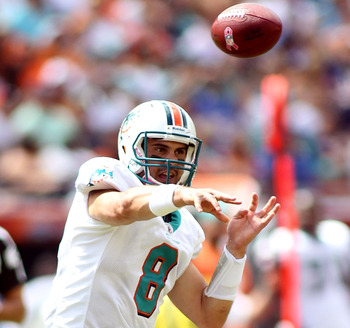 Marc Serota/Getty Images
Matt Moore earned the right to enter the 2012 season as Miami's starting quarterback. He resuscitated a winless, heartless team last year, posting a 6-6 record and impressive numbers along the way.
But that was before Joe Philbin arrived, overhauled the coaching staff and installed a new offense.
Just because Moore was effective in Tony Sparano's system does not mean he'll be effective in Philbin's.
Unlike fellow quarterbacks David Garrard and Ryan Tannehill, Moore does not have any documented experience in a West Coast offense, and it's tough to gauge whether or not he's a fit for the system.
The West Coast offense requires quarterbacks to maintain great precision, timing and zip. Not only does Moore have to exert all three traits in training camp, he also has to learn the entire scheme.
And let's not forget about Moore's consistency issues.
Everybody is judging Moore's 2011 performance as a whole. Looking at his body of work, you see a quarterback who won six games with a very mediocre offense, completed more than 60 percent of his passes and threw almost twice as many touchdowns as interceptions.
Moore's game-by-game performance tells a different story.
He finished four games with a completion percentage below 52 percent and also finished four games with a quarterback rating below 67. On the flip side, Moore posted a completion percentage above 68 percent four times and a quarterback rating above 92 six times.
Not to mention, he is a notoriously erratic practice performer.
The positives might outweigh the negatives, but if the Dolphins want to be competitive—and if Moore wants to win the starting job—then that inconsistency must be eradicated.
Ryan Tannehill: Inexperience and Leadership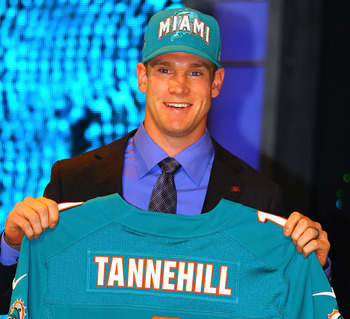 Al Bello/Getty Images
Ryan Tannehill's red flags might look familiar.
They're the same issues scouts criticized him for prior to the 2012 NFL Draft.
Not only did Tannehill start just 19 games at quarterback, he spent his freshman and sophomore years playing wide receiver. Those are two years Tannehill could have spent honing his quarterbacking skills.
Tannehill's inexperience and rawness leaves a ton of room for growth. The transition he made from wide receiver to stud quarterback is astounding, and there's no telling how much better he can become with more refinement.
Of course, Tannehill's immaturity also makes him more vulnerable. With only 19 starts under his belt, Tannehill hasn't experienced so many of the game situations that more seasoned rookies have. Plus, there's little guarantee he'll ever achieve his potential.
What about leadership?
It's arguably the most vital trait a quarterback can possess, whether he leads by example (Eli Manning) or takes charge of the locker room (Drew Brees).
Tannehill wants to be "looked at as the leader of the team," but the Cleveland Browns didn't think he was capable. Browns reporter Tony Grossi wrote, "Ryan Tannehill had the size and the arm, but his maturity as a quarterback and field leader were so lacking that he turned [the Browns] off in personal interviews. He didn't project as a leader."
Take that with a grain of salt, but it's scary nonetheless.
Keep Reading

Miami Dolphins: Like this team?