London 2012 Olympics: 15 Highest Hopes for Great Britain Gold Medals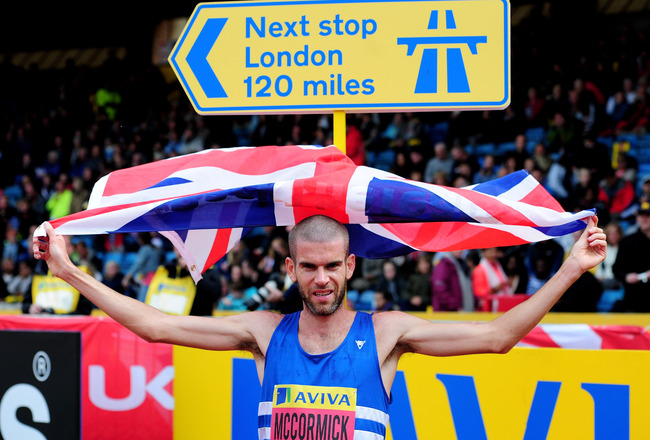 Stu Forster/Getty Images
As the Olympic host nation, certain concessions were made for Great Britain. They are automatically qualified for some events, like basketball and football/soccer, and receive special consideration for remaining spots in events like wrestling.
However, those perquisites will do little to place British athletes on the podium.
There are some events that favor the host nation, though. They are expected to do quite well in events that favor home turf (or wind) advantage, such as sailing and men's soccer.
Great Britain had the fourth-highest gold medal and overall total in 2008 with 19 and 47, respectively.
Following are some of their best chances of having God Save the Queen played at the London Games.
Men's Football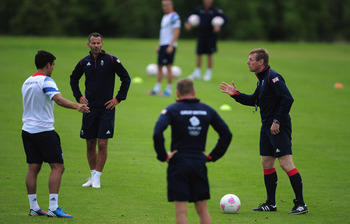 Jamie McDonald/Getty Images
While most view Spain or Brazil as the favorite, it would be a mistake to overlook the host country. Home pitch advantage should be a huge bonus for the British entry.
Spain figures to advance to the gold medal game, with Mexico their likely semifinal opponent as the expected top seed from Group B.
The other side of the bracket figures to see Great Britain and Brazil as the top seeds from Groups A and C, respectively.
Great Britain does not have history on their side. They have not won Gold since 1912, and are making their first appearance since 1960.
Rebecca Adlington, Freestyle Swimmer
Clive Rose/Getty Images
Rebecca Adlington is a two-time Olympic champion, having won gold in the 400- and 800-meter freestyle events in Beijing.
Adlington has been the fastest in the world in 2012 at 800-meters, bettering Kathleen Ledecky's U.S. Olympic Trials time by over a full second.
She has tougher competition at 400-meters, as Camille Muffat posted the best time in 2012 while qualifying for France. Muffat was over a full second ahead of Adlington, who has a slight advantage over American Allison Schmitt.
Adlington hasn't been able to follow up on her surprise success in 2008, but she is swimming well and is ready to defend her titles.
Carl Hester and Liebling, Dressage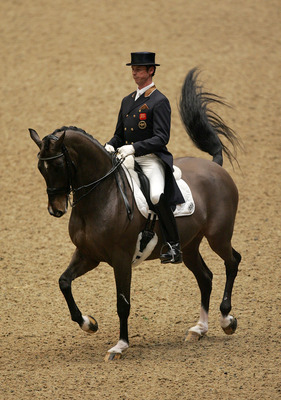 Christopher Lee/Getty Images
Carl Hester is a 44-year-old equestrian that will be making a return trip to the Olympics. His experience in 2008 was stunted by a pair of injuries to his rides, Lecantos and Dolendo.
While the results in Beijing were disappointing, it led him to Liebling and a great partnership quickly developed. He has won several medals in the European Championships and is determined to take gold at the London Games.
Tim Brabants, Kayaking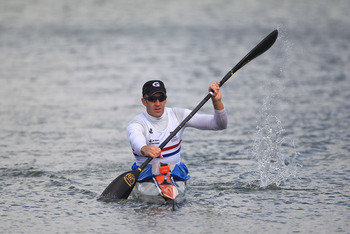 Tom Shaw/Getty Images
Tim Brabants already has a successful Olympics career to his credit. He won a Bronze medal in 2000 and a gold and a bronze in 2008. He was the favorite to win gold in the K-1 1000-meters in Athens, but finished a disappointing fifth-place.
Brabants then became the first Briton to win Olympic gold in kayaking in 2008, leading the aforementioned event from start to finish. He will look to add at least one more in 2012, as he's competing in both the 1000- and 5000-meter K1 events.
David "Dai" Greene, Track and Field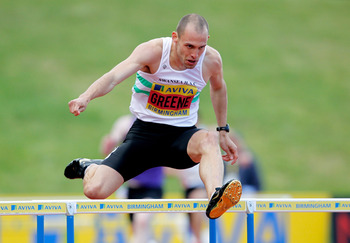 Paul Thomas/Getty Images
Dai Greene has won several gold medals since 2010, including the 2011 World Championships and European Championships. He'll look to add Olympic gold to his list of accomplishments in the 400-meter hurdles.
Greene was a football player early in life, but left the sport at age 16 when he stopped enjoying it. He took up track and has found great success.
He credits much of his success running the hurdles to his childhood hero, Ryan Giggs. He wanted to play like Giggs so he became skilled with his left foot...a skill that transferred well to clearing hurdles.
There will be strong competition from the American team that swept this event in Beijing, but expect Greene to give them all they can handle.
Hannah England, Track and Field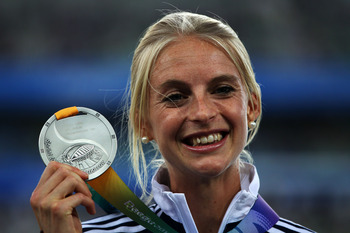 Michael Steele/Getty Images
Hannah England will push for a gold in the 1,500 meter run. She took silver at the 2011 World Championships with an amazing kick, passing five runners in the final stretch.
Great Britain has been steadily improving on the track, and England is one of the reasons. She has a good shot at the gold medal, but the field is thick with tough competitors.
Mohammed "Mo" Farah, Track and Field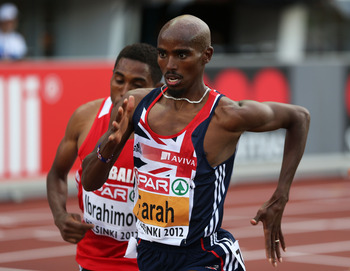 Ian Walton/Getty Images
Mo Farah has built an impressive track resume, but one item has eluded the long-distance runner. He hasn't won an Olympic medal.
He will take his shot in the 5000- and 10,000-meters in the London Games, and as the defending World Champion (5000-meters), he certainly has a solid opportunity to reach the top of the podium.
Farah will look to catch the form of the European Championships, where he has won gold medals in both events.
His top rivals come from Ethiopia. Imane Merga (5,000m and 10,000m) and Tariku Bekele (5,000m) will look to keep Farah from getting gold, as will Uganda's Moses Kipsiro (5,000m). Bekele and Kipsiro both placed in the Top 10 at the Beijing Games and are threats to win in 2012.
Jessica Ennis, Track and Field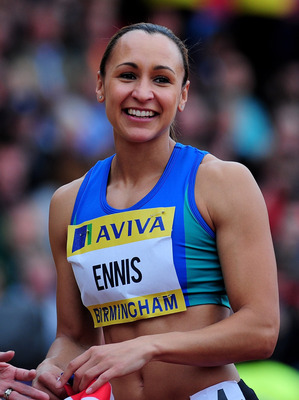 Stu Forster/Getty Images
Jessica Ennis is a favorite to win the heptathlon at the 2012 Games and could make some noise in the 100-meter hurdles. Her one area of concern has been the javelin, but she has shown improvement in this discipline in recent competitions.
She was a former gold-medalist at the World Championships, but finished behind Russia's Tatyana Chernova in 2011. The javelin was her nemesis at that event and is an area that Chernova excels.
Ennis will need to deal with the pressure of being Great Britain's face of the 2012 Olympics, but she has the body of work to respond. Look for Ennis to find the form she showed in 2009 when she dominated the heptathlon at the World Championships.
Elizabeth "Lizzie" Armitstead, Cycling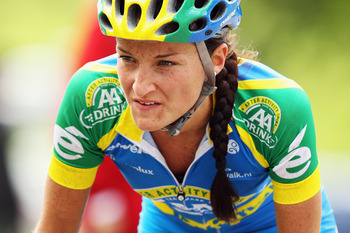 Bryn Lennon/Getty Images
This list wouldn't be complete without including one of the Olympics' new events, the Omnium. Lizzie Armitstead will lead the charge to win this grueling multi-discipline event.
It includes a three-kilometer ride, a 500-meter timed trail, a flying lap, a 20-kilometer points race and a 10-kilometer scratch ride. The top qualifiers then go into a knockout round, followed by a final sprint to crown the winner.
Armitstead is one of the front-runners in an event that is unpredictable and long.
Sailing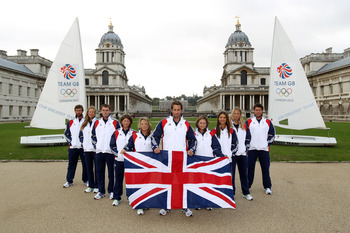 Clive Rose/Getty Images
The British team is expected to dominate these events. There are a total of 10 gold medals to be won and Great Britain has their sights set on most of them.
Here are their notable medal favorites:
Charles Benedict "Ben" Ainslie, Men's Finn
Ainslie is the defending gold-medal winner in the men's Finn Class dinghy event. He's touted simply as the world's best sailor, and anything less than a gold would be an upset.
Andrew Simpson and Iain Percy, Men's Star
Percy has several Olympic gold medals to his credit in individual events, but moved to the double Star event in 2008. He was joined by Simpson, who had been Percy's training partner for years.
The two were longshots in 2008 but enter the London Games as decided favorites.
Paul Goodison, Men's Laser
After a disappointing fourth-place finish in the Athens Games, Goodison has become more experienced and added a fair amount of hardware to his trophy case. He's won World Championships and is the defending Olympic Champion in the men's Laser class.
Goodison is expected to win gold in 2012 and is young enough to compete in several more Olympics.
Annie Lush, Captain of Women's Elliot 6m
Annie Lush and her crew missed out on the 2008 Olympics and watched Sarah Ayton lead her team to Olympic Gold in the three-woman Yngling Class. 2012 will be Lush's opportunity, though, as the 31-year-old will attempt to add Olympic champion to her list of accomplishments.
She joined forces with a pair of talented sisters, Lucy and Kate Macgregor.
Saskia Clark and Hannah Mills, Women's 470
Saskia Clark was half of the British women's 470 team in Beijing but left with a disappointing sixth-place finish. She will look to improve on that finish with the young and charming Hannah Mills.
The two are relatively new partners, but have already had substantial success together. They won several silver medals in 2011, including the Olympic Test Event, the Hyeres World Cup and the 2011 Skandia Sail for Gold.
The primary goal that is left for the pair is going for gold in the Olympics.
Bryony Shaw, Women's RS:X
Windsurfing or sailboarding to achieve the tie with the balance of the sailing events, has been steadily increasing in popularity. One of the sport's great participants in Bryony Shaw, who attracted crowds in Beijing due to her skill, style and overall appearance.
She knows the sailing grounds well, making her a gold-medal favorite at the London Games.
Keep Reading