Los Angeles Clippers: Why Blake Griffin Must Improve This Offseason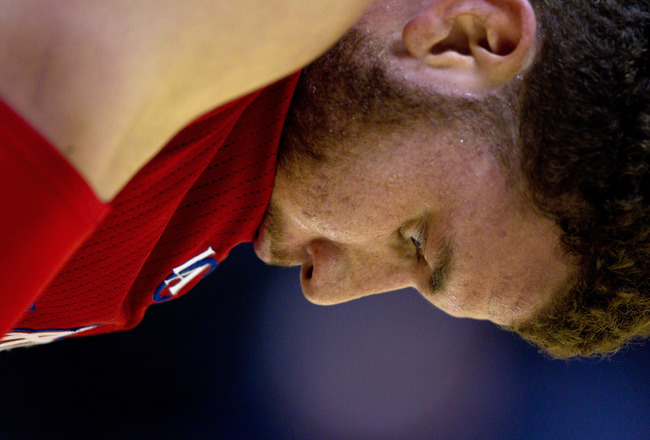 Justin Edmonds/Getty Images
The Los Angeles Clippers live and die by their superstar Blake Griffin. At 23 years of age, Griffin will be the face of the franchise for years to come and is the one piece who can bring the Clippers out of futility and into the NBA's upper echelons.
Griffin has flaws in his game, but this offseason will be his first long offseason working with teammate Chris Paul in Los Angeles.
Playing for the USA Olympic Team with the likes of Paul, Deron Williams, LeBron James, Kevin Durant and big man Tyson Chandler should only improve Griffin's game this offseason by pushing his skill to the ultimate test against the world's best competition.
Griffin, who is coming off an excellent second campaign averaging 20.7 points and 10.9 rebounds per night while leading his team to the second round of the playoffs, has all the reasons to make serious strides in the offseason.
Here are six reasons the budding superstar must take positive steps forward this offseason for the Los Angeles Clippers.
West Is Improving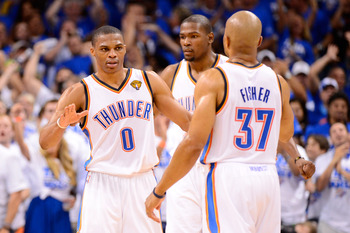 Ronald Martinez/Getty Images
The Clippers will have a tough time winning the West next season due to the rise of the young Oklahoma City Thunder, the experienced San Antonio Spurs and the newly improved Lakers with Steve Nash, fighting for the Pacific Division crown.
If the Clippers want to keep up with the speed of OKC, the size of the Lakers and the team-oriented Spurs, Griffin will need to excel his game to the next level.
Griffin has the intangibles to lead the Clippers against any team in the West and must improve upon these skills this offseason.
Griffin holds the key to the Clippers success next season. If he can improve upon his averages from last season, the Clippers will build upon their first-round playoff success from last season.
The Clippers will continue to gain respect as legitimate Western Conference powers only if Griffin takes big strides this offseason.
Chris Paul Is Up for Free Agency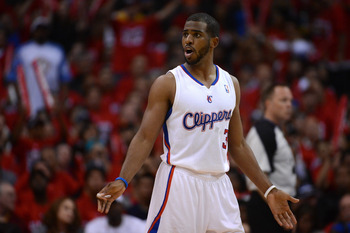 Harry How/Getty Images
Believe it or not, Chris Paul could walk after this season.
Paul declined a three-year, $60 million offer sheet from the Clippers at the start of free agency, stating that he wants to sign a larger extension after next season.
Paul wants to play for a contending team with a legitimate future, and most of his decision will rest upon the development and growth of Blake Griffin.
If Griffin can take the next step as a star and develop into a more balanced player, Paul will definitely return to Los Angeles, remaining a centerpiece for this legitimate championship contender.
Paul and Griffin have great chemistry, and the Clippers desperately need to continue this relationship next season on and off the court, to appease the best free-agent point guard in the class of 2013.
Clippers Are on the Precipice of Elite Status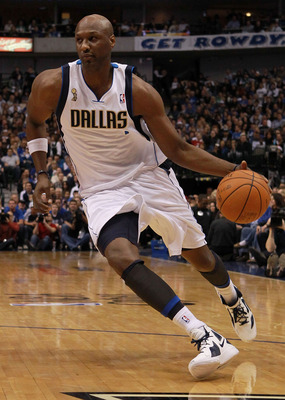 Ronald Martinez/Getty Images
After years of futility and constant disappointment, Donald Sterling (without a GM) has compiled a product that is balanced and primed to compete for years to come.
The Clippers went to the second round of the playoffs for the first time since 2006.
This offseason, the Clippers improved their bench significantly by adding the versatile 6'10" Lamar Odom, who adds depth to the Clippers' thin backcourt.
Then the Clippers signed Jamal Crawford, most likely as the team's starting shooting guard. Crawford averaged 13.9 points per game off the bench last season for Portland. He will add another dynamic scoring threat to a team that is very talented on the offensive end.
This Clippers unit is solid on multiple fronts, and its ultimate success will hinge upon Griffin's ability to demand more double-teams, creating space for all these new options.
If Griffin can build upon last season, the Clippers offense will be very tough to stop next season, allowing free agents Odom, Crawford and big-shot Chauncey Billups to shine next season.
Needs to Be a Closer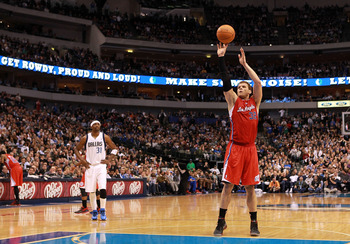 Ronald Martinez/Getty Images
The biggest setback in Griffin's game from a season ago was his free-throw shooting.
After shooting 64 percent from the charity stripe in his rookie campaign, Griffin shot an abysmal 54 percent from the line last season.
First and foremost, Griffin's form is stiff and does not allow for a smooth delivery, which will make it hard for him to consistently drain shots.
The bigger issue is that the Clippers went 7-6 in games decided by three points or fewer. Griffin averaged more than seven free-throw attempts per game.
Although his shooting was not the ultimate factor in these games, much of the their struggles can be attributed to his poor shooting.
As the season progressed, coach Vinnie Del Negro favored lineups featuring Kenyon Martin to find consistent free-throw shooting to ease up the hard fouling and aggressive defense played against Griffin.
Paul has always been considered a closer throughout his career in the NBA, but improved free-throw shooting from Griffin will make isolation situations late in the game that much easier for the five-time All-Star.
But if Griffin wants to be respected as the closer for his team, he must elevate his free-throw percentage and scoring ability late in games next season.
Third Year Is Make-or-Break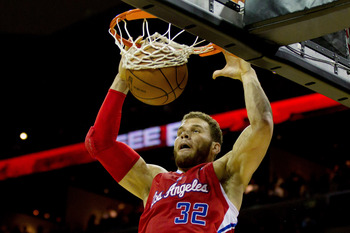 Justin Edmonds/Getty Images
After a highlight-loaded first two seasons, now is the time for Blake to develop his post game to become a legitimate superstar.
Blake's athleticism is unparalleled and should allow him to score relatively easily for years to come, but what will make him unstoppable is adding a decent post offense.
Blake has made strides over his first two seasons, and now the NBA will be coming at him harder and more aggressively than ever before to limit his highlight plays.
How will Blake respond this season? Simple—utilize his shot-making abilities to set up high-wire dunks from Chris Paul.
Griffin has survived the sophomore slump and now, in his third season, must take the next step in his career to rewrite descriptions of him being soft and over-dramatic.
The work Griffin puts in this offseason will greatly determine the type of player he will grow into as his career progresses for the Clippers.
Nothing Is Holding Blake Back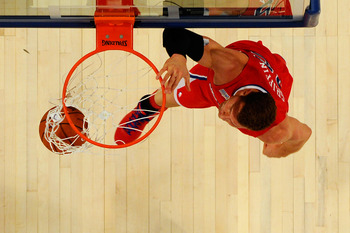 Pool/Getty Images
At 23 years of age, nothing is holding back Blake Griffin from entering elite status in the NBA.
He has the elite point guard to feed him the basketball in Chris Paul. Also, the Clippers have added shooters in Jamal Crawford and Chauncey Billups to open up the lane for Griffin to operate.
Not to mention that when aggressive, Griffin can be the most unstoppable force outside of LeBron James in the NBA.
In Game 3 of their second-round series against the San Antonio Spurs, Griffin put in a memorable first half, putting up 20 points while only missing three shots. Griffin finished the game with 28 points and 16 rebounds, giving a valiant effort in the Clippers' 10-point loss.
The Blake Griffin we saw in Game 3 can impose his will on the league with post-up techniques and simple spin moves to create easy layups and hook shots, keeping opposing defenses honest against his overwhelming athletic ability.
If Griffin can fine-tune the intricate parts of his game this offseason—free-throw shooting, post game, play without the basketball—he will develop into the most dominant PF in the league next season.
Keep Reading

Los Angeles Clippers: Like this team?