2012 MLB Awards Predictions: All-Star Break Edition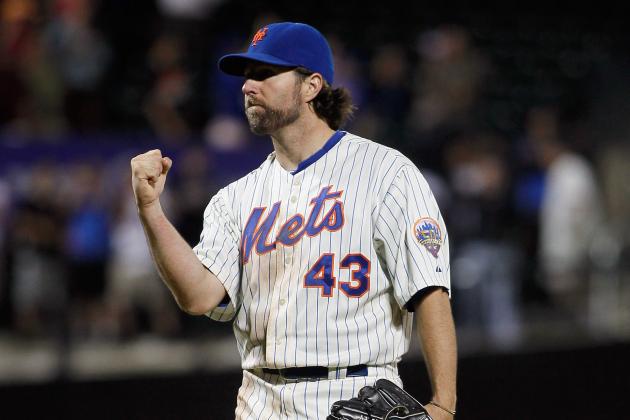 Mike Stobe/Getty Images

With the first half of the 2012 MLB season officially over, this is a great time to reflect on the season itself so far.
The Rangers and Yankees have clearly shown that they are the two best teams in baseball. In addition, other teams like the Orioles, Rays, Red Sox, White Sox, Indians, Tigers, Nationals, Mets, Braves, Pirates, Reds, Cardinals, Dodgers and Giants have all played very well to this point. All of these teams have legitimate chances of postseason appearances as well.
It might be at least a month too early to predict which of these teams will end up making the postseason, but the projected MLB award winners have become quite clear for the most part. The winners of these awards of course will not be named until sometime in November. Nonetheless, assuming none of these players have poor second halves and others do not completely outshine them, there just may not need to have much debate on any of these awards.
Here are the projected MLB award winners at the All-Star break.
Begin Slideshow

»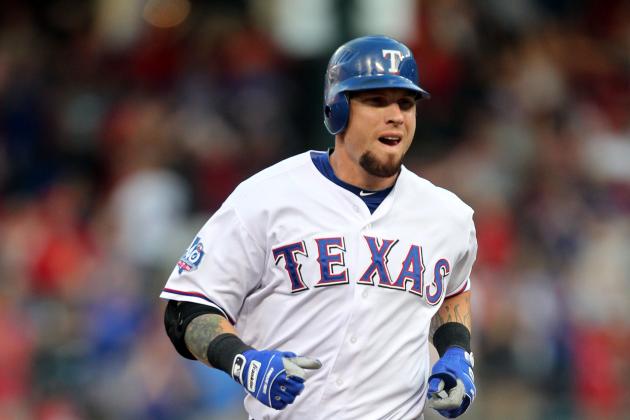 Layne Murdoch/Getty Images

In the American League, a good number of players have stood out compared to the rest.
Robinson Cano of the Yankees has rebounded from a slow start to being the biggest force once again in a powerful Yankees lineup. Adam Jones has led the Orioles towards postseason contention this far into the season for the first time since the Orioles' last postseason appearance since 1997. Paul Konerko has had another great season so far as he has led the White Sox to a surprising division lead. Even the young rookie Mike Trout has garnered consideration with the youthful energy and all-around play he has brought to the Angels.
And then there is Josh Hamilton.
With all due respect to Cano, Jones, Konerko and Trout, Josh Hamilton has been by far the best player in the American League this year. He has led the Rangers to a four-game division lead over the Angels and has statistically been the best player in the league as well.
Hamilton is tied for 10th in the league with a .308 batting average, tied for first in all of baseball with 27 home runs, leads all of baseball with 75 RBI and leads the league in OPS at 1.016. Those statistics, plus the fact that he has been the offensive leader of the best lineup in the sport, are the reasons why Hamilton will end the 2012 season with his second AL MVP Award within the last three years (he won his first AL MVP Award in 2010).
Honorable Mentions: Cano, Jones, Konerko, Trout, David Ortiz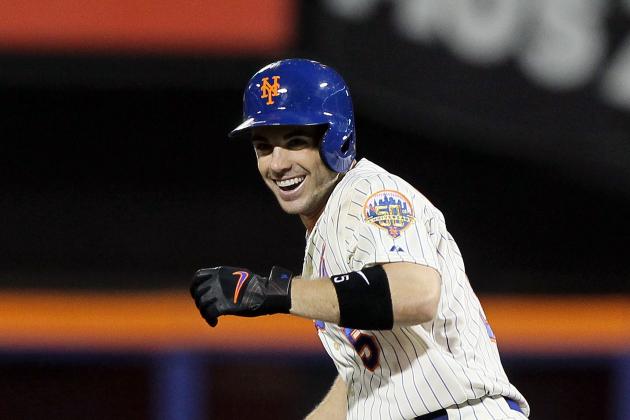 Jim McIsaac/Getty Images

The playing field for the NL MVP Award is a lot more leveled.
First, there is Joey Votto, who is having the best statistical season of anyone in the league and has once again been the leader for the Reds, who are currently one game behind the Pirates.
Speaking of the Pirates, their centerfielder, Andrew McCutchen, has recently been thrown into the discussion and is a very worthy candidate as well, with the numbers and he has put up and the leadership he has shown for a Pirates team that has not been to the postseason since 1992.
Another candidate is Melky Cabrera of the Giants, who has been one of the biggest offensive surprises this year and has given his pitching-heavy team some much needed offensive support.
But no player in the National League has meant more to his team than David Wright of the Mets. Wright got off to a very hot start and was still batting over .400 at early May. His batting average of course has since fallen to .351, which is third in the league. He also is fifth in the league with 59 RBI, tied for fifth in runs scored with 56, fourth in hits with 106, tied for second with 27 doubles and third in OPS at a 1.004 mark. In addition, Wright leads the league in wins above replacement at 4.7, which shows how significant he has been to the Mets' success.
As far as his power goes, Wright may only have 11 home runs, but he is due to go on a big power streak in the second half. Thus, he will likely get to around 25 home runs at the end of the season.
Unlike Hamilton, Wright may not be the runaway statistical leader for the National League right now, but again, words do not fully describe how valuable he has been to the Mets, a team that was widely expected to lost over 100 games. Instead, the Mets go into the All-Star break with a 46-40 record and have a great shot at making the postseason for the first time since 2006.
With Ike Davis and Jason Bay in particular having poor seasons, Wright has been the consistent offensive force for a Mets lineup that really lacks another superstar hitter besides him. He is also one of the few veteran players on the Mets' young team, and with that being said, the whole team looks at him as the leader. He sparks energy into his teammates and makes them perform better every day.
This race is going to be very close throughout the season, but with the way things are shaping up, Wright will become the first Mets player to ever win the NL MVP Award. Two former Mets have finished second in NL MVP voting. Keith Hernandez finished second in 1984 and teammate Darryl Strawberry finished second in 1988.
Honorable Mentions: Votto, McCutchen, Cabrera, Carlos Beltran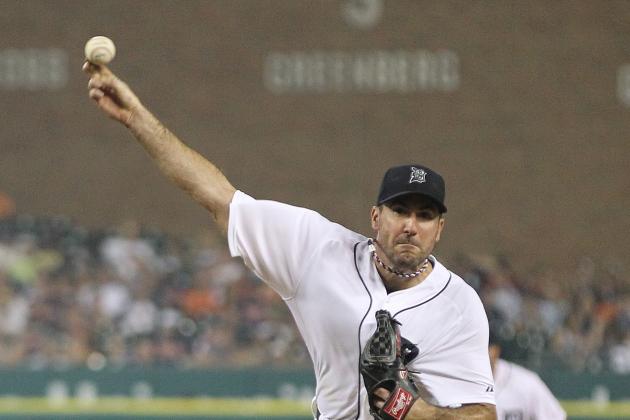 Dave Reginek/Getty Images

The American League Cy Young Award is not going to be an easy decision at this point. A good number of pitchers have shown their excellence so far.
Statistically, one of the best pitchers has been Jered Weaver of the Angels. Despite missing a few starts during a stint on the disabled list, Weaver has a 10-1 record and leads the league with a 1.96 ERA and a 0.90 WHIP.
Perhaps the biggest pitching surprise in the American League has been Chris Sale of the White Sox. Sale was a reliever last year before being converted back into a starter. He is a huge reason why the White Sox are leading their division, especially when considering the low expectations they had going in. Sale has a 10-2 record and a 2.19 ERA, plus a 0.95 WHIP.
But when it's all said and done, Justin Verlander of the Tigers will win his second consecutive AL Cy Young Award. The reigning winner has not had a season identical to his 24-5 year in 2011, but he has a 9-5 record with a 2.58 ERA and a 0.95 WHIP. He is also tied for the league lead in strikeouts with 128.
Look for Verlander to have a very strong second half as he surges towards the top among American League pitchers and wins his second consecutive AL Cy Young Award.
Honorable Mentions: Weaver, Sale, David Price, Matt Harrison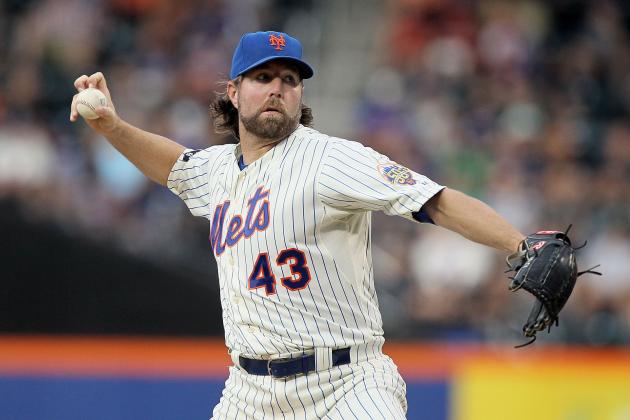 Jim McIsaac/Getty Images

Unlike the AL Cy Young Award, the NL Cy Young Award is not as much of a race. A few National League pitchers have had great seasons, but only one pitcher really stands out. That would be the veteran knuckleballer, R.A. Dickey.
A journeyman for most of his career, Dickey was the first player cut during the Mets' 2010 spring training. In May of that year, he got called up to make a start and has been a fixture in the Mets rotation ever since. This year, he has gone off to a historic start and has clearly become the best pitcher in all of baseball.
Dickey is tied for the major league lead with 12 wins and is only the third Met to ever get 12 wins before the All-Star break. Dickey is also fifth in the league with a 2.40 ERA, second in strikeouts with 123, third in opponents' batting average at 2.03 and leads the league with a 0.93 WHIP. In addition, Dickey is tied for the National League lead in wins above replacement at a 3.6 mark.
What's amazing about Dickey is the fact that he is a knuckleballer and the fact that knuckleballers historically have not been the most successful pitchers out there. A small handful of knuckleballers, including Hoyt Wilhelm and Phil Niekro, are in the Hall of Fame, but for the past 15 years, the only other known knuckleballer was Tim Wakefield of the Red Sox, who retired after the 2011 season. Now, Dickey is the only current knuckleballer in baseball and is representing this group of pitchers very well.
Due to the fact that he is a knuckleballer, one may think that Dickey is likely to fall off in the second half, but with the consistency he has showed this year, as well as in 2010 and 2011, Dickey's season should not be written off as a first-half fluke. He will continue to pitch well and could even eclipse 20 wins by the middle of September. In November, he will become just the third Mets pitcher to win an NL Cy Young Award, and the first since Dwight Gooden in 1985.
Honorable Mentions: Gio Gonzalez, Matt Cain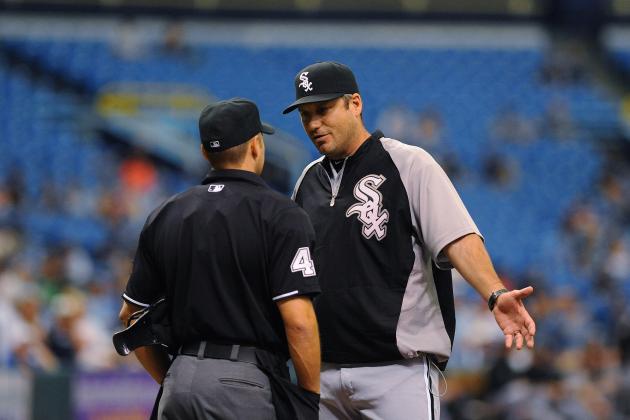 Al Messerschmidt/Getty Images

At the start of the season, the Tigers were widely predicted to run away with the AL Central division, but they of course got off to a slow start and have yet to really make a run at the division title.
However, it is the White Sox who have stunned everyone by leading the division at the All-Star break. Despite having a superstar and potential Hall of Fame hitter in Paul Konerko, a resurgent Adam Dunn and a great rotation led by Chris Sale, it is new manager Robin Ventura that also deserves a lot of credit for the White Sox's success so far.
Ventura became the White Sox manager in the past offseason, succeeding Ozzie Guillen, who spent eight years in Chicago before becoming the Marlins manager. Unlike most managers, Ventura never had any prior coaching experience, both at the major and minor league levels.
Ventura of course is best known for being one of the best third basemen in the 1990s and early 2000s. He spent 10 years with the White Sox from 1989-1998, which was followed by stints with the Mets, Yankees and Dodgers. He retired after the 2004 season.
During his career, Ventura won six Gold Glove Awards at third base and was an All-Star in 1992 and 2002. He also hit a memorable home run in the 1999 NLCS as a member of the Mets. In Game 5 of that series, he hit what was supposed to be a walk-off grand slam in the 15th inning, but his teammates mobbed him near second base, which meant that only one run ended up scoring.
As a manager, though, Ventura has defied the odds as an inexperienced manager with the success the White Sox have had thus far into the season. Very few inexperienced managers have done particularly well in the first year on the job, but Ventura has certainly exceeded all expectations of both himself and his team.
With all due respect to the job Buck Showalter has done for the resurgent Orioles, Ventura is on pace to win the 2012 AL Manager of the Year Award, especially if the White Sox make the postseason.
Honorable Mention: Showalter
Patrick McDermott/Getty Images

In the National League, it's shaping up to be another two-man race between Terry Collins of the Mets and Clint Hurdle of the Pirates.
At this point, though, the favorite should be Collins, whose team was predicted to lose over 100 games, but has played much better than anyone would have expected right now.
The Mets lineup only has one true superstar in David Wright. First baseman Ike Davis got off to a horrendous start and has only recently been hitting well. Left fielder Jason Bay has also continued his struggles and is currently dealing with his second concussion in three years.
The Mets have also been marred with various injuries, which has led to players like Bay, Ruben Tejada, Andres Torres, Ronny Cedeno, Josh Thole, Frank Francisco and Ramon Ramirez all missing significant time during the first half of the season. Furthermore, Mike Pelfrey is out for the season after recently having Tommy John surgery. As a result, Collins has been challenged to make the most of the players he has had and a good number of the replacement starters have certainly overachieved.
Managing the innings for Johan Santana has been another challenge in itself because Santana had missed the entire 2011 season. Despite the relative limitations that Collins and the Mets have placed on Santana, Collins thankfully did allow Santana to throw a career-high 134 pitches as he gave the Mets its first no-hitter in franchise history. Had Collins not let Santana finish the game, he would have been widely criticized by many people.
But what's most important about what Collins has done is that at the beginning of the season, he told his players that they may not be expected to do well, but that they have to do what it takes to prove them wrong. He has believed in his team at all times, and this is what puts him over the top for NL Manager of the Year consideration. His players have followed his lead and are currently six games over .500.
When Davis struggled mightily during the first two months of the season, Collins was faced questions about whether to demote Davis to the minor leagues or not. He decided to keep believing in his first baseman and keep him on the major league roster. Collins' patience paid off, as Davis has lately been hitting as well as anyone in the last few weeks and is primed for a huge second half.
It was no surprise when Tony LaRussa asked Collins to be one of the coaches for the National League team in the All-Star Game because the job that Collins has done for the Mets speaks for itself.
If they continue their success, Collins will lead the Mets to their first postseason appearance since 2006 and one that the Mets have been striving for ever since their disappointing end to the 2006 postseason. Assuming the Mets get to the playoffs, Collins will win the 2012 NL Manager of the Year Award.
Honorable Mention: Hurdle, Davey Johnson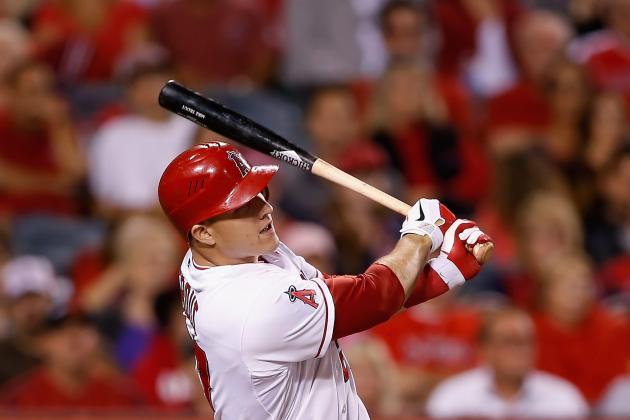 Jeff Gross/Getty Images

The American League has had some solid rookies, but at this point, Mike Trout should win this award by a landslide, if not unanimously.
At just 20 years old, Trout has become one of the best players, not just among rookies but in the entire league. He and teammate Mark Trumbo have given this veteran Angels team some much-needed youth and energy. They are the biggest reasons why the Angels have rebounded from their slow start.
With the ability to hit for both contact and power, blazing speed and great defensive range, Trout is certainly the league's premier young phenom right now. Trout was not even on the Angels' Opening Day roster. He was called up on April 28 and has stuck around ever since.
Trout currently leads the league with a .341 batting average to go along with 12 home runs, 40 RBI and a league-leading 26 stolen bases. He is also tied for sixth in runs scored with 57 and fourth in OPS at .959. These are amazing numbers for a 20-year-old rookie and so amazing that Trout is even getting legitimate American League MVP consideration.
With the talent he is showing at his age, Trout could become one of the most elite players in the game if his production keeps improving in the years to come. The Angels truly have a very gifted centerfielder who has become a difference maker and is only going to get better.
Barring any injuries, Trout will easily win the 2012 AL Rookie of the Year Award.
Honorable Mentions: Yu Darvish, Brett Lawrie, Matt Moore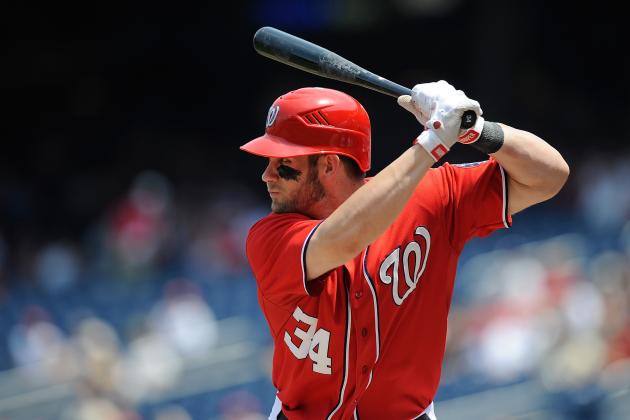 Patrick McDermott/Getty Images

The National League Rookie of the Year Award will also not be particularly close, although this league probably won't be as much of a landslide compared to the American League.
Like Trout, Bryce Harper of the Nationals had a lot of hype ever since he got drafted with the first overall pick in the 2010 MLB draft. He breezed through the Nationals' farm system en route to his professional debut this past April 28, which is ironically the same day Mike Trout made his first appearance for the Angels this year.
Harper is currently batting .282 with eight home runs and 25 RBI. He also has 10 stolen bases and a respectable .826 OPS. These numbers may not be particularly spectacular compared to the numbers that Trout has put up, but they are certainly better than any other National League rookie so far.
The overall competition among National League rookies this year is quite weak, but with all the hype and expectations he has brought with him, Harper will win the 2012 NL Rookie of the Year Award.
Honorable Mentions: Wade Miley, Kirk Nieuwenhuis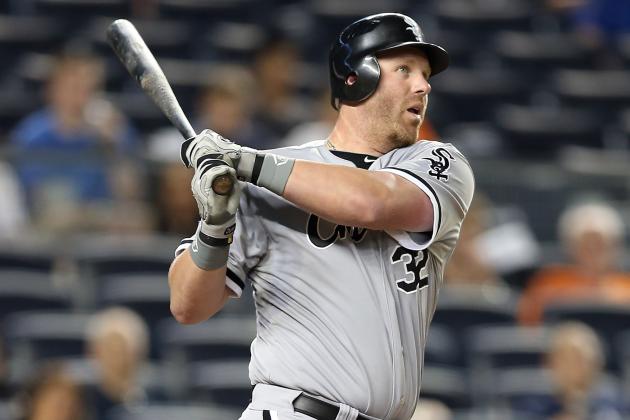 Elsa/Getty Images

Throughout his career, Adam Dunn has been known for three particular statistics: home runs, walks and strikeouts. He has consistently been among league leaders in all three categories for years. However, after signing a four-year $56 million contract with the White Sox, he took a turn for the worse last year.
In 2011, Dunn hit a league-worst .159 with just 11 home runs and 42 RBI. It was by far the worst season in his career. If those numbers don't sound disappointing, his .569 OPS is bad as it could ever be for a slugger like Dunn.
This year, though, Dunn is back to his old self with 25 home runs and 61 RBI at the All-Star break despite a .208 batting average. He was named to the AL All-Star team as a reserve for only the second time in his career. His only other All-Star appearance was in 2002.
As usual, Dunn has been drawing many walks and has struck out a lot. It is no surprise that he leads the league with 68 walks and 134 strikeouts. He may even be on pace to break the all-time single season strikeout record, but as long as Dunn is hitting home runs and driving in runs, he and White Sox may be able to deal with the strikeouts.
All in all, many people doubted Dunn after his terrible 2011 season, but he has now proved that his worst season was simply a fluke. His resurgence this year is why he will win the 2012 AL Comeback Player of the Year Award.
Honorable Mention: Jake Peavy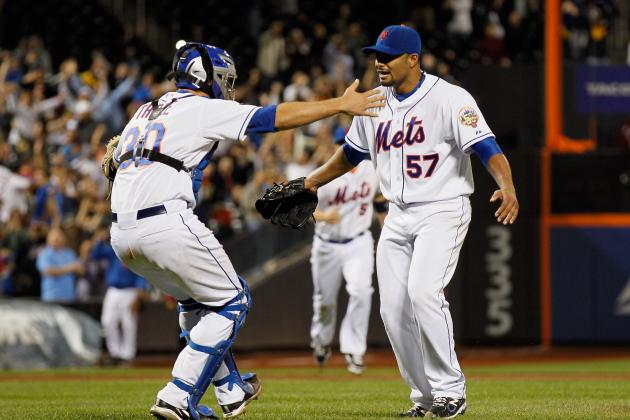 Mike Stobe/Getty Images

After getting traded to the Mets before the 2008 season and subsequently signing a six-year, $137.5 million extension, Johan Santana was expected to be the Mets' new ace that would help them win at least one championship.
So far in Santana's Mets tenure, there has not been a championship, but Johan has still been one of the best pitchers in baseball over the years. He had an amazing second half to his 2008 season and ended up finishing third in the NL Cy Young Award voting that year. He even pitched a complete game shutout on three days' rest in the second-to-last game of the season to keep the Mets in playoff contention, but that ultimately failed, as the Mets lost their final game.
In 2009, Santana went 13-9 with a 3.13 ERA before having his season end in late August due to bone chips being found in his left elbow. A year later, he finished his 2010 season with an 11-9 record and a 2.98 ERA. He missed the last month of the season with shoulder surgery that ended up sidelining him for the entire 2011 season.
Without Santana, the Mets' pitching staff was not the same, as they suffered another losing season. However, Santana was good to go for the start of the 2012 season and was even named the Opening Day starter. With many people questioning his health and whether his career was soon to be over because of it, Santana has proved all the doubters wrong.
At the All-Star break, he is 6-5 with a 3.24 ERA. Not surprisingly, his record would probably be better if he had gotten more run support on a more consistent basis. The Mets bullpen also blew a few games that he should have won. This was probably why Santana did not make the NL All-Star team this year, but ever so optimistic, Santana will use the break to rest up for the second half of the season.
As for his health and pitch counts, Santana amazed everyone by throwing the Mets' first no-hitter in franchise history on June 1. It was also Santana's first career no-hitter. Despite the Mets' cautions on his innings and pitch counts, Santana threw a career high 134 pitches that night, which no one would have thought he could do. It has become one of the biggest moments in Santana's career and by far his best moment as a Met.
After being written off as a pitcher past his prime and full of injury risks, Santana has proved otherwise and will be very deserving of the 2012 NL Comeback Player of the Year Award. This is assuming he of course stays healthy throughout the entire season.
Honorable Mentions: Stephen Strasburg, Barry Zito