MLB All-Star Game 2012: Does Justin Verlander or Matt Cain Have Starting Edge?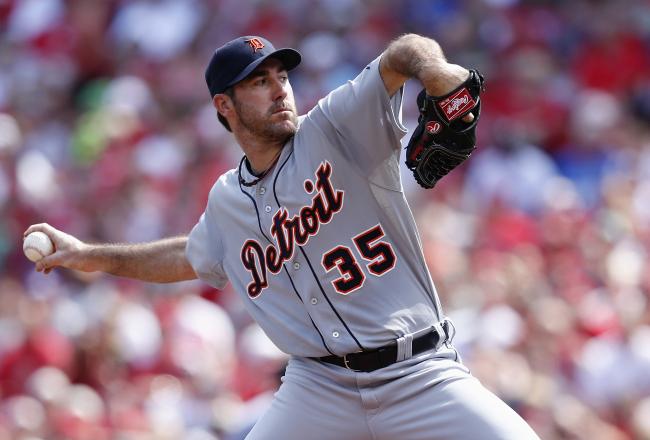 Joe Robbins/Getty Images
Detroit Tigers superstar Justin Verlander and San Francisco Giants ace Matt Cain have been selected as the starting pitchers for Tuesday night's MLB All-Star Game. Baseball fans couldn't have asked for a more evenly matched duo to start the midsummer classic.
Verlander beat out Jered Weaver of the Los Angeles Angels and breakout sensation Chris Sale of the Chicago White Sox for the honor, while Cain was given the nod over New York Mets knuckleballer R.A. Dickey, who was a popular choice before the announcement, among others.
Let's take a look at the seasons Verlander and Cain have had so far and decide whether the American League or National League will have the starting edge in Kansas City.
Justin Verlander
The reigning AL MVP and Cy Young Award winner has been enjoying another dominant season on the mound. He has a 2.58 ERA and 0.95 WHIP through 18 starts and would have more than nine wins if not of the Tigers' disappointing offense.
Verlander stands out due to a mid-90s fastball that still has plenty of life in the late innings. But the reason he has become one of the best pitchers in the game is improved secondary pitches. He works his change-up seamlessly off the fastball and can put hitters away with a devastating curveball or slider.
He's striking out 8.7 hitters per nine innings, and his walk rate is tied for his career low at just over two. That combination bodes well in an All-Star Game because the only way to get elite hitters out is to attack them. You can't nibble on the corners.
Matt Cain
Cain has always been a really good pitcher, right on par with Verlander in every category, other than strikeouts actually. It wasn't until he threw a perfect game against the Houston Astros in June that he finally started to get some overdue respect.
He made 17 first-half starts, compiling an ERA of 2.62 and a 0.96 WHIP. Like Verlander, an inconsistent offense has probably cost him a few wins along the way. That said, he's still on pace to have the best season of an already impressive career.
There will be a lot of discussion about him getting the nod over Dickey, but it's hard to argue with perfection. Cain has done a tremendous job of keeping the Giants rotation afloat despite the struggles of Tim Lincecum, and he earned his day in the spotlight.
Which starter will give his team the edge?
Verdict
It doesn't get any closer than this. Not only have Verlander and Cain had similar seasons, but their careers almost mirror each other. That might be hard to believe for some fans because Verlander gets a lot more hype, perhaps due to the infamous East Coast bias.
Although it varies depending on the situation, most years the starters will go two or three innings before giving way to the most talented bullpens they will ever have working for them. That helps Verlander because he can let loose his top-notch fastball right away.
Due to that, I give Verlander the edge, if only by a razor-thin margin. Having a closer-like fastball should allow him to handle the unusual situation better and put the American League on track toward victory.
This article is
What is the duplicate article?
Why is this article offensive?
Where is this article plagiarized from?
Why is this article poorly edited?