Philadelphia Eagles: Early Predictions for Every Eagles Game in 2012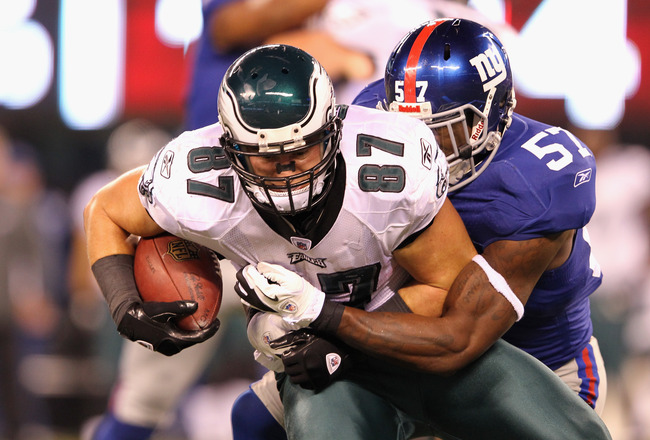 Al Bello/Getty Images
Training camp may not even be underway yet, but that doesn't mean it is too early to start making predictions for the Philadelphia Eagles regular season in 2012.
The consensus is that the Eagles will be a much-improved team this season, which bodes well for the team's chances of making the playoffs and going on a deep run. A tough schedule, however, stands in the way of the team's ultimate goal: a Super Bowl ring.
After reading through the predictions, feel free to leave a comment and voice your own opinions on how you think a particular game or the entire season will unfold.
Week 1: At Cleveland Browns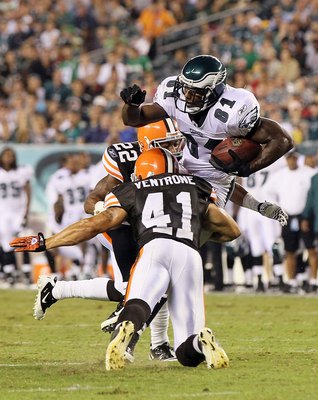 Jim McIsaac/Getty Images
The Cleveland Browns may not be among the league's elite, but they will surprise many people with how well they perform this season. They already boasted a decent defense and now have added some quality offensive weapons.
Still, the Eagles should have no problem winning their first game of the season. The team will be looking to start the season strong to prove that last season is a distant memory.
Prediction: W 27-10
Record: 1-0
Week 2: Vs. Baltimore Ravens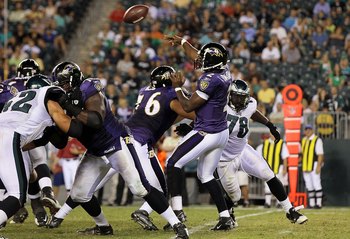 Jim McIsaac/Getty Images
Perhaps the toughest team in the AFC North, the Baltimore Ravens will be a good gauge to determine just how good the Eagles will be in 2012. Unfortunately, fans may not like the outcome.
The Ravens routinely boast a strong defense, and this season will be no different. Without Terrell Suggs to harass him, Michael Vick should have more time in the pocket, but the Ravens also boast an opportunistic secondary. Vick will likely show us that he is still relatively careless when running and throwing the football.
Prediction: L 17-20
Record: 1-1
Week 3: At Arizona Cardinals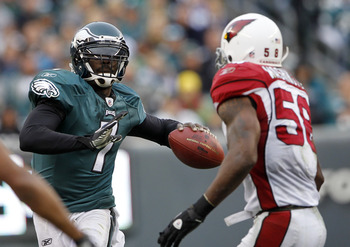 Rich Schultz/Getty Images
After a rough Week 2, the Eagles have an easy chance to rebound with a matchup against the Arizona Cardinals. Unimpressive on both sides of the ball, the Cardinals boast a far less talented team.
One thing Eagles fans would love to see during this game is Kevin Kolb being picked off by Dominique Rodgers-Cromartie (who was a trade piece in the Kolb trade).
Prediction: W 24-7
Record: 2-1
Week 4: Vs. New York Giants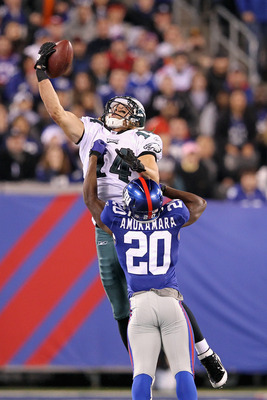 Al Bello/Getty Images
Week 4 marks the first game the Eagles face against a division rival, this time against the Super Bowl champs.
The New York Giants got hot at the right time last season but were still only 9-7 in the regular season. They haven't added any significant upgrades to their team, so it can be expected that they will boast the same talent level as last year.
At this point, the Eagles seem to have a more talented roster than the Giants. If they can put it all together, they have a real shot to win their first division game. Look for Nnamdi Asomugha and Dominique Rodgers-Cromartie to slow down the talented receiving duo of Hakeem Nicks and Victor Cruz.
Prediction: W 20-17
Record: 3-1
Week 5: At Pittsburgh Steelers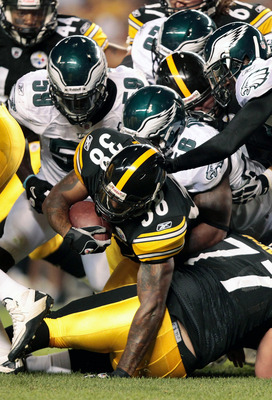 Jared Wickerham/Getty Images
The Eagles enter Week 5 with a 3-1 record, and they will be feeling confident. That should translate to a strong outing against the Pittsburgh Steelers, who are getting up in age and have lost half a step or so.
In the end, the Eagles' high-octane offense will prove too much for the Steelers' aging defense to handle. With the secondary likely focused on containing DeSean Jackson, Jeremy Maclin will prove just how valuable he is to this team.
Prediction: W 17-10
Record: 4-1
Week 6: Vs. Detroit Lions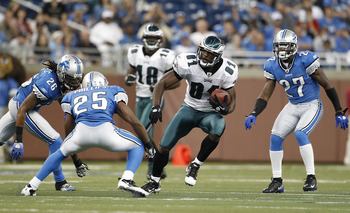 Leon Halip/Getty Images
Off to a fast start, the Eagles currently sit atop the division. They will, however, have a tough matchup against the Detroit Lions right before their bye week.
Expect a high-scoring game, but for the Lions to come out on top. The Matthew Stafford-to-Calvin Johnson combination will be too much for the Eagles' defense to handle. The Eagles will make a game of it but will ultimately fall just a little short.
Prediction: L 28-35
Record: 4-2
Week 8: Vs. Atlanta Falcons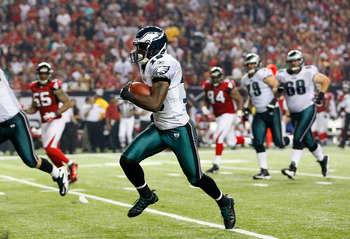 Kevin C. Cox/Getty Images
If there is one thing you can depend on, it is that an Andy Reid-coached team will always win after a bye week. That should hold true this season as well.
The Atlanta Falcons pose a formidable challenge, but the Eagles are up to the task. Much like with the Week 6 game, this one should be high scoring thanks to potent offenses on both teams.
But while the Falcons boast a solid passing game to go with a middling rushing attack, the Eagles have the best of both worlds. LeSean McCoy could have a field day against a defensive unit that lost starting middling linebacker Curtis Lofton in free agency.
Prediction: W 28–24
Record: 5-2
Week 9: At New Orleans Saints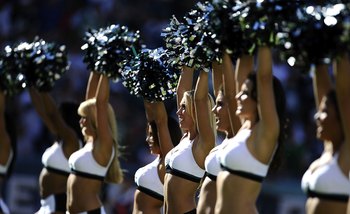 Jeff Zelevansky/Getty Images
The New Orleans Saints will be tougher to beat than many expect, given their current situation. Drew Brees has promised to play the season regardless of his contract situation, which means that his offense will continue to be one of the most lethal in the league.
Even so, the Eagles have a good chance to come away from this one with another win. The Saints will come up with creative ways to contain Vick but, in doing so, will leave themselves vulnerable to the Eagles' numerous other weapons. Expect a shootout.
Prediction: W 27–21
Record: 6-2
Week 10: Vs. Dallas Cowboys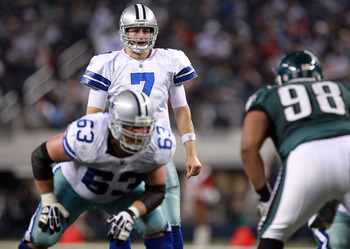 Ronald Martinez/Getty Images
Perhaps the Eagles' most-hated rivals, the Dallas Cowboys will face off against the birds for the first time this season. Unfortunately, it may not end well for the Eagles.
Playing on the Cowboys' home turf is tough, and it may be difficult for the Eagles to gain any momentum during this game. Demarcus Ware will harass Demetress Bell for much of the game, which will put pressure on Vick and force him into making bad decisions downfield where Brandon Carr and Morris Claiborne will be lying in wait. Turnovers will decide the outcome of this game.
Prediction: L 10-17
Record: 6-3
Week 11: At Washington Redskins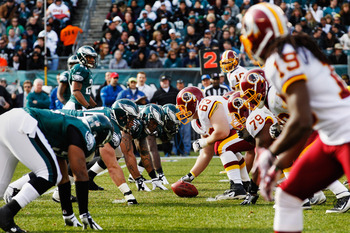 Rob Carr/Getty Images
The Washington Redskins may still be at the bottom of the food chain in the NFC East, but that doesn't mean they don't have a bite to them.
The Eagles' defense has to go up against Vick in practice on a regular basis, so they know what they are up against with Robert Griffin III. Griffin, however, should still give the defense fits throughout the game, which will open up opportunities for players like running back Roy Helu and Pierre Garcon to rip off big gains. Ultimately a low-scoring game, but with plenty of yards gained.
Prediction: L 14-17
Record: 6-4
Week 12: Vs. Carolina Panthers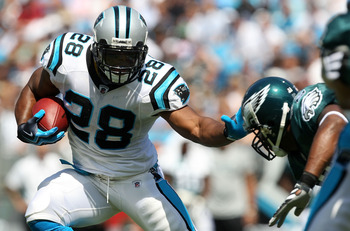 Streeter Lecka/Getty Images
After suffering two losses to divisional rivals, the Eagles get back to their winning ways against Cam Newton and the Carolina Panthers.
Newton is in the same mold as Vick and Griffin, albeit with a much bigger build. The Eagles should be able to learn from their mistakes from last week and make sure to contain Newton while limiting the big play downfield to Steve Smith. The secondary of the Panthers isn't very strong, and so the Eagles' passing attack should flourish.
Prediction: W 31-21
Record: 7-4
Week 13: At Dallas Cowboys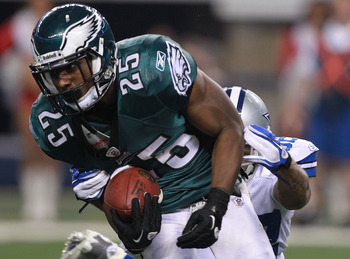 Ronald Martinez/Getty Images
The Eagles suffered their second loss of the season to the Dallas Cowboys back in Week 10, and now it is payback time.
Now playing on their own turf, the Eagles will have their way with the Cowboys on both sides of the ball. Tony Romo will make errant throws and will get strip-sacked by one of Philly's prolific defensive linemen, allowing the Eagles' offense to start drives on short fields. This game will determine who the best team in the NFC East is in 2012.
Prediction: W 35-10
Record: 8-4
Week 14: At Tampa Bay Buccaneers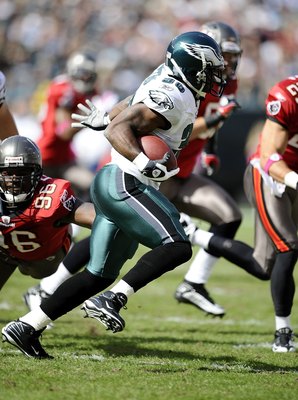 Jeff Zelevansky/Getty Images
The Tampa Bay Buccaneers arguably had one of the best offseasons of any team in 2012, but they are still a mediocre team. But with their hopes of a division title on the line coupled with their home-field advantage, they should pose as a decent threat.
Josh Freeman finally has a big target to throw to in Vincent Jackson, so the Eagles' cornerbacks will have their hands full. Regardless, Mike Vick and the rest of the offense should do enough damage to see this one through to the end.
Prediction: W 28-13
Record: 9-4
Week 15: Vs. Cincinnati Bengals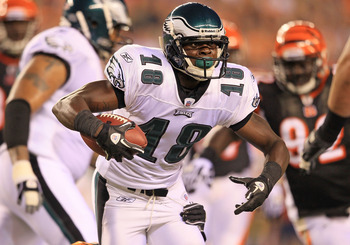 Andy Lyons/Getty Images
The Cincinnati Bengals pose as the last team in the AFC North that the Eagles have to face in 2012. After perhaps only Matthew Stafford and Calvin Johnson, the Bengals have the best young quarterback/receiver duo in the league with Andy Dalton and A.J. Green.
Despite that, Philly's favorite birds should have enough firepower to come away from this one with a victory. The Bengals have a struggling secondary and will likely be starting rookie Dre Kirkpatrick at cornerback by this point in the season. That should allow the Eagles' passing attack to soar.
Prediction: W 24-10
Record: 10-4
Week 16: Vs. Washington Redskins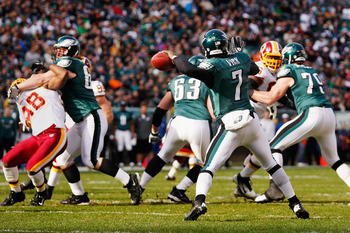 Rob Carr/Getty Images
The Philadelphia Eagles are peaking at just the right time, which does not bode well for the Washington Redskins in the two teams' second bout of the season.
The 'Skins snuck off with a win earlier in the season but will not be able to give a repeat performance. Enough tape has been logged on Robert Griffin III for teams to finally start piecing together a solid scheme against him. He will make costly errors which the Eagles will capitalize on.
LeSean McCoy, on the other hand, will have one of his better games of the season, finishing with over 100 yards on the ground and multiples receptions out of the backfield.
Prediction: W 20-10
Record: 11-4
Week 17: At New York Giants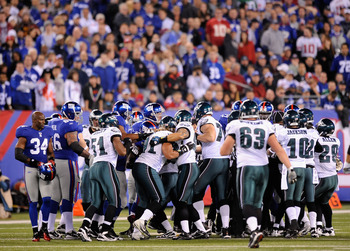 Patrick McDermott/Getty Images
Entering their final regular season game of 2012, the Philadelphia Eagles have locked up a playoff spot and have established themselves as kings of the NFC East. Essentially, this game against the New York Giants is meaningless.
However, the Giants enter this game in contention for a wild-card spot, which means they will likely start all of their starters while the Eagles rest theirs. It should be an easy victory for the Giants, but fans will be able to get a great look at the Eagles' second-string players.
Prediction: L 13-28
Final Regular Season Record: 11-5
Keep Reading

Philadelphia Eagles: Like this team?