Baltimore Ravens: Stat Predictions for Key Offensive Players
Rob Carr/Getty Images

Offense has long been the Achilles' heel of the Baltimore Ravens, so fans pay extra attention to the offensive numbers to see if progress is being made.
Last year, the offense took a step back, but this year, all signs point toward a rebound.
Joe Flacco should improve after having an offseason of work with his young receivers and tight ends.
Meanwhile, young players like Torrey Smith, Tandon Doss, Ed Dickson and Dennis Pitta should all be improved this year.
Not all looks bright for the Ravens, however, as Anquan Boldin is aging quickly and Ray Rice has yet to practice with the team this offseason.
Not to be overlooked is the apparent weakness of the offensive line, a unit that is integral to any healthy offense's success.
With this in mind, here are stat projections for the Ravens' key offensive players.
Begin Slideshow

»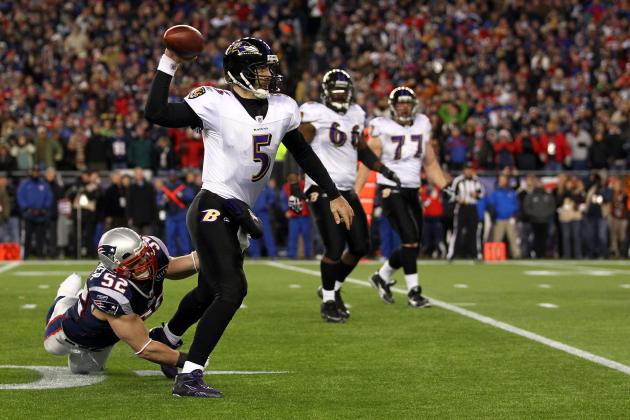 Al Bello/Getty Images

The key to the offense is veteran quarterback Joe Flacco, who took a major step back in 2011.
His accuracy was inconsistent, his arm didn't look as strong, and his decision making was suspect at times.
This could be for a few reasons.
First, the lack of offseason really seemed to hurt Flacco, as his rhythm was off with his receivers all season long.
Second, Flacco simply lacked weapons beyond an injured Torrey Smith, an aging Anquan Boldin, and the inconsistent duo of Dennis Pitta and Ed Dickson.
This year, though, Smith is healthy and should be even more explosive than last year.
Meanwhile, Dickson and Pitta are rapidly improving and should both improve this year.
That means that as long as Flacco stays upright, he should get improved numbers.
Unfortunately, that could be an issue for the Ravens. The offensive line is a major problem area, as the Ravens' offensive tackles are average at best and the left guard competition remains unclear.
All in all, Flacco's efficiency will improve as a result of the improved rhythm with his receivers and improved performances from the offense's young guns.
While Flacco will be limited by the offensive line, he should still post his best season as a pro.
Expected Stat Line
320-for-530, 3,800 yards, 27 Touchdowns, 13 interceptions, 89.0 QB Rating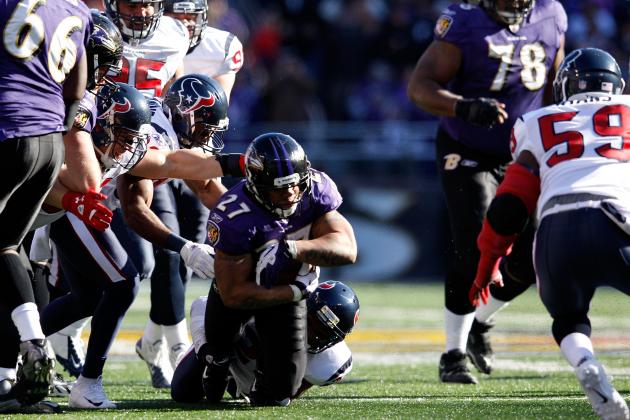 Rob Carr/Getty Images

One of the reasons for Joe Flacco's projected success is the faltering of Ray Rice this year.
Too much is working against Rice for this season to match his previous productivity.
First, Rice's lack of offseason practice with the team could hurt him, especially with the lack of continuity at the left guard position.
Second, and more importantly, the Ravens offensive line will struggle to open up holes for Rice, and his productivity will suffer as a result.
This Ravens offensive line is as weak as it has been in years.
Matt Birk is losing his ability to hold off powerful nose tackles, as evidenced by the whipping he received at the hands of Vince Wilfork in the AFC Championship Game.
Bryant McKinnie and Michael Oher have only been average for the Ravens, and both have produced a lot of penalties and sacks.
Marshal Yanda is a stud, but the left guard position will either go to a first-year starter or the aging Bobbie Williams.
All in all, Rice will struggle to find room against the stellar run defenses of the AFC North.
Rice will still be productive through the air, and, with the amount of carries he will receive, he will still be a major fantasy contributor—but his efficiency will plummet this year.
Expected Stat Line:
270 carries, 1,100 yards, 4.07 YPC, 8 touchdowns
65 catches, 560 yards, 8.61 YPC, 2 touchdowns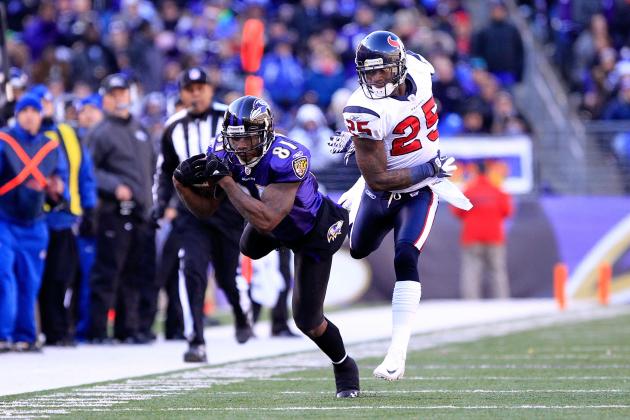 Chris Trotman/Getty Images

Anquan Boldin will be the disappointment of the Ravens' season this year. He no longer has the ability to get separation, and his hands have started to fail him on a regular basis.
These issues will only get worse this season as Boldin gets older.
Against the Houston Texans in the playoffs, Boldin made some truly spectacular catches, but these catches show an underlying problem: Boldin no longer gets separation from corners.
While this was never Boldin's strong suit, he at least had the athleticism and route-running ability to make up for his lack of burning speed.
Now, though, something has faltered. Perhaps Boldin's speed has suffered so much that opponents are no longer fooled by solid route running.
More likely, Boldin's advancing age has limited his explosion in and out of his cuts. If this is accurate, that could spell the end for Boldin as an offensive force.
While Flacco will undoubtedly force the ball to Boldin, the Ravens offense will struggle if he is made a focal point of the offense.
All in all, Boldin will make some spectacular catches down the field, but it will not be enough to save him from his worst season as pro.
Expected Stat Line
55 catches, 750 yards, 13.63 YPC, 7 touchdowns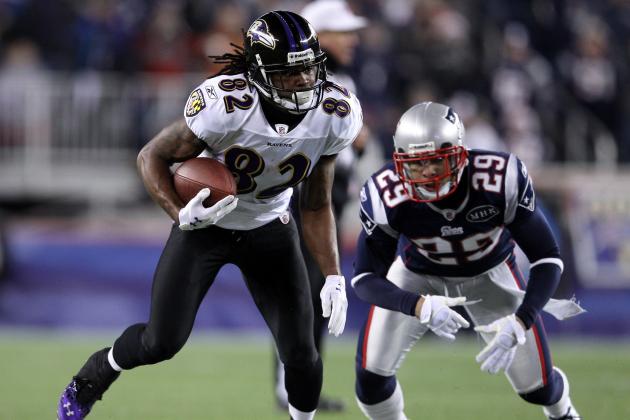 Elsa/Getty Images

Where Anquan Boldin will falter, Torrey Smith will grow.
Smith showcased awesome playmaking skills as a rookie, and that should translate into a performance worthy of a top receiver in 2012.
Smith occasionally struggled last year with consistency and separation, but his sports hernia was undoubtedly holding him back.
Defensive backs should be scared to see what Smith can do without a sports hernia hampering him.
With a healthy body and a full offseason to work with Joe Flacco, Smith will break out in a big way in 2012.
Already having the ability to take over games, Smith will show the ability to do so on a consistent basis.
His deep-ball ability translates well into what the Ravens are trying to do on offense, so he should rack up a massive YPC stat.
If the Ravens feature Smith on screens more, his numbers could sky rocket. Smith is dangerous in the open field, and if the Ravens do develop a screen game, that will only help Smith and Flacco.
All in all, Torrey Smith will have to pick up the slack from Anquan Boldin and a disappointing group of receivers behind him, but, for once, this Ravens' receiver is up to the task.
Expected Stat Line
70 catches, 1,100 yards, 15.71 YPC, 9 touchdowns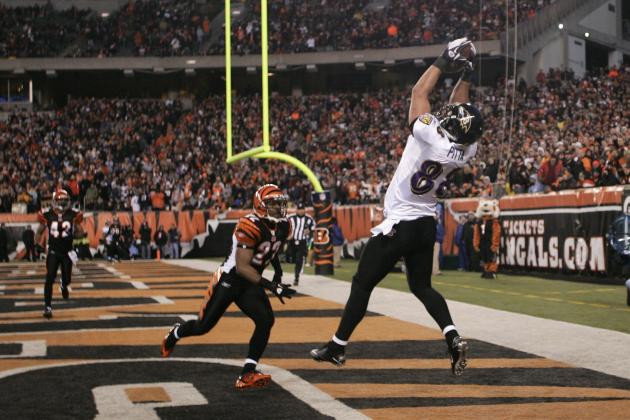 John Grieshop/Getty Images

2011 was a strange season for the Ravens' young tight ends.
Ed Dickson started the season as the clear-cut starter and was productive, but his production seemed to come at the cost of the offense as a whole.
For evidence, look no further than the Ravens' embarrassing loss to the Seattle Seahawks. Dickson had a career game, but the Ravens offense failed to generate any meaningful production otherwise.
In this game, Dickson seemed to be a safety blanket. When nothing was available downfield, Flacco dumped off to Dickson for a few yards. That means that very few of Dickson's catches were truly meaningful.
As the season wore on, Dickson's hands become unreliable, and the Ravens increasingly relied on Dennis Pitta for help.
Pitta responded with some clutch third-down catches and big plays, as his more reliable hands and route running were exactly what the Ravens needed.
This year, expect a more even blend of the two young tight ends. The Ravens will likely try to stretch the seam more with Dickson's athleticism, which is a weapon that the Ravens did not use effectively last season.
Pitta, meanwhile, will remain an excellent third-down target who will make clutch catches up and down the field.
All in all, these tight ends will be the catalysts to make the Ravens' offense soar. With improved production from them, the Ravens will be among the NFL's most improved offenses in 2012.
Expected Stat Lines
Dickson: 50 catches, 600 yards, 12 YPC, 5 Touchdowns
Pitta: 55 catches, 600 yards, 10.91 YPC, 6 Touchdowns