7 Things Kansas City Chiefs Must Do to Compete in Remodeled AFC West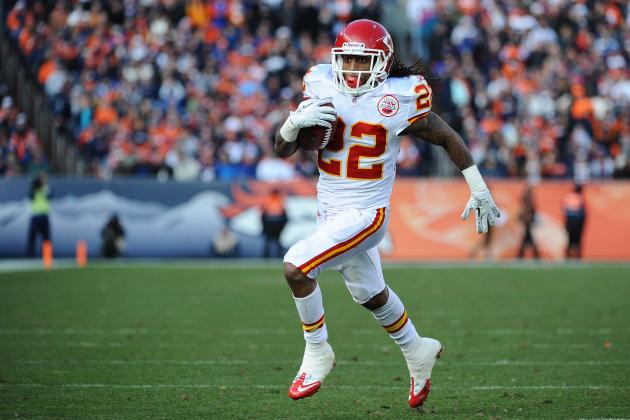 Garrett Ellwood/Getty Images

After a worst-case scenario start in 2011 where crushing injuries combined with embarrassing blowout losses, the Chiefs showed significant improvement towards the end of their campaign and managed to finish with a 7-9 record. Now, 2012 looks to be a year in which the Chiefs stock in their young players finally soars and cashes in.
Outside of the lines, the Chiefs have impressive depth across the board as well as youthful stars on both sides of the ball. These stars include Jamaal Charles, Eric Berry, Tamba Hali and Dwayne Bowe, just to name a few.
Romeo Crennel earned the removal of the "interim" label of his status as head coach after Todd Haley was fired mid-season, and the defensive guru also hired Brian Daboll to take over at offensive coordinator. While the coaching staff is different, the players are mostly the same. And that's a good thing.
Still, winning any game is the NFL is a chore. Here's an insight to what the Chiefs need to execute in order to return back to the top of the AFC West.
Begin Slideshow

»
Dave Reginek/Getty Images

Well, duh. Injuries are the great equalizer in the NFL, but the Chiefs received a big chomp from the injury bug last year. Pro-Bowlers Eric Berry and Jamaal Charles, emerging tight end Tony Moeaki and starting quarterback Matt Cassel were among the big names on the injured reserve in 2011.
The Chiefs brought in bruising back Peyton Hillis to ensure that Charles does not need to repeat his monster 2010 (1,467 yards on 6.2 yards per carry) in order for the team to contend, while Kendrick Lewis showed he can be an above-average safety in the league during Berry's absence. Still, both Charles and Berry will be among the league's elite if they are in 2010 form, and both will make desperately needed big plays on either side of the ball.
Cassel and Moeaki can go to town and constantly move the chains if they continue their 2010 rapport as well. There is no training regimen that prevents freak injuries from occurring, but the Chiefs' 2012 hopes nonetheless hinge upon staying on the field at the important positions.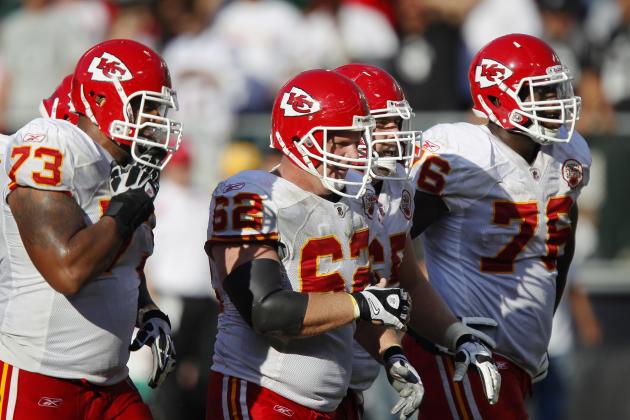 Brian Bahr/Getty Images

While the offensive line protected the quarterback adequately, the injury to Charles can't simply be written off as the only reason the running game struggles. It wasn't awful yardage-wise (15th with 118.3 YPG), but was close to the bottom in yards per carry (3.9) and touchdowns (5). The Chiefs' O-Line finished 30th in Win Probability Added with their performance in the run game.
First, the Chiefs basically upgraded from this to an iPhone 4S by signing Eric Winston to take over from Barry Richardson at right tackle. Among the league's top tackles, Winston will lead the charge in implementing Daboll's zone-blocking scheme that is designed to pave more holes in the defense and utilizes speed and athleticism over power from its offensive linemen.
Starting guards Ryan Lilja and Jon Asamoah are not world-beaters, and Rodney Hudson is a first-time starter at center. That being said, Daboll made a 1,000-yard back out of Reggie Bush last year in Miami and should benefit from having at least a­ competent quarterback (Sorry Tyler Palko) to direct some focus away from opponents' run prevention.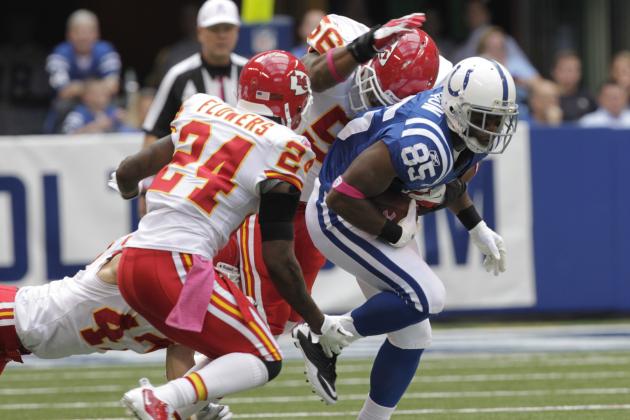 John Sommers II/Getty Images

The Chiefs ranked sixth in passing defense last season at 201 yards allowed per game, even without budding star Eric Berry, who missed the entire year with a torn ACL. A big part of this success was due to the Brandons, Carr and Flowers, locking down opposing wideouts at cornerback. Unfortunately, Carr followed the money and left as a free agent.
Stanford Routt was brought in from the Raiders to replace Carr, but he struggled mightily in the absence of the departed Nnamdi Asomugha in 2011 and will need to limit his penalties after he led the NFL with 17 in 2011.
Routt has impressive cover skills, but in-division rivals Peyton Manning and Philip Rivers can probably hit any seat in the lower deck of Arrowhead on cue, and will test Routt, Flowers, and the speedy Javier Arenas. Hey, even the Raiders' man behind center in Carson Palmer should put the Chiefs on big-play alert a lot more than the departed Jason Campbell.
The cornerbacks have high expectations in 2012, and need to fulfill their end of the bargain for the Chiefs to be an elite defensive unit.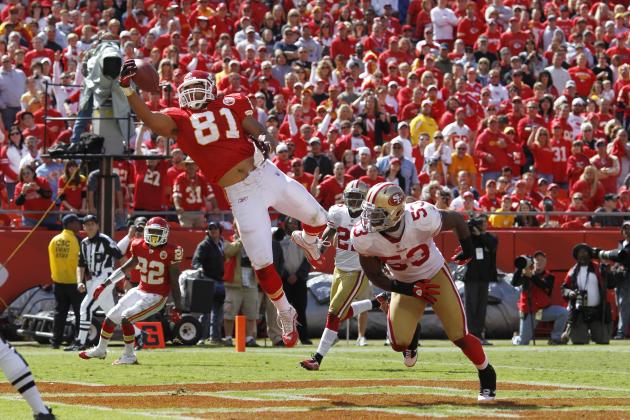 Joe Robbins/Getty Images

Only three seasons removed, the days of Tony Gonzalez snagging everything thrown across the middle seem like long ago. While Gonzalez will return to Arrowhead with the Falcons on January 1, the Chiefs need a security blanket at the tight end spot for quarterback Matt Cassel, who is most comfortable with the short passing game.
Do not expect the next Rob Gronkowski and Aaron Hernandez in terms of production, but a healthy Tony Moeaki combined with incoming free agent Kevin Boss have the ability to be one of the better tight end tandems in the league.
New offensive coordinator Brian Daboll started using, and had success with, two-tight end sets last season with the Miami Dolphins. The Chiefs have talent at the position, and it is Daboll's prerogative to turn that talent into Cassel's most reliable passing option.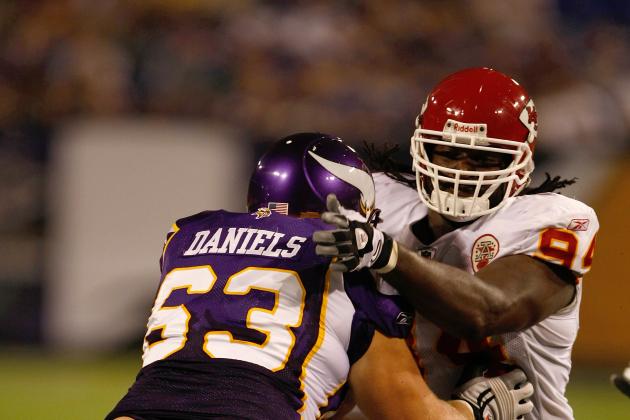 Scott Boehm/Getty Images

The Chiefs were not as awful as their overall ranking indicated last year. The team finished 26th overall in rushing yards allowed per game, but also had the fourth-most rushing attempts against in the NFL. Despite constant pressure, the D-Line tied for a respectable 14th in the league in yards allowed per carry, thanks in part to the duo of Glenn Dorsey and Tyson Jackson, both former top-five draft picks.
While the pair of former LSU Tigers have often been deemed busts considering their total of six sacks over a combined seven seasons, they have emerged as elite run stoppers. Jackson led the entire NFL in Run Stop Percentage last year, while Dorsey finished sixth. Add in colossal rookie nose tackle Dontari Poe for part-time duty, and the Chiefs can become an elite run defense.
The line will not be exploding into the backfield, that's the linebackers' job. The Chiefs would love to force teams to pass against Eric Berry and friends in the secondary, and that is what the aforementioned trio, in addition to Allen Bailey and others, are prepared to do.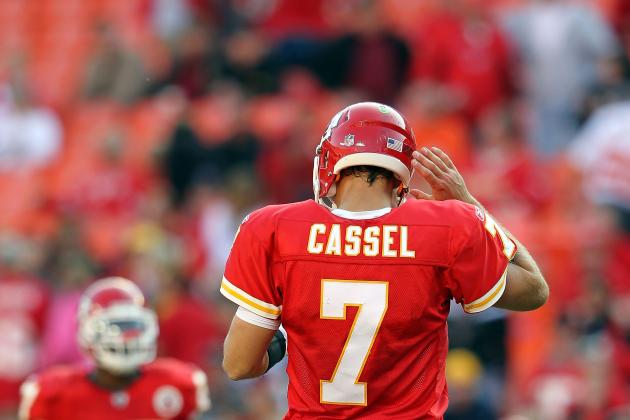 Jamie Squire/Getty Images

There are fancier ways to put this but let's make it simple. Matt Cassel can't be awful, but he does not need to be great. Game-manager has become a derogatory term, but what Cassel needs to do is simply complete more passes at a better rate than he has so far during his time in Kansas City (57.2 completion percentage), manage his turnovers, and be mobile to the point of not being a sitting duck in the pocket.
Cassel has more depth and talent to throw to than in any of his previous three years, and could do a lot worse than having Eric Winston and Brandon Albert protecting him at tackle.
The running attack should be among the league's elite. The defense is talented enough to more than hold its own. Hey, even the coaching situation is stable with the cool-headed Crennel replacing the explosive Haley. Cassel has all the cards lining up for him to have a successful season, so 2012 will need to be his proving ground.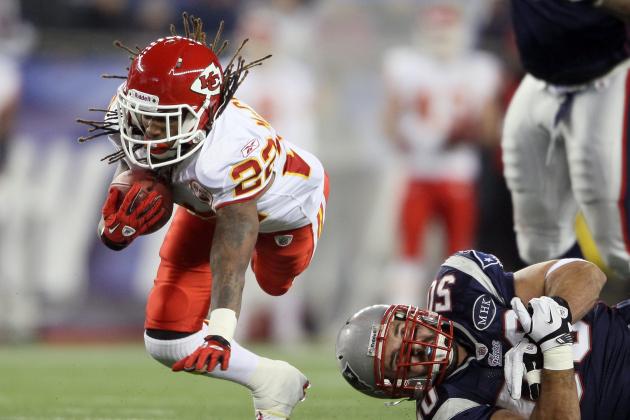 Elsa/Getty Images

The Chiefs' return game has decayed since the departure of one of the greatest returners of all time in Dante Hall. In Hall's last five seasons with the Chiefs, he had 11 touchdowns on punt and kick returns. In the five years since his departure, the Chiefs have just two.
Special teams are a very volatile part of the NFL game, but elite kick returners can still energize a team at any moment. In an increasingly offensive-focused brand of football, the Chiefs' offense looked like a FCS team playing Alabama or LSU in 2011, finished 31st in the league with just over 13 points per contest. The offense deserves the brunt of the blame, but the return game did it no favors. The Chiefs finished 30th in kickoff returns with a 21.3 yard average, and did not return a single kickoff past midfield.
The Chiefs' main man at kickoff returner is Dexter McCluster. The Chiefs' 2010 second-round pick returned a punt for a team-record 94 yards in his debut, but has done little of importance since then. A second-round pick becoming a special teams demon is not the ideal turnout, but McCluster has yet to be even average as a kick returner after finishing 21st out of 27 qualified players in 2011 with a 22.3 yard return average.
Punt return man Javier Arenas has moves, but is yet to return a punt for more than 37 yards in his career. McCluster and Arenas might (and should) be replaced by a smorgasbord of late-round picks and undrafted free agents if they do not impress early, because the Chiefs could use some dynamic runbacks to create momentum.