10 Players Certain to Get Red Cards in the Premier League Next Season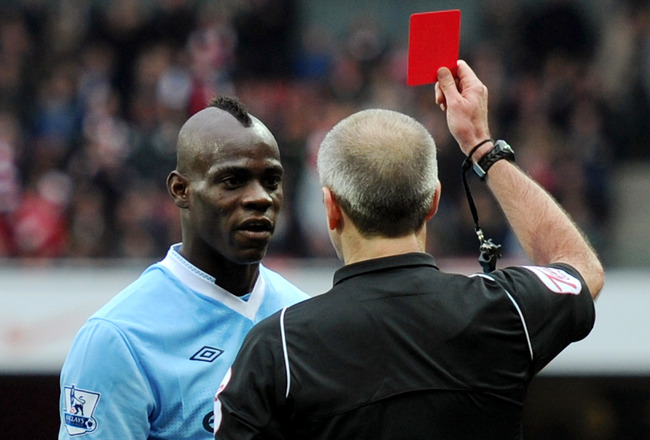 Michael Regan/Getty Images
One of the hallmarks of the 2012 European Championships was its exemplary disciplinary record.
There might have been a total of 123 yellow cards given over the course of 31 matches in the tournament, but the number of red cards amounted to three.
Three.
English Premier League fans don't have to worry about a similar dearth in drama when the season starts in August, though.
Here are 10 players who will almost certainly get red cards in the 2012-2013 EPL season, complete with videos of some of their most famous tackles for your twisted enjoyment.
Joey Barton
Is there anyone more obvious than Joey Barton?
Basically put: No.
His mad shenanigans in the exhilarating season finale between QPR and Manchester City could have relegated his side but for Bolton's draw with Stoke.
He's been given a second chance by QPR owner Tony Fernandes (and has had his captaincy deservedly stripped), but let's face it: Joey Barton will always be Joey Barton.
Lee Cattermole
Another player who just can't stop getting into referees' books is Sunderland's Lee Cattermole.
No matter the opposition or how he goes about his business, Cattermole always ends up warned, yellow-carded or sent off.
Martin O'Neill has kept faith with his club captain thus far, but the simple fact is that Cattermole is a liability on the pitch.
Cheik Tiote
The story is the same for Cheik Tiote of Newcastle.
He may be one of the most highly rated midfielders in the Premier League due to his work rate and defensive work, but his disciplinary record lets him down.
Just how you try to rein in his rashness in the tackle while showing the same defensive commitment is no doubt a question Alan Pardew has considered.
Meanwhile, his 11 yellow cards from last season will serve as a dire warning for the year ahead.
Kevin Nolan
The alarming statistic surrounding West Ham captain Kevin Nolan is that he is the sole representative from the three promoted Championship clubs in ESPNSoccernet's Top 20 Player Discipline Table.
But then Nolan has always been in and around the referee's book.
He'll just have to improve on his 11 yellows and one red amassed during his maiden season with the Hammers.
Charlie Adam
Exactly how prominently Charlie Adam will figure in Brendan Rodgers' plans at Liverpool this season is up for debate.
But given his quite underwhelming debut season at Anfield, it is a near formality that he will be a liability in the midfield for Liverpool.
Perhaps he just doesn't have the speed of thought to catch up with his peers and opponents.
Perhaps he just doesn't have the speed.
But his clumsiness will hurt the team, and that's a certainty.
Ryan Shawcross
Most famous for his leg-breaker against Arsenal's Aaron Ramsey in February 2010, Stoke's Ryan Shawcross has had a history of reckless challenges.
The fact that he plays for Stoke, the team that has been known for their physical style in recent years, will not help his cause.
Just as his defensive partner Robert Huth, Shawcross should rethink his tackling style.
But, just as in seasons gone by, he will find himself red-carded and red-faced once again.
Jonny Evans
Same story for Manchester United's Jonny Evans.
Credit where credit's due: He has come on in leaps and bounds since that Old Trafford nightmare against Manchester City last season (the one where United lost 1-6 at home).
But that game served up a reminder of Evans' inexplicable gaffes, and he is still capable of the odd crazy moment.
Let's see how far he has matured as a key player for Sir Alex Ferguson this season.
Paul Scholes
Besides his penchant for scoring spectacular goals and his cultured passing, one other mouth-watering prospect after the confirmation of Paul Scholes' return from retirement in the middle of last season was his still-remorseful tackling.
He's signed on for another year at Old Trafford, which promises a year of baffling (and frankly quite entertaining) challenges from Manchester United's No. 22.
Nigel De Jong
Manchester City midfield enforcer (is that the right description?) Nigel De Jong has a sizeable track record.
His infamous tackles on Newcastle's Hatem Ben Arfa and Spain's Xabi Alonso (in the World Cup final, no less) live long in the memory.
His importance and place as a first choice in the reigning Premier League champions might have diminished in recent months, but we can almost certainly count on De Jong's continued presence amongst the most combustible midfielders in the league.
Mario Balotelli
Who else but Super Mario?
Mario Balotelli has shown a (slightly) more composed and mature side during this summer's Euros, but as we all know, he is prone to that odd madman fit.
It'll be fascinating to watch Balotelli this season for City as he attempts to live up to his lofty opinions of himself.
Why always me, indeed.
For extensive coverage on the Premier League, please check out my Bleacher Report writer's profile. For all things Liverpool—match reactions, opinions et al—please subscribe to The Red Armchair.
Keep Reading

Manchester City: Like this team?