NHL Trade Speculation: 5 Deals That Could Occur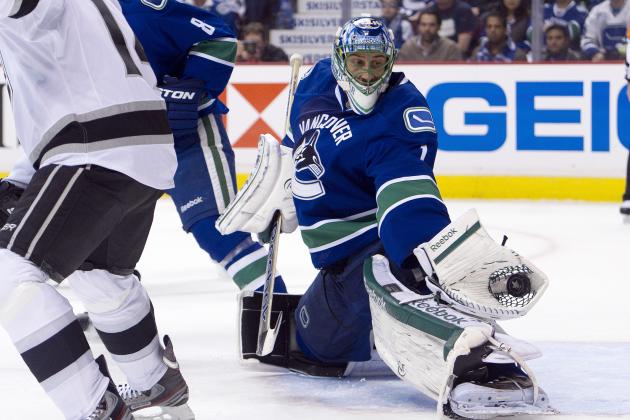 Rich Lam/Getty Images

With a majority of this year's unrestricted free agents already signed, teams still looking to improve their squads will be looking to acquire players via trades.
With some of the NHL's elite players rumored to be on the trading block, players acquired this offseason may prove to be the missing piece in a Stanley Cup run moving forward.
This slideshow will fill you in on the rumors, and where I expect the players to ultimately land.
Begin Slideshow

»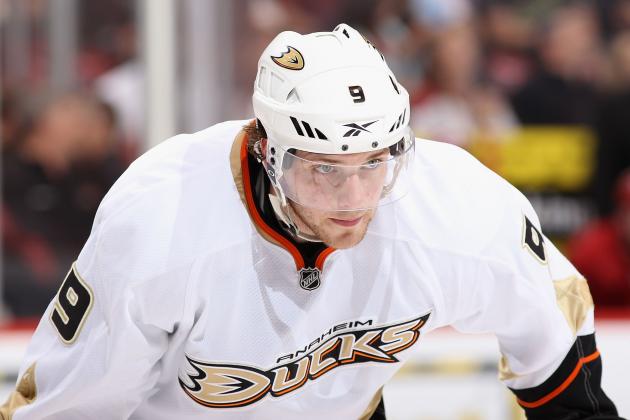 Christian Petersen/Getty Images

When Bobby Ryan expressed disappointment in how he has been treated in Anaheim last month and implied he wanted to be traded, multiple teams expressed interest in acquiring the talented young winger.
Ryan only had his eye on one team.
In a Courier-Post article published last month, Ryan admitted that Philadelphia would be an ideal place for him to land—Ryan grew up a Flyers fan and his family has friends in the organization.
I can completely see this deal going through for a couple reasons:
1) The Flyers have an abundance of young talent on their roster that the Ducks will want to acquire in return (namely 19-year-old center Sean Couturier).
2) The Flyers are in need of a top-six forward to play alongside up-and-coming superstar Claude Giroux.
Philadelphia is in contention to win the Stanley Cup next year, so it'd make sense if they traded a young player to acquire Ryan in order to increase their chances of bringing Lord Stanley home.
Possible Trade:
To Philadelphia:
LW: Bobby Ryan
To Anaheim:
C: Sean Couturier
2013 1st round pick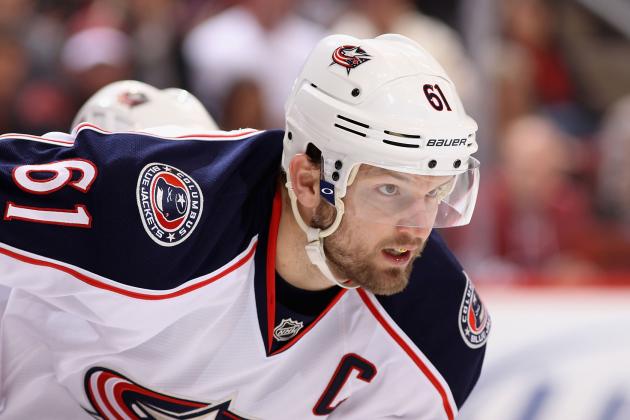 Christian Petersen/Getty Images

Another team on the brink of winning the Stanley Cup, the NY Rangers are a team interested in acquiring Rick Nash.
If the Rangers were to trade for Nash, they would own arguably the most dominant first line in hockey.
Rick Nash, Brad Richards and Marian Gaborik.
It takes more than a first line to win a Stanley Cup, but that combination would be ridiculous.
In return, the Blue Jackets would likely look to receive one of the Rangers' promising young forwards in Chris Kreider and they'd most likely try to obtain Brandon Dubinsky as well.
Since those two players will probably not be enough to persuade Columbus, I expect the Rangers to throw in a couple first round picks as well.
Possible Trade:
To NY Rangers:
RW: Rick Nash
To Columbus:
LW: Brandon Dubinsky
C: Chris Kreider
2013/14 1st Round Pick
Maybe the Statue of Liberty.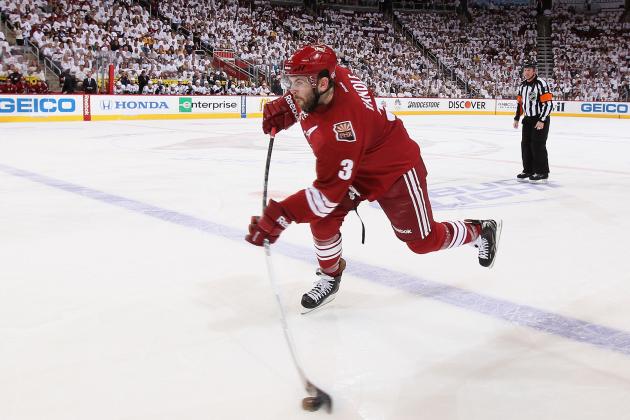 Christian Petersen/Getty Images

With the recent retirement of Nicklas Lidstrom, the Detroit Red Wings are likely a team interested in acquiring Keith Yandle to fill that void.
An elite offensive defenseman, Yandle has explosive skating ability, great puckhandling ability and a wicked one timer.
He'd be a great fit for the Red Wings as they need an elite presence at the point in order to compete in the rapidly improving Western Conference.
Possible Trade:
To Detroit:
D: Keith Yandle
LW: Raffi Torres
To Phoenix:
D: John Ericsson
LW: Gustav Nyqvist
RW: Patrick Eaves
Draft Picks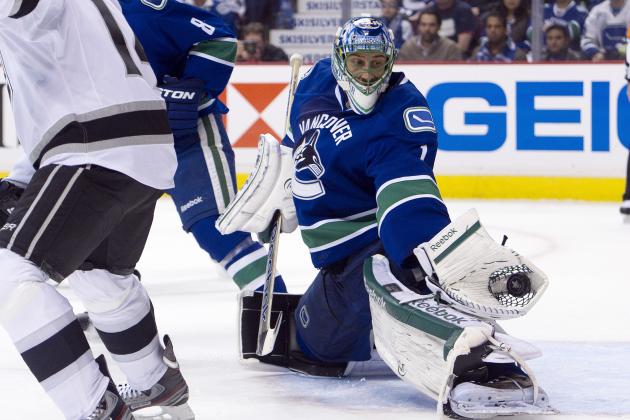 Rich Lam/Getty Images

Toronto Maple Leafs' GM Brian Burke hinted that they were looking to make a big splash this summer.
Having just traded goalie Jonas Gustavsson, the Maple Leafs also need to acquire a goalie replacement.
Combine those two facts and all signs point to the Leafs trading for the best goalie available: Vancouver's Roberto Luongo.
Luongo has proven himself as a solid goalie throughout his career and would be an overall good fit with the Leafs.
If this trade were to happen, I'd expect Vancouver to seek draft picks in return given the fact that their roster is already fairly solid all-around.
Possible Trade:
To Vancouver:
C: Tyler Bozak
2013 1st Round Pick
2014 2nd Round Pick
To Toronto:
G: Roberto Luongo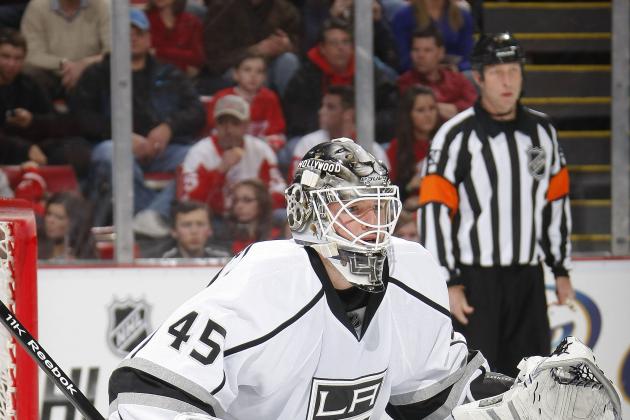 Dave Sandford/Getty Images

A talented young goalkeeper, Bernier showed that he had the skill-set to become a solid starting goalie in the NHL as a backup in Los Angeles.
The 23-year-old Canadian-born athlete has been receiving attention from many teams looking to acquire a goalie this offseason—namely the Chicago Blackhawks, Toronto Maple Leafs and the Columbus Blue Jackets.
Chicago seems like the ideal landing spot for Bernier considering all of the talent already stacked up in the Windy City.
I expect the Blackhawks defensive depth and offensive firepower to sway Bernier to sign a contract with the Blackhawks and, hopefully, end Chicago's inconsistency at the goalkeeper position.
Possible Trade:
To Chicago:
G: Jonathan Bernier
To Los Angeles:
D: Nick Leddy
Draft Pick