The 25 Pound-for-Pound Hardest Hitters in MMA Today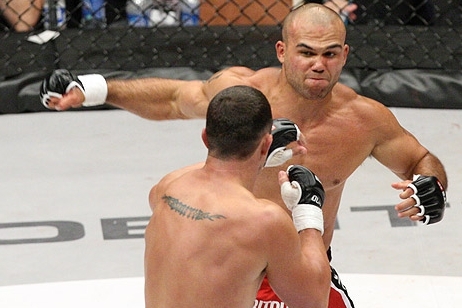 Photo credit: Cage Today
You can't just line up every MMA fighter on the ocean boardwalk, let them hit the Punch-O-Meter a couple of times and then tabulate the results. Well, you could, but the scheduling would be a killer.
Absent that, ranking the sport's hardest hitters will always be an inexact science. Luckily for all involved, then, that I'm not a scientist.
But in compiling this list of the 25 heaviest pairs of fists in the game, I didn't just throw darts at a wiki page or make presumptions based on conventional wisdom, either. I've based this list on a fighter's overall wins and percentage of wins by striking-related stoppage—KO, TKO, submission due to strikes or an injury stoppage related to strikes.
That's more comprehensive than just KO and TKO. For convenience, I'll collectively call these SRS.
Since this is a list of hardest hitters, punching power takes precedence. Additionally, fighters can receive extra credit for experience, number of true knockouts and quality of opposition. They can also lose points for lacking such.
Finally, there's the undeniable human element. If a guy has the "wow" factor in his punches, that's a plus in the equation.
Begin Slideshow

»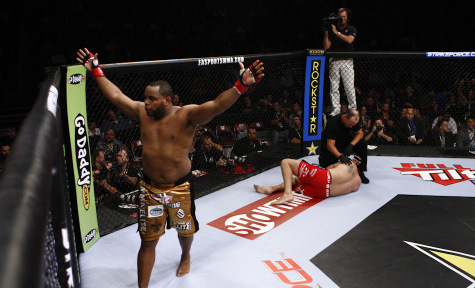 Photo credit: Esther Lin for Strikeforce
Record: 10-0
KOs: Two
SRS total: Four
SRS percentage: 40 percent

Cormier's world-class wrestling got him started in MMA, but it's those heavy hands (though I hate that phrase) that keep him there.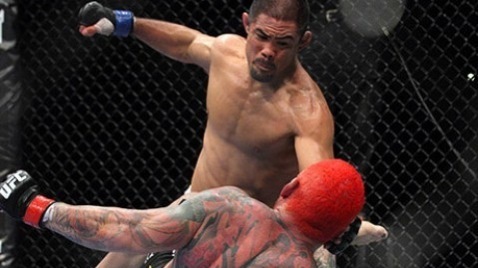 Photo credit: MMA Weekly
Record: 12-3
KOs: Two
SRS total: Six
SRS percentage: 50 percent

"The Filipino Wrecking Machine" has some of the heaviest ground and pound in the game.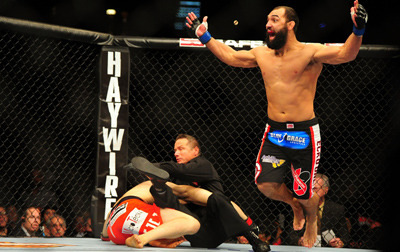 Photo credit: Mark J. Rebilas-U.S. Presswire
Record: 13-1
KOs: Four
SRS total: Seven
SRS percentage: 54 percent

Johny Hendricks is a cult hero on the Internets for his effervescence and ever-present grin.
But don't let the sweetness fool you; he can turn out the lights with either hand. I would tell you to ask Jon Fitch about that, but I don't think he remembers.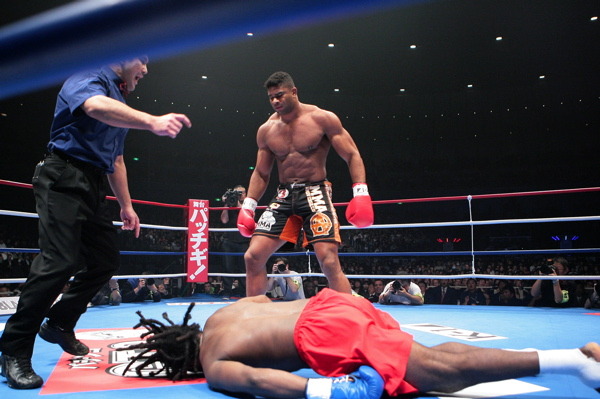 Photo credit: MMA Mania
Record: 36-11 (1)
KOs: Five
SRS total: 17
SRS percentage: 47 percent

He's a fearsome and powerful striker to be sure, but The 'Reem gets it done with technique and precision as much, if not more so, than with pure power.
He also loses points for a relatively low number of straight knockouts and a surprisingly (to me, anyway) low number of KOs from punches. If preference was going to kicks and knees, he'd be higher.
There's also the matter of that widely dissected Achilles' heel on Reem's resume: a relatively low level of competition, especially earlier in his career.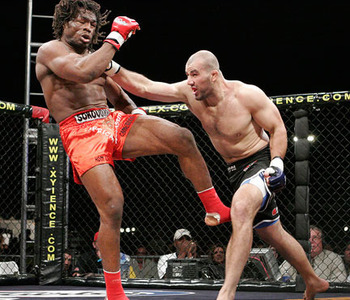 Photo credit: FC Fighter
Record: 18-2
KOs: Three
SRS total: 12
SRS percentage: 67 percent

Taking up the mantle of retired training partners Chuck Liddell and the criminally underrated Marco Ruas, Glover Teixeira is one hellacious hitter.
If Teixeira, who made his Octagon debut at UFC 146 and faces Quinton "Rampage" Jackson in his next engagement, can keep doing it in a UFC context, he could stand to move farther up this list.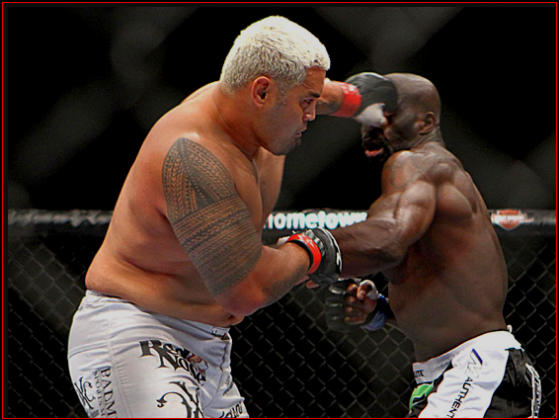 Photo credit: Prize Fighting Magazine
Record: 8-7
KOs: Two
SRS total: Five
SRS percentage: 63 percent
Mark Hunt is an extremely hard hitter. Everybody knows that. My question for the K-1 kick boxer: what happened in those other three wins?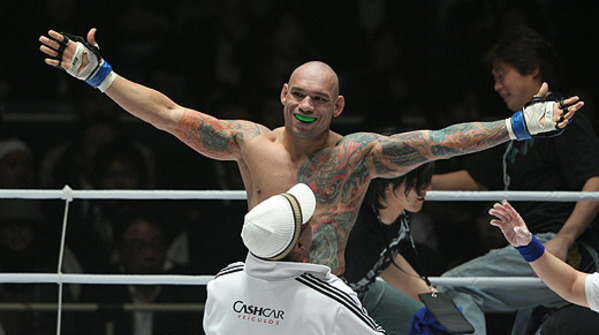 Photo credit: MMA Weekly/Scott Petersen
Record: 18-15
KOs: Four
SRS total: 13
SRS percentage: 72 percent

Evangelista "Cyborg" Santos may not be the most famous fighter on this list. He's not even the most famous fighter in his own family (for now, anyway).
Nevertheless, the welterweight has nasty power in his hands; three of his four pure knockouts required only one punch.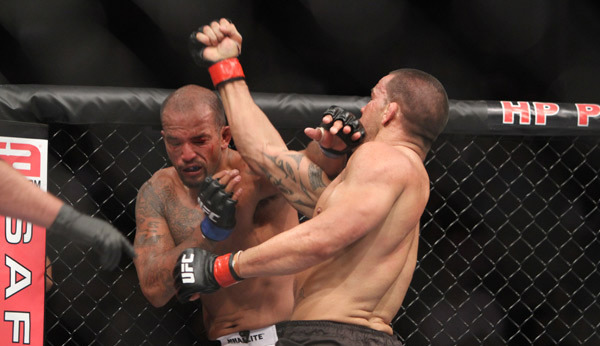 Photo credit: Robbie Petersen/MMA Weekly
Record: 15-5
KOs: Four
SRS total: Nine
SRS percentage: 60 percent

In the case of this Mark Hunt prodigy, the student has surpassed the teacher, at least in an MMA context.
Anyone who saw James Te Huna's performance on Fuel TV earlier this week against Joey Beltran saw the kind of power he's capable of pouring on his opponents.
I still don't know how Beltran stayed upright. He must have had a lot of sand in his base.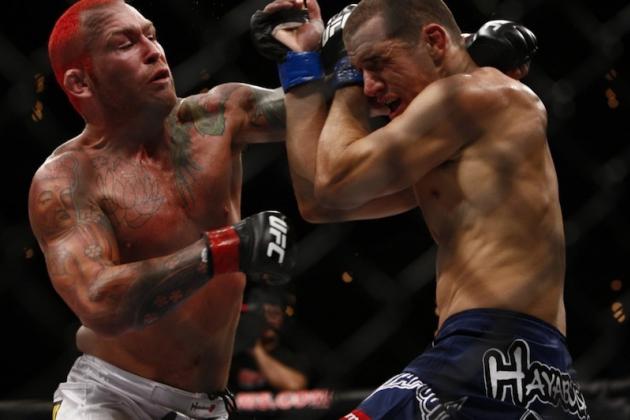 Photo credit: MMA Fighting
Record: 22-8
KOs: Seven
SRS total: 12
SRS percentage: 55 percent

Leben has had dynamite in his fists for a long time now, a fact to which those seven pure knockouts in 30 fights can attest.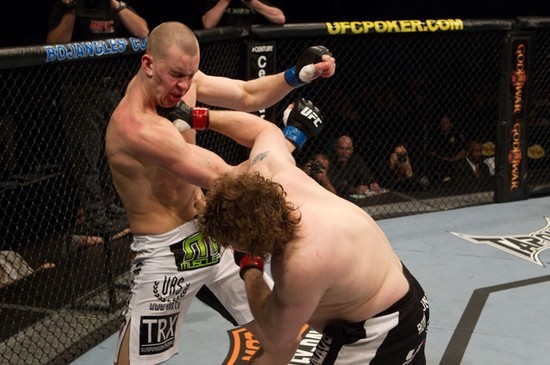 Photo credit: MMA Mania
Record: 17-7
KOs: Three
SRS total: 11
SRS percentage: 65 percent

These totals don't include his two TKO wins on The Ultimate Fighter, which would make it even more impressive.
My personal favorite among Roy Nelson's greatest hits was that lawn-chairing of Stefan Struve back in 2010, which earned him one of his three career Knockout of the Night bonuses.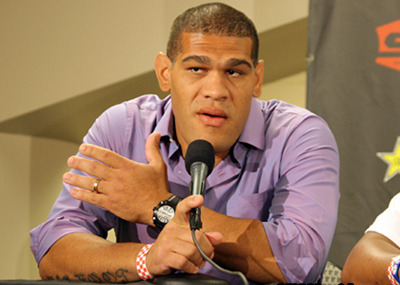 Photo credit: MMA Junkie
Record: 16-4
KOs: One
SRS total: 12
SRS percentage: 75 percent
Whenever you have a TKO of Wesley "Cabbage" Correira on your record, you deserve a spot on this list. There's also the small matter of that time Silva used some of the biggest fists in MMA to pound out Fedor Emelianenko.
Seriously, look at those hands. They make that microphone look like a Tootsie Roll Pop. The truly scary part is that if "Bigfoot" had hauled off and taken a bite out of it, I don't think anyone in the audience would have batted an eyebrow.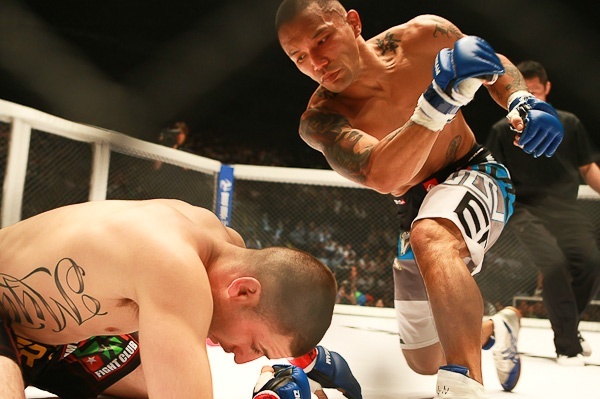 Photo credit: Sherdog
Record: 18-6 (1)
KOs: Five
SRS total: 13
SRS percentage: 72 percent

Since taking his talents to North America in 2011, fabled Japanese bantamweight Norifumi "Kid" Yamamoto has been unable to find his groove.
But when you've got his combination of unbridled aggression and raw knockout power, you're never completely out of things.
He's got a pretty impressive victims list, too. Royler Gracie, Rani Yahya, Genki Sudo and Caol Uno have all fallen under his fists.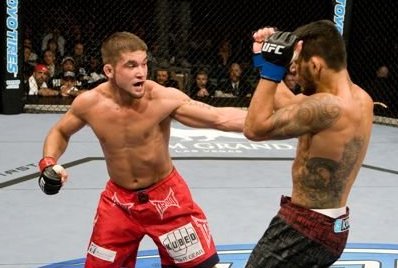 Photo credit: UFC
Record: 20-8
KOs: Two
SRS total: 15
SRS percentage: 75 percent

The whooping Jeremy Stephens deposited on Danny Downes in 2011 remains, to my mind, one of the most lopsided unanimous decisions of all time.
Stephens' lack of success against top opponents is more a testament to a lack of tact than of power. In that department, I'd put him up against any other lightweight.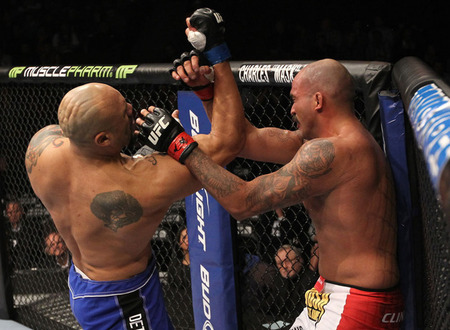 Photo credit: MMAMania
Record: 17-6
KOs: Six
SRS total: 16
SRS percentage: 94 percent

Probably the fastest-rising fighter on the list.
To this point in his career, Lavar Johnson has been crushing cans like he was hoping more for a job at the recycling center than the UFC.
But thus far, Johnson has made the most of his time in the Octagon, earning Knockout of the Night bonuses in each of his two wins there.
Regardless of the caliber of opponent, when you've earned a striking-related stoppage against all but one of the 17 pro fighters you've faced, you are capable of hitting very hard. End of story.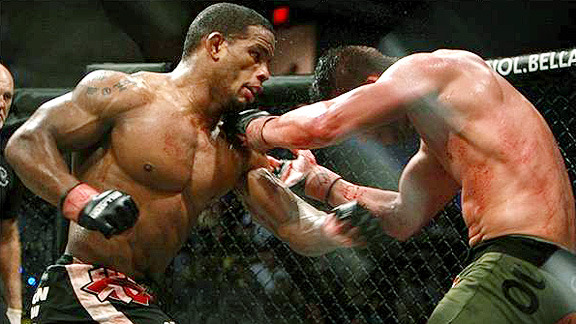 Photo credit: UR Dirt
Record: 31-2-1 (1)
KOs: 11
SRS total: 16
SRS percentage: 52

His level of opposition has not been the best. But still: the guy has 31 wins. He hasn't lost in five years. He has 11 pure knockouts.
Am I ready to call him the next UFC champ? No I am not. Is he a formidable foe for any middleweight right now? Yes, he is.
Many observers think Lombard needs to set off some big fireworks against Tim Boetsch at UFC 149 if he wants to make any kind of case for getting the next title shot over runaway freight train Chris Weidman.
Call me nuts, but I think that might be something he's capable of doing.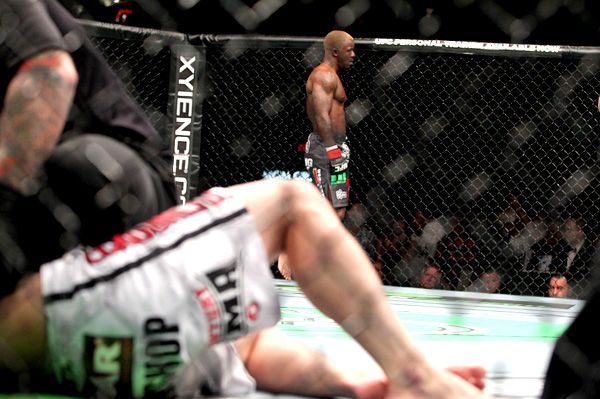 Photo credit: Rod Mar for ESPN.com
Record: 30-10-2 (1)
KOs: Eight
SRS total: 19
SRS percentage: 63 percent

Bonus stat: four of Guillard's knockouts were of the one-punch variety. The most vicious of those came all the way back at UFC 63, when he crumpled Gabe Ruediger with a good, old-fashioned straight right to the gut. It still hurts to think about that one.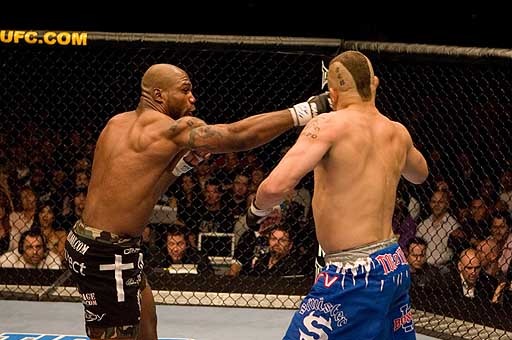 Photo credit: UFC
Record: 32-10
KOs: Five
SRS total: 14
SRS percentage: 44 percent

He may be losing his fastball these days, and his stats may not be as gaudy as others, but who else still out there has consistently done it against the very best in the sport? The answer is: not very many.
The guy has cinderblocks in his gloves; no two ways about it.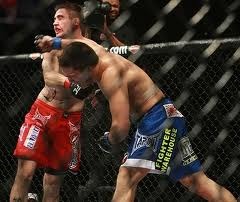 Photo credit: MMA Gospel
Record: 27-6
KOs: Six
SRS total: 19
SRS percentage: 73 percent

Ellenberger is probably the hardest-hitting welterweight in the world today. And it's probably not especially close.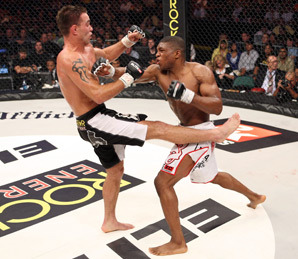 Photo credit: MMA Convert
Record: 29-12-2
KOs: Nine
SRS total: 22
SRS percentage: 76 percent


Oh, wait...except for this guy.
Of his nine KOs, four were one-punchers. He can also boast (and I'm sure he does) of three wins via taps from strikes, a relative high number for modern times.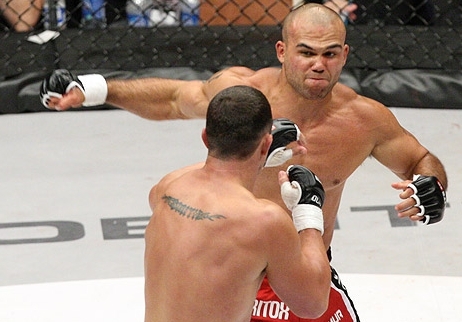 Photo credit: Cage Today
Record: 19-8 (1)
KOs: 10
SRS total: 16
SRS percentage: 84 percent

Savage middleweight Robbie Lawler has more straight knockouts than TKOs. In MMA parlance, that's known as "crazy."
Of all those SRS victories, 12 came by punches. His killer instinct seems to come and go in the cage, but when the switch is on, watch out.
It will be interesting to see what happens when he takes on undefeated Lorenz Larkin in tonight's Strikeforce card.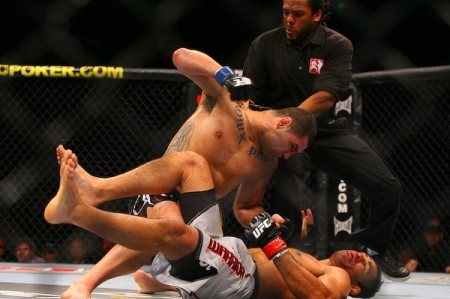 Photo credit: UR Dirt
Record: 10-1
KOs: One
SRS total: Eight
SRS percentage: 80 percent

The former heavyweight champ has the most underrated striking power in MMA today.
Ask Antonio Rodrigo Nogueira if the reputation is justified. Ask Brock Lesnar. Ask Antonio Silva. Or just consult the record books; no other MMA fighter (that I could find, anyway) started his career with five consecutive TKOs (and all by punches at that).
Not Chuck, not Junior, not Anderson, not Kimo Leopoldo, not Travis Fulton. Nobody.
I realize he's not quite the thunder-fisted dynamo that some of these other guys are. But the notion that Cain has below-average power is laughable. And that's no hyperbole. I laugh at people who think that.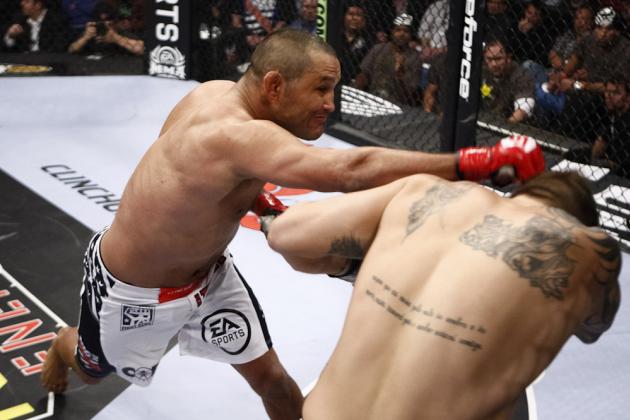 Photo credit: MMA Bay (UK)
Record: 29-8
KOs: Six
SRS total: 14
SRS percentage: 48 percent

Dan Henderson's overhand right is so well known that it has its own nickname: The H Bomb.
Hendo gets graded on a major curve here because of the sheer degree of difficulty he's consistently faced throughout his career. You know the hit list, so I won't repeat it verbatim here.
But it's worth a reminder that the opponents he has knocked cold in the ring or cage include prime Wanderlei Silva and Babalu Sobral. He is also the only man to ever knock out Renzo Gracie.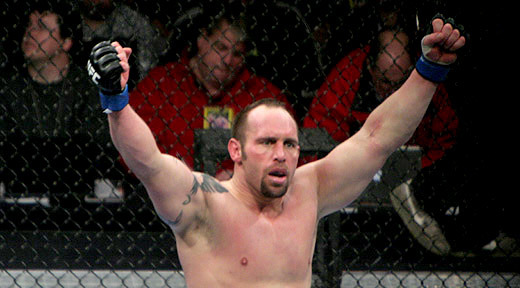 Photo credit: Jeff Cain/MMA Weekly
Record: 12-2
KOs: Four
SRS total: Eight
SRS percentage: 67 percent

The largest fists in MMA history are attached to a fairly large and irritable fighter.
When he and Roy Nelson lock horns following their coaching stints on TUF 16, I imagine that fight might be something that might contain some punching.
That's my Magic Johnson Big-Time Signature Prediction of the Week.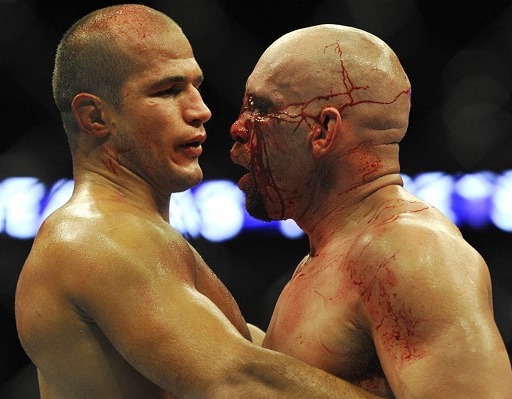 Photo credit: Vancouver Sun
Record: 15-1
KOs: Five
SRS total: 12
SRS percentage: 80 percent

Much of the heavyweight champ's power is generated by speed and technique. In addition, much of it is generated by power.
I love this photo of dos Santos after his fight with Carwin. "Here, brother. Let me help you. It's brutal what a bloody mess that gang of thugs made out of you. Wait, that was me."
Record: 24-9-1 (1)
KOs: 11
SRS total: 23
SRS percentage: 96 percent

If some of these other guys have dynamite in their fists, Melvin Manhoef has daisy cutters.
He came out of retirement (again) in 2012 to sign with One FC. A freak injury led to a no contest ruling and left Manhoef winless in his last four bouts.
Here's hoping he keeps fighting as long as he's healthy. The MMA world is a better place with Melvin Manhoef in it. If he had ever developed a ground game, or any endurance, or anything else besides those daisy cutters, he might have been a contender.
Respect the king. And enjoy this video montage.

Scott Harris is a featured columnist for Bleacher Report MMA. He also has a new and, so far, reasonably entertaining Twitter feed. Follow along @ScottHarrisMMA.