Minnesota Vikings: 5 Reasons the Vikings Should Not Trade Percy Harvin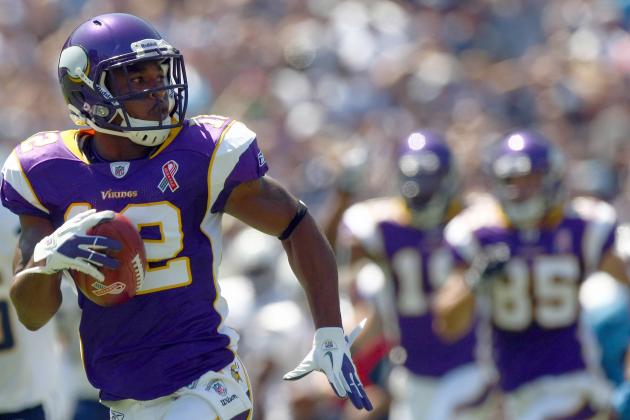 Donald Miralle/Getty Images
Percy Harvin is Minnesota's No. 1 playmaker not named Adrian Peterson on offense. Needless to say, the Vikings need Percy Harvin.
On Friday, I looked at why Minnesota should acquiesce the request of Percy Harvin's trade demand. Now, we look at the other side of the story.
It's been 19 days since Harvin made his trade demand. Since then, all has been quite on the Harvin front from Harvin's side.
The Vikings have said they will not trade the talented wide receiver, and they shouldn't.
Harvin is Minnesota's No. 1 playmaker not named Adrian Peterson and the franchise needs him to be part of its offense for the next five-plus years.
Minnesota must find a way to make the budding star happy.
Begin Slideshow

»
Percy Harvin is a 24-year-old wide receiver who has time and time again demonstrated that he has what it takes to be a standout player in the NFL for years to come.
In each of his three seasons, he has increased his reception and receiving yard total, climaxing in 2011 with 87 receptions for 967 yards. His six touchdown receptions in 2011 tied his career high from 2009, when he had a Pro Bowl version of Brett Favre throwing to him.
For his career, Harvin has only once had anyone resembling a playoff-caliber quarterback throwing him passes: Favre in '09. If Harvin had better talent throwing him the ball last season, you could expect he would have caught over 100 passes for 1,000 total yards receiving (if he's in purple & gold in 2012, I expect him to do just that).
As I discussed on the previous slide, Percy Harvin has improved his reception and receiving yard total each season and his role in the offense has continued to progress with 2012 lining up to be his most active season.
Harvin came into the NFL in 2009 with the talent of a top 15 pick in the NFL draft, but with off-field issues that slipped him into the 20s. That talent is still there, and so are the off-field concerns.
He's had three seasons in the NFL and has shown the ability to make a substantial impact with plenty of room to grow.
With three years of NFL experience under his belt, Harvin has the tools to take his game to the next level, especially if Christian Ponder progresses like many expect and his role in the offense increases as offensive coordinator Bill Musgrave has suggested.
With Harvin's combination of speed and bulk, he is a unique talent. If he can stay healthy, he will cause havoc for opposing defenses for years to come.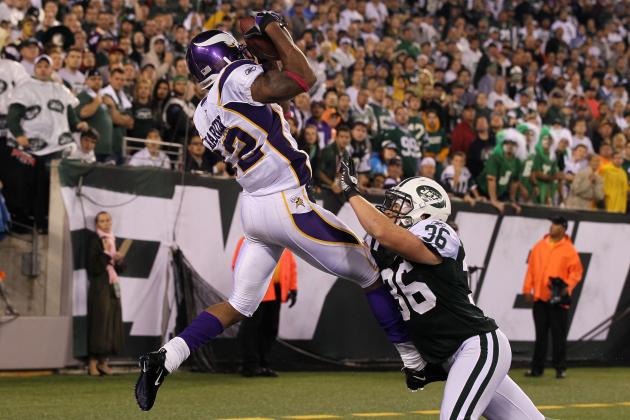 Jim McIsaac/Getty Images
Percy Harvin is a versatile receiver who can also line up as a running back. His versatility is a plus for an unstable Minnesota offense.
Percy Harvin is one of the most versatile offensive players in the NFL.
He can impact the deep and short passing games, with his specialty coming in the slot and taking a short slant route. Beyond his versatile receiving skills, Harvin can also line up in the backfield and take a handoff.
There aren't too many players in the National Football League that can do that and do it at the level of effectiveness that Harvin does.
Harvin's abilities to line up in the backfield may become increasingly valuable to Minnesota with concerns surrounding the health of Adrian Peterson and Toby Gerhart, who are both coming off of injuries entering the 2012 campaign.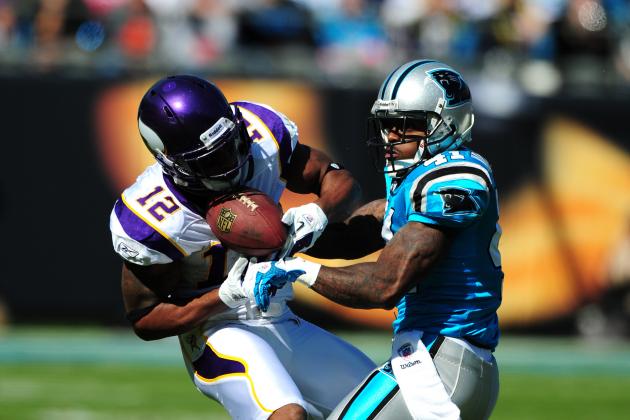 Scott Cunningham/Getty Images
Besides Percy Harvin, no wide receiver posted over 38 receptions, 467 receiving yards or three touchdown receptions.
The wide receiver position was one of Minnesota's biggest concerns after the 2011 season. Harvin was Minnesota's top receiver, recording 87 receptions, 967 receiving yards and six touchdowns. Other than Harvin, no receiver posted more than 38 receptions, 467 receiving yards or three touchdowns.
Michael Jenkins would have made the difference between Harvin and Minnesota's runner-up in those three categories less substantial had he been healthy, but the difference still would have been great.
Minnesota drafted Greg Childs and Jarius Wright from Arkansas and both are expected to be solid contributors from the wide receiver position, but the pair will be rookies in 2012 and unreliable in the short term.
The Vikings signed Jerome Simpson from the Cincinnati Bengals in the offseason (50 receptions, 725 receiving yards and four touchdown receptions in 2011), but he is suspended for the first three games of the season and will need time to acclimate to the offense.
Jenkins and Devin Aromashodu are expected to be the other wide receivers that will see significant time on the field, which means the corps needs Harvin to lead. Jenkins is a solid NFL receiver, but nothing special. Aromashodu is an inconsistent talent who owns an NFL roster spot simply because of his potential.
The franchise cannot afford to go into 2012 without Harvin at the helm. Without Harvin, this position goes from troubled to hopeless.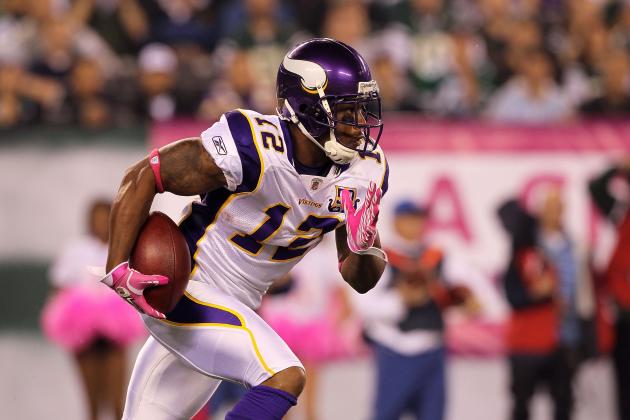 Jim McIsaac/Getty Images
Percy Harvin makes Christian Ponder, Adrian Peterson and his fellow receivers better. The offense is significantly worse with him off the field.
With Percy Harvin on the field, the entire Minnesota offense is better.
Harvin's presence forces defenses to be mindful of him, which makes life easier for Adrian Peterson, Christian Ponder and his fellow receivers.
Without Harvin, Ponder becomes an even bigger victim of a weak wide receiver corps.
A Harvin-less offense also allows defenses to stack eight men in the box more often, which makes it more difficult for the offensive line to create gaps to run through.
Minnesota's counting on Harvin not only to be on the field to get his own in 2012, but to make everyone around him that much better.