All Star Break's All-MLB Team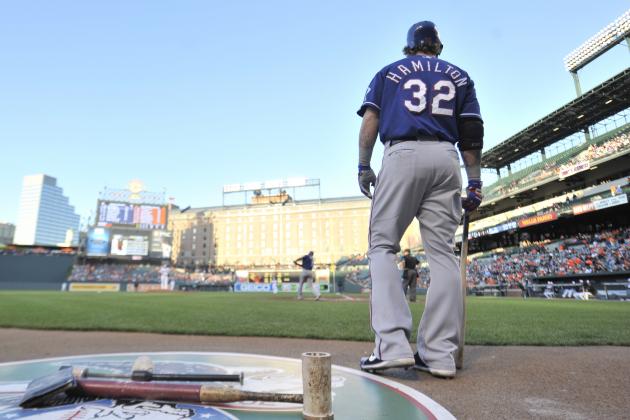 Mitchell Layton/Getty Images

The first half of the 2012 MLB season has been one for the history books.
We've seen perfect games, no-hitters and a four home run game, along with debuts of two potential all-time greats.
There have been many surprise stories such as the success of a certain knuckle-baller or the downfall a 2-time Cy Young award winner.
The players have also given fans memories to last for a lifetime, and the best part is, we're only halfway through.
With many records looking to be broken, awards to be won and playoffs spots left to be filled, let's take a look at the most impressive players at each position throughout this season who are deserving of a spot on the All MLB team.
*Stats are from ESPN.com, MLB.com, and baseball-reference.com.
Begin Slideshow

»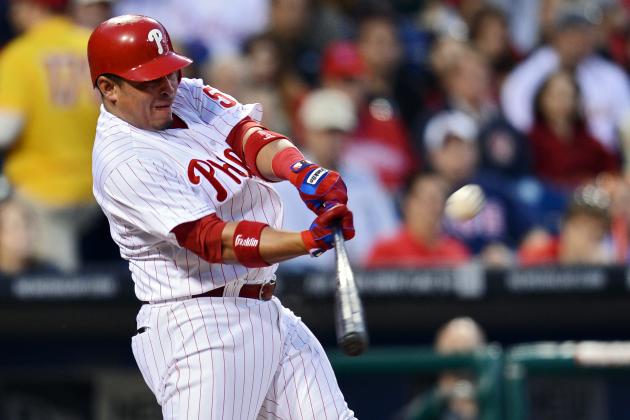 Drew Hallowell/Getty Images

Stat Line: .350 AVG, 13 HR, 46 RBI
Although it's been a rough first half of the season for the Philadelphia Phillies, one good thing to take away is catcher Carlos Ruiz' play.
Ruiz is easily having the best year of his career and nothing short of going to the plate without a bat could stop that. He is on pace to break his personal bests in every statistical offensive category.
"Chooch" is not just outdoing himself either. The 33-year-old's .350 batting average is good enough for fourth in the entire MLB.
Along with that, he leads all National League catchers in hits, RBI and on base percentage. Only Joe Mauer of the Minnesota Twins comes close to edging him out for having the best season thus far.
If the offensive output isn't enough to show you just how worthy Ruiz is of this spot, his play behind the plate is just as good. In fact, he leads all catchers this year with 26 runners caught stealing.
Phillies fans have had it rough over the first few months, thanks to some injuries to their top talent, but Ruiz has stepped up the plate (literally), and delivered.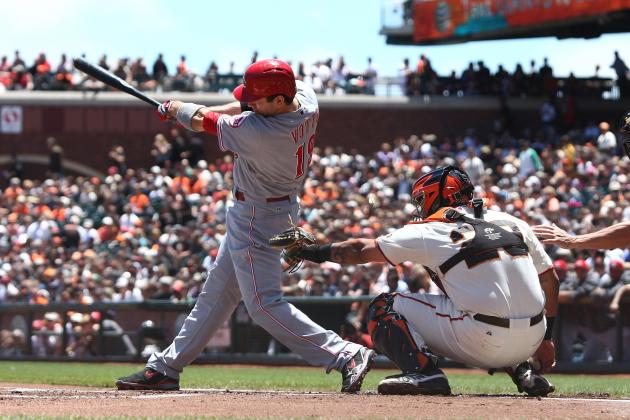 Tony Medina/Getty Images

Stat Line: .348 AVG, 14 HR, 58 RBI
Not too many players, if any, have had a first half like Joey Votto.
The National League's starting first baseman in this year's All-Star game continued to show why he is one of the most feared hitters in all of baseball.
All seasons he's been on fire, but Votto went off in the month of June, batting nearly .400 in his 27 games played.
Though his average is extremely good (ranked fifth in the MLB) it's not his most impressive stat. The number that sticks out the most would be his 35 doubles.
If the lefty can stay consistent, which he is rather good at doing, it would put him at 70 two-baggers for the year. That number would surpass the all-time record of 67 by 3, set by Earl Webb in 1931.
Only time will tell if he can beat that mark, but it would be hard to deny that Votto is on his way to break many MLB marks, not just this one.
Additionally, Votto also leads all players in OBP with an outstanding .471 mark.
Votto may very well be on his way to earning his second MVP award honors, but until then his eyes are set on taking his second-place Cincinnati Reds back to the postseason.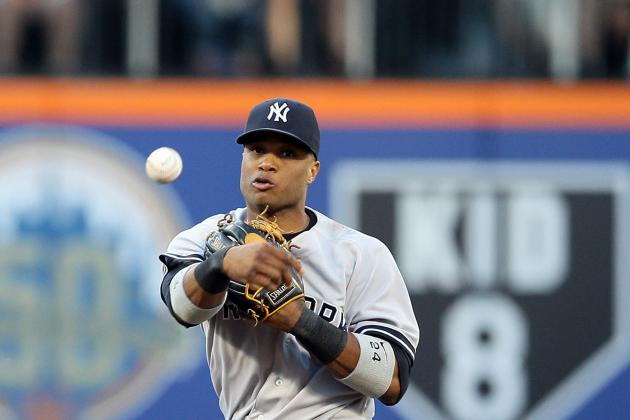 Elsa/Getty Images

Stat Line: .313 AVG, 20 HR, 51 RBI
Besides having the prettiest swing in baseball and one of the best gloves in the game, Yankees' second basemen Robinson Cano puts up the numbers to match his playing style.
After getting off to a slow start, Cano started to really heat up. On May 5th, he had only one homer and four RBI. The very next day, he doubled his season total with one swing of the bat.
The four-time All-Star picked it up from there, and since that day he has seen his average rise from .261 to .313.
His 20 longballs have him sitting at ninth in the league. Cano's career best for home runs in one season is 29, set in 2010. He is well on his way to pass that feat, and could possibly even hit the 40 plateau this year as well.
The reigning Home Run Derby Champion puts his title on the line once more tomorrow as he competes in this years competition. After the show he put on last year in Arizona, it'd be hard to bet against him.
Beyond possibly winning the title for best home run hitter tomorrow, this could be the year that Cano wins an even more impressive award: the MVP.
The way it's looking now, only Josh Hamilton can interrupt that dream.
Mike Stobe/Getty Images

Stat Line: .351 AVG, 11 HR, 59 RBI
David Wright has been one of the stories to follow this season. After a very bad year last year, for his standards, the Mets' third basemen has bounced back and then some.
His batting average has been among the best for the entire year, and his current .351 mark has him sitting in third going into the break.
Wright's average, along with his leadership, is one of the main reasons New York is currently six games over .500 and only 4.5 games behind the first place Washington Nationals.
He's made plenty of Mets history this year, including passing Daryl Strawberry's mark for most RBI in team history. Another impressive feat he accomplished this season was when he became the first player to ever have a walk-off hit against Mariano Rivera and Jonathan Papelbon, according to Elias Sports Bureau.
The biggest surprise, however, is that somehow Pablo Sandoval is starting over him in the All-Star game on Tuesday night. Wright is having one of the best seasons out of all players this season, let alone his own position. It is an outrage, but something tells me when he does get in, he'll make an impact.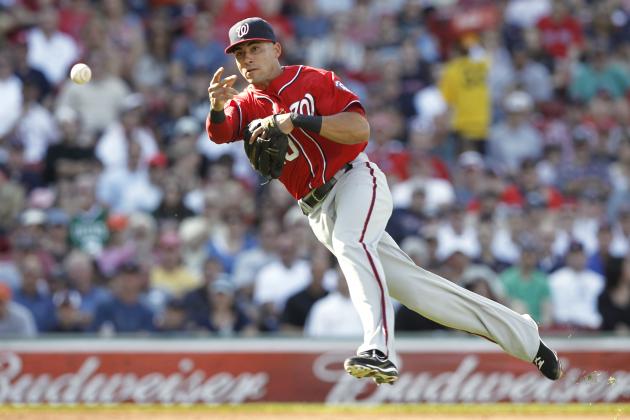 Winslow Townson/Getty Images

Stat Line: .285 AVG, 17 HR, 51 RBI
This position was the hardest one to choose, but after looking at multiple numbers, Ian Desmond was the favorite.
With Troy Tulowitzki being out for the time being, Desmond is making a play for best shortstop in the game.
Midway through his third full season in the big leagues, the 26-year-old is finally starting to put everything together.
At this point he is hands down the best power hitter at the position. So far, Desmond's 17 bombs, 51 RBI and 24 doubles are top among all shortstops.
He still has a long way to go defensively before he can be considered one of the best all around, but his play at the plate hasn't gone unnoticed as he was named to the All-Star game for the first time in his career.
Interestingly enough, even though he played today, hit a homer and swiped two bags, his doctors have decided that he is too hurt to play an inning or two on Tuesday night.
If it was up to him, I'm sure he'd be playing, but in the long run his health is more important to his first place Nationals.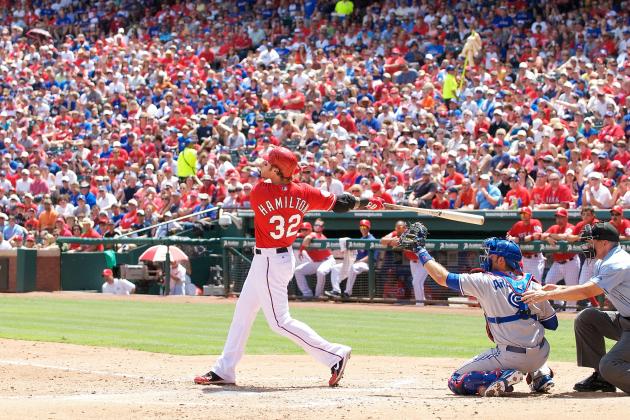 Cooper Neill/Getty Images

Stat Line: .308 AVG, 27 HR, 75 RBI
If you were to try to argue that anyone but Josh Hamilton is deserving of this spot, then you should stop reading this right now and go far away from anything baseball related.
Besides being the best left fielder, Hamilton is hands down the best healthy player in the MLB. Even if you include an injured Matt Kemp, it's still debatable as to who the top dog is.
If All-Star votes have any say (which is questionable now thanks to Giants' fans), then Hamilton would win seeing that he received a record 11,073,744 votes.
Those votes are well deserved after the season he's having.
Through the first two months, Hamilton saw his batting average never dip below the .344 mark and rise as high as .404 on May 15th.
In the seven weeks since, he's seen his average fall back down to earth, but still at a more-than-respectable .308, which is good enough for a spot in the top 20.
Hamilton's run production is what makes him the MVP favorite so far. His 27 homers are tied for the most in the league and his RBI mark of 75 stands alone.
Hamilton also gave fans one of the most memorable moments of the year, when he recorded a four home run game. He didn't just stop there and, to top it all off, went on to hit nine home runs in a span of six games—all with the same bat.
Jeff Gross/Getty Images

Stat Line: .341 AVG, 12 HR, 40 RBI, 26 SB
The picture above perfectly sums up Mike Trout as a baseball player: a speedy, run-scoring machine that brings excitement to the game.
Though Trout played in 40 games last season, the rookie waited until this year to have his coming-out party. Little did we know that his party would last throughout his first 63 games of the season.
The energy he brings to the game is contagious and if you don't believe it, just look at how the Angels turned around their season once he was called up.
April 28th was the day of the move, and the Angels sat at 7-14 in the cellar of the AL West. Since then they have gone 41-24 to bring their record to 48-38, good enough for second place in their division and third best in the AL.
Going into the season, all eyes were on Bryce Harper as the phenom rookie, but with all due respect to him, Trout has stolen his thunder.
When Trout's not making outstanding defensive plays, he's usually doing something incredible on the base paths.
In fact, he has done something this season that has never been accomplished before by being the first player to head into the All-Star break with 10+ homers and 20+ stolen bases, according to Elias.
His 26 stolen bags are only four behind league leader Dee Gordon, which is remarkable seeing that Trout was in the minors for the first month of the season.
Trout's All-Star appearance is definitely deserved, even if he is only 20. Something tells me this isn't the last time we'll be seeing him in the Mid-Summer Class though.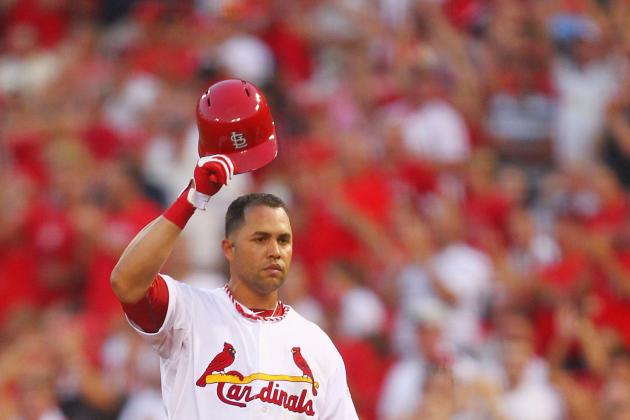 Dilip Vishwanat/Getty Images

Stat Line: .296 AVG, 20 HR, 65 RBI
Carlos Beltran has been one of the biggest surprises all season long, and it's one Cardinal fans aren't complaining about.
Even though Beltran had a good season in 2011, the numbers he's on pace to put up as a 35-year-old are good enough to surpass the stats he was putting up in his best years with Houston and early on with the Mets.
Fans voted him as a starter for the NL All-Star team, and fellow slugger and captain of the NL Home Run Derby team, Matt Kemp, selected him to be part of the four-man crew.
Not only has he put up great numbers on the year, this season has been one for milestones in Beltran's career: He became the first switch-hitter to hit 300 homers with 300 stolen bases in a career, eighth overall.
Beltran also joined the 2,000-hit club and on the next night he hit his 400th career double.
With the numbers he's adding to his already impressive resume, Carlos Beltran is making an interesting case for the Hall of Fame.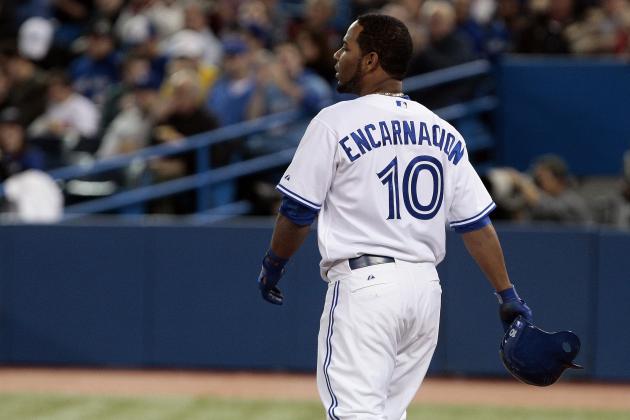 Abelimages/Getty Images

Stat Line: .295 AVG, 23 HR, 58 RBI
Before Red Sox Nation goes crazy, this one could have gone either way. Encarnacion gets little-to-no national media attention and it's time he got some. If you don't believe that, check the All-Star roster.
After being written off years ago, the 29-year-old is finally making a name for himself in his fourth season as a Blue Jay.
His 23 bombs are good enough and tied with Curtis Granderson for for fifth in the MLB. Encarnacion's OBP of .382 also ranks third highest out of the players with 20 or more home runs.
He also has the best stolen base success rate out of that elite group of players. His numbers on the base paths are nine stolen while only being caught twice.
Though it's an injustice to him that he flies under the radar, that hasn't slowed him down one bit. It also hasn't hurt the Jays either. The combination of him, Bautista, Lawrie and Rasmus has the potential to be dangerous for years to come.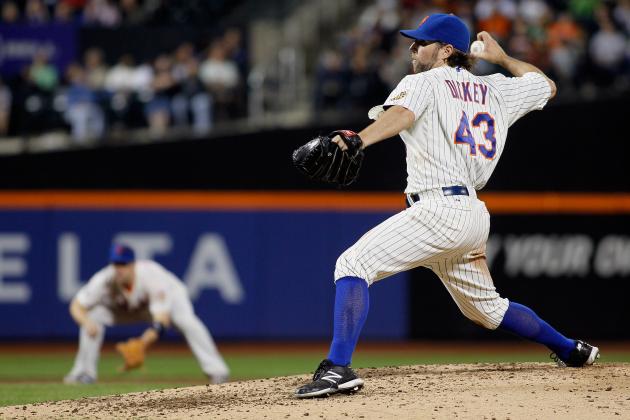 Mike Stobe/Getty Images

Stat Line: 12-1, 2.40 ERA, 123 SO
R.A. Dickey has been the feel-good story of the year throughout the first half of the season.
The 37-year-old knuckleballer defied all odds and earned the title of best pitcher in the National League. Though we're not sure yet, Dickey has to be the odds on favorite to be named starter in Tuesday night's All-Star game.
Dickey's peak so far came in the middle of June where he recorded back-to-back one-hitters with 25 Ks between the two games. He was the first pitcher to accomplish that feat since 1988, and the first NL pitcher to do so since 1944.
In that month he was named NL player of the month, which was rightfully earned. Dickey was 5-0 with a 0.93 ERA.
Going into the break, Dickey leads the NL in wins, is fourth in innings pitched and is five behind Stephen Strasburg for the strikeout lead. That goes to show just how well he tosses his knuckler, seeing that Dickey's fastball is an average of 77 mph., compared to Strasburg who has been known to touch 100-plus.
If Dickey can keep pitching lights-out, and can continue to get the offensive support he has been seeing, he is well on his way to his first Cy Young award.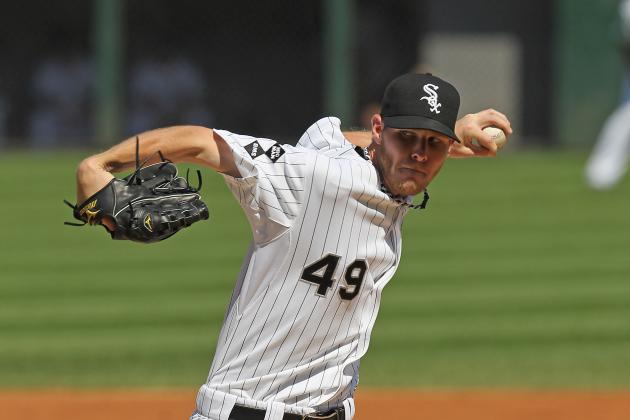 Jonathan Daniel/Getty Images

Stat Line: 10-2, 2.19 ERA, 98 SO
Chris Sale has been one of the more pleasant surprises of the year, especially if you're a White Sox fan.
The 23-year-old southpaw is seeing success in his first year as a starter, which most don't see until they're well into their careers (if they ever see it at all.)
His 2.19 ERA is third-lowest in the entire league, but he has pitched more innings than the two players in front of him.
Sale's transition from relief pitcher to starter has gone much better than expected, and is something that hasn't been mentioned much in his success. Guys like Neftali Feliz and Daniel Bard get all the attention due to their lack of success, but because Sale is doing well, it seems to be forgotten.
The most impressive thing about the change is that he has already thrown more innings through half of this season than he had in his first two seasons out of the bullpen combined.
Some might assume that would have an effect on a young arm, but it seems that Sale is having no troubles.
It would be very easy to make a case for him to be the AL starting pitcher in the big game this Tuesday, but it appears Ron Washington has gone with the next candidate on this list.
Either way though, Sale is very deserving of his All-Star nod.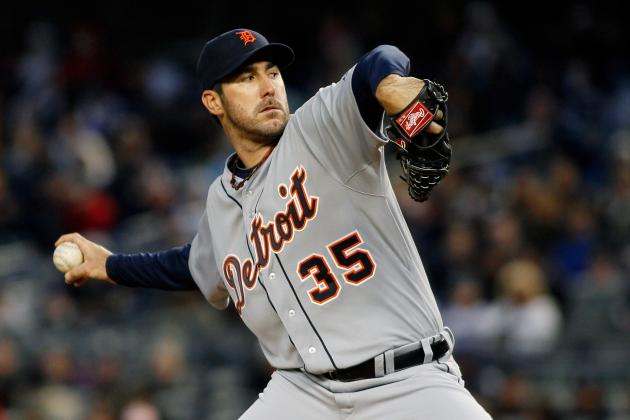 Mike Stobe/Getty Images

Stat Line: 9-5, 2.58 ERA, 128 SO
Justin Verlander, MVP, Cy Young award winner and now the 2012 AL All-Star starter. Those are pretty impressive honors in only a year and a half—the best three you could get as a pitcher in fact.
Though his record doesn't show how dominant he has been, the rest of his numbers will suffice.
Verlander's ERA is top 10 and he is in a three-way tie for first place in strikeouts. He also has pitched nearly seven more innings than the player in second. His WHIP is sub-1.00, on top of all that.
We all know that wins aren't all that matters anyway. Isn't that right, King Felix?
Whether he's 9-5, or 30-0, there's no question that Verlander is the best pitcher in baseball. He's one of the most feared pitchers in all of baseball, and for good reason.
The Tigers' workhorse seems to be on his way to yet another season to remember and possibly some more awards to make sure he doesn't forget.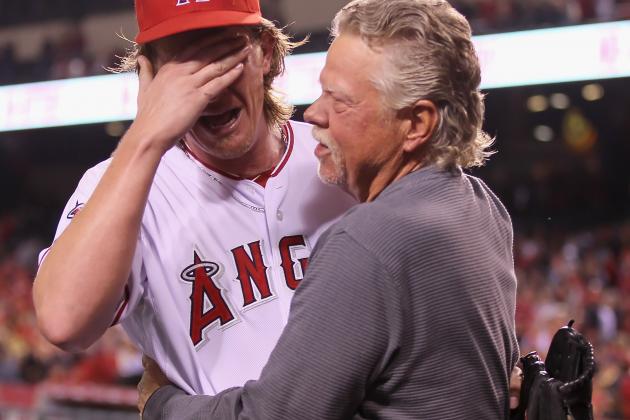 Jeff Gross/Getty Images

Stat Line: 10-1, 1.96 ERA, 73 SO
Jered Weaver, in case, you haven't realized yet, is an amazing pitcher.
After picking up his tenth win on Saturday, the Halo's ace became the first pitcher to record 10 wins or more with a sub-2.00 ERA in back-to-back years since Sandy Koufax did so in the 63-64 seasons, according to Elias.
His 1.96 ERA is major league leading and though his strikeout numbers are unusually low, his innings pitched are down a lot as well.
Besides those ho-hum stats, Weaver also messed around and threw a no-hitter on May 2nd against the Twins. It was one of the most memorable games of the season, with one of the most touching moments in sports history as he met with his dad moments after.
His amazing moments and numbers for the season have landed him on his third straight All-Star team.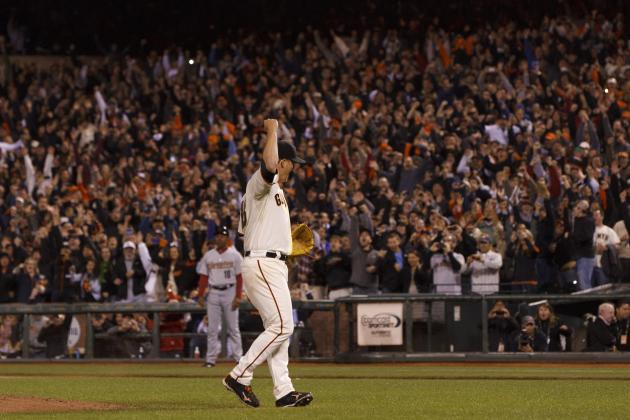 Jason O. Watson/Getty Images

Stat Line: 9-3, 2.62 ERA, 118 SO
After becoming the richest left-handed pitcher in baseball history, Matt Cain decided to come out and prove the critics wrong this season.
Instead of just continuing to be one of the games best pitchers, Cain decided to turn it up a notch and put his name in the conversation for the best pitcher.
The perfect game he threw on June 13th didn't hurt his case. On the day in which he recorded 14 Ks and improved his record to 8-2, Cain became the first Giants player to ever throw a perfect game. He also became only the 22nd player to do so all-time.
Cain's dominance is one of the key reasons his ball club finds them placed only half a game out of first going into the break .He has done more than his fair share, and is also appearing to try and pick up the slack for teammate Tim Lincecum, whose abysmal season doesn't show signs of getting much better.
If the Giants can get all starting pitchers clicking anywhere close to Cain's level, then they will have a very good chance of making another run at a title.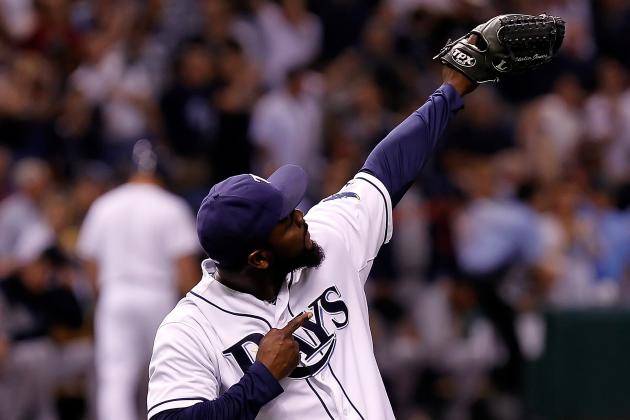 J. Meric/Getty Images

Stat Line: 25 saves, 26 save opportunities, 38 SO
Fernando Rodney has had an interesting career as a relief pitcher, one which has seen many ups and downs.
In what seems like a recent trend though, he's seeing a new life in his career as a closer for the Rays.
So far this season, he has only blown one save, which is tied for the best out of players with more than 14 opportunities. His 25 saves on the season put him one behind league leader Jim Johnson of the Baltimore Orioles, who has 26 so far.
What puts Rodney a step ahead of Johnson, however, is his ERA.
The Dominican Republic native's 0.93 is the lowest of any player with more than 11 saves. It is also the lowest for all players with more than 38 innings pitched in the year.
This season, remarkably, is the first time his ERA has ever been below the 2.00 mark.
Like most everyone on this list, his All-Star selection was much deserved and his success after the break will help determine how the Rays will close out the year.
If it's anything like how he closes out ball games, they have a bright future ahead of them.