Why Defensive End Is the 2nd-Most Important Position in the NFL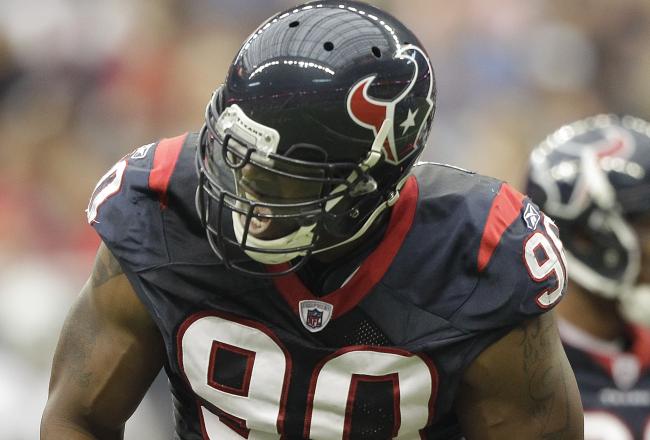 Bob Levey/Getty Images
There's no debate: Quarterback is the most important position in the NFL. They touch the ball on every offensive snap, they execute the plays their coaches call (unless they change the play at the line!) and distribute the ball to everyone.
The second-most important position on the field is defensive end.
Great defensive ends are almost impossible to come by, and even decent ones will cost a pretty penny. Meanwhile, few positions have as big of a spread between the best and the average, or the best and the worst. With the modern game becoming more and more pass-heavy, there's no other position on the field that can make a bigger impact on the defense.
Rare Athletes
Very few people on Earth have both the size and athleticism required to be a pass-rushing defensive end. They need bulk and strength to "set the edge" against the run—preventing tailbacks on sweeps, tosses and screens from turning the corner. They need to have a blazing first few steps, with great change-of-direction and short-area quickness.
That combination of size and suddenness is extremely rare. Some defensive ends have more size than speed, or the other way around. A few, like Buffalo Bills defensive end Mario Williams, have a once-a-decade combination of both.
Williams, listed at 6'6" and 283 pounds, recently called 6'4", 255-pound teammate Mark Anderson a "little dude," according to Dan Hanzus of NFL.com. Yet his athleticism prompted quarterback Ryan Fitzpatrick to tell the Associated Press Williams was "the fastest guy on the field" at the first Bills minicamp (h/t ESPN.com).
That combination is so rare, and so desirable, that Williams was drafted No. 1 overall—in a draft containing the most dominant college quarterback in years, and the most electrifying college tailback in years.
High Value
Blazing speed off the edge, used effectively with a variety of pass-rush moves, is rare enough. But anchoring against the run is equally important, and the size and skill requirements to excel at that are completely different.
Defensive ends that can do one thing well are useful and valuable; ends that can do both exponentially moreso. This creates a wide value gap between the very best defensive ends and the very worst. It also means there aren't as many "pretty good" defensive ends as you'd expect from a normal distribution: There are more flawed players, more exceptionally good players and fewer truly bad players.
I took the 2011 Pro Football Focus overall grades for 4-3 DEs, and calculated the mean, range and standard deviation. I plotted the distribution of players amongst these "tiers," and compared it to a normal distribution curve: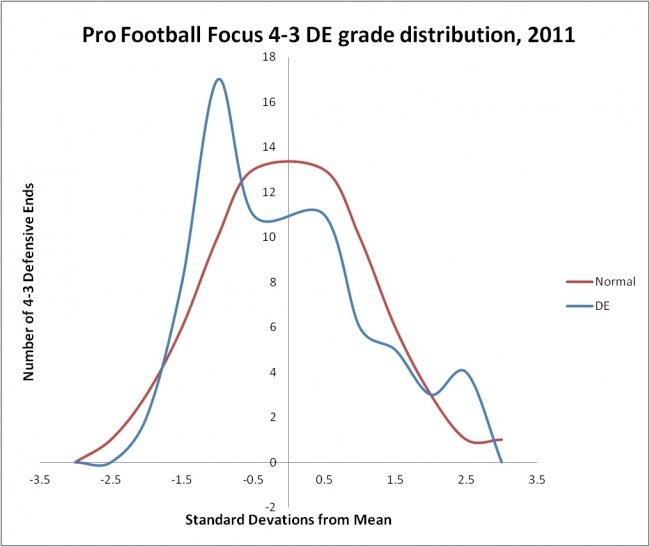 Of the 67 qualifying 4-3 defensive ends graded by PFF, a typical distribution suggests there should be about 1.4 players between two and three standard deviations above the mean. Instead, there are four. If your team had Trent Cole, Terrell Suggs, John Abraham or Jared Allen last season they had a player standing head and shoulders above their peers.
The flipside: If your team didn't have one of those four, there were about half as many "pretty good" players as math says there ought to be, and 70 percent more "not very good" players.
Critical to the Modern Game
The NFL is rapidly becoming more and more pass-heavy. In 2011, the Detroit Lions led the NFL in pass attempts and pass ratio; according to Pro Football Reference they attempted 666 passes but just 356 runs. That's almost a perfect 2-to-1 ratio; the Lions threw twice as often as they ran.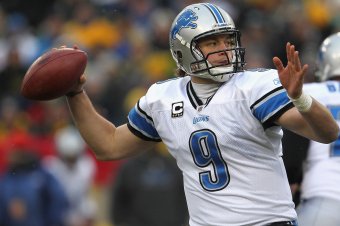 Jonathan Daniel/Getty Images
With more and more teams using four- and five-receiver sets, teams are forced to use nickel and dime packages and soft zones. Without being able to blitz the linebackers and secondary often, pass rush has to come to the front four.
What used to be a luxury—pass rush without blitz—is becoming a necessity. If teams don't have a defensive end who can regularly beat pass protection and hassle the quarterback, teams will struggle to defend the ever-more-prevalent pass.
Most Direct Impact
A dramatic upgrade at defensive end has the most immediate impact of any position on the defense. Upgrading the rush end can completely change how a defense is prepared for. Adding a great pass-rusher significantly boosts the whole team's ability to get pressure on the quarterback. Pressure reduces the quarterback's options, helps keeps the secondary from being exposed and forces the offense to be less ambitious in planning and execution.
When the Texans drafted Williams, they were coming off a 2005 season where they had the worst scoring defense in the NFL, allowing 26.9 points per game per Pro Football Reference. In 2006, they allowed four fewer points a game, 22.9, and were ranked 25th.
What? You say four points per game doesn't sound like a huge impact? Well, the 2-14 Texans would have finished 5-11 if they allowed four fewer points per game in 2005. Not coincidentally, the lift that Williams' 4.5 sacks and 47 total tackles provided helped elevate the Texans from 2-14 to 6-10.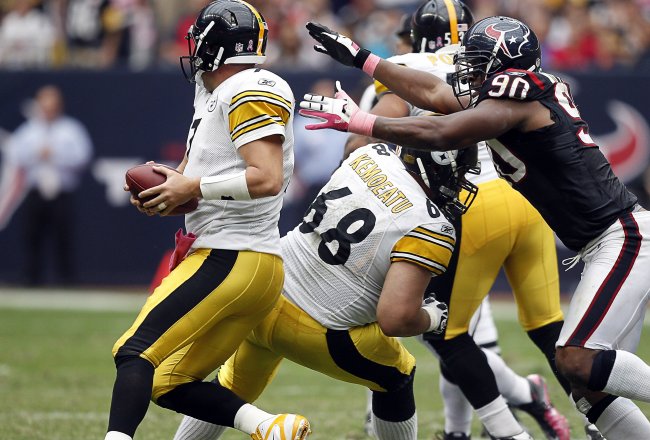 Bob Levey/Getty Images
There's no doubt the quarterback is the most important position on the field. But a franchise defensive end is nearly as hard to find, and can have nearly as great an impact.
This article is
What is the duplicate article?
Why is this article offensive?
Where is this article plagiarized from?
Why is this article poorly edited?