Dallas Cowboys: 5 Changes Jason Garrett Must Implement in Training Camp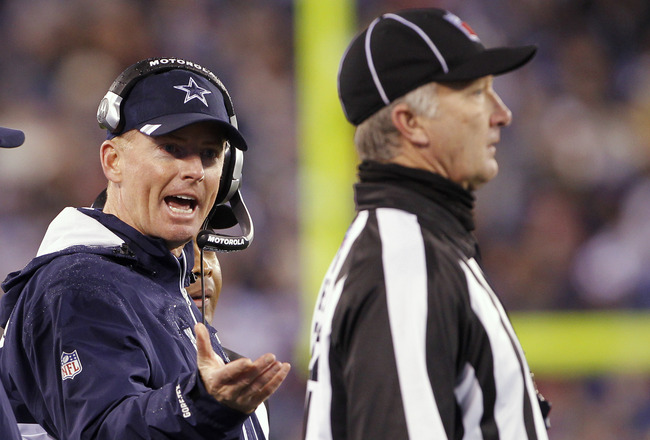 Rich Schultz/Getty Images
As head coach of the Dallas Cowboys, Jason Garrett has one of the toughest jobs in America. The Cowboys have not won or played in a Super Bowl since 1995 and he is tasked with correcting that misfortune.
To him I say, good luck.
Garrett has done a good job since being named head coach in my eyes. Dallas has enough talent to make a serious run at a championship, but there are holes and players who still need developing.
While I enjoy Garrett's coaching style, I do wish that he would make a few tweaks in how he calls games.
I will also mention that I am no offensive coordinator, head coach, video guy, scout, general manager or member of the Dallas Cowboys staff. So before I am derided as uninformed and a writer in no position to give suggestions, allow me to step in front of that microphone before you do.
These are simply suggestions made by the untrained eye.
Balance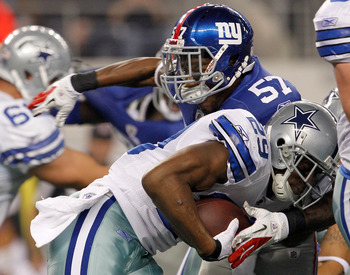 Tom Pennington/Getty Images
Simplistic in nature, right? For years, even before Garrett was named head coach, fans and critics have been calling for him to balance his offensive call sheet.
Having a running attack that includes the legs of DeMarco Murray and Felix Jones will force the hand of Garrett to hold back on calling so many passing plays for Tony Romo.
High level, the Cowboys had a difference of 162 attempts between passes and runs called. Garrett called more passing plays, but the difference isn't that deep.
For many, as long as Murray is healthy and running well, the chance to see a more electric offense that includes more balance gives the mindset that the Cowboys can win the division and possibly the conference.
Including James Hanna in Two-Tight End Sets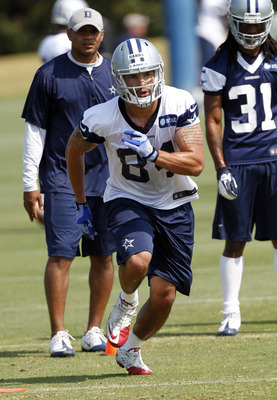 Layne Murdoch/Getty Images
This is all contingent upon Hanna picking up the offense and performing well in training camp and preseason.
I believe he has fantastic potential and may eventually be the heir to Jason Witten. This is strictly based on potential and how I see him fitting into the offense.
What Dallas will miss about Martellus Bennett is his run-blocking ability. His hands sometimes turned into bricks, but he did well when it came to blocking.
Hanna can also be split wide and used as a receiver as he's pretty versatile.
We will have to see how Hanna turns out, but I'm sure the Cowboys did not draft him to become just a roster warmer.
Using Dez Bryant as Romo's Top Target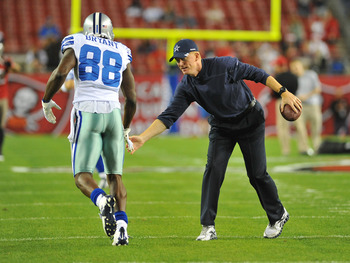 Al Messerschmidt/Getty Images
This is all up to Bryant, as he is the team's most talented receiver. As long as he learns the playbook and earns Romo's trust, he'll eventually take the position over without direction from the head coach.
Miles Austin had health issues last season, so did Bryant, but he's not living up to his contract and Bryant is primed to make a move.
Changes Along the Offensive Line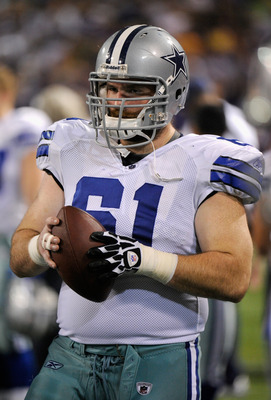 Hannah Foslien/Getty Images
This one won't be hard, as I'm sure the team will tinker with lineups throughout training camp and preseason.
The static players are Doug Free and Tyron Smith at tackle but outside of that, things get murky. The guard and center positions are unsettled and Garrett will have to see which lineup works the best.
I still like Bill Nagy and David Arkin, as they were rookies last season and seemed to grow pretty well.
It will also matter how these players mesh and work with Smith and Free. If they are able to gel quickly, Garrett should have his answer before preseason ends.
Spreading the Field with Bryant, Austin and Hanna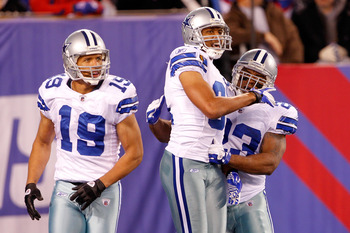 Rich Schultz/Getty Images
Remember when the Heat lost Chris Bosh for an entire playoff series due to an ab strain? Remember how the Heat offense looked with Bosh off the floor? How they weren't able to spread the floor anymore and their offense took a serious hit?
I would like to see Garrett use his top three offensive targets to spread the field. Not saying that he doesn't do this now and the Cowboys have a problem with spreading the field, but the addition of a hybrid tight end should give the offense more variety.
Keep Reading

Dallas Cowboys: Like this team?