Boston Celtics: How Ray Allen's Choice Impacts the C's Future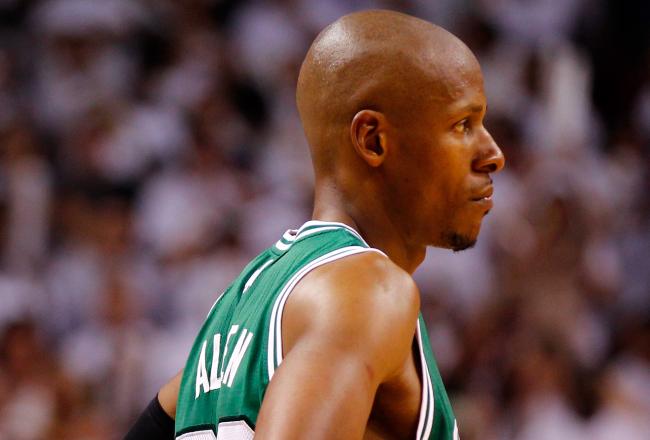 Ray may be gone, but the Celtics are going to be OK.
Mike Ehrmann/Getty Images
It's true, Celtics fans.
Ray Allen is gone. Off to join the Heat.
Whether this move was a foregone conclusion, whether Ray felt unloved or disrespected or mistreated or what have you, the fact is, he's gone. And the Celtics need to move on.
Even though Ray was such a crucial part of one championship team, another that came within seven minutes of winning a second and still another that gave Miami its biggest scare this past season, the Celts' future still looks OK even though he decided to leave.
Ray may be playing elsewhere next season, but the Celtics have still managed to keep the majority of their core together. They smartly got Kevin Garnett back into the fold first and with that move, the rest of the dominoes started to fall.
The Celts re-signed Brandon Bass, one of the biggest revelations of the past season, to a rumored three-year, $20 million deal.
It's a nice little raise for Bass, who had his best season as a pro in 2011-2012 and was rewarded for it.
Next, the team agreed "in principle" to a deal with forward Jeff Green, who was the key return piece in the trade of Kendrick Perkins to Oklahoma in February, 2011. Green missed the entire 2011-2012 season due to a heart condition but has been cleared to return to action.
If Green is fully healthy, he will be expected to give the C's an athletic option on the wing, an area in which the team needs depth.
Will the Celtics be better or worse without Ray Allen?
And before any of this, Boston reached an agreement with former Dallas guard Jason Terry to come in, score some points off the bench, spot Rajon Rondo at the point from time to time and provide toughness, experience and a championship pedigree.
According to ESPN, Terry's deal is believed to be for the C's entire mid-level exception, $5 million per year over three years.
And apparently, the Celts aren't done wheeling and dealing. ESPN broke news Sunday that the C's are "serious" about acquiring free-agent guard Courtney Lee in a sign-and-trade deal with the Houston Rockets. Lee shot 40 percent from three-point range for the Rockets last year and similar numbers in 2012-2013 would certainly offset the loss of Allen's long distance skills.
In addition, this could wind up being an important move for the Celtics to make given that it appears Allen's replacement in the starting lineup, Avery Bradley, could be out until December after undergoing a second shoulder operation this week.
After all of this, there still could be more. Veteran center Marcus Camby is apparently on the Celts' radar. And Mickael Pietrus, who was a solid contributor to the Celts' playoff run this spring, has said all along (and continues to say) that he'd love to return to Boston.
Of course, the Celts still have Paul Pierce and Rajon Rondo, one a future Hall of Famer and the other on his way to being one, in addition to being the most dynamic player on the team. With those guys, Garnett, the other returnees, Terry and whomever else the C's can get their hands on, it's not far-fetched to see this team in position to potentially make another run come next year's postseason.
For Celtics' fans feeling hurt from losing Ray, it's going to be OK.
It's a bummer to be sure. But the C's are going to be just fine.
This article is
What is the duplicate article?
Why is this article offensive?
Where is this article plagiarized from?
Why is this article poorly edited?

Boston Celtics: Like this team?