2012 MMA All-Stars: The Best of 2012 in Every Weight Division
Photo credit: Couch Fighter
Maybe it's just me, but I'm ready to put UFC 148 on the shelf for a while. Not that I don't love analyzing Chael's chest and Anderson Silva's thighs ad nauseum. But man cannot live on chests and thighs alone, now can he?
Eh, switching gears now. As you know, we've got Major League Baseball's All-Star Game coming up. But why should MMA be left out of the party? That's right: it's weight class against weight class in a battle for exhibition-situational dominance!
What follows are the all-stars in every weight class. But wait! There's more.
If I had wanted to be lazy about this—and believe me, it's not like that isn't tempting—I could just pick every UFC champ and call it a day. That's why I looked beyond the belts to determine who has really delivered so far in 2012 (though in several cases, yes, it was a champion).
It's also why I picked a starter and a reserve for each division. Baseball and basketball can have all-star lineups based on nothing but a popularity contest; doesn't mean we have to.
Scott Harris has a brand new and, so far, mildly entertaining Twitter account. Follow along @ScottHarrisMMA.
Begin Slideshow

»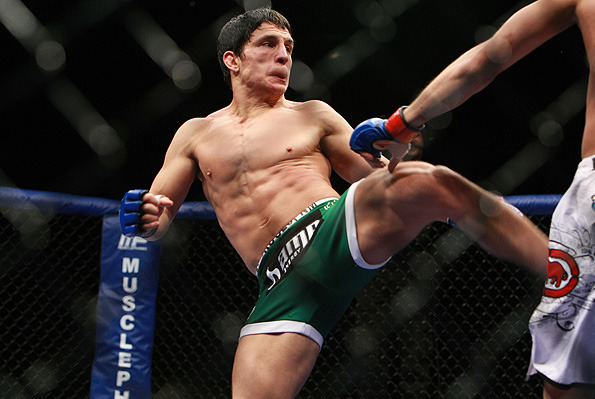 Photo credit: Sherdog
Finishing fights is like knowing how to get a real person on the phone when you call the cable company. Harder than it looks, but whenever you can peel away those layers of incompetence standing between you and your goal, it's more than worth it if you can do it.
Joseph Benavidez learned that lesson early, and was able to bring it to fruition over Yasuhiro Urushitani.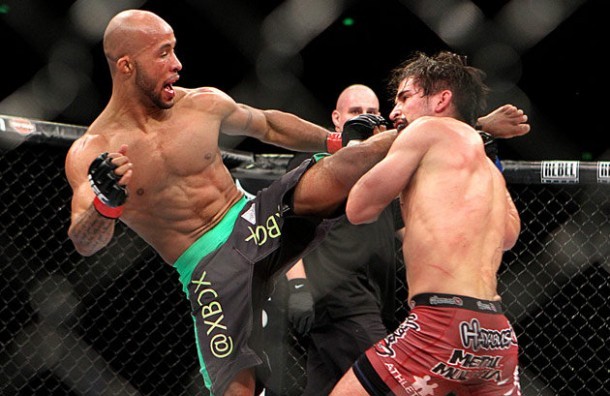 Photo credit: Tracy Lee for Yahoo! Sports
Demetrious Johnson and Ian McCall, on the other hand, had to learn that lesson the hard way.
In March, Johnson was announced as a winner. Then it was later revealed it was a draw. I'm sorry...I didn't get that. Please re-enter your 29-digit account code.
In June, Johnson beat McCall fair and square to earn a date with Benavidez in the UFC flyweight tournament final. He gets top billing for pulling double duty in 2012.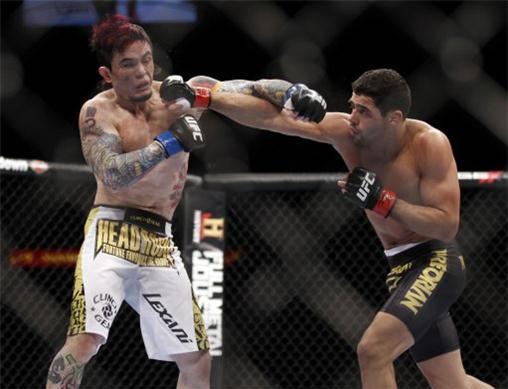 Photo credit: Getty
Eddie Wineland and Mike Easton, who has two victories in 2012, are also good candidates here.
But Barao gets the nod after a win over Scott Jorgensen and a series of unfortunate events (for the other fighters) lifted him into an interim title fight with Urijah Faber.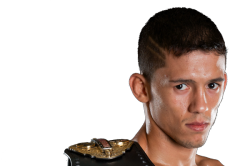 Photo credit: Bellator
Gotta give propers to the only active major-league MMA bantamweight with a belt.
There is also the small matter of Eduardo Dantas being a motherfreaking beast.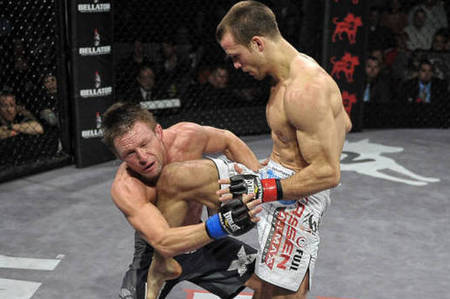 Photo credit: Bellator
After Pat Curran won his featherweight crown, he and the referee dressed Joe Warren up in cabana wear, propped him on a broomstick and walked him up and down the beach in an effort to score chicks.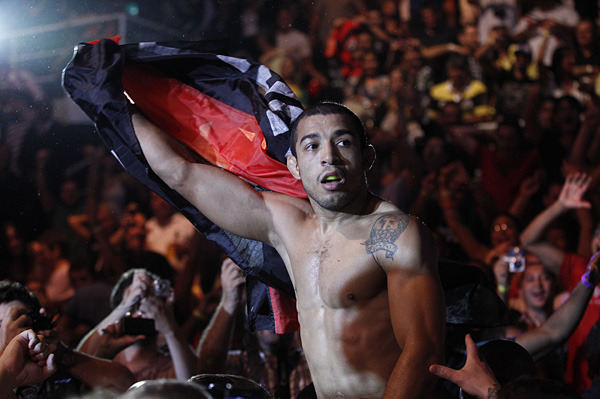 Photo credit: Felipe Dana/AP Photo
After Aldo tore through Chad Mendes, the talk began that Aldo had cleaned out the division, and may have to gain 10 pounds if he wants more challenges.
Perhaps Aldo and Frankie Edgar can trade places.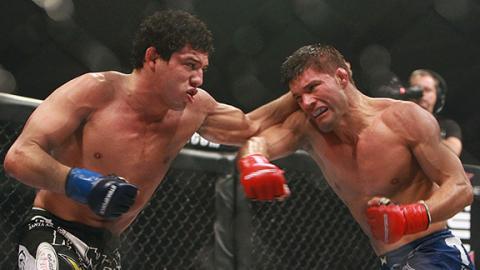 Photo credit: MMA Lifestyles
I don't know how many times fans have to say it: move Melendez to the promotion where he belongs!
The Octagonal title picture at 155 is missing a big puzzle piece without him.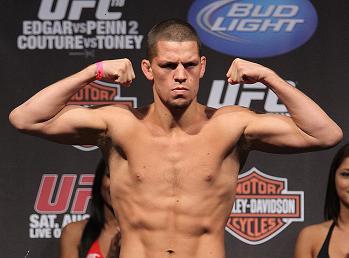 Photo credit: Graciemag
My apologies to Benson Henderson, who is undoubtedly weeping into his kale smoothie as he reads this.
But if I had to pick one lightweight from the first six months of 2012 to fight a mystery opponent, and my life depended on the outcome, I'd go with Stockton, California's Nathan Diaz.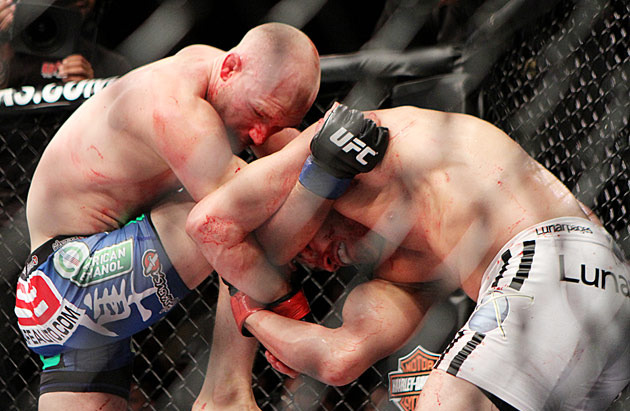 Photo credit: Tracy Lee for Yahoo! Sports
Who's had a better year so far than Martin Kampmann?
The Dane followed up a March win over Thiago Alves with a June stoppage of Jake Ellenberger. No wonder he's set for a title eliminator with Johny Hendricks later this year.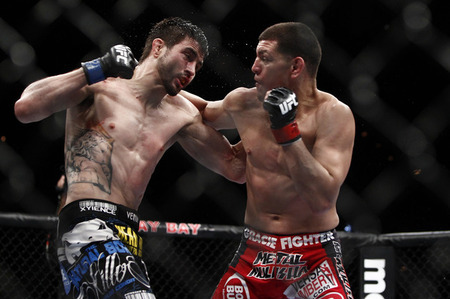 Photo credit: Esther Lin via MMA Fighting
I don't care if your game plan involves smuggling a firearm into the cage. It is difficult to beat Nick Diaz. That is not nothing.
Condit did it, and he deserves the belt and the starting slot at 170 for 2012.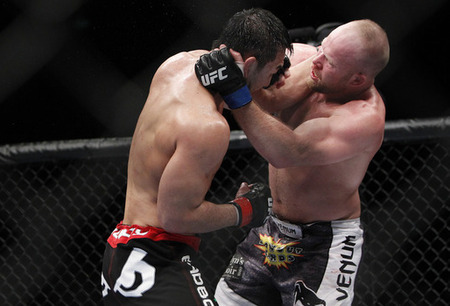 Photo credit: Head Kick Legend
Several months later, that win by way of TKO (hockey punches) over Yushin Okami still feels to me like one of the great comebacks in UFC history.
The big man's prize? Hector Lombard. That's the bad news. The good news is that a win might earn him a title shot.
The bad news is that Anderson Silva still appears to be the one with the title.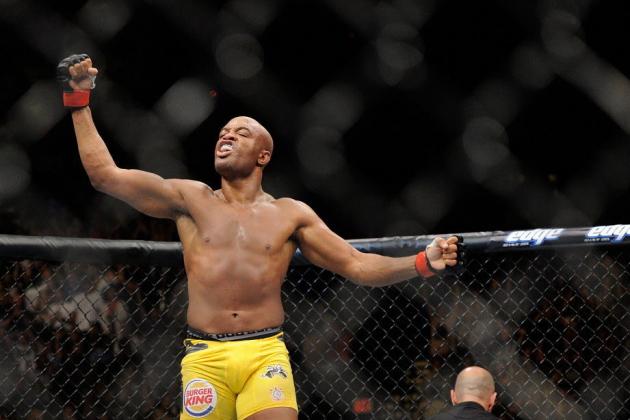 Photo credit: David Becker/Associated Press
You were expecting someone else?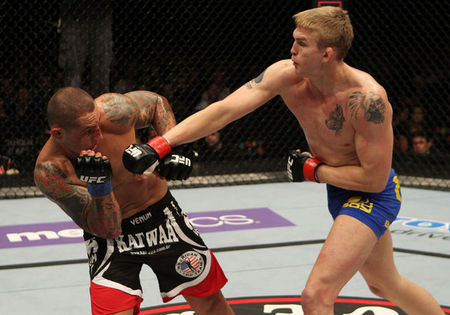 Photo credit: MMA Mania
It's easy to giggle at the towheaded Swede in the blue booty shorts. Or was, anyway.
After he put the wood to resident badass Thiago Silva, no one's laughing anymore.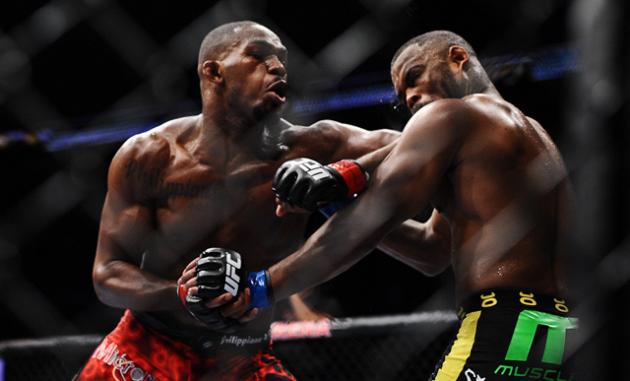 Photo credit: James Law/Heavy MMA
Despite his off-the-field (off-the-cage? out-the-cage?) problems, this one is another "duh" considering Jones handled top challenger and rival Rashad Evans to effectively beat the game in the light heavyweight division. No Contra code needed.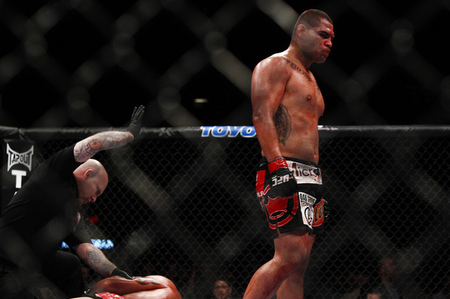 Photo credit: Esther Lin/MMA Fighting
Cain Velasquez wasn't reborn at UFC 146. It just looked that way.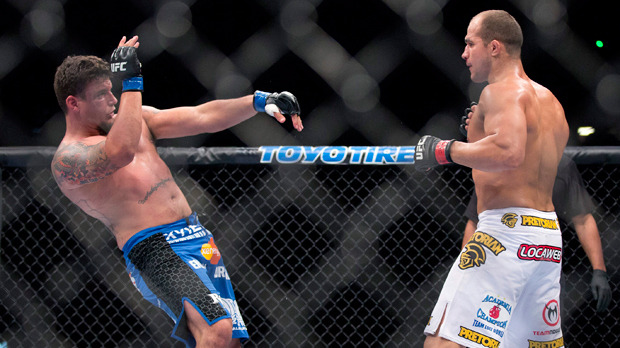 Photo credit: Julie Jacobson/Associated Press
With that pesky title defense out of the way, the baddest man on the planet is once again free to pursue that elusive basket-weaving badge.