2012 Home Run Derby Players: Sluggers Who Will Put on a Show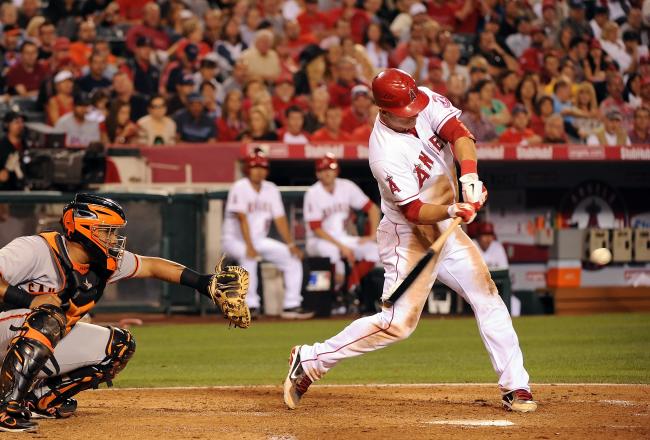 Lisa Blumenfeld/Getty Images
All we want is a show.
I'm just going to come out and be honest. I couldn't care less about who wins the MLB Home Run Derby; I'll just be watching for the huge individual rounds when a guy can't not hit a homer and the 500-foot blasts that you can't believe you just saw.
I will not, for the record, be watching for Chris Berman. Ugh. But I digress.
Even though they didn't win, I rather enjoy watching David Wright hit 16 in a round or Josh Hamilton hit 28 in a round. That, to me, is far more exciting than watching someone hit three dingers in the final to take home the crown.
With that rant out of the way, let's take a look at the players likely to get me hopping off my couch in excitement.
Complete List of Participants
American League
Jose Bautista, Toronto Blue Jays
Robinson Cano, New York Yankees
Prince Fielder, Detroit Tigers
Mark Trumbo, Los Angeles Angels of Anaheim
National League
Matt Kemp, Los Angeles Dodgers
Carlos Gonzalez, Colorado Rockies
Carlos Beltran, St. Louis Cardinals
Andrew McCutchen, Pittsburgh Pirates
Mark Trumbo, Los Angeles Angels of Anaheim
Trumbo might just have the most pure power out of anyone in this competition, and he has displayed that with constant blasts of over 440 feet (he has five of them on the season).
If I was going to predict the most likely player to hit a bomb at least 500 feet, the 6'4", 220-pound Trumbo, who has 22 jacks on the year, would be near the top of my list.
The 26-year-old righty is strong enough to put you in awe and young enough to not let the bright lights affect him. Don't be surprised if he comes and just, well, swings for the fences without worry or care.
That's the type of player who will put on a show.
Robinson Cano, New York Yankees
I won't spend a lot of time with this one because you know by now, hopefully, what Robinson Cano can do.
En route to a win during the 2011 Home Run Derby, Cano hit eight homers in the first round, 12 in the second and 12 in the finals (after just six outs) to beat Adrian Gonzalez.
He got better as time went on, and that's something you don't see in these things very often. Cano has 20 home runs this season and is a terrific all-around hitter, but he just seems built for the Derby.
Carlos Gonzalez, Colorado Rockies
How many homers will Gonzalez hit in the first round?
It seems more often than not that someone with a chip on their shoulder, or someone who no one believes in, comes in and just dominates the competition.
That someone this year might just be Carlos Gonzalez.
Despite being a terrific hitter, CarGo continually gets crucified for the "Coors Effect." At home, the 26-year-old is slugging .714 with 12 home runs, but on the road, he's slugging just .459 with five homers.
That's not a good split, but Gonzalez is still a very good hitter, and lefties usually have success during these competitions.
I'm betting he surprises people and puts on a big-time show.
This article is
What is the duplicate article?
Why is this article offensive?
Where is this article plagiarized from?
Why is this article poorly edited?