UFC 148 Results: Anderson Silva Will Be Destroyed by the Weidman-Munoz Winner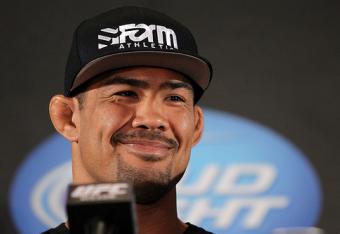 (Photo by Josh Hedges/Zuffa LLC/Zuffa LLC via Getty Images)

Anderson Silva is just keeping the belt warm for the winner of Chris Weidman vs. Mark Munoz.
This is no exaggeration; this is a definite possibility based of what was seen at UFC 148.
Chael Sonnen took Anderson Silva down effortlessly in the first round and eventually mounted Silva. Unfortunately for Sonnen, he had no significant offense from the top and Silva survived the round.
In the second round, after an ill-fated spinning back fist attempt, Sonnen fell to the canvas and Silva nailed his chest with a devastating knee that ended up bringing about the end of the fight.
Why does this mean Silva will lose to Weidman or Munoz if the winner of that bout is given a shot at him?
Who has a better chance at beating Anderson Silva?
Because both men are phenomenal wrestlers who have amazing abilities to finish from the top.
Weidman is a two-time NCAA Division I All-American wrestler and an ADCC veteran who even managed to best middleweight title contender Demian Maia on only 11 days notice.
Weidman is a force of nature in the grappling department. When—not if—Weidman gets Silva to the ground in a hypothetical matchup, Weidman will use his strength and dominant wrestling skills to keep Silva grounded as well as his world-class (and that's not an exaggeration) Brazilian Jiu-Jitsu to test Silva's submission defense to the limit.
Weidman is set to face another powerful wrestler in Mark Munoz.
Munoz, too, is an NCAA Division I All-American wrestler, but he's a different threat to Silva entirely.
Munoz is nicknamed "The Filipino Wrecking Machine" for a reason. He's a stocky, heavy-handed wrestler with a hard-nosed style of fighting.
If he's the one to ultimately face Silva, the Brazilian will still lose.
The opening of the fight will look identical to the opening of the UFC 148 fight with Sonnen. Silva will get taken down, but instead of surviving a listless Sonnen attack, he'll be battered by the heavy hands of Mark Munoz, which will wear Silva down en route to a Munoz decision or a late TKO.
Anderson Silva's time as middlweight kingpin is over. Men like Chris Weidman and Mark Munoz—truly well-rounded mixed martial artists in every sense of the word—are ready to claim the title. Silva may have been the greatest, but at 37 years old, his abilities are waning whilst those of younger men are waxing.
Silva has no hope of holding onto his belt against such foes. Sonnen, in losing, provided a blueprint on how to beat Silva. Now, all Weidman, Munoz and any other potential challenger with good enough wrestling needs only to follow it and become the man who felled the greatest of all time.
This article is
What is the duplicate article?
Why is this article offensive?
Where is this article plagiarized from?
Why is this article poorly edited?