Picks for Home Run Derby 2012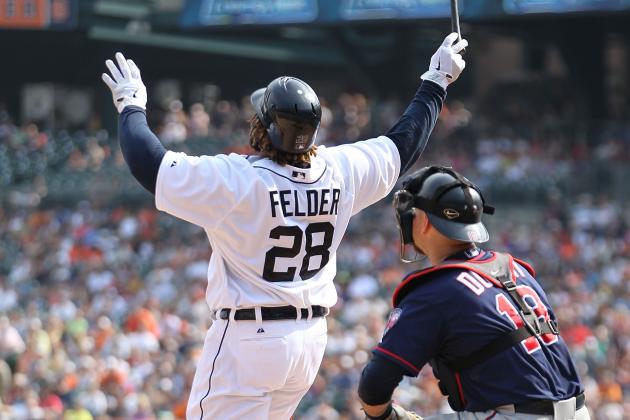 Leon Halip/Getty Images
Prince Fielder watches one of his mammoth home runs against the Minnesota Twins.
On July 9th, the MLB will have it's annual Home Run Derby during All-Star weekend. There are a few newbies in the derby and few guys who have been here a few times.
Matt Kemp leads the National League side. With him are Carlos Beltran, Carlos Gonzalez and Andrew McCutchen. McCutchen is an injury replacement for Giancarlo Stanton.
Robinson Cano leads the American League side. With him are Prince Fielder, Mark Trumbo and Jose Bautista. Robinson Cano is the defending champion.
Amongst the newcomers for this derby, there are: Carlos Beltran, who is having a phenomenal season in St. Louis; Andrew McCutchen, who is leading the Pittsburgh Pirates to a share of first place in the NL Central; Mark Trumbo, who has helped lead the resurgence of the Angels and Carlos Gonzalez, who is having himself a great season over in Colorado.
I will pick the players I see getting through the First round, second round and then the winner.
Begin Slideshow

»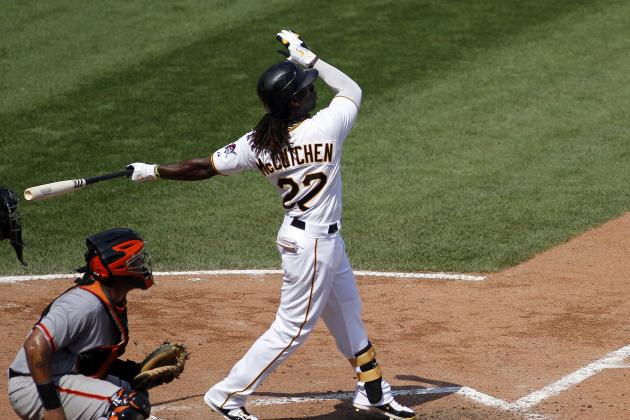 Justin K. Aller/Getty Images

There are eight hitters in the Home Run Derby, with four advancing to the second round.
Here, I will pick the four hitters I see advancing to the second round:
Andrew McCutchen
Cutch, is by far the smallest guy in the Home Run Derby. Don't mistake his size for weakness. After his two-homer game yesterday, he raised his home run total to 18 on the season. He is on a tear right now and is in the midst of his best season as a pro.
He is leading the majors in Batting average as well, and is a major contender for NL MVP. He has good pop in his bat for his size and I feel will put on a show in the first round.
My first round prediction—13 Home Runs
Mark Trumbo
Trumbo is leading the Los Angeles Angels in home runs and is tied for sixth in the AL. He has huge pop in his bat and when he hits it deep, it's pretty deep.
He has a ton of potential and is well on pace to surpass his home run total from the season before. In his 6 games at Kauffman Stadium, he has one home run. I don't see that as an issue though.
My first round prediction—10 Home Runs
Prince Fielder
He has the power and he's won this event before. He surprisingly has the least home runs out of all the hitters in the derby. That won't be a factor though; right field is calling his name.
He is a beast with a powerful and quick bat. The balls were flying out of right field during the Futures Game the other day. Imagine what Fielder will do.
My first round prediction—9 Home Runs
Robinson Cano
Cano is the defending champion of the Home Run Derby. His smooth swing put on a show last year as he edged out Adrian Gonzalez for the home run crown. He had a bit of an advantage last time around and looks for it to pay off again this time. He had is dad pitch to him.
Jose Cano will once again be Cano's personal pitcher. I think that will bode well for him this time around as well. He has been tearing the cover off the ball lately and looks to keep his hot bat going.
My first round prediction—8 Home Runs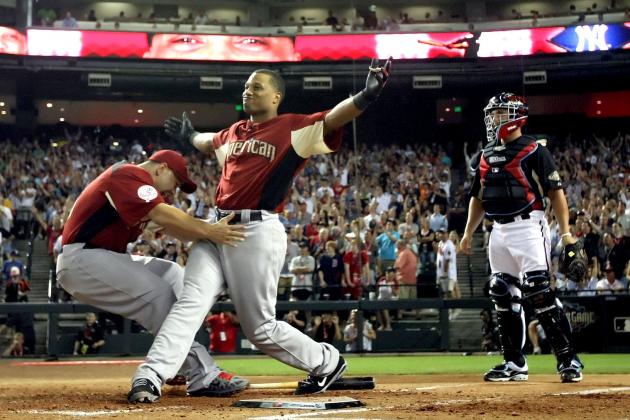 Christian Petersen/Getty Images
Cano celebrates his 2011 Home Run Derby win.
In the second round, there are four players with two advancing to the finals.
Last season, Robinson Cano and Adrian Gonzalez made it to the finals. Both put on a show, with Cano out-slugging Gonzalez 12 home runs to 11.
I see McCutchen flaming out a bit in the second round after his big first round. He will exert a lot in the first and that will hurt him here. Fielder will make it close but gets edged out by these other two sluggers.
Here are my two picks to advance to the final round.
Mark Trumbo
He could have the best bat speed and quite possibly have the best "pure" power of the group. He owns the longest home run in the American League of the season. He launched on 459 feet; three feet longer than Price Fielder's 456 foot shot.
I see him and Fielder going blow for blow with bombs in the second, but I think Trumbo will use his youth and power to get by Fielder.
My second round prediction—11 Home Runs
Robinson Cano
I just want to make a statement. Whether you agree of not, Robinson Cano, in my opinion, has the sweetest and smoothest swing since Junior. It's just so effortless and pretty, like Griffey's. This contest is made for guys like him.
I digress.
Cano is having fun and just swinging away. Trumbo and him have swings that are perfect for a contest like this. I think Cano will have a few of those WOW home runs in the second round with Cano Sr. pitching to him.
My second round prediction—10 Home Runs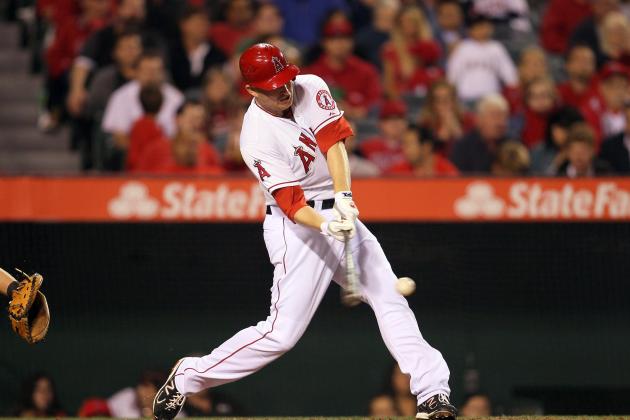 Victor Decolongon/Getty Images
Mark Trumbo will edge out Robinson Cano to win the 2012 Home Run Derby.
Winner winner chicken parm dinner.
Ladies and gentleman. Your 2012 MLB Home Run Derby winner is...Mark Trumbo!
In the final round, Mark Trumbo and Robinson Cano slug it out for the 2012 title. Both players will hit some major big fly's, but I see Trumbo out slugging Cano to take the crown away.
I think this Derby will be an exciting one. Especially in the final round. I don't know if it will be a slug-fest like the 2011 finals, but both guys will put on a show. I think Trumbo will knock out six home runs and Cano will hit four.
I hate to pick against Cano, with my Yankee alliance. Plus, the fact I picked Cano to win last year and I was correct. I just think this is Trumbo's year, especially with the absence of Giancarlo Stanton.
Stanton was my original selection until he found out he needed Arthroscopic knee surgery. Hopefully Stanton will be in the contest next season because I think he has a shot at something special in the Derby. A chance to pass Josh Hamilton's historic totals for one round in a Home Run Derby.
Yeah he's that good.
Congrats in advance to Mark Trumbo! (Don't let me down Mark!)