The 10 Best Fighters with 10 Fights or Less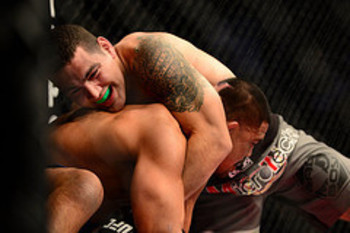 Kyle Terada-US PRESSWIRE
In every sport, rookies make an impact. MMA is no different.
Sometimes, these guys fly under the radar and then make their impact while others come out immediately with all the hype in the world and back it up.
These ten men are all elite MMA fighters, but combined they only have 92 total fights. Five of these men have already tasted championship gold in top MMA organizations in their short time in the sport.
So, with that, let's get to it: here are the Top Ten fighters with ten fights or less.
Jim Hettes (10-0)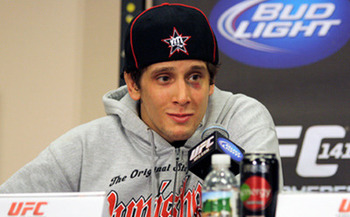 mmajunkie.com
"The Kid" is an undefeated prospect fighting in the UFC's featherweight division.
In his first two Octagon appearances, Hettes has defeated two fan favorites in Alex Caceres and Nam Phan.
Hettes is expected to make his 2012 UFC debut at UFC 152 against Marcus Brimage.
Roger Gracie (5-1)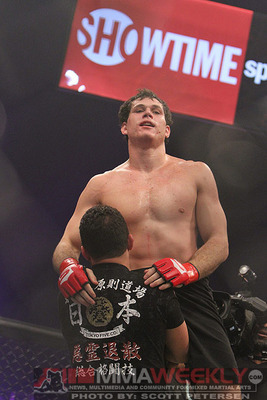 mmaweekly.com
Roger Gracie made his sixth MMA appearance last night in Strikeforce against UFC veteran Keith Jardine.
Gracie used his excellent grappling game to drag Jardine to the ground and he delivered nasty elbows from the top that would cut and bloody Jardine.
Gracie would work for the rear naked choke, but due to the blood, as well as the talented submission defensive skills of Jardine, he was unable to lock it in.
Gracie's lone loss is a knockout at the hands of King Mo, but Gracie has since dropped to 185 where he feels much more comfortable and it'll be interesting to see what he can do in the middleweight division.
Stipe Miocic (9-0)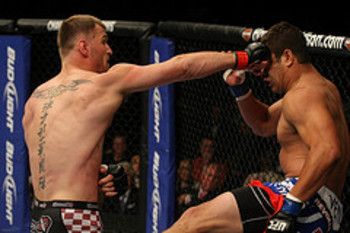 Photo by Donald Miralle/Zuffa LLC/Zuffa LLC via Getty Images
Undefeated Stipe Miocic is coming off back-to-back knockouts inside the Octagon against Phil De Fries and most recently at UFC 146 against Shane del Rosario.
Being a former Golden Gloves champion as well as a former Division One wrestler, Miocic's MMA success isn't surprising.
Miocic will take a major step-up in competition in September when he headlines UFC on Fuel 5 against fellow heavyweight Stefan Struve.
Cole Konrad (9-0)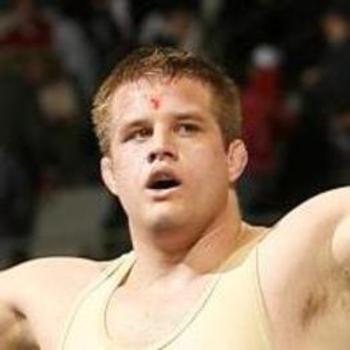 tapology.com
A former gold medalist at the Pan-American Championships in wrestling, Konrad is now the current Bellator Heavyweight Champion.
Konrad has won two of his last three fights by submission and is coming off his first title defense in which he defeated Eric Prindle by submission via kimura.
Muhammed Lawal (8-1)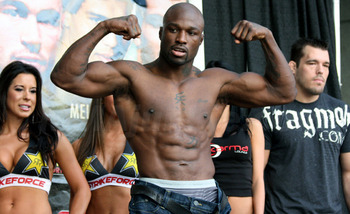 mmajunkie.com
Better known as "King Mo," Lawal is a former Strikeforce Light Heavyweight Champion and holds victories over Roger Gracie and Gegard Mousasi.
In January, Lawal knocked out Lorenz Larkin, but tested positive for a banned substance post-fight and was released from Strikeforce shortly thereafter.
Lawal recently signed a contract with both Bellator and pro wrestling company, Total Nonstop Action.
Lawal is expected to make his Bellator debut sometime this summer.
Phil Davis (9-1)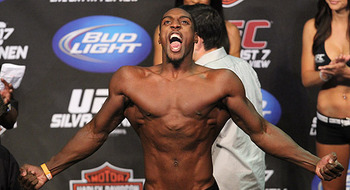 mmaweekly.com
Phil Davis was a four-time All-American wrestler from Penn State University and won an NCAA title at 197 lbs. in 2008.
He started off his MMA career going 9-0 picking up wins over current title contenders Tim Boetsch and Alexander Gustafsson.
In his biggest fight to date, he was matched with former UFC Light Heavyweight Champion Rashad Evans at UFC on Fox: Evans vs. Davis. Evans would get the victory via unanimous decision.
Davis is set to make his return to the Octagon in August against UFC newcomer Wagner Prado.
Ben Askren (10-0)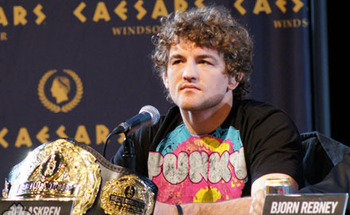 mmadiehards.com
Askren's style has been criticized by many for being boring, but there is no doubting his success.
The two-time NCAA Division 1 National Champion wrestler is the current Bellator Welterweight Champion and has defeated the likes of Lyman Good, Jay Hieron and Douglas Lima.
Michael Chandler (10-0)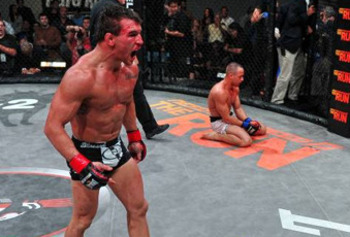 fighthubtv.com
Many considered Eddie Alvarez to be one of the top lightweights in the world when Chandler faced him for the Bellator Lightweight Championship back in November of 2011, but Chandler would look to make a case for himself.
In what was surly the best fight in Bellator history, Chandler and Alvarez battled for four rounds until Chandler was able to lock in a rear naked choke and become the new champion.
Chandler made his first appearance in Bellator as a Lightweight Champion in May in a non-title fight when he knocked out Japanese fighter Akihiro Gono in the first round.
Chris Weidman (9-0)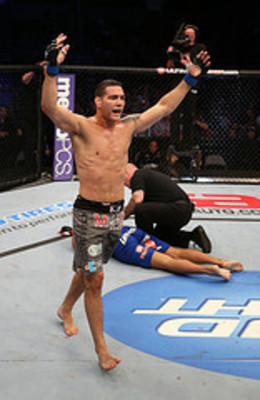 Photo by Ezra Shaw/Zuffa LLC/Zuffa LLC via Getty Images
Anderson Silva defeated bitter rival Chael Sonnen last weekend at UFC 148, yet the middleweight most talked about this week has been Chris Weidman.
Weidman knocked out veteran Mark Munoz with a devastating elbow and finished him off with some outstanding ground-and-pound.
Weidman proclaimed post-fight that he wants a shot at the Middleweight Championship and face Silva, and the matchup is definitely a possibility for later this year.
Daniel Cormier (10-0)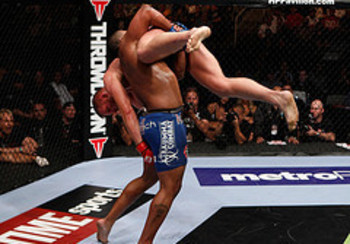 Photo by Esther Lin/Forza LLC/Zuffa LLC via Getty Images
Regarded by many as the best fighter not in the UFC and a Top-Five heavyweight is the Strikeforce Grand Prix Heavyweight Champion Daniel Cormier.
His outstanding knockout power was on full display against Antonio Silva in the Grand Prix semifinal when he knocked out Silva in the first round.
In the finals, he was matched up with longtime heavyweight veteran Josh Barnett and Cormier simply overwhelmed Barnett with a mix of slams and much improved striking to win the grand prix.
It was announced last night at Strikeforce: Rockhold vs. Kennedy that Cormier will make his final appearance in Strikeforce at an event slated for September against an opponent yet to be named.
Keep Reading