UFC 148 Results: Memorable Quotes and Images from the Silva vs. Sonnen Card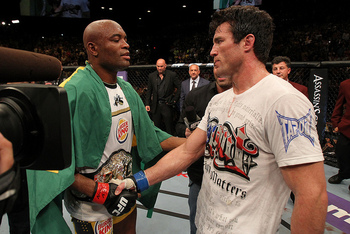 Josh Hedges/Zuffa LLC/Zuffa LLC via Getty Images
On July 7, the UFC wrapped up "International Fight Week" with UFC 148, a fight card that was headlined by the much anticipated rematch between middleweight champion Anderson Silva and the man who could be looked upon as his arch-enemy, Chael Sonnen.
Also on the card was the final fight in the long and storied career of UFC Hall of Famer, Tito Ortiz.
In all 11 fights took place on Saturday night, and as with most fight cards, some fights delivered while some fell short of expectations. I could analyze every fight on the card, but by now you've surely gotten your fill of that type of article. Instead, I'll take a brief look at most of the fights on the card and then provide quotes from the fighters involved.
What follows are memorable images and fighter quotes from UFC 148.
All quotes provided to B/R MMA via the UFC.
Shane Roller Grinds out a Win, John Alessio Does Not Approve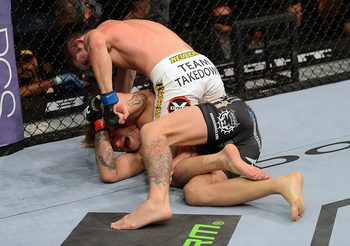 Donald Miralle/Zuffa LLC/Zuffa LLC via Getty Images
Shane Roller was a three-time All-American wrestler at Oklahoma State University, so it shouldn't have come as a surprise to John Alessio that Roller was going to use that base when the two met at UFC 148.
Alessio didn't much appreciate the grinding style of Roller and made him aware of that fact in the third round when he talked trash, asking Roller, "You wanna ride me?"
After gaining the victory, Roller said:
It was a tough fight. I had to grind it out with him. Wrestling was the game plan but I have been working on my standup. He has good standup, but you know that's part of MMA. It's not a boxing match… He's heavy-handed and a pretty big guy and I felt his hands had good power.

I approach every fight as a must-win. All my fights are pretty exciting fights.
There's No Quit in Constantinos Philippou
Donald Miralle/Zuffa LLC UFC
What will all remember the most about the preliminary-card fight between Constantinos Philippou and Riki Fukada is Fukada going all Three Stooges on Philippou in the third round and giving him a double eye poke. Granted it was deemed unintentional, but that didn't make Philippou feel any better as he sat against the cage, both eyes closed, his face a mask of pain.
Surprisingly, he continued on, and when he engaged Fukada he was not a happy man.
Philippou took the win, and after the fight he said:
Honestly I couldn't see [following being poked in the eye]. But I knew I there was less than three minutes left so I moved around with what I could see out of my right [eye].

I had the first two rounds, I was sure. I got a few punches at the end and gave the fans a little bit more, but I disappointed them at the beginning. I wanted to finish and give them a bit better fight. Next time I want to give them a better show.
Khabib Nurmagomedov Remains Undefeated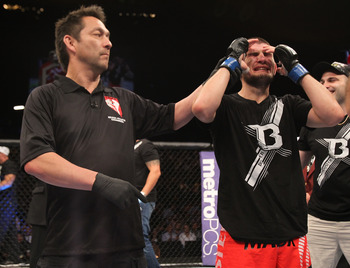 Josh Hedges/Zuffa LLC/Zuffa LLC via Getty Images
At age 23, Khabib Nurmagomedov entered UFC 148 with a professional record of 18-0. His opponent on Saturday was UFC veteran Gleison Tibau.
After three rounds it looked as if Tibau was going to end the unbeaten streak of Nurmagomedov, but a surprising unanimous decision went Nurmagomedov's way. Why was it surprising? A quick glance at the FightMetric stats show that Tibau landed more strikes and defended all 13 of Nurmagomedov's takedown attempts.
Nurmagomedov had the following to say after his victory:
The record wasn't really that important to me. It was more about getting this victory—it was very important. It's my second fight in the UFC. I had to get it. I think that my speed, agility and endurance was more to my advantage. He's had a lot more fights than I've had but I'm younger and hungrier.
The vanquished Tibau didn't bemoan his fate, instead giving his opponent credit for the win, saying, "It was a hard fight. He controlled the fight a little more up against the cage, so there were a lot of moments where it was tough to shake him off."
Melvin Guillard Gets Back in the Win Column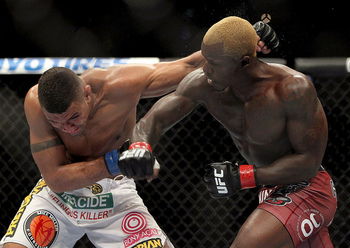 Josh Hedges/Zuffa LLC/Zuffa LLC via Getty Images
Throughout his career, Melvin Guillard has shown that his submission defense is not the strongest. In fact, of his 10 defeats, nine have been via submission. That fact appeared to give the advantage to his UFC 148 opponent, Fabricio Camoes. A Brazilian Jiu-Jitsu black belt, Camoes had finished seven of his fights via submission.
Oddly, Camoes was not very aggressive in his pursuit of submissions during Saturday's fight, and in the end he fell to Guillard, losing via unanimous decision.
Following his win, Guillard said:
I went out—I wanted to fight hard, fight strong and get back in the winning column. I definitely didn't play it safe but I had to be very smart and not get too wild and crazy and get caught. So, I took my last two fights that I lost and broke them down myself. In one [fight] I was too aggressive, and the other I was too patient. This fight I wanted to be aggressive enough and still be patient, so I think I was successful enough in that area.
Camoes also spoke after the fight:
I'm disappointed because you always want to step in the cage and win. My mistake was letting the decision go to the judges. I thought it was a good fight and I reached a few good positions, but ultimately, my mistake was that I shouldn't have let it get to the point of going to a judges decision.
Mike Easton Remains Undefeated in the UFC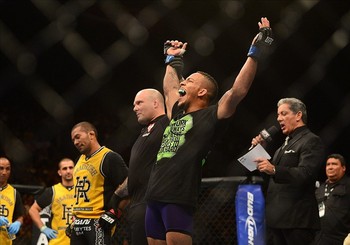 Mark J. Rebilas-US PRESSWIRE
Many expected the bantamweight bout between Mike Easton and Ivan Menjivar to be a potential Fight of the Night candidate. The fight fell well short of living up to that billing.
In the end, Easton earned the unanimous decision victory and advanced his record to 13-1 overall and a perfect 3-0 inside the Octagon.
Easton spoke after the fight:
It feels good. I'm very happy for the win. Ivan is an incredible fighter. Usually when I throw my power it offsets everything and I think my strategy helped me come away with the win tonight.

I want to fight for a belt. That is my goal. I want to keep getting better, keep getting better and keep getting better.
A disappointed Menjivar offered his take on the fight as well:
I realized I didn't put much pressure. The judges gave it to him because he looked more aggressive even though he didn't connect. I was too calm.


Chad Mendes Makes Short Work of Cody McKenzie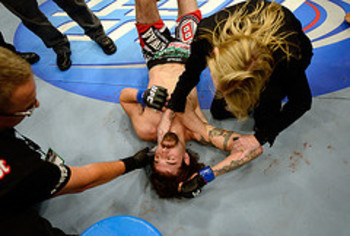 Donald Miralle/Zuffa LLC/Zuffa LLC via Getty Images
The odds were stacked against Cody McKenzie heading into his featherweight debut, and probably rightfully so, as McKenzie, who had formerly fought at lightweight, faced top-ranked Chad Mendes in his first foray in the lighter weight class.
McKenzie did not fare well on Saturday night. Just 31 seconds into the fight, he was dropped by a body punch that left him crumpled and defenseless on the mat.
The victorious Mendes spoke after the fight:
It's very rewarding to go through a long and hard training camp with the best fighters in the world and to get in the Octagon and get it done fast like that. I had seen what he had done in past fights and I was prepared. I'm glad I'm here standing with you.


Demian Maia Stops Dong Hyun Kim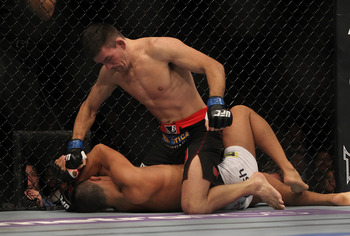 Josh Hedges/Zuffa LLC UFC via Getty Images
In what was the strangest stoppage of the UFC 148 fight card, Demain Maia appeared to end his fight against Dong Hyun Kim on his own. Following a takedown, Maia gained full mount, threw two punches and stood, raising his hands in the air. Kim was left laying on the mat holding his ribs.
UFC 148 was Maia's debut in the welterweight division. He dropped to the lower weight class following a loss to Chris Weidman in January of this year.
The victorious Maia said:
It means a lot to win like this because I was having some problems in my camp. I was trying to bring my jiu-jitsu back, so I did it my whole camp and concentrated on takedowns. That's what took me to this point and helped me win tonight.

It was a great test for me as he had just one loss. It was a great challenge. I'm very happy and I just want to fight again.


Cung Le Wins His First UFC Fight, Patrick Cote Falls Short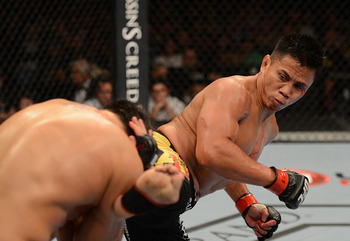 Donald Miralle/Zuffa LLC UFC
Cung Le made his UFC debut in November of last year. He left the Octagon that night with a badly broken nose and a loss, thanks to the very unfriendly welcome he received from Wanderlei Silva.
When Le, the former Strikeforce middleweight champion, entered the Octagon at UFC 148, he needed a victory to show the powers that be that he belongs with the promotion.
Le's opponent, Patrick Cote, was in a similar spot at UFC 148. Cote had not fought for the UFC since October 2010 when he was released after suffering his third consecutive loss. After the release he went out and won four in a row, receiving the call to come back to the UFC fold when Le's original opponent, Rich Franklin, was moved to the main event of UFC 147.
In the end Le proved victorious, earning a unanimous decision.
Le had the following to say after his win:
This is one the biggest accomplishments in my career. To get my first UFC victory, I'm so happy.

He came in, he was very tough. I hit him real hard with some kicks and one time he ducked and I clipped the top of his head. I could have swore I broke my foot but I said I'm going to gut it out and fight to the end because I don't have any give up in me. I wanted to win.
The defeated Cote said, "I thought it was tricky. I was about to push the pace, but he had a lot better footwork than I was expecting."


Tito Ortiz Ends His Career in Defeat, Falling to Forrest Griffin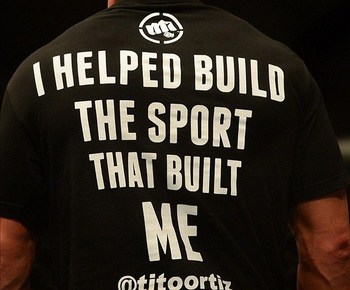 Mark J. Rebilas-US PRESSWIRE
Going into Saturday night, Tito Ortiz knew that his bout against Forrest Griffin would be the last of his UFC Hall of Fame career. While he took home an extra $75,000 for Fight of the Night honors, he was unable to take home the victory, falling via unanimous decision.
Many believed the fight could have gone Ortiz's way, but in the end all three scorecards read 29-28 in favor of Griffin.
After the fight, Griffin offered the following:
I'm going to be linked to Tito forever. We have had three really close fights. He was throwing the kitchen sink at me and I was too tired to get out of the way. It always comes down to fatigue. I don't know who won that fight to be honest. I'm going to need to watch that back.
While Ortiz said:
Forrest hit me with a little more strikes but that never hurt me. I dropped him a couple of times. I got a little tired. I'm not looking for any excuses—I fought a great fight.

I put in the work—no excuses. I was at 100 percent. In my mind I was ready to fight. But Forrest was good, Forrest was tough. He came in to fight. I thought me dropping him would give me more points, but I wasn't looking for points—I was looking to knock him out, try to take him down and beat the [expletive] out of him.

He won tonight. Looks like he doesn't have to retire. I was retiring either way. I came in I gave it all—no regrets.


Medium Rare?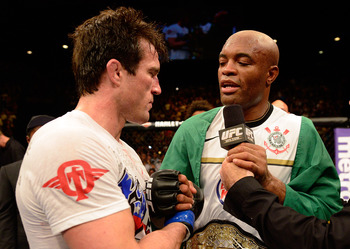 Donald Miralle/Zuffa LLC UFC via Getty Images
In the days leading up to the fight between Anderson Silva and Chael Sonnen, it appeared that the level of animosity between the two was definitely redlining—but that all seemed to disappear as soon as the fight came to a close.
In fact, during his in-cage interview after the fight, Silva extended an invitation to Sonnen, telling him, "If you would like to have a barbecue at my house I would love to have you over for a barbecue."
The comment brought a smile to Sonnen's face.
Will Sonnen take Silva up on the offer or extend an offer of his own, perhaps some pizza from Mean Streets Pizza?
Keep Reading